Chloroform
CAS No.

Chemical Name:

Chloroform

Synonyms

r20;TCM;R 20;HCC20;CHCl3;freon20;Freon 20;NCI-C02686;Trichlorom;CHLOROFORM

CBNumber:

CB5413313

Molecular Formula:

CHCl3

Formula Weight:

119.38

MOL File:
Chloroform Properties
Melting point:

-63 °C
Boiling point:

61 °C
Density

1.492 g/mL at 25 °C(lit.)

vapor density

4.1 (vs air)

vapor pressure

160 mm Hg ( 20 °C)

refractive index

n20/D 1.445(lit.)

Flash point:

60.5-61.5°C
storage temp.

2-8°C

solubility

Miscible with diethyl ether, oils, ligroin, alcohol, carbon tetrachloride and carbon disulfide.
pka

15,5(at 25℃)
form

Liquid
color

≤10(APHA)

Relative polarity

0.259
Water Solubility

8 g/L (20 ºC)
Merck

14,2141
BRN

1731042
CAS DataBase Reference
NIST Chemistry Reference
EPA Substance Registry System
SAFETY
Risk and Safety Statements
Hazard and Precautionary Statements (GHS)
Symbol(GHS):
Signal word:
Hazard statements:

| Code | Hazard statements | Hazard class | Category | Signal word | Pictogram | P-Codes |
| --- | --- | --- | --- | --- | --- | --- |
| H302 | Harmful if swallowed | Acute toxicity,oral | Category 4 | Warning | | P264, P270, P301+P312, P330, P501 |
| H315 | Causes skin irritation | Skin corrosion/irritation | Category 2 | Warning | | P264, P280, P302+P352, P321,P332+P313, P362 |
| H319 | Causes serious eye irritation | Serious eye damage/eye irritation | Category 2A | Warning | | P264, P280, P305+P351+P338,P337+P313P |
| H331 | Toxic if inhaled | Acute toxicity,inhalation | Category 3 | Danger | | P261, P271, P304+P340, P311, P321,P403+P233, P405, P501 |
| H351 | Suspected of causing cancer | Carcinogenicity | Category 2 | Warning | | P201, P202, P281, P308+P313, P405,P501 |
| H361 | Suspected of damaging fertility or the unborn child | Reproductive toxicity | Category 2 | Warning | | P201, P202, P281, P308+P313, P405,P501 |
| H372 | Causes damage to organs through prolonged or repeated exposure | Specific target organ toxicity, repeated exposure | Category 1 | Danger | | P260, P264, P270, P314, P501 |

Precautionary statements:

| | |
| --- | --- |
| P201 | Obtain special instructions before use. |
| P260 | Do not breathe dust/fume/gas/mist/vapours/spray. |
| P280 | Wear protective gloves/protective clothing/eye protection/face protection. |
| P305+P351+P338 | IF IN EYES: Rinse cautiously with water for several minutes. Remove contact lenses, if present and easy to do. Continuerinsing. |
| P405 | Store locked up. |
| Manufacturer | Product number | Product description | CAS number | Packaging | Price | Updated | Buy |
| --- | --- | --- | --- | --- | --- | --- | --- |
| TCI Chemical | C0175 | Chloroform (stabilized with Ethanol) [for Spectrophotometry] >99.0%(GC) | 67-66-3 | 100mL | $38 | 2017-12-01 | Buy |
| TCI Chemical | C0819 | Chloroform (stabilized with Ethanol) [for HPLC Solvent] >99.0%(GC) | 67-66-3 | 500mL | $32 | 2017-12-01 | Buy |
| Alfa Aesar | 22920 | Chloroform, HPLC Grade, 99.5+% min | 67-66-3 | 1L | $45.6 | 2017-11-08 | Buy |
| Alfa Aesar | 22920 | Chloroform, HPLC Grade, 99.5+% min | 67-66-3 | *4x1L | $172 | 2017-11-08 | Buy |
| TCI Chemical | C1111 | Chloroform (stabilized with 2-Methyl-2-butene) [for HPLC Solvent] >99.5%(GC) | 67-66-3 | 500mL | $29 | 2017-12-01 | Buy |
Chloroform Chemical Properties,Uses,Production
Production
1 Using Acetaldehyde as raw material, react with calcium hypochlorite in alkaline solution to obtain it. Acetone can also be used as the raw material to react with calcium hypochlorite.
Through chlorination of methane, this is a strong exothermic reaction. In order to increase the yield of chloroform and reduce the by-products (chloroform, methylene chloride, and carbon tetrachloride), the molar ratio of methane to chlorine and reacting temperature should be strictly controlled.
Through reaction of hexachloroacetone and sodium hydroxide. CCl3COCCl3+NaOH→Chloroform+CCl3COONa
Through reaction of carbon tetrachloride and ferrous hydroxide
Through reaction of carbon tetrachloride and ethanol under ultraviolet irradiation CCl4+CH3CH2OH→Chloroform+ClCH2CH2OH
Reducing carbon tetrachloride with hydrogen gas using zinc powder as a catalyst.
Reaction
Trichloromethane is chemically active due to the induction effect of three chlorine atoms. It is easily hydrolyzed to generate formic acid and hydrogen chloride; under the alkali catalyst, addition reaction may occur, for example, chloroform and acetone undergo addition reaction at 50°C under the catalyst potassium hydroxide; in alkali solution, trichloromethane reacts with primary amine to form helium, which has a special odor to check the presence of primary amines. Trichloromethane is further chlorinated to produce carbon tetrachloride.

Trichloromethane reacts with phenol in an alkaline solution to produce hydroxyaromatic aldehydes.
Under the catalytic action of anhydrous aluminum trichloride, trichloromethane reacts with benzene to produce triphenyl(methane). This is an important method for preparing triphenylmethane dyes.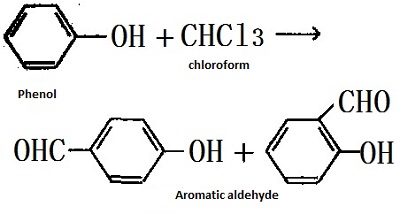 Chloroform can be oxidized in the air into highly toxic phosgene under light conditions, so chloroform is often placed in brown bottles. Commercial chloroform is also often added with 1% ethanol to destroy the small amount of phosgene generated.
Chloroform poisoning
Inhalation, ingestion, and absorption through the skin can all cause poisoning. In human body if inhaled, the concentration of trichloromethane in the blood is the same as that in the brain, but it is nearly 10 times higher in the adipose tissue. Most of the absorbed trichloromethane is detoxified by the liver and is rarely excreted in the urine. 30% to 50% of Chloroform in the human body can be metabolized to carbondichloride and methylene chloride. It is generally believed that trichloromethane, which is present in aquatic environments, is difficult to biodegrade.
Health hazards mainly act to the central nervous system, and also damage other organs like the heart, liver and kidneys.
Chloroform causes DNA impair to mammals and changes human lymphocyte chromosomes; Trichloromethane can cause abnormal growth of muscles, bones, gastrointestinal system and craniofacial; Trichloromethane has a high degree of embryotoxicity, but it is not strong Teratogenic substances. Chloroform may be carcinogenic to humans.
Description
Chloroform is a trichlorinated organic substance with the chemical formula of CHCl3. It is a clear liquid at room temperature and has a pleasant, sweet odor. Chloroform is only slightly soluble in water and evaporates quickly into surrounding air, increasing the risk of inhalation exposure. In addition, chloroform persists for a long time in both water and air. There are no natural sources of chloroform, but this contaminant enters the environment through a variety of industrial operations, including the chlorination of water. Humans can be exposed to chloroform through inhalation, ingestion, and dermal contact.
Chloroform has a relatively narrow margin of safety and has been replaced by better inhalation anesthetics. In addition, it is believed to be toxic to the liver and kidneys and may cause liver cancer. Chloroform was once widely used as a solvent, but safety and environmental concerns have reduced this use as well. Nevertheless, chloroform has remained an important industrial chemical.
History
Chloroform (CHCl3) was first discovered in 1831 by American physician Samuel Guthrie; and independently a few months later by Frenchman Eugène Soubeiran and Justus von Liebig in Germany. Chloroform was named and chemically characterised in 1834 by Jean-Baptiste Dumas. Its anaesthetic properties were noted early in 1847 by Marie-Jean-Pierre Flourens. Unlike ether, chloroform's characteristically sweet odour isn't irritating, although inhalation of concentrated chloroform vapour may cause irritation of exposed mucous surfaces. Chloroform is a more effective anaesthetic than nitrous oxide.
In 1864, the Report of Chloroform Committee of Royal Medical and Chirurgical Society endorsed chloroform as Britain's favourite anaesthetic. But ether was safer for patients.
In 1871, leading anaesthetic manufacturer Edward E. Squibb of Brooklyn estimated [New York Medical Journal (April 1871) 13;389] that of 400,000 administrations of anaesthesia in the USA in 1870, chloroform was the agent used in some 50%, ether for 40%, and other gases and mixtures accounted for the rest.
Uses
Chloroform is a widely used industrial and laboratory solvent. It is a volatile chlorinated organic solvent whose vapors have a narcotic effect.Due to its light sensitivity, it may undergo degradation with time. This can be suppressed by adding ethanol as a stabilizer. The addition will increase the polarity of the solvent and potentially impact certain applications.
Chloroform has been used as a solvent for dissolving lipids and also as a cleansing agent.
It may also be used in solvent extraction process and also for recrystallization.
Suitable for HPLC, spectrophotometry, environmental testing
Facilitates recovery of the aqueous phase of PCRs which have been overlaid with mineral oil.
Meets ACS specifications.
Definition
ChEBI: A one-carbon compound that is methane in which three of the hydrogens are replaced by chlorines.
General Description
A clear colorless liquid with a characteristic odor. Denser (12.3 lb / gal) than water and slightly soluble in water. Hence sinks in water. Nonflammable under most conditions, but burns under extreme conditions. May cause illness by inhalation, skin absorption or ingestion. Used as a solvent, to make other chemicals, as a fumigant.
Air & Water Reactions
Slightly soluble in water. Dissolves in water to form a corrosive solution of hypochlorous acid which decomposes on standing to chlorine, oxygen, and chloric acid.
Reactivity Profile
A mixture of acetone and Chloroform in a residue bottle exploded. Since addition of acetone to Chloroform in the presence of base will result in a highly exothermic reaction, Chloroform is thought that a base was in the bottle. [MCA Case History 1661(1970)]. Powdered aluminum and carbon tetrachloride(also methyl chloride and Chloroform or mixtures of these chemicals) exploded when heated(to 153°C.) and by impact, [Chem. Eng. News 32:258(1954); UL Bull. Research 34(1945), ASESB Pot. Incid. 39(1968)]. An inadequately cooled addition of sodium to a Chloroform-methanol mixture (sodium methoxide) caused a violent explosion, [MCA Case History No. 693]. Chloroform is incompatible with dinitrogen tetraoxide, fluorine, sodium metal and alcohols, nitromethane, and triisopropylphosphine.
Health Hazard
Chloroform is classified as moderately toxic. Probable oral lethal dose for humans is 0.5 to 5 g/kg (between 1 ounce and 1 pint) for a 150 lb. person. The mean lethal dose is probably near 1 fluid ounce (44 g). It is a human suspected carcinogen. Also, it is a central nervous system depressant and a gastrointestinal irritant. It has caused rapid death attributable to cardiac arrest and delayed death from liver and kidney damage.
Fire Hazard
Container may explode in the heat of fire. When heated Chloroform liberates phosgene, hydrogen chloride, chlorine and toxic and corrosive oxides of carbon and chlorine. Chloroform explodes when in contact with aluminum powder or magnesium powder or with alkali metals (e.g., lithium, sodium, and potassium) and dinitrogen tetroxide. Chloroform reacts vigorously with acetone in the presence of potassium hydroxide or calcium hydroxide. Chloroform is oxidized by strong oxidizers such as chromic acid forming phosgene and chlorine. Chloroform reacts vigorously with triisopropylphosphine. Chloroform develops acidity from prolonged exposure to air and light.
Chloroform Preparation Products And Raw materials
Raw materials
Preparation Products
BETA-BUTYROLACTONE
4-BIPHENYLSULFONYL CHLORIDE
2,2'-OXYDIACETYL CHLORIDE
2-Chloro-5-chloromethylthiazole
N-Methyl-4-pyridinamine
2-ETHOXYPHENYL ISOTHIOCYANATE
1-METHYL-5-(TRIFLUOROMETHYL)-1H-PYRAZOL-3-OL
2-Diazo-1-naphthol-5-sulfonyl chloride
Ethyl 3-(N,N-dimethylamino)acrylate
3-CHLORO-2-METHYLPHENYL ISOTHIOCYANATE
3-Fluoro-4-hydroxybenzaldehyde
3-Ethoxyphenol
biocide agent C-38
Acipimox
4-(METHYLSULFINYL)PHENOL
3,5-DIMETHYLPHENYL ISOTHIOCYANATE
1-[(4-Methylphenyl)sulfonyl]-1H-imidazole
N-Heptafluorobutyrylimidazole
2,3-DIHYDRO-1,4-BENZODIOXIN-6-YL ISOTHIOCYANATE
2-Bromo-2',4'-dichloroacetophenone
SULFUR TRIOXIDE TRIMETHYLAMINE COMPLEX
4-SULFAMIDOBENZOYL CHLORIDE DMF COMPLEX
PYRIPROPANOL
N-ethoxycarbonyl N,N′,N′-trimethyl guanidine
N-FORMYLGLYCINE ETHYL ESTER
orange yellow
(1R,3S)-1,2,2-trimethyl-1,3-cycloperltanediamine
poly (3-alkyl thiophene) fiber
1-ETHYL-3-METHYLIMIDAZOLIUM BIS(TRIFLUOROMETHYLSULFONYL)IMIDE, 99% [EMIIM]
2-Amino-5-bromothiazole monohydrobromide
DIBENZYL SULFOXIDE
TERT-BUTYL ISOCYANIDE
PYRROLIDONE HYDROTRIBROMIDE
2,4-Dichlorobenzenesulfonyl chloride
3,5-DIMETHOXYPHENYL ISOTHIOCYANATE
DIMETHYL 2,6-PYRIDINEDICARBOXYLATE
4-N-BUTYLTOLUENE
5-BROMO-2-(MORPHOLIN-4-YL)PYRIMIDINE
4-CHLORO-2-METHYLPHENYL ISOTHIOCYANATE
2-CHLORO-4-METHYLPHENYL ISOTHIOCYANATE
---
---
67-66-3(Chloroform)Related Search:
---
Solvents for Spectrophotometry
Standard Solution of Volatile Organic Compounds for Water & Soil Analysis
HPLC Solvents
Solvents for HPLC & Spectrophotometry
Standard Solutions (VOC)
formyltrichloride
Freon 20
freon20
HCC20
Methane trichloride
Methane, trichloro-
Methane,trichloro-
methanetrichloride
Methenyl trichloride
methenylchloride
methenyltrichloride
NCI-C02686
R 20
R 20 (refrigerant)
r20
r20(refrigerant)
Rcra waste number U044
rcrawastenumberu044
TCM
Trichloormethaan
Trichlormethan
trichlormethan(czech)
Trichloroform
trichloro-methan
Triclorometano
Methenyl trichoride
Trichloromethare
Refrigerant R20
TRICHLOROMETHANE SPECTRANAL, REAG. ACS, STABILIZED WITH APPROX. 1 % ETHANOL
CHLOROFORM, ANHYDROUS, 99+%
CHLOROFORM, >=99.9%, PRA GRADE
CHLOROFORM 'B&J BRAND', STAB. 1 L
CHLOROFORM, ACS REAGENT, >=99.8%
CHLOROFORM PCR REAGENT
NMR STD/2% CHLOROFORM/CHLOROFORM-D(99.8%
NMR STD/5% CHLOROFORM/ACETONE-D6/3MMX8"
CHLOROFORM, REAGENTPLUS >=99.8%, CONTAINS 0.5-1.0% ETHANOL AS STABILIZER
TRICHLOROMETHANE R. G., REAG. ISO, REAG. PH. EUR., STAB. WITH APPROX. 1 % ETHANOL
TRICHLOROMETHANE CHROMASOLV, FOR HIGH-PE RFORMANCE LIQUID CHROMATOGRA-PHY, STABIL
CHLOROFORM MOLECULAR BIOLOGY REAGENT
CHLOROFORM, 99.9%, HPLC GRADE (FOR EUROPE ONLY)
CHLOROFORM, FOR IR-SPECTROSCOPY, STAB. W . ~0.5% ETOH
CHLOROFORM >=99.9% CAPILLARY GC GRADE&
CHLOROFORM >=99.8% A.C.S. REAGENT (SA&
CHLOROFORM, >=99.8%, A.C.S. SPECTROPHOTOMETRIC GRADE
CHLOROFORM, ACS, STAB. WITH ~1% ETHANOL
CHLOROFORM REAGENT GRADE
CHLOROFORM >=99.8% A.C.S. SPECTROPHOT&
NMR STD/20% CHLOROFORM/ACETONE-D6/5MMX8"
CHLOROFORM DIST. STAB. WITH 1% ETHANOL
CHLOROFORM CHROMASOLV FOR HPLC >=99&
CHLOROFORM 99.9% B&J BRAND STABILIZE&
TRICHLOROMETHANE PURISS., PH-QUALITY,STABILIZED WITH APPROX. 1 % ETHANOL