Fulvestrant
CAS No.

Chemical Name:

Fulvestrant

Synonyms

139028;CS-670;ZD 9238;FASLODEX;zd182780;zm182780;Fulvtrant;Fulvestran;ICH-182780;ICI-187280

CBNumber:

CB0698542

Molecular Formula:

C32H47F5O3S

Formula Weight:

606.77

MOL File:
Fulvestrant Properties
Melting point:

104-106°C
Boiling point:

674.8±55.0 °C(Predicted)
Density

1.201±0.06 g/cm3(Predicted)
storage temp.

2-8°C
solubility

DMSO: >5mg/mL
form

powder
pka

10.27±0.70(Predicted)
InChIKey

VWUXBMIQPBEWFH-WCCTWKNTSA-N
CAS DataBase Reference
FDA UNII
NCI Dictionary of Cancer Terms
NCI Drug Dictionary
ATC code
| Manufacturer | Product number | Product description | CAS number | Packaging | Price | Updated | Buy |
| --- | --- | --- | --- | --- | --- | --- | --- |
| Sigma-Aldrich | 5.31042 | Estrogen Receptor Antagonist, ICI 182,780 - CAS 129453-61-8 - Calbiochem | 129453-61-8 | 10 mg | $206 | 2021-12-16 | Buy |
| Sigma-Aldrich | I4409 | Fulvestrant >98% (HPLC) | 129453-61-8 | 25mg | $155 | 2021-12-16 | Buy |
| Sigma-Aldrich | Y0001399 | Fulvestrant European Pharmacopoeia (EP) Reference Standard | 129453-61-8 | | $190 | 2021-12-16 | Buy |
| Sigma-Aldrich | Y0001413 | Fulvestrant for system suitability European Pharmacopoeia (EP) Reference Standard | 129453-61-8 | | $190 | 2021-12-16 | Buy |
| Sigma-Aldrich | 1286650 | Fulvestrant United States Pharmacopeia (USP) Reference Standard | 129453-61-8 | 200mg | $922 | 2021-12-16 | Buy |
Fulvestrant Chemical Properties,Uses,Production
Indications and Usage
Fulvestrant is a muscle injection drug developed by the company AstraZeneca and is suitable for treating postmenopausal women with estrogen receptor-positive metastasized breast cancer whose condition continued to worsen despite antiestrogen treatment. Fulvestrant is the only antiestrogen drug that can be widely clinically used following unsuccessful tamoxifen treatment. This drug is a type of endocrine therapy, so it will not cause any adverse effects commonly seen in chemotherapy, giving it relatively good patient compliance. Multiple clinical trials have found that 250mg Fulvestrant is effective and consistently safe as a second line of treatment for advanced breast cancer.
Mechanisms of Action
Many breast cancer cells contain estrogen receptors (ER), so estrogen stimulates breast cancer growth. Fulvestrant is a steroid estrogen receptor antagonist, and its chemical structure is similar to estradiol, except that its 7α position contains a linking group. Fulvestrant is a 17β-estradiol alkylamine analogue, and it binds with, prevents, and decreases ER to inhibit the estrogen signal transduction pathway. It binds competitively with ER, has a similar affinity with ER as estrogen, and inhibits gene activation stimulated by estrogen, thus affecting necessary estrogen-related processes in cell circulation. Its fulvastans have a similar affinity with ER as estrogen and is 100 times that of tamoxifen.
Pharmacokinetics
Fulvestrant has a relatively poor oral bioavailability, so it is commonly injected into the muscle with lipids as excipients. In an open, random and multicenter study on postmenopausal women with advanced breast cancer, one 5ml or 2 2.5ml dosages containing 250mg were injected, and their pharmacokinetics and poisonous side effects did not differ greatly, while its blood concentration was dose-dependent and had individual differences. In the 7-day treatment period, serum LH, FSH or SBHG levels did not change significantly. This drug does not pass through the blood-brain barrier and will not cause side effects such as vasomotor symptoms.
Adverse reactions
Fulvestrant causes relatively fewer side effects, including brief vaginal bleeding, body odor change, and sleepwalking. There have not been any reports of effects such as vaginal dryness, weight gain, blood clotting abnormalities, thrombus formation and libido change, and characteristics such as facial flushing and sweating are not affected. A small-scale stage III clinical trial on 19 women with metastasized breast cancer who used this drug showed that its clinical efficacy was 67% and there were no serious safety issues. It showed that continuous monthly injections were crucial and that it was well-tolerated, with only slight swelling and paint at injection site, while facial flushing, uterine lining thickness, sex hormone binding globulin levels, follicle stimulating hormones levels, and luteinizing hormone levels all showed no change.
Description
Fulvestrant was launched in the US as a novel once monthly injectable steroidal estrogen antagonist for the treatment of hormone receptor positive metastatic breast cancer in postmenopausal women with disease progression following estrogen therapy. This 7a-alkylsulphinyl derivative of estradiol can be prepared in 10 steps from 6,7- didehydro-19-nor-testosterone by successive conjugate addition of the organocuprate derived from O-protected 9-bromononan-l-o1 followed by aromatization of the resulting enone, then activation of the protected primary alcohol, substitution with 4,4,5,5,5- pentafluoropentanthiol and oxidation to the sulfoxide. Fulvestrant is the first "pure" estrogen antagonist from a novel class known as selective estrogen receptor down regulators (SERDs). It binds to the estrogen receptor (ER), with affinity close to that of estradiol and 100 fold greater than that of tamoxifen (a partial estrogen antagonist), preventing estrogen-stimulated gene activation, thereby interfering with the estrogenrelated processes essential for cell-cycle completion. Fulvestrant also appears to downregulate the ER by 80-90% often to non detectable level both in vitro and in vivo. In comparison to tamoxifen, fulvestrant is devoid of systemic estrogenic activity, it displays no uterotrophic activity and is able to block the uterine stimulation of estradiol or tamoxifen. Furthermore, fulvestrant completely blocks the cell growth in tamoxifen-resistant breast cancer cell-lines and prevents growth of tamoxifen resistant tumor in mice. In clinical trials, it was also shown that fulvestrant is comparable to anastrozole (a third generation aromatase inhibitor) both in efficacy and tolerability in postmenopausal women with tamoxifen-resistant advanced breast cancers.
Chemical Properties
White or almost white powder.
Originator
Astra Zeneca (UK)
Uses
A novel steroidal estrogen antagonist reported to lack any partial agonist activity. Antineoplastic (hormonal).
Uses
antiestrogen
Definition
ChEBI: A 3-hydroxy steroid that is 17beta-estradiol in which the 7alpha hydrogen has been replaced by a nonyl group in which one of the hydrogens of the terminal methyl has been replaced by a (4,4,5,5,5-pentafluoropentyl)sulfinyl group. An estrogen receptor antagonist, it is used in the treatment of breast cancer.
brand name
Faslodex (AstraZeneca).
General Description
Fulvestrant, 7α-[9-[(4,4,5,5,5-pentafluoropentyl)sulfinyl]nonyl]estra-1,3,5(10)-triene-3,17β-diol (Faslodex), is an antagonist structurally based onthe estradiol structure, with a long, substituted alkyl chainattached at the 7α-position of the steroid skeleton. Whenbound to the ERs, this alkyl chain induces a conformationof the receptor distinctive from that formed upon estradiolor tamoxifen binding, preventing agonist action.Fulvestrant is a pure antagonist at both ER
α
and ER
β
andan ER downregulator (stimulates degradation of the ER),completely lacking the agonist activity that is seen with tamoxifenor raloxifene. The different pharmacological profileof fulvestrant allows the use of this agent in womenwho have had disease progression after prior antiestrogentherapy (typically tamoxifen), providing an alternative toaromatase inhibitors.
Biological Activity
A high affinity estrogen receptor antagonist (IC 50 = 0.29 nM), devoid of any partial agonism both in vitro and in vivo . Also high affinity agonist at the membrane estrogen receptor GPR30.
Side effects
Side effects appear to be minimal and include several GI symptoms , headache, and hot flashes . There is no clinical evidence of uterine stimulation or laboratory evidence of stimulation of endometrial carcinoma models. Fulvestrant should not be adm inistered to women who are pregnant, who are taking antic oagulants, or who have thrombocytopenia.
Chemical Synthesis
Fulvestrant is administered as a once a month i. m. injection. Several routes for the synthesis of fulvestrant (12) were published. One of the best routes is depicted in the scheme. The conjugate addition of Grignard reagent derived from bromide 130 with dienone 129 gave adduct 131 as a mixture of 7α- and 7β-isomers in a ratio of 2.5:1 in 90-95% yield. Aromatization of the A-ring with copper bromide/lithium bromide in acetic acid followed by hydrolysis of the ester group provided diol 132 in 80-85% yield. Oxidation of the side chain from sulfite to sulfone followed by crystallization provided fulvestrant (12) in 30% overall yield from dienone 129.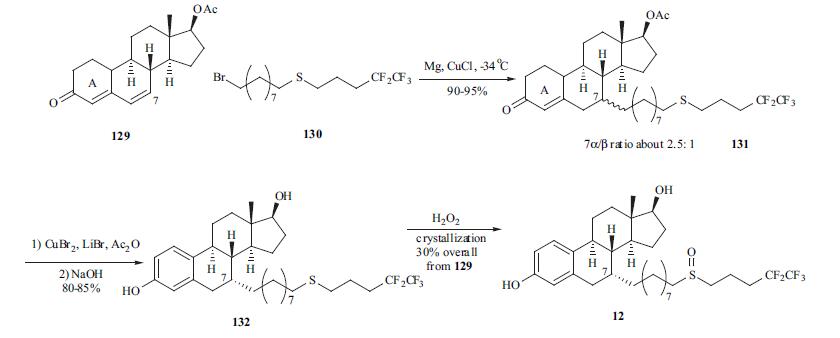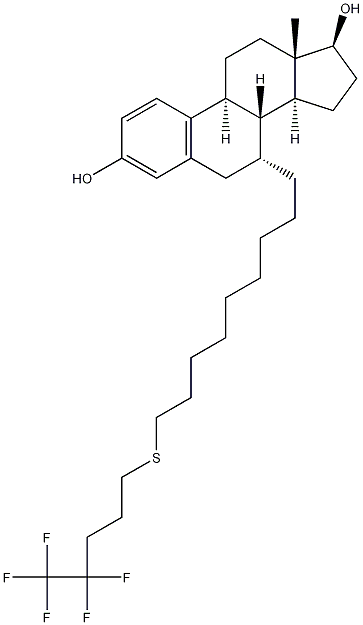 Synthesis of Fulvestrant from (7a,17b)-7-[9-[(4,4,5,5,5-Pentafluoropentyl)thio]nonyl]-estra-1,3,5(10)-triene-3,17-diol
Fulvestrant Preparation Products And Raw materials
Raw materials
4,4,5,5,5-Pentafluoro-1-pentanol
(7a,17b)-7-[9-[(4,4,5,5,5-Pentafluoropentyl)thio]nonyl]-estra-1,3,5(10)-triene-3,17-diol
(7alpha,17beta)-17-(Acetyloxy)-7-(9-bromononyl)estr-4-en-3-one
3-O-Methyl Fulvestrant
(7a,17b)-7-7-[9-[(4,4,5,5,5-Pentafluoropentyl)sulfinyl]nonyl]-estra-1,3,5(10)-triene-3,17-diol 17-acetate
Estra-1,3,5(10)-triene-3,17-diol,7-[9-[(4,4,5,5,5-pentafluoropentyl)thio]nonyl]-,17-acetate,(7a,17b)-
Dehydronandrolon
METHANESULFONIC ACID 4,4,5,5,5-PENTAFLUORO-PENTYL ESTER
Nandrolone
Preparation Products
---
---
Related articles
Fulvestrant is a drug treatment of hormone receptor (HR)-positive metastatic breast cancer in post-menopausal women with disea....

Oct 9,2019
---
View Lastest Price from Fulvestrant manufacturers
Image
Release date
Product
Price
Min. Order
Purity
Supply Ability
Manufacturer
2022-01-22
Fulvestrant
129453-61-8
US $0.00 / KG
100g
98%+
100kg
WUHAN CIRCLE POWDER TECHNOLOGY CO.,LTD
2021-11-30
Fulvestrant
129453-61-8
US $795.00 / g/Bag
1g
99%
1kg
Baoji Guokang Bio-Technology Co., Ltd.
2021-10-20
Fulvestrant
129453-61-8
US $350.00 / KG
1KG
99%
9000kg/per week
Hebei Lingding Biological Technology Co., Ltd
129453-61-8(Fulvestrant)Related Search:
Fulvestrant 3-β-D-Glucuronide
(7a,17b)-7-7-[9-[(4,4,5,5,5-Pentafluoropentyl)sulfinyl]nonyl]-estra-1,3,5(10)-triene-3,17-diol 17-acetate
Fulvestrant 17-β-D-Glucuronide
Fulvestrant 3-Sulfate Sodium Salt
Fulvestrant 3-β-D-Glucuronide 17-Acetate
FULVESTRANT-D3
FULVESTRANT(USAN)
DIAMYL SULFOXIDE
OCTADECYLMETHYLSULFIDE
4-tetradecylphenol
4-n-Octadecylphenol
DODECYL METHYL SULFOXIDE
OCTADECYL METHYL SULFOXIDE
ETHYL OCTADECYL SULFIDE
4,4,5,5,5-Pentafluoro-1-pentanethiol
DI-N-BUTYL SULFOXIDE
p-hexadecylphenol
4-DODECYLPHENOL
---
(7a,17b)-7-[9-[(4,4,5,5,5-pentafluoropentyl)sulfinyl]nonyl]estra-1,3,5(10)-triene-3,17-diol
7A,17B-[9[(4,4,5,5,5-PENTAFLUOROPENTYL)SULFINYL]NONYL]ESTRA-1,3,5(10)-TRIENE-3,17-DIOL
(7alpha,17beta)-nonyl)
estra-1,3,5(10)-triene-3,17-diol,7-(9-((4,4,5,5,5-pentafluoropentyl)sulfinyl)
Fulvtrant
7-[9-[(4,4,5,5,5-pentafluoropentyl)sulfinyl]nonyl]- (7α,17β)-estra-1,3,5(10)-triene-3,17-diol
(7a,17b)-7-[9-[(4,4,5,5,5-Pentafluoropentyl)sulfinyl]nonyl]estra-1,3,5(10)-triene-3,17-diol Fulvestrant ICI 182,780
Fulvestrant for system suitability
Fulvestran
Fulvestrant Vetec(TM) reagent grade, >98%
Fulvestrant, >=98%
ICI 182,780
FULVESTRANT
FULVESTRANT-13C1-D2
FASLODEX
Fulvestrant (Steroids)
Fulvestrant IMP
Fulvestrant 129453-61-8
Astrazeneca
Fulvestrant Impurity
(7R,8R,9S,13S,14S,17S)-13-methyl-7-(9-((4,4,5,5,5-pentafluoropentyl)sulfinyl)nonyl)-7,8,9,11,12,13,14,15,16,17-decahydro-6H-cyclopenta[a]phenanthrene-3,17-diol
139028
CS-670
(2-chloro-7-cyclopentyl-7H-pyrrolo[23-d]pyrimidin-6-yl)metha
ICI 182780;ZD 182780;ZD 9238;ZM 182780
zd182780
zm182780
(1S,9R,10R,11S,14S,15S)-15-Methyl-9-{9-[(R)-(4,4,5,5,5-pentafluoropentane)sulfinyl]nonyl}tetracyclo[8.7.0.0^{2,7}.0^{11,15}]heptadeca-2,4,6-triene-5,14-diol
Fulvestrant Estra-1,3,5(10)-triene-3,17-diol, 7-[9-[(4,4,5,5,5-pentafluoropentyl)sulfinyl]nonyl]-, (7 ,17 )-
Fulvestrant (Faslodex)
ZD 9238
Fulvestrant(ICI 182,780)
(717b)-7-[9-[4,4,5,5,5-Pentafluoropentyl)sulfinyl]nonyl]estra-1,3,5(10)-triene-3,17-diol
ICH-182780
7α-[9-[(4,4,5,5,5,-Pentafluoropentyl)sulfinyl]nonyl]estra-1,3,5(10)-triene-3,17β-diol
ICI-187280
Fulvstrant
(7,17)-7-[9-[4,4,5,5,5-Pentafluoropentyl)sulfinyl]nonyl]estra-1,3,5(10)-triene-3,17-diol
7α,17β-[9-[(4,4,5,5,5-Pentafluoropentyl)sulfinyl]nonyl]estra-1,3,5(10)-triene-3,17-diol
Faslodex, ICI 182,780, ZD 182780, ZD 9238, ZM 182780, (7a,17b)-7-[9-[(4,4,5,5,5pentafluoropentyl)Sulfinyl]nonyl]estra-1,3,5(10)-triene-3,17-diol
Fulvestrant (150 mg)
Fluvites group
Fulvestrant for system suitability CRS
Fulvestrant CRS
Fulvestrant Solution
Estra-1,3,5(10)-triene-3,17-diol, 7-[9-[(4,4,5,5,5-pentafluoropentyl)sulfinyl]nonyl]-, (7α,17β)-
Fulvestrant fandachem
Astrazeneca Fulvest
(7alpha,17beta)-7-[9-[(4,4,5,5,5-Pentafluorpentyl)sulfinyl]nonyl]estra-1,3,5(10)-trien-3,17-diol
Fulvestrant USP/EP/BP
129453-61-8
129435-61-8
C32H47F5O3S
Cytokines, Growth Factors and Hormones
Estrogen
Cell Biology
Cell Signaling and Neuroscience
BioChemical