Nickel carbonate
CAS No.

Chemical Name:

Nickel carbonate

Synonyms

ci77779;c.i.77779;cino77779;NICKEL CARBONATE;Nickel(II)Carbona;nickelmonocarbonate;nickel(2+)carbonate;NICKELOUS CARBONATE;nickelcarbonate(1:1);NICKEL(II) CARBONATE

CBNumber:

CB1374836

Molecular Formula:

CNiO3

Formula Weight:

118.7

MOL File:
Nickel carbonate Properties
Melting point:

decomposes [CRC10]
Density

4.390
form

Solid
color

Light Green
Water Solubility

Soluble in dilute acids. Insoluble in cold water.
Solubility Product Constant (Ksp)

pKsp: 6.85
Stability:

Stable. Incompatible with strong acids.
CAS DataBase Reference
EWG's Food Scores
FDA UNII
Proposition 65 List
EPA Substance Registry System
SAFETY
Risk and Safety Statements
| Manufacturer | Product number | Product description | CAS number | Packaging | Price | Updated | Buy |
| --- | --- | --- | --- | --- | --- | --- | --- |
| Alfa Aesar | 022897 | Nickel(II) carbonate, anhydrous, 98% | 3333-67-3 | 50g | $44.6 | 2020-06-24 | Buy |
| Alfa Aesar | 022897 | Nickel(II) carbonate, anhydrous, 98% | 3333-67-3 | 250g | $143 | 2020-06-24 | Buy |
Nickel carbonate Chemical Properties,Uses,Production
Chemical Properties
Nickel carbonate is a light green crystalline substance, which is almost insoluble (0.093 g/L) in water (25°C), nonsoluble in hot water, and soluble in acids. Nickel carbonate is available primarily as basic nickel carbonate (NiCO3· 2Ni(OH)2 · 4H2O), which is not soluble in water and soluble in ammonia and dilute acids. In the natural environment, nickel carbonate tetrahydrate can be found as zaratite.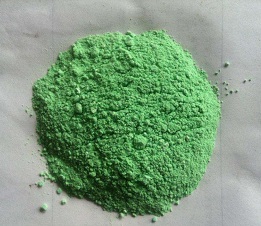 Physical properties
NiCO
3
: Light green rhombohedral crystals; decomposes on heating; practically insoluble in water, 93 mg/L at 25°C; dissolves in acids.
2NiCO
3
?3Ni(OH)
2
?4H
2
O: Light green crystals or brown powder; decomposes on heating; insoluble in water; decomposes in hot water; soluble in acids and in ammonium salts solutions.
Zaratite: Emerald greed cubic crystals; density 2.6 g/cm
3
; insoluble in water; soluble in ammonia and dilute acids.
Uses
Nickel carbonate is used to prepare nickel catalysts and several specialty compounds of nickel. It also is used as a neutralizing agent in nickel plating solutions. Other applications are in coloring glass and in the manufacture of ceramic pigments.
Preparation
Anhydrous nickel carbonate is produced as a precipitate when calcium carbonate is heated with a solution of nickel chloride in a sealed tube at 150°C. Alternatively, treating nickel powder with ammonia and carbon dioxide followed by boiling off ammonia yields pure carbonate.
When sodium carbonate is added to a solution of Ni(II) salts, basic nickel carbonate precipitates out in impure form.
Reactions
Nickel carbonate is the starting material for preparing many nickel salts. It reacts with dilute acids evolving carbon dioxide, and upon evaporation of the solution corresponding nickel salts are formed. The nitrate, sulfate and phosphate salts are prepared from carbonate. Similarly, reactions with hydrofluoric, hydrochloric, hydrobromic, or hydriodic acids yield hydrated nickel halides: namely NiF2•4H2O, NiCl2•6H2O, NiBr2•6H2O, and NiI2•6H2O, respectively:
NiCO3 + HCl → NiCl2•6H2O + CO2
NICKEL CARBONATE 611Nickel carbonate decomposes to nickel oxide when strongly ignited:
NiCO3 → NiO + CO2
Nickel carbonate, when dissolved in aqueous thiocyanic acid, yields a yellow brown precipitate of hydrated nickel thiocyanate:
2 NiCO3 + 2HSCN → Ni(SCN)2 + CO2 + H2O
Nickel carbonate forms many double salts, such as, Na2CO3•NiCO3•10H2O with alkali metal carbonates. However, such double carbonates usually are prepared by mixing an alkali metal or ammonium bicarbonate solution with a nickel salt solution, followed by crystallization.
Hazard
Confirmed carcinogen.
Safety Profile
Confirmed human carcinogen. When heated to decomposition it emits toxic vapors of nickel.
Nickel carbonate Preparation Products And Raw materials
Raw materials
Preparation Products
---
---
View Lastest Price from Nickel carbonate manufacturers
Image
Release date
Product
Price
Min. Order
Purity
Supply Ability
Manufacturer
2018-12-24
Nickel carbonate
3333-67-3
US $1.00 / kg
1kg
99%
as request
career henan chemical co
3333-67-3(Nickel carbonate)Related Search:
---
c.i.77779
carbonicacid,nickel(2+)salt
Carbonicacid,nickel(2+)salt(1:1)
carbonicacid,nickel(2++)salt(1:1)
Carbonicacid,nickelsalt
carbonicacid,nickelsalt(1:1)
NICKELOUS CARBONATE PWD
nickelmonocarbonate
PHENOLSTANDARD,SOLUTION
Nickel Carbonate, Powder
Carbonic acid nickel(II) salt
Nickel (II) carbonate≥98%
cino77779
nickel(2+)carbonate
nickel(2+)carbonate(nico3)
Nickel(II)Carbona
nickel(ii)carbonate(1:1)
nickelcarbonate(1:1)
NICKELCARBONATE,99.998%
NICKEL HYDROXIDE CARBONATE
NICKEL CARBONATE (OUS)
NICKEL CARBONATE
NICKEL(II) CARBONATE
NICKELOUS CARBONATE
ci77779
Nickel carbonate anhydrous
3333-67-3
NiCO3
CH2O3NI
INORGANIC & ORGANIC CHEMICALS
Inorganics