Chlorpropham
CAS No.

Chemical Name:

Chlorpropham

Synonyms

y3;Y 3;CIPC;CICP;DECCO;budnip;ci-ifk;CI-IPC;Cl-IFK;Furloe

CBNumber:

CB3136324

Molecular Formula:

C10H12ClNO2

Formula Weight:

213.66

MOL File:
Chlorpropham Properties
Melting point:

41°C
Boiling point:

247°C
Density

1.18
refractive index

nD20 1.5388
Flash point:

247°C
storage temp.

APPROX 4°C
form

crystalline

color

light tan

Water Solubility

0.009 g/100 ml very poor
Decomposition

247 ºC
Merck

14,2187
BRN

2211397
Exposure limits

An experimental carcinogen and neoplastigen
Stability:

Stable. Incompatible with strong acids, strong bases, strong oxidizing agents.
CAS DataBase Reference
NIST Chemistry Reference
EPA Substance Registry System
SAFETY
Risk and Safety Statements
Hazard and Precautionary Statements (GHS)
Symbol(GHS):
Signal word:
Danger
Hazard statements:

| Code | Hazard statements | Hazard class | Category | Signal word | Pictogram | P-Codes |
| --- | --- | --- | --- | --- | --- | --- |
| H225 | Highly Flammable liquid and vapour | Flammable liquids | Category 2 | Danger | | P210,P233, P240, P241, P242, P243,P280, P303+ P361+P353, P370+P378,P403+P235, P501 |
| H302 | Harmful if swallowed | Acute toxicity,oral | Category 4 | Warning | | P264, P270, P301+P312, P330, P501 |
| H312 | Harmful in contact with skin | Acute toxicity,dermal | Category 4 | Warning | | P280,P302+P352, P312, P322, P363,P501 |
| H319 | Causes serious eye irritation | Serious eye damage/eye irritation | Category 2A | Warning | | P264, P280, P305+P351+P338,P337+P313P |
| H332 | Harmful if inhaled | Acute toxicity,inhalation | Category 4 | Warning | | P261, P271, P304+P340, P312 |
| H351 | Suspected of causing cancer | Carcinogenicity | Category 2 | Warning | | P201, P202, P281, P308+P313, P405,P501 |
| H373 | May cause damage to organs through prolonged or repeated exposure | Specific target organ toxicity, repeated exposure | Category 2 | Warning | | P260, P314, P501 |
| H411 | Toxic to aquatic life with long lasting effects | Hazardous to the aquatic environment, long-term hazard | Category 2 | | | |

Precautionary statements:

| | |
| --- | --- |
| P210 | Keep away from heat/sparks/open flames/hot surfaces. — No smoking. |
| P273 | Avoid release to the environment. |
| P280 | Wear protective gloves/protective clothing/eye protection/face protection. |
| P391 | Collect spillage. Hazardous to the aquatic environment |
| P305+P351+P338 | IF IN EYES: Rinse cautiously with water for several minutes. Remove contact lenses, if present and easy to do. Continuerinsing. |
| P501 | Dispose of contents/container to..… |
| Manufacturer | Product number | Product description | CAS number | Packaging | Price | Updated | Buy |
| --- | --- | --- | --- | --- | --- | --- | --- |
| Sigma-Aldrich | 45393 | Chlorpropham PESTANAL | 101-21-3 | 250mg | $25.8 | 2018-11-20 | Buy |
Chlorpropham Chemical Properties,Uses,Production
Physicochemical properties
A solid with low melting point of 41.4 ℃. The density is d30 1.180 and the refractive index is nD20 (after cooling) 1.5395.At 25 C, the solubility in the water is 89mg/L, and the degree of melting in the oil is medium (10% in the kerosene). It can be mixed with the lower alcohols, aromatics and most organic solvents. The purity of the industrial product is 98.5%, and the melting point is 38.5 ~ 40℃. Stable at lower than 100 C, but slowly hydrolyzed in acid and alkaline medium.
Toxicity
The acute oral administration of LD50 is 5 ~ 7.5g/kg in rats, and the acute oral administration is 5g/kg in rabbits. The drug had no toxic effect on rabbit skin for 20 hours or 2g/ kg feed for rats and dogs for 2 years. The acute oral administration is LD50>2g/kg for wild ducks. The TLm (48 hours) of goldfish and carp (48 hours) is 10 ~ 40mg/L.
Mechanism of action
Mitotic inhibitor, in many perennial crops and some annual crops, it can be used alone or with other herbicides as pre-emergent selective weed removal. It is a plant growth regulator as well as a herbicide. It inhibits the activity of beta amylase, inhibits the synthesis of RNA and protein, interferes with oxidative phosphorylation and photosynthesis, and destroys cell division. Chloraniline is volatile. The steam can be absorbed by the bud in order to suppress weed bud growth. The residual effect in soil was longer than that of aniline, and the selectivity for some crops was smaller than that of aniline. In addition, it also regulates the growth of plants. It is used to inhibit the germination of potatoes during storage, flower and fruit thinning etc..
Applicable crops
Alfalfa, wheat, corn, soybean, sunflower, potato, sugar beet, rice, carrots, spinach, onions, etc..
Prevention and control object
Annual grasses and certain broadleaf weeds including ryegrass, barnyard grass, bluegrass, purslane, chickweed and Tusizi etc. annual grasses and certain broadleaf weeds.
Usage method
The amount of effective components is 2.24 ~ 4.5kg per hectare per hectare below 16 C in pre seedling soil treatment. Double the amount above 24 centigrade and mix soil after application. The post seedling treatment is 1.2 ~ 3.5kg. For the post seedling treatment, the activity of herbicide is poor. But it can control amaranth and Polygonum, chickweed and purslane in the seedling. As a growth regulator, it is used to inhibit the germination of potatoes.
Preparation method
It can be made by reaction of inter - Chloroaniline and isopropyl chloroformate or isopropanol and ISO - chlorophenyl isocyanate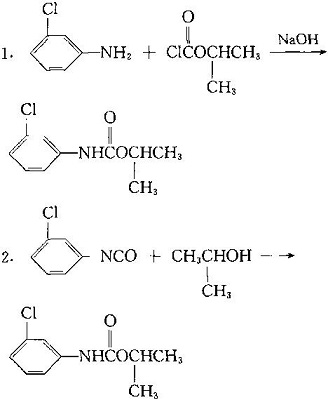 Analysis method
Determine the CO2 produced by acidolysis.
Residue determination:
(1) The H2SO4 is hydrolyzed of 1:1 by the extraction of two hydrogen methane, and the alkali is obtained. The 3- hydrogen aniline is vaporized and the colorimetric determination is carried out by the hypochlorite - phenol method.
(2) Infrared spectroscopy.
Chemical Properties
beige to brown solid
Uses
Herbicide; plant growth regulator.
Uses
Preemergent and postemergent herbicide used to regulate plant growth and control of weeds in carrot, onion, garlic and other crops
Definition
ChEBI: A carbamate ester that is the isopropyl ester of 3-chlorophenylcarbamic acid.
General Description
Brown chunky solid.
Air & Water Reactions
Insoluble in water.
Reactivity Profile
Chlorpropham is a carbamate ester. Carbamates are chemically similar to, but more reactive than amides. Like amides they form polymers such as polyurethane resins. Carbamates are incompatible with strong acids and bases, and especially incompatible with strong reducing agents such as hydrides. Flammable gaseous hydrogen is produced by the combination of active metals or nitrides with carbamates. Strongly oxidizing acids, peroxides, and hydroperoxides are incompatible with carbamates.
Hazard
Toxic by ingestion.
Fire Hazard
Flash point data for Chlorpropham are not available, however Chlorpropham is probably combustible.
Agricultural Uses
Herbicide, Plant growth regulator: Chlorpropham is a plant growth regulator that is used primarily in the U.S. to inhibit post-harvest potato sprouting. Other uses include pre-emergence control of grass weeds in alfalfa, beans, blueberries, cane berries, carrots, cranberries, ladino clover, garlic, seed grass, onions, spinach, sugar beets, tomatoes, safflower, soybeans, gladioli and woody nursery stock. It is used to control suckers in tobacco
Trade name
ATLAS® CIPC 40; BEET-KLEEN® (with Fenuron® and isopropyl carbanilate); BUDNIP®; CAMPBELL'S® CIPC 40%; CHLORO IPC®; ELBANIL®; FASCO® WY-HOE; FURLOE®; FURLOE® 4EC; JACK WILSON® CHLORO 51 (OIL); LIRO METOXON®; MIRVALE®; MORCRAN® (with n-1-naphthylphthalamic acid); MSS® CICP; NEXOVAL®; PREVENOL® 56; PREVENTOL®; PREVENTOL® 56; PREWEED®; RESIDUREN®; RESIDUREN® EXTRA; SPROUT NIP®; SPROUT-NIP® EC; SPUDNIC®; SPUD-NIE®; STOPGERME®-S; TATERPEX®; TRIPEC® (with carbamic acid, phenyl-, 1-methylethyl ester); TRIHERBICIDE® CIPC; UNICROP® CIPC; WAREFOG®; Y3®
Environmental Fate
Soil.
Hydrolyzes in soil forming 3-chloroaniline (Bartha, 1971; Hartley and Kidd, 1987; Smith, 1988; Rajagopal et al., 1989). In soil, Pseudomonas striata Chester, a Flavobacterium sp., an Agrobacterium sp. and an Achromobacter sp. readily degraded chlorpropham to 3-chloroaniline and 2-propanol. Subsequent degradation by enzymatic hydrolysis yielded carbon dioxide, chloride ions and unidentified compounds (Kaufman, 1967; Rajagopal et al., 1989). Hydrolysis products that may form in soil and in microbial cultures include N-phenyl-3-chlorocarbamic acid, 3-chloroaniline, 2-amino-4-chlorophenol, monoisopropyl carbonate, 2-propanol, carbon dioxide and condensation products (Rajagopal et al., 1989). The reported half-lives in soil at 15 and 29°C are 65 and 30 days, respectively (Hartley and Kidd, 1987)
Plant.
Chlorpropham is rapidly metabolized in plants (Ashton and Monaco, 1991). Metabolites identified in soybean plants include isopropyl-N-4-hydroxy-3-chlorophenylcarbamate, 1-hydroxy-2-propyl-3′-chlorocarbanilate and isopropyl-N-5-chloro-2-hy
Photolytic.
The photodegradation rate of chlorpropham in aqueous solution was enhanced in the presence of a surfactant (TMN-10) (Tanaka et al., 1981). In a later study, Tanaka et al. (1985) studied the photolysis of chlorpropham (50 mg/L) in aque
Chemical/Physical.
Emits toxic phosgene fumes when heated to decomposition (Sax and Lewis, 1987). In a 0.50 N sodium hydroxide solution at 20°C, chlorpropham was hydrolyzed to aniline derivatives. The half-life of this reaction was 3.5 days (El-Dib and Aly, 1976). Simple hydrolysis leads to the formation of 3-chlorophenylcarbamic acid and 2-propanol. The acid is very unstable and is spontaneously converted to 3-chloroaniline and carbon dioxide (Still and Herrett, 1976)
Chlorpropham Preparation Products And Raw materials
Raw materials
Preparation Products
---
Chlorpropham Suppliers
Global( 126)Suppliers
---
View Lastest Price from Chlorpropham manufacturers
Image
Release date
Product
Price
Min. Order
Purity
Supply Ability
Manufacturer
2018-12-25
Chlorpropham
101-21-3
US $1.00 / kg
1kg
95%-99%
1000kg
career henan chemical co
2018-10-30
Chlorpropham 98.5%/99%TC,25%EC,CAS NO.101-21-3
101-21-3
US $1.00 / G
100G
99.9%
50000 tons
Hebei Ruishun Trade Co.,Ltd
101-21-3(Chlorpropham)Related Search:
---
(3-chlorophenyl)carbamicacid,1-methylethylester
(3-Chlorophenyl)carbamicacid1-methylethylester
1-methylethyl(3-chlorophenyl)carbamate
3-Chlorocarbanilic acid, isopropyl ester
3-chlorocarbanilicacid,isopropylester
Atlas CIPC 40
budnip
bud-nip
Carbamate pesticide CIPC
Carbamic acid, (3-chlorophenyl)-, 1-methylethyl ester
Carbanilic acid, m-chloro-, isopropyl ester
carbanilicacid,m-chloro-,isopropylester
Chlor IFC
chlorifc
chlor-ifc
chlorifk
ChlorIPC
Chloro-IFK
Chlorpropam
Chlorprophame
chlorprophame(french)
ci-ifk
CI-IPC
Cl-IFK
ENT 18,060
ent18,060
Fasco WY-HOE
fascowy-hoe
Furloe
Furloe 3 EC
furloe3ec
furloe4ec
Gro Stop
IPC, CIPC
Isopropyl chlorocarbanilate
Isopropyl N-chlorophenylcarbamate
isopropylmeta-chlorocarbanilate
isopropyl-n-(3-chlorphenyl)-carbamat
isopropyln-chlorophenylcarbamate
Jack Wilson chloro 51(oil)
Liro CIPC
lirocipc
m-chloro-carbanilicaciisopropylester
Metoxon
Mirvale
MSS CIPC
N-(3-Chloor-fenyl)-isopropyl carbamaat
n-(3-chloor-fenyl)-isopropylcarbamaat
N-(3-Chloro phenyl)carbamate d'isopropyle
ATLAS INDIGO
ISOPROPYL-N-[M-CHLOROPHENYL]-CARBAMATE
ISOPROPYL M-CHLOROCARBANILATE
Isopropylm-chlorocartmnilate
ISOPROPYL N-(3-CHLOROPHENYL)-CARBAMATE
isopropyl 3-chlorocarbanilate
ISOPROPYL (3-CHLOROPHENYL)CARBAMATE
CIPC
CIPC(R)