SILVER TRIFLUOROMETHANESULFONATE
CAS No.

Chemical Name:

SILVER TRIFLUOROMETHANESULFONATE

Synonyms

AGOTF;fonate;ver trifL;uoromethanesuL;SILVER TRIFLATE;Silver(I)triflate;Indiumtrifluorometha;LVER TRIFLUOROMETHANESULFONATE;SILVER TRIFLUOROMETHANESULFOTE;SILVER TRIFLUOROMETANESULFONATE

CBNumber:

CB3157655

Molecular Formula:

CAgF3O3S

Formula Weight:

256.94

MOL File:
SILVER TRIFLUOROMETHANESULFONATE Properties
Melting point:

286 °C (lit.)
storage temp.

Store below +30°C.
form

Powder
color

White to light beige
Water Solubility

Soluble in water and also in most organic solvents.
Sensitive

Light Sensitive
Hydrolytic Sensitivity

6: forms irreversible hydrate
BRN

3598402
Stability:

Stable, but may be light sensitive. Incompatible with strong acids, strong oxidizing agents.
InChIKey

QRUBYZBWAOOHSV-UHFFFAOYSA-M
CAS DataBase Reference
EPA Substance Registry System
SAFETY
Risk and Safety Statements
SILVER TRIFLUOROMETHANESULFONATE price More Price(24)
| Manufacturer | Product number | Product description | CAS number | Packaging | Price | Updated | Buy |
| --- | --- | --- | --- | --- | --- | --- | --- |
| Sigma-Aldrich | 176435 | Silver trifluoromethanesulfonate ≥99% | 2923-28-6 | 1g | $26.2 | 2021-03-22 | Buy |
| Sigma-Aldrich | 8.14325 | Silver trifluoromethanesulfonate for synthesis | 2923-28-6 | 5 g | $69.93 | 2021-03-22 | Buy |
| Sigma-Aldrich | 176435 | Silver trifluoromethanesulfonate ≥99% | 2923-28-6 | 10g | $101 | 2021-03-22 | Buy |
| Sigma-Aldrich | 8.14325 | Silver trifluoromethanesulfonate for synthesis | 2923-28-6 | 25 g | $251.6 | 2021-03-22 | Buy |
| TCI Chemical | T1331 | Silver Trifluoromethanesulfonate >98.0%(T) | 2923-28-6 | 1g | $22 | 2021-03-22 | Buy |
SILVER TRIFLUOROMETHANESULFONATE Chemical Properties,Uses,Production
Reactions
Silver precatalyst for the asymmetric allylation of aldehydes
Silver catalyst for intramolecular additions of alcohols and carboxylic acids to inert olefins
Silver catalyst for the fluorination of boronic acids
Silver catalyst for the fluorination of functionalized aryl stannanes
Silver catalyst for cyclopropenation of internal alkynes with donor/acceptor substituted diazo compounds
Silver catalyst for the reaction of 2-alkynylbenzaldehyde with 2-isocyanoacetate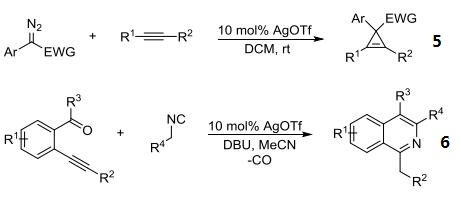 Chemical Properties
light beige crystalline powder
Purification Methods
Recrystallise it twice from hot CCl4 [Alo et al. J Chem Soc, Perkin Trans 1 805 1986]. Store it in the dark. [Beilstein 3 IV 34.]
SILVER TRIFLUOROMETHANESULFONATE Preparation Products And Raw materials
Raw materials
Preparation Products
---
---
View Lastest Price from SILVER TRIFLUOROMETHANESULFONATE manufacturers
Image
Release date
Product
Price
Min. Order
Purity
Supply Ability
Manufacturer
2021-07-13
SILVER TRIFLUOROMETHANESULFONATE
2923-28-6
US $15.00-10.00 / KG
1KG
99%+ HPLC
Monthly supply of 1 ton
Zhuozhou Wenxi import and Export Co., Ltd
2021-07-10
SILVER TRIFLUOROMETHANESULFONATE
2923-28-6
US $15.00-10.00 / KG
1KG
99%+ HPLC
Monthly supply of 1 ton
Zhuozhou Wenxi import and Export Co., Ltd
2019-07-06
SILVER TRIFLUOROMETHANESULFONATE
2923-28-6
US $1.00 / KG
1KG
99%
Customized
career henan chemical co
---
SILVER TRIFLUOROMETHANESULFONATE Spectrum
---
2923-28-6(SILVER TRIFLUOROMETHANESULFONATE)Related Search:
---
SILVER (I) TRIFLUOROMETHANE SULFONATE
SILVER(I) TRIFLUOROMETHANESULPHONATE
SILVER TRIFLATE
SILVER TRIFLUOROMETANESULFONATE
SILVER TRIFLUOROMETHANESULFONATE
SILVER TRIFLUOROMETHANESULPHONATE
TRIFLUOROMETHANESULFONATE SILVER SALT
TRIFLUOROMETHANESULFONIC ACID SILVER SALT
Silver triflate, Trifluoromethanesulfonic acid silver salt
(Trifluoromethylsulfonyloxy) silver(I)
Trifluoromethanesulfonic acid silver
Trifluoromethanesulfonic acid silver(I)
Trifluoromethylsulfonyloxysilver(I)
Silver trifluoromethanesulfonate,Silver triflate, Trifluoromethanesulfonic acid silver salt
Silver trifluoromethanesulfonate/ 97+%
LVER TRIFLUOROMETHANESULFONATE
Silver trifluoroMethanesulfonate,98% (Silver triflate) Ag(CF3SO3)
SILVER TRIFLUOROMETHANESULFONATE FOR SYN
(trifluoroMethylsulfonyloxy)silver, TfOAg
SILVER (I) TRILUOROMETHANE SULFONATE
silver(I) 4-(trifluoroMethyl)benzenesulfonate
Silver trifluoroMethanesulfonate >=99.95% trace Metals basis
Silver (trifluoromethyl)sulfonate
Silver trifluoromethanesulfonate purum, >=98.0% (Ag)
AGOTF
trifluoro-methanesulfonicacisilver(1++)salt
Silvertrifluoromethanesulfonate,99%(Silvertriflate)
Methanesulfonic acid, trifluoro-, silver(1+) salt
Silver trifluoromethanesulphonate 99%
Silver trifluormethanesulfonate
Silver(I) triflate~Trifluoromethanesulphonic acid silver(I) salt
SILVER TRIFLUOROMETHANESULFONATE, 99.95+ %
SILVER TRIFLUOROMETHANESULFONATE, 99+%
Silver(I)triflate
Trifluoromethanesulfonicacidsilver(I)salt
Silvertrifluoromethanesulphonate99%
SILVER TRIFLUOROMETHANESULFONATE (SILVER TRIFLATE)
SILVER TRIFLUOROMETHANESULFOTE
Silver trifluoromethanesulfonate (99.95%-Ag) (Silver triflate)
TRIFLUOROMETHYLSULFONYLOXYSILVER
Indiumtrifluorometha
Silver Trifluoromethanesulfonate (AgOTf)
SILVER TRIFLUOROMETHANESULFONATE, 99%SILVER TRIFLUOROMETHANESULFONATE, 99%SILVER TRIFLUOROMETHANESULFONATE, 99%SILVER TRIFLUOROMETHANESULFONATE, 99%
silver trifluoromethanesulphonate CHF3O3S.Ag
fonate
uoromethanesuL
ver trifL
Silver trifluoromethanesulfonate, 98%, for synthesis
Powdered silver trifluoromethanesulfonate
Methanesulfonic acid, 1,1,1-trifluoro-, silver(1+) salt (1:1)
Silver trifluoromethanesulfonate fandachem
SILVER TRIFLUOROMETHANESULFONATE ISO 9001:2015 REACH
2923-28-6
AgSO3CF3
AgOSO2CF3
CHF3O3SAg
CF3SO3Ag
CF3O3SAg