SILVER TRIFLUOROMETHANESULFONATE
CAS No.

Chemical Name:

SILVER TRIFLUOROMETHANESULFONATE

Synonyms

AGOTF;SILVER TRIFLATE;Silver(I)triflate;Indiumtrifluorometha;SILVER TRIFLUOROMETHANESULFOTE;LVER TRIFLUOROMETHANESULFONATE;Silver trifluormethanesulfonate;SILVER TRIFLUOROMETANESULFONATE;TRIFLUOROMETHYLSULFONYLOXYSILVER;SILVER TRIFLUOROMETHANESULFONATE

CBNumber:

CB3157655

Molecular Formula:

CAgF3O3S

Formula Weight:

256.94

MOL File:
SILVER TRIFLUOROMETHANESULFONATE Properties
Melting point:

286 °C(lit.)

storage temp.

2-8°C
form

Powder
color

White to light beige
Water Solubility

Soluble in water and also in most organic solvents.
Sensitive

Light Sensitive
BRN

3598402
Stability:

Stable, but may be light sensitive. Incompatible with strong acids, strong oxidizing agents.
InChIKey

QRUBYZBWAOOHSV-UHFFFAOYSA-M
CAS DataBase Reference
SAFETY
Risk and Safety Statements
Hazard and Precautionary Statements (GHS)
| | | | |
| --- | --- | --- | --- |
| Hazard Codes | Xi,C | | |
| Risk Statements | 36/37/38-50-34 | | |
| Safety Statements | 26-36-61-45-36/37/39 | | |
| RIDADR | 3260 | | |
| WGK Germany | 3 | | |
| F | 8 | | |
| Hazard Note | Corrosive | | |
| TSCA | Yes | | |
| HazardClass | CORROSIVE | | |
| HazardClass | 8 | | |
| HS Code | 28432900 | | |
Symbol(GHS):
Signal word:
Warning
Hazard statements:

| Code | Hazard statements | Hazard class | Category | Signal word | Pictogram | P-Codes |
| --- | --- | --- | --- | --- | --- | --- |
| H314 | Causes severe skin burns and eye damage | Skin corrosion/irritation | Category 1A, B, C | Danger | | P260,P264, P280, P301+P330+ P331,P303+P361+P353, P363, P304+P340,P310, P321, P305+ P351+P338, P405,P501 |
| H315 | Causes skin irritation | Skin corrosion/irritation | Category 2 | Warning | | P264, P280, P302+P352, P321,P332+P313, P362 |
| H318 | Causes serious eye damage | Serious eye damage/eye irritation | Category 1 | Danger | | P280, P305+P351+P338, P310 |
| H319 | Causes serious eye irritation | Serious eye damage/eye irritation | Category 2A | Warning | | P264, P280, P305+P351+P338,P337+P313P |
| H335 | May cause respiratory irritation | Specific target organ toxicity, single exposure;Respiratory tract irritation | Category 3 | Warning | | |
| H400 | Very toxic to aquatic life | Hazardous to the aquatic environment, acute hazard | Category 1 | Warning | | P273, P391, P501 |

Precautionary statements:

| | |
| --- | --- |
| P273 | Avoid release to the environment. |
| P280 | Wear protective gloves/protective clothing/eye protection/face protection. |
| P310 | Immediately call a POISON CENTER or doctor/physician. |
| P303+P361+P353 | IF ON SKIN (or hair): Remove/Take off Immediately all contaminated clothing. Rinse SKIN with water/shower. |
| P305+P351+P338 | IF IN EYES: Rinse cautiously with water for several minutes. Remove contact lenses, if present and easy to do. Continuerinsing. |
SILVER TRIFLUOROMETHANESULFONATE price More Price(22)
| Manufacturer | Product number | Product description | CAS number | Packaging | Price | Updated | Buy |
| --- | --- | --- | --- | --- | --- | --- | --- |
| Sigma-Aldrich | 176435 | Silver trifluoromethanesulfonate ≥99% | 2923-28-6 | 1g | $24.1 | 2018-11-13 | Buy |
| Sigma-Aldrich | 176435 | Silver trifluoromethanesulfonate ≥99% | 2923-28-6 | 10g | $92.9 | 2018-11-13 | Buy |
| TCI Chemical | T1331 | Silver Trifluoromethanesulfonate >98.0%(T) | 2923-28-6 | 1g | $22 | 2018-11-22 | Buy |
| TCI Chemical | T1331 | Silver Trifluoromethanesulfonate >98.0%(T) | 2923-28-6 | 10g | $97 | 2018-11-22 | Buy |
| Alfa Aesar | 088722 | Silver trifluoromethanesulfonate, 98% | 2923-28-6 | 2g | $18 | 2018-11-16 | Buy |
SILVER TRIFLUOROMETHANESULFONATE Chemical Properties,Uses,Production
Reactions
Silver precatalyst for the asymmetric allylation of aldehydes
Silver catalyst for intramolecular additions of alcohols and carboxylic acids to inert olefins
Silver catalyst for the fluorination of boronic acids
Silver catalyst for the fluorination of functionalized aryl stannanes
Silver catalyst for cyclopropenation of internal alkynes with donor/acceptor substituted diazo compounds
Silver catalyst for the reaction of 2-alkynylbenzaldehyde with 2-isocyanoacetate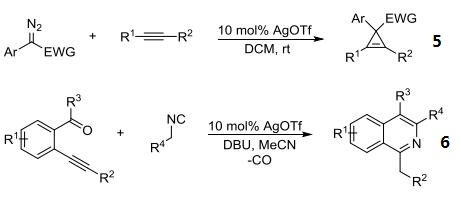 Chemical Properties
light beige crystalline powder
Purification Methods
Recrystallise it twice from hot CCl4 [Alo et al. J Chem Soc, Perkin Trans 1 805 1986]. Store it in the dark. [Beilstein 3 IV 34.]
SILVER TRIFLUOROMETHANESULFONATE Preparation Products And Raw materials
Raw materials
Preparation Products
---
SILVER TRIFLUOROMETHANESULFONATE Suppliers
Global( 231)Suppliers
---
SILVER TRIFLUOROMETHANESULFONATE Spectrum
---
2923-28-6(SILVER TRIFLUOROMETHANESULFONATE)Related Search:
---
AGOTF
trifluoro-methanesulfonicacisilver(1++)salt
Silver trifluormethanesulfonate
Silver(I) triflate~Trifluoromethanesulphonic acid silver(I) salt
SILVER TRIFLUOROMETHANESULFONATE, 99.95+ %
SILVER TRIFLUOROMETHANESULFONATE, 99+%
Silver(I)triflate
Trifluoromethanesulfonicacidsilver(I)salt
Silvertrifluoromethanesulfonate,99%(Silvertriflate)
Methanesulfonic acid, trifluoro-, silver(1+) salt
Silver trifluoromethanesulphonate 99%
Silvertrifluoromethanesulphonate99%
SILVER TRIFLUOROMETHANESULFONATE (SILVER TRIFLATE)
SILVER TRIFLUOROMETHANESULFOTE
Silver trifluoromethanesulfonate (99.95%-Ag) (Silver triflate)
TRIFLUOROMETHYLSULFONYLOXYSILVER
Indiumtrifluorometha
SILVER (I) TRIFLUOROMETHANE SULFONATE
SILVER(I) TRIFLUOROMETHANESULPHONATE
SILVER TRIFLATE
SILVER TRIFLUOROMETANESULFONATE
SILVER TRIFLUOROMETHANESULFONATE
SILVER TRIFLUOROMETHANESULPHONATE
TRIFLUOROMETHANESULFONATE SILVER SALT
TRIFLUOROMETHANESULFONIC ACID SILVER SALT
Silver triflate, Trifluoromethanesulfonic acid silver salt
(Trifluoromethylsulfonyloxy) silver(I)
Trifluoromethanesulfonic acid silver
2923-28-6
CAgF3O3S
AgCF3SO3
CF3O3SAg
Catalysis and Inorganic Chemistry
Metal Triflates
Ag (Silver) Compounds
Transition Metal Compounds
Catalysts for Organic Synthesis
Classes of Metal Compounds
Homogeneous Catalysts
Ag (Silver) Compounds
Catalysts for Organic Synthesis
Classes of Metal Compounds
Homogeneous Catalysts
CF3SO3Ag
AgOSO2CF3
CHF3O3SAg
AgSO3CF3
Trifluoromethanesulfonic acid silver(I)
Trifluoromethylsulfonyloxysilver(I)
Silver trifluoromethanesulfonate,Silver triflate, Trifluoromethanesulfonic acid silver salt
Silver trifluoromethanesulfonate/ 97+%
LVER TRIFLUOROMETHANESULFONATE
Silver trifluoroMethanesulfonate,98% (Silver triflate) Ag(CF3SO3)
SILVER TRIFLUOROMETHANESULFONATE FOR SYN
(trifluoroMethylsulfonyloxy)silver, TfOAg
SILVER (I) TRILUOROMETHANE SULFONATE
silver(I) 4-(trifluoroMethyl)benzenesulfonate
Silver trifluoroMethanesulfonate >=99.95% trace Metals basis