Silodosin
CAS No.

Chemical Name:

Silodosin

Synonyms

Urief;CS-288;Rapaflo;KMD 3213;KAD 3213;Silodosin;Silodoxin;Silodosin-d4;Silodosin API;Silodosin(Rapaflo)

CBNumber:

CB42129460

Molecular Formula:

C25H32F3N3O4

Formula Weight:

495.53

MOL File:
Silodosin Properties
alpha

D25 -14.0° (c = 1.01 in methanol)
Boiling point:

601.4±55.0 °C(Predicted)
Density

1.249±0.06 g/cm3(Predicted)
storage temp.

Keep in dark place,Inert atmosphere,2-8°C
pka

14.85±0.10(Predicted)
CAS DataBase Reference
FDA UNII
NCI Drug Dictionary
ATC code
| Manufacturer | Product number | Product description | CAS number | Packaging | Price | Updated | Buy |
| --- | --- | --- | --- | --- | --- | --- | --- |
| Cayman Chemical | 14866 | Silodosin ≥98% | 160970-54-7 | 1mg | $39 | 2021-03-22 | Buy |
| Cayman Chemical | 14866 | Silodosin ≥98% | 160970-54-7 | 5mg | $156 | 2021-03-22 | Buy |
| Cayman Chemical | 14866 | Silodosin ≥98% | 160970-54-7 | 10mg | $293 | 2021-03-22 | Buy |
| Cayman Chemical | 14866 | Silodosin ≥98% | 160970-54-7 | 25mg | $683 | 2021-03-22 | Buy |
Silodosin Chemical Properties,Uses,Production
Treatment of prostatic hyperplasia
Silodosin is a kind of α-adrenergic receptor antagonists developed by Japanese Kissei pharmaceutical company. It has a very good therapeutic efficacy on treating the dysuria related to benign prostatic hyperplasia. The selective effect on urethra of Silodosin is 12 times and 7.4 times as high as that of prazosin and tamsulosin, respectively, which can significantly inhibit norepinephrine-induced contraction of the prostate; it has dose-dependent inhibition bladder activity excitation in the benign prostatic hypertrophy models of rats, and can also improve the pressure threshold of bladder contraction. These data have suggested that, in addition to helping improve bladder function, silodosin is also effective in alleviating the related symptoms associated with benign prostatic hypertrophy.
Compared with similar drugs such as prazosin and tamsulosin, silodosin has a high selectivity onn theα1A-receptors located in the prostate and bladder neck, while having a low affinity to theα1B-and α1D-receptor. It can block theα1A-receptors in these sites, and relax the smooth muscle, and thus leading to the improvement of urinary flow rate and the alleviation of BPH symptoms.
The selective binding to the α1A-receptor by silodosin has a higher selectivity compared to the binding to the cardiovascular associated receptors α1B, thus maximizing the activity of the target organ as well as minimizing the potential effect on blood pressure.
The above information is edited by the chemicalbook of Dai Xiongfeng.
Benign prostatic hyperplasia
Benign prostatic hyperplasia (referred as BPH) is one of the most common diseases in older male with the non-malignant prostate being the character. It can cause the obstructive urination symptoms and other irritation symptoms which have brought significant negative impact on the life of older people. In recent years, with the increasing level of industrialization of China, the annual intake of animal protein intake gradually increased and life expectancy increases, the incidence of benign prostatic hyperplasia also has increased year by year. Over 50 percent in elderly people at age 60 or above has got this disease. This ratio increases to over 90% for elderly people over 85 years-old. Its triggering factor has not been totally elucidated. It is generally believed that this is related to the secretion of sex hormones and cholesterol as well as other kinds of metabolic disorders. Some people think that, for elder people, their weakened pituitary-gonadotropin-pathway or endogenous change cause degeneration of testicles decreased sexual function, reduced testosterone value, as well as the change of glandular epithelium and enlarged prostate caused by the increased connected tissue of prostate.
The enlargement of prostate will compress the urethra, resulting in poor urine flow of bladder and even blocked bladder outlet. There is α1A-adrenergic receptor located in the human prostate. The activation of the receptor will deteriorate the symptoms of dysuria and urethral obstruction. Therefore, by blocking the binding α1A-adrenergic receptor, we can relax the obstructed prostate smooth muscle relaxation, and thereby alleviating the symptoms. In recent years, people has achieved excellent efficacy by clinically applying 5α-reductase inhibitors and α1-adrenergic receptors (α1-AR) blocker (silodosin). This is considered as a major breakthrough in drug treatment of benign prostatic hyperplasia.
Uses
It can be used for treatment of benign prostatic hyperplasia.
Description
Silodosin, an a1A adrenoceptor (a1A-AR) antagonist selective for prostatic receptors, was launched as an oral treatment for dysuria associated with benign prostatic hypertrophy (BPH). The regulation of smooth muscle tone in the bladder neck and prostate is thought to be primarily mediated by a1A-AR. Blockade of these receptors can cause smooth muscle relaxation in these areas, resulting in improved symptoms and urinary flow rates. Conversely, a1B-AR are largely located on vascular smooth muscle, and antagonism of these receptors can cause tissue relaxation and potentially decrease cardiac compensation mechanisms involved in regulating blood pressure.
Chemical Properties
White Solid
Originator
Kissei (Japan)
Uses
An α1a-adrenoceptor antagonist. It is used in treatment of benign prostatic hypertophy.
Uses
Silodosin(Rapaflo) is an α1-adrenoceptor antagonist with high uroselectivity. It causes practically no orthostatic hypotension (in contrast to other α1 blockers). Since Silodosin is a highly selective inhibitor of the α1A adrenergic receptor, it causes pr
brand name
Urief
Chemical Synthesis
The synthesis of silodosin has been disclosed in several patents. The latest synthetic route disclosed in the 2006 patent is highlighted in the scheme. The synthesis started with Grignard generation from readily available bromoindoline 65 by treating it with Mg in the presence of a catalytic dibromoethane in THF. After initiation of the reaction with some heat and refluxing at a steady rate, CBZ protected oxazolidinone 66 [39b] was added over 1 h, refluxed for 4 h and then stirred at room temperature for 2 days. The reaction was quenched with 6 M aqueous HCl and stirred for 12 h after which time the reaction was worked up to provide product 67 in 53% yield. Ketone 67 was then treated with triethylsilane in TFA at 0oC and stirred at room temperature for 10 h to provide amine 68 in 61% yield. Bromination of the indoline 68 with bromine in warm acetic acid furnished bromide 69 in 53% yield which was reacted with copper cyanide in DMF at 130oC to give the cyano indoline 70 in 82% yield. Selective deprotection of the benzyloxycarbonyl over the benzyl group was accomplished by reacting indoline 70 with 1 atm hydrogen in the presence of 5% Pd/C in ethanol at room temperature. The resulting free amine 71 was then reacted with mesylate 72 in t-butanol with sodium carbonate as base at 80-90oC for 46 h to provide 73 in 67% yield. Removal of the benzyl ether was accomplished by reacting 73 with 1 atm hydrogen in the presence of 10%Pd/C to give alcohol 74, which upon hydrolysis provided the desired silodosin (X). No yield for the final reaction was given.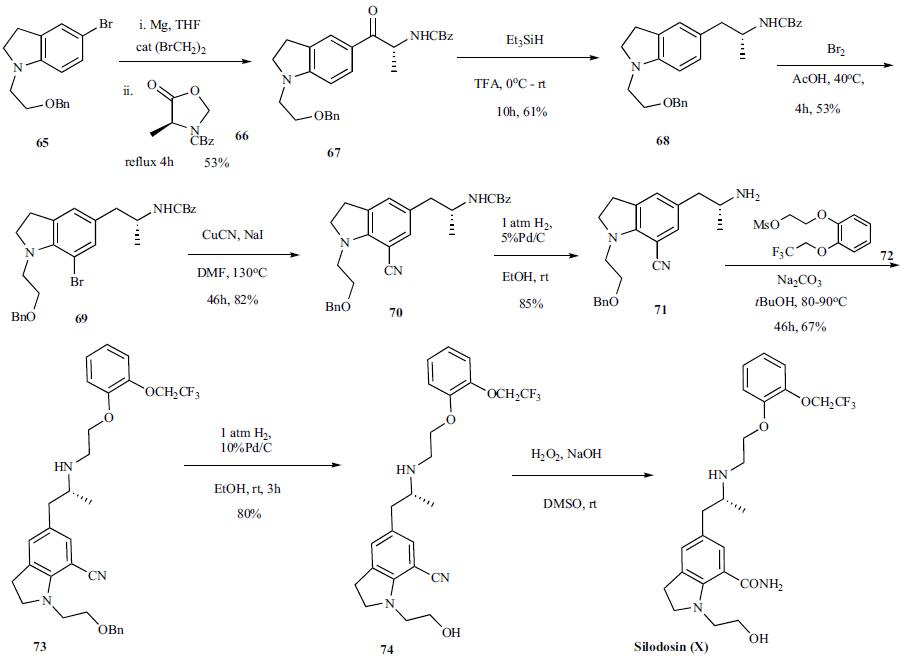 Silodosin Preparation Products And Raw materials
Raw materials
Preparation Products
---
---
Related articles
Silodosin is a selective antagonist of alpha(α)-1 adrenergic receptors that binds to the α1A subtype with the highest affinity....

Sep 24,2021
---
View Lastest Price from Silodosin manufacturers
Image
Release date
Product
Price
Min. Order
Purity
Supply Ability
Manufacturer
2021-11-02
Silodosin
160970-54-7
US $225.00 / g
20Kg/Bag
99%
100KG
Baoji Guokang Healthchem co.,ltd
2021-10-21
Silodosin
160970-54-7
US $15.00-45.00 / g
0.5KG
>99%
20tons
Anhui Rencheng Technology Co., Ltd
2021-10-20
Silodosin
160970-54-7
US $90.00 / KG
1KG
99%
9000kg/per week
Hebei Lingding Biological Technology Co., Ltd
160970-54-7(Silodosin)Related Search:
Paraformaldehyde
Silodosin Carboxylic Acid Impurity
Silodosin Glucuronide
5-(2-Aminopropyl)-1-[3-(benzoyloxy)propyl]-2,3-dihydro-1H-indole-7-carbonitrile
Silodosin
O-Acetyl Silodosin
1-[3-(Benzoyloxy)propyl]-2,3-dihydro-5-(2-nitropropyl)-1H-indole-7-carbonitrile
(R)-5-(2-((2-(2-ethoxyphenoxy)ethyl)amino)propyl)-1-(3-hydroxypropyl)indoline-7-carboxamide(WXG00186)
CalciuM polycarbophil
1-(3-Hydroxypropyl)-5-[(2R)-2-[[2-[2-(2,2,2-trifluoroethoxy)phenoxy]ethyl]aMino]propyl]-1H-indole-7-carboxaMide
NCFJJNFEEPMRAQ-XMMPIXPASA-N
1H-Indole-7-carbonitrile, 2,3-dihydro-1-(3-hydroxypropyl)-5-[(2R)-2-[[2-[2-(2,2,2-trifluoroethoxy)phenoxy]ethyl]aMino]propyl]-
Tamsulosin
Voriconazole
Solifenacin succinate
2-[2-(2,2,2-Trifluoroethoxy)phenoxy]ethyl methanesulfonate
VILAZODONE
5-[(2R)-2-Aminopropyl]-1-[3-(benzoyloxy)propyl]-2,3-dihydro-1H-indole-7-carbonitrile (2R,3R)-2,3-dihydroxybutanedioate
---
Silodosin-d4
Silodoxin
1H-Indole-7-carboxaMide,2,3-dihydro-1-(3-hydroxypropyl)-5-[(2R)-2-[[2-[2-(2,2,2-trifluoroethoxy)phenoxy]ethyl]aMino]propyl]-
1-(3-hydroxypropyl)-5-[(2R)-({2-[2-[2-(2,2,2-trifluoroethoxy)phenoxy]ethyl}aMino)propyl]indoline-7-carboxaMide
KAD 3213
KMD 3213
Urief
Silodosin API
(–)-1-(3-Hydroxypropyl)-5-[(2R)-2-[[2-[2-(2,2,2-trifluoroethoxy)phenoxy]ethyl]amino]propyl]-2,3-di-hydro-1H-indole-7-carboxamide
Silodosin
Silodosin(Rapaflo)
(–)-1-(3-Hydroxypropyl)-5-[(2R)-2-[[2-[2-(2,2,2-tr
(–)-1-(3-Hydroxypropyl)-5-[(2R)-2-[[2-[2-(2,2,2-trifluoroethoxy)phenoxy]ethyl]aMino]propyl]-2,3-di-h
(R)-1-(3-Hydroxypropyl)-5-[2-[[2-[2-(2,2,2- trifluoroethoxy)phenoxy]ethyl]aMino]propyl]indoline-7-carboxaMide
2,3-Dihydro-1-(3-hydroxypropyl)-5-[(2R)-2-[[2-[2-(2,2,2-trifluoroethoxy)phenoxy]ethyl]aMino]propyl]-1H-indole-7-carboxaMide
Silodosin, 98%, an α1-adrenoceptor antagonist
Rapaflo
CS-288
Silodosin API, IH Grade
Silodosin (S)-Isomer
Silodosin fandachem
Silodosin USP/EP/BP
160970-54-7
49553
KAD 3213, KMD 3213
Other APIs
Amines
Aromatics
Chiral Reagents
Heterocycles
Intermediates & Fine Chemicals
Pharmaceuticals
API