1-(2,6-Dichlorophenyl)-2-indolinone
CAS No.

Chemical Name:

1-(2,6-Dichlorophenyl)-2-indolinone

Synonyms

Diclac;Pennsaid;Rhumalgan;Voltaflan;Diciofenac;Diclofenac;Dielofenac;DicloMelan;DicloreuMa;Transfenac

CBNumber:

CB5225367

Molecular Formula:

C14H11Cl2NO2

Formula Weight:

296.15

MOL File:
1-(2,6-Dichlorophenyl)-2-indolinone Properties
Melting point:

156-158°
Boiling point:

412.0±45.0 °C(Predicted)
Density

1.431±0.06 g/cm3(Predicted)
pka

pKa 4 (Uncertain)
Water Solubility

1.278mg/L(30 ºC)
Merck

14,3081
InChIKey

DCOPUUMXTXDBNB-UHFFFAOYSA-N
CAS DataBase Reference
NCI Dictionary of Cancer Terms
NIST Chemistry Reference
EPA Substance Registry System
SAFETY
Risk and Safety Statements
1-(2,6-Dichlorophenyl)-2-indolinone price More Price(1)
| Manufacturer | Product number | Product description | CAS number | Packaging | Price | Updated | Buy |
| --- | --- | --- | --- | --- | --- | --- | --- |
| TCI Chemical | D3748 | 2-(2,6-Dichloroanilino)phenylacetic Acid >98.0%(GC)(T) | 15307-86-5 | 25g | $48 | 2021-03-22 | Buy |
1-(2,6-Dichlorophenyl)-2-indolinone Chemical Properties,Uses,Production
Application in Particular Diseases
In Osteoarthritis:
Topical diclofenac in a dimethyl sulfoxide carrier (Pennsaid) is a safe and effective treatment for Osteoarthritis pain. It is thought to act primarily by local inhibition of COX-2 enzymes.
Originator
Voltaren,Fujisawa,Japan,1974
Uses
prostaglandin synthetic inhibitor
Uses
Diclofenac possesses all of the properties unique to the series of propionic acid drugs, yet in terms of anti-inflammatory and analgesic strength it exceeds that of aspirin, analgin, and ibuprofen. It is used in acute rheumatism, rheumatoid arthritis, osteoarthritis, ankylosing spondylitis, arthrosis, back pain, neuralgia, and myalgia. It rarely causes side effects. The most common synonym is voltaren.
Indications
Diclofenac (Voltaren, Cataflam) is approved for use in rheumatoid arthritis, osteoarthritis, ankylosing spondylitis, dysmenorrhea, and topically for the treatment treatment of ocular inflammation and actinic keratosis. Diclofenac exhibits approximately equal selectivity for COX-1 and COX-2. The most common adverse reactions are GI disturbances and headache.A reversible elevation of serum transaminases occurs in 15% of patients.
Manufacturing Process
Four grams of N-chloroacetyl-N-phenyl-2,6-dichloroaniline and 4 grams of aluminum chloride are well mixed together and heated for 2 hours at 160°C. The melt is cooled and poured onto about 50 grams of ice while it is still warm. The oil which separates is dissolved in 50 ml of chloroform, the chloroform solution is washed with 10 ml of water, dried over sodium sulfate and concentrated under 11 torr. The residue is distilled. The 1-(2,6- dichlorophenyl)-2-indolinone melts at 126°-127°C.
A solution of 186 grams of 1-(2,6-dichlorophenyl)-2-indolinone in 660 ml of ethanol and 660 ml of 2 N sodium hydroxide solution is refluxed for 4 hours. The solution is then cooled and left to stand for 4 hours at 0°-5°C. The crystals which form are filtered off and recrystallized from water. The sodium salt of 2-(2,6-dichloroanilino)-phenylacetic acid melts at 283°-285°C. The yield is 97% of theoretical, according to US Patent 3,558,690.
Therapeutic Function
Antiinflammatory
Biological Functions
Diclofenac (Voltaren) is a phenylacetic acid derivative that is a potent inhibitor of COX and that has analgesic, antiinflammatory, and antipyretic effects. Its use is accompanied by side effects similar to those of other NSAIDs. Indications for the drug include rheumatoid arthritis, osteoarthritis, and ophthalmic inflammation (use of an ophthalmic preparation).
Mechanism of action
Diclofenac is unique among the NSAIDs in that it possesses three possible mechanisms of action: 1) inhibition of the arachidonic acid cyclooxygenase system (3 to 1,000 times more potent than other NSAIDs on a molar basis), resulting in a decreased production of prostaglandins and thromboxanes; 2) inhibition of the lipoxygenase pathway, resulting in decreased production of leukotrienes, particularly the pro-inflammatory LKB4; and 3) inhibition of arachidonic acid release and stimulation of its reuptake, resulting in a reduction of arachidonic acid availability.
Pharmacokinetics
Diclofenac is rapidly and completely (~100%) absorbed on oral administration, with peak plasma levels being reached within 1.5 to 2.5 hours. The free acid (pKa = 4.0) is highly bound to serum proteins (99.5%), primarily albumin. Only 50 to 60% of an oral dose is bioavailable because of extensive hepatic metabolism.
Clinical Use
Diclofenac is synthesized from N-phenyl-2,6-dichloroaniline. It is available in 120 different countries and, perhaps, is the most widely used NSAID in the world. It was introduced in the United States in 1989 but was first marketed in Japan in 1974. It ranks among the top prescription drugs in the United States. Diclofenac possesses structural characteristics of both arylalkanoic acid and the anthranilic acid classes of anti-inflammatory drugs, and it displays anti-inflammatory, analgetic, and antipyretic properties.
Chemical Synthesis
Diclofenac, 2-[(2,6-dichlorophenyl)-amino]-phenylacetic acid (3.2.42), is synthesized from 2-chlorobenzoic acid and 2,6-dichloroaniline. The reaction of these in the presence of sodium hydroxide and copper gives N-(2,6-dichlorophenyl)anthranylic acid (3.2.38), the carboxylic group of which undergoes reduction by lithium aluminum hydride. The resulting 2-[(2,6-dicholorphenyl)-amino]-benzyl alcohol (3.2.39) undergoes further chlorination by thionyl chloride into 2-[(2,6-dichlorophenyl)-amino]-benzylchloride (3.2.40) and further, upon reaction with sodium cyanide converts into 2-[(2,6-dicholorophenyl)-amino]benzyl cyanide (3.2.41). Hydrolysis of the nitrile group leads to diclofenac (3.2.42) [107,108].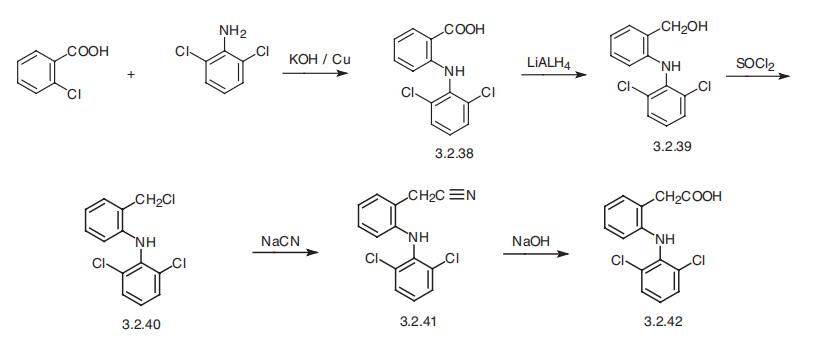 Metabolism
Four major metabolites resulting from aromatic hydroxylation have been identified. The major metabolite via CYP3A4 is the 4′-hydroxy derivative and accounts for 20 to 30% of the dose excreted, whereas the 5-hydroxy, 3′-hydroxy, and 4′,5-dihydroxy metabolites via CYP2C9 account for 10 to 20% of the excreted dose. The remaining drug is excreted in the form of sulfate conjugates. Although the major metabolite is much less active than the parent compound, it may exhibit significant biological activity, because it accounts for 30 to 40% of all of the metabolic products.
1-(2,6-Dichlorophenyl)-2-indolinone Preparation Products And Raw materials
Raw materials
Preparation Products
---
---
View Lastest Price from 1-(2,6-Dichlorophenyl)-2-indolinone manufacturers
Image
Release date
Product
Price
Min. Order
Purity
Supply Ability
Manufacturer
2020-11-25
Diciofenac
15307-86-5
US $0.00 / KG
100g
98%+
100kg
WUHAN CIRCLE POWDER TECHNOLOGY CO.,LTD
2020-07-16
Diclofenac
15307-86-5
US $15.00 / KG
1KG
99%
10tons
Xingtai Haoxun Import and Export Trade Co., Ltd.
2020-12-04
Diclofenac
15307-86-5
US $1.00 / g
10g
99%
1000kgs
WUHAN CIRCLE POWDER TECHNOLOGY CO.,LTD
15307-86-5(1-(2,6-Dichlorophenyl)-2-indolinone)Related Search:
---
Diciofenac
1-(2,6-DICHLOROPHENYL)-1,3-DIHYDRO-INDOLE-2-ONE
(N-1-(2,6-DICHLOROPHENYL) -2-INDOLIN-2-ONE
2-[[2,6-Dichlorophenyl] amino] benzeneacetic acid
1-(2,6-DICHLOROPHENYL)-2-INDOLINONE /MEQUITAZINE
1-(2,6-DICHLOROPHENYL)-2-INDOLINONE/INDOLINONE
DICLOFENAC ACID/[2-(2,6-DICHLORO-PHENYLAMINO)-PHENY]-ACETIC ACID
(o-(2,6-dichloroanilino)phenyl)-acetic acid
dichlofenac
[2-(2,6-Dichloroanilino)phenyl]-acetic acid
2-[2-(2,6-Dichlorophenyl)aminophenyl]ethanoic acid
Diclofenac
SodiuM2-[2-[(2-BroMo-6-chlorophenyl)aMino]phenyl]acetate
Pennsaid
IMp. D (EP) as SodiuM Salt: SodiuM 2-[2-[(2-BroMo-6-chlorophenyl)aMino]phenyl]acetate
IMp. D (EP): 2-[2-[(2-BroMo-6-chlorophenyl)aMino]phenyl]acetic Acid
DICLOFENAC FREE ACID
Rhumalgan
2-(2-(2,6-dichlorophenylamino)phenyl)acetic acid
[2-[(2,6-Dichlorophenyl)aMino]phenyl]-Methanol (Diclofenac alcohol)
2-[(2,6-Dichlorophenyl)aMino]benzaldehyde (Diclofenac aldehyde)
2-[2-[(2-broMo-6-chlorophenyl)aMino]phenyl]acetic acid
Dielofenac
Diclofenac Free Base
2-(2,6-dichloroanilino)-2-phenylacetic acid
Dichlofenac acid
Diclac
DiclofenaMic acid
DicloMelan
DicloreuMa
Transfenac
Voltaflan
Aceclofenac IMpurity-A(EP/BP)
Diclofenac SodiuM IMp. D (EP)
Diclofenac acid Solution, 100ppm
Diciofenac solution,100ppm
Benzeneacetic acid,2-[(2,6-dichlorophenyl)aMino]-
1-(2,6-Dichlorophenyl)-2-indolinone, 99%, 99%
Diclofenac aci
2-[(2,6-Dichlorophenyl)amino]phenyl-acetic acid
Aceclofenac EP impurity-A(Diclofenac)
Diclofenac (Aceclofenac EP Impurity A)
Diclofenac(2-(2,6-Dichloroanilino)phenylacetic Acid)
2-(2,6-Dichloroanilino)phenylaceticAcid&gt
Diclofenacum
15307-86-5
5307-86-5
15362-40-4
16362-40-0
15362-40-4
C14H9Cl2NO
C14H10Cl2NO2
Indoles and derivatives
pharmacetical