Prulifloxacin
CAS No.

Chemical Name:

Prulifloxacin

Synonyms

nm441;Sword;Pruvel;CS-1352;Quisnon;AF 3012;PRULIFLOXACIN;Prulifloxacine;Prulioxacin-d8;Prulifloxacin&gt

CBNumber:

CB5474525

Molecular Formula:

C21H20FN3O6S

Formula Weight:

461.46

MOL File:
Prulifloxacin Properties
Melting point:

211-214°C
Boiling point:

633.2±65.0 °C(Predicted)
Density

1.62±0.1 g/cm3(Predicted)
storage temp.

Sealed in dry,Store in freezer, under -20°C
solubility

1 M NaOH: soluble25ML, clear, colorless (Solvent: 1 mg + 25 mL of NaOH)
pka

5.85±0.40(Predicted)
form

White to yellow crystalline solid.
λmax

276nm(H2O)(lit.)
Merck

14,7908
CAS DataBase Reference
FDA UNII
ATC code
| Manufacturer | Product number | Product description | CAS number | Packaging | Price | Updated | Buy |
| --- | --- | --- | --- | --- | --- | --- | --- |
| TCI Chemical | P2058 | Prulifloxacin >98.0%(HPLC)(T) | 123447-62-1 | 1g | $148 | 2021-03-22 | Buy |
| TCI Chemical | P2058 | Prulifloxacin >98.0%(HPLC)(T) | 123447-62-1 | 5g | $443 | 2021-03-22 | Buy |
Prulifloxacin Chemical Properties,Uses,Production
Abstract
Prulifloxacin, a prodrug of Ulifloxacin inhibits replication of bacterial DNA (nuclear material) by inhibition of DNA-gyrase in microbes, is a newer class of fluoroquinolone exerts broad-spectrum anti-bacterial activity against several Gram-positive and Gram-negative organisms. Prulifloxacin is generally prescribed for the treatment of uncomplicated lower urinary tract infections, acute exacerbations of chronic bronchitis and complicated lower urinary tract infections.
Quinolone antibiotics
Prulifloxacin is a quinolone antibiotic, a fluoroquinolone antibiotics prodrug NM394 by the Japan Pharmaceutical Co. and Meiji Seika Kaisha, Ltd. joint research and development in the late eighties, and it was first approved for marketing in December 2002 in Japan. the dosage form is 100mg tablets, by inhibiting bacterial DNA topoisomerase ⅱ and ⅳ activity and bacterial DNA synthesis, completing sterilization, which is different from the traditional model, without drug resistance to other classes of antibiotics. It is used for the treatment of respiratory gram-positive bacteria and negative bacteria clinically, which is caused by infections, urogenital infections, otolaryngology infection, biliary tract infections, enteritis, skin and soft tissue infections and surgical infections. Notable features are as follows:
Anti-gram-positive bacteria are similar with ciprofloxacin. The anti-Gram-negative bacteria, led by pseudomonas aeruginosa, is better than the similar products, such as ciprofloxacin, ofloxacin, levofloxacin, resistance to green pus bacillus particularly high sensitivity, and the antibacterial abilitu is better than the gatifloxacin class and other antibiotics currently listed.
The oral absorption is good without savings and cerebrospinal fluid distribution, and the side effects is little.
The half-life is as long as 8-9 hours, and the number of eating medication is few.
Rapid onset, time to peak within 0.5 to 1 hour, the effet is stronger (due to bacterial accumulation in good).
Indication
It is used for the treatment of prulifloxacin sensitive staphylococcus, streptococcus, Neisseria gonorrhoeae, (except typhoid, paratyphoid) pneumoniae, Enterococcus, Moraxella Alex Salmonella, E. coli, Shigella, Salmonella, lemon acid bacteria, Klebsiella pneumoniae, Serratia, Proteus, Vibrio cholerae, Pseudomonas aeruginosa, Streptococcus digestion, they can cause the following infections:
Superficial skin infections (acute superficial folliculitis, infectious impetigo), deep skin infections (cellulitis, erysipelas, boils, boils swollen disease, appendicitis, suppurative paronychia), chronic pyoderma (sebaceous cyst infection, purulent, etc.).
Superficial secondary infections, such as abscess, trauma, burns, and surgical trauma.
Acute respiratory infections (pharyngitis, tonsillitis, acute bronchitis), chronic respiratory disease secondary infection (chronic bronchitis, diffuse bronchiolitis, bronchiectasis, emphysema, pulmonary fibrosis, bronchial asthma, etc.) and pneumonia.
Cystitis, pyelonephritis, prostatitis.
Cholecystitis, cholangitis.
Infectious enteritis, bacillary dysentery, salmonellosis, cholera.
The uterine infection, adnexitis.
Blepharitis, stye.
Otitis media, sinusitis.
Pharmacokinetics
After oral administration, Prulifloxacin is rapidly metabolized as an active form of drug, Ulifloxacin. The drug exerts good penetration into the target tissue with prolonged elimination half-life with once-daily administration.
After absorption, Cmax is generally achieved within one hour, and apparent Vss is 1231 L. About 45% of the administered drug is bound to plasma proteins. The drug is extensively metabolized by first-pass metabolism into active metabolites. The terminal half-life of Ulifloxacin is 10.6-12.1 hours. The drug is mainly excreted via the urine as unmetabolized drug.
Prulifloxacin Intermediate
Prulifloxacin Intermediate PL-7
Appearance: white to light yellow powder
Chemical name: 6,7-difluoro-2-mercapto-ethyl-4-hydroxy-quinoline-3-carboxylic acid ethyl ester CAS: 154330-68-4
Molecular Formula: C14H13F2NO3S
Prulifloxacin intermediate PL-9
Appearance: white to light yellow powder
Chemical name: 6,7-difluoro-1-methyl-4-oxo--4H-(1,3) thiazine (3,2a) and quinoline-3-carboxylate CAS: 113046-72-
Molecular Formula:C14H11F2NO3S
Prulifloxacin Intermediate PL-10
Appearance: white to light yellow powder
Chemical Name: 6-fluoro-1-methyl-4-oxo-7-(1-piperazinyl) 4H-(1,3) thiazine (3,2a) and quinoline-3-carboxylate CAS: 113028-17-4
Molecular Formula:C18H20FN3O3S
Prulifloxacin Intermediate PL-11
Appearance: white to light yellow powder
Chemical Name: 6-fluoro-1-methyl-4-oxo-7-(1-piperazinyl)-4H-(1,3) thiazine (3,2a) and quinoline-3-carboxylic acid CAS : 112984-60-8
Molecular Formula:C16H16FN3O3S
Application:For the total synthesis of gatifloxacin antibacterials
Side effects
Abdominal cramp, Confusion, Diarrhoea, Drowsiness, Altered taste, Epigastric pain, Gastritis, Headache, Hot flashes, Increased bilirubin in the blood, Itching, Loss of appetite, Sedation, Skin rash, Sleep disorder, Vomiting, Nausea.
References
https://www.ncbi.nlm.nih.gov/pubmed/15456336
http://www.drugsupdate.com/generic/view/1110/Prulifloxacin
Description
Prulifloxacin was launched as the third fluoroquinone. It was introduced in Japan as an oral treatment for urinary tract infections (UTls), respiratory tract infections (RTls) and bacterial pneumoniae. It can be synthesized in 10 steps from commercially available 3,4-difluoroaniline. Key steps involve the cyclization of 6,7-difluoro-rl-hydroxy-2- thioquinoline-3carboxylic acid ethyl ester with 1 ,I-dibromomethane to give the corresponding thiazeto-[3,2a]quinoline. Aromatic nucleophilic substitution of the 7-fluoro atom with piperazine followed by hydrolysis of the ethyl ester and finally alkylation of the piperazinyl moiety with 4-(bromomethyl)-5-methyl-l ,bdioxol-Bone complete the synthesis. Prulifloxacin is a lipophilic prodrug, which is rapidly hydrolyzed to the corresponding Ndealkylated piperazine, NM 394, by paraoxonase type enzymes in blood and liver following intestinal absorption. The DNA gyrase inhibitor NM 394 accounts for all antimicrobial activity: it shows a similar or greater activity against gram-positive bacteria compared to ciprofloxacin, and a greater activity in the case of gram-negative bacteria. In clinical studies, prulifloxacin has shown good efficacy against UTls and RTls. The drug is mainly excreted in the urine and in the feces as unchanged NM 394, which has a plasma half-life of approximately 8 h. Phototoxicity in animal models is less severe than with other quinolones. Prulifloxacin is well tolerated with an adverse effect profile similar to that of other fluoroquinolones.
Chemical Properties
Off-White Solid
Originator
Nippon Shinyaku (Japan)
Uses
Prulifloxacin is a synthetic chemotherapeutic antibiotic of the fluoroquinolone drug class. Prulifloxacin is a prodrug for active metabolite, Ulifloxacin. Antibacterial.
Uses
Fluoroquinoline antibacterial; prodrug for active metabolite, Ulifloxacin. Antibacterial.
brand name
Sword
Pharmaceutical Applications
A lipophilic prodrug which is very rapidly metabolized by esterase into ulifloxacin, a 6-fluoro, 7-piperazinyl thiazetoquinoline.
Ulifloxacin is moderately active against Staph. aureus (MIC 0.4–0.8 mg/L) and inactive against Str. pneumoniae (MIC 2–8 mg/L) as well as against Enterococcus spp. Against Enterobacteriaceae (MIC 0.05–0.8 mg/L) and Ps. aeruginosa (MIC 0.2–0.8 mg/L) activity is similar to that of ciprofloxacin. It is active against fastidious Gram-negative bacilli, but not against anaerobes and non-fermentative Gram-negative bacilli. Activity against Acinetobacter spp. is modest.
Prulifloxacin is rapidly converted into ulifloxacin and after 3 h is no longer detected in blood. In volunteers receiving a single oral dose, peak plasma concentrations of 0.68 mg/L (300 mg dose) to 1.88 mg/L (for 400 mg dose) were attained between 0.67 and 1.25 h. The mean apparent elimination half-life was 8 h and the mean cumulative elimination rate in urine within 48 h was 31–46%. Other inactive metabolites account for 7% of the dose. Half the administered dose is eliminated in feces within 72 h as ulifloxacin and 4% as prulifloxacin. Protein binding is 45%.
Chemical Synthesis
The synthesis of prulifloxacin (22)started with the treatment of 3,4- difluoroaniline (183) with carbon disulfide in the presence of TEA to give the triethylammonium dithiocarbamate, which by reaction with ethyl chloroformate and TEA in chloroform, was converted into isothiocyanate 184 in 74% yield. Reaction of 184 with diethyl malonate in the presence of KOH in dioxane yielded methylenemalonate 185 potassium salt, which was ethylated with ethyl sulfate in ethanol to give compound 186 in excellent yield. 6,7- Difluoroquinoline 187 was obtained with the highest yield and regioselectivity when precursor 186 was heated in refluxing xylene. To suppress the side reaction in the subsequent chlorination, quinoline 187 was acylated to give 188 with acetyl chloride in chloroform. Chlorination of 188 with sulfuryl chloride gave compound 189 in 79% yield. Compound 189 was treated with sodium acetate in THF to afford cyclized compound 190, which was condensed with piperazine in DMF to give compound 191. The hydrolysis of ester 191 with KOH in hot t-butanol gave free acid 192, which was finally condensed with 4-(bromomethyl)-5- methyl-1, 3-dioxol-2-one (163) by treatment of potassium bicarbonate in DMF to give prulifloxacin (22).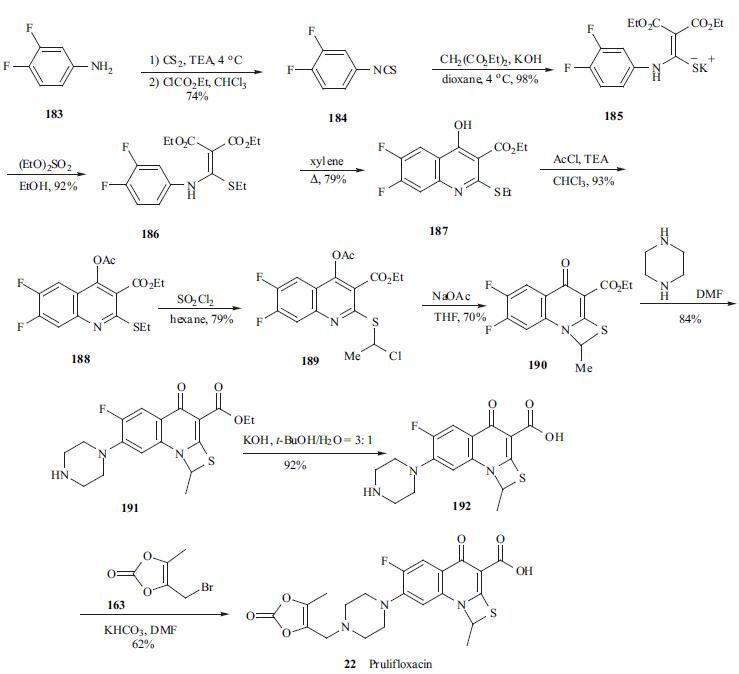 Prulifloxacin Preparation Products And Raw materials
Raw materials
Preparation Products
---
---
View Lastest Price from Prulifloxacin manufacturers
Image
Release date
Product
Price
Min. Order
Purity
Supply Ability
Manufacturer
2021-10-21
Prulifloxacin
123447-62-1
US $100.00 / Kg/Drum
1KG
99%
1000tons
Hebei Mojin Biotechnology Co., Ltd
2021-10-20
Prulifloxacin
123447-62-1
US $2950.00 / KG
1KG
99%
9000kg/per week
Hebei Lingding Biological Technology Co., Ltd
2021-10-20
Prulifloxacin
123447-62-1
US $2940.00 / KG
1KG
99%
9000kg/per week
Hebei Lingding Biological Technology Co., Ltd
123447-62-1(Prulifloxacin)Related Search:
1-AdaMantanethylaMine
6,7-Difluoro-1-methyl-4-oxo-1H,4H-[1,3]thiazeto[3,2-a]quinoline-3-carboxylic acid
INTERMEDIATES OF PRULIFLOXACIN
Ethyl-4-Acetoxy-6,7-Difluoro-2-(Ethylthio)Quinoline-3-Carboxylate(prulifloxacin IntermediatePL-7)
3,4-difluorophenyl isothiocyanate (intermediate of prulifloxacin)
Prulifloxacin,SynthesisAntibacterial
PRULIFLOXACIN INTERMEDIATE 2,Prulifloxacin Intermediate PL-10
Vinylene carbonate
4-(4-ETHYLPIPERAZIN-1-YL)BENZALDEHYDE
Pefloxacin
POLY(METHYLSILSESQUIOXANE)
Cyclopentene
Methyl
DIMETHYL-P-NITROPHENYLPHOSPHATE
Moxifloxacin
Prulifloxacin
2,2,6,6-Tetramethylpiperidinooxy
Fluorine
---
1h,4h-(1,3)thiazeto(3,2-a)quinoline-3-carboxylicacid,6-fluoro-1-methyl-7-(4-(
3-dioxol-4-yl)methyl)-1-piperazinyl)-4-oxo-(5-methyl-2-oxo-
(1R)-6-fluoro-1-methyl-7-[4-[(5-methyl-2-oxo-1,3-dioxol-4-yl)methyl]-1-piperazinyl]-4-oxo-1H-[1,3]thiazeto[3,2-a]quinoline-3-carboxylic acid
Prulifloxacin(NM441,AF3013)
CS-1352
Prulifloxacin, NM 441
nm441
Prulifloxacine
PRULIFLOXACIN(FORRESEARCHONLY)
(+/-)-7-{4-[(Z)-2,3-Dihydroxy-2-butenyl]-1-piperazinyl}-6-fluoro-1-methyl-4-oxo-1H,4H-[1,3]thiazeto[3,2-a]quinoline-3-carboxylic acid cyclic carbonate
6-Fluoro-1-methyl-7-(4-(5-methyl-2-oxo-1,3-dioxelen-4-yl)methyl-1-piperazinyl)-4-oxo-4H-(1,3)thiazeto(3,2-a)quinoline-3-carboxylic acid
PRULIFLOXACIN
SEA BUCKTHORN P.E 20%
6-Fluoro-1-Methyl-7-[4-[(5-Methyl-2-oxo-1,3-dioxol-4-yl)Methyl]-1-piperazinyl]-4-oxo-
Quisnon
Sword
Prulifloxacin (Pruvel)
Prulifloxacin,6-Fluoro-1-methyl-7-[4-[(5-methyl-2-oxo-1,3-dioxol-4-yl)methyl]-1-piperazinyl]-4-oxo-1H,4H-[1,3]thiazeto[3,2-a]quinoline-3-carboxylic acid, NM441
6-fluoro-1-Methyl-7-(4-(5-Methyl-2-oxo-1,3-dioxelen-4-yl)Methyl-1-piperazinyl)-4-oxo-4h-(1,3)thiazeto(3
6-Fluoro-1-Methyl-7-(4-((5-Methyl-2-oxo-1,3-dioxol-4-yl)Methyl)piperazin-1-yl)-4-oxo-1,4-dihydro-[1,3]thiazeto[3,2-a]quinoline-3-carboxylic acid
Prulioxacin-d8
Prulifloxacin (+/-)-7-{4-[(Z)-2,3-Dihydroxy-2-butenyl]-1-piperazinyl}-6-fluoro-1-methyl-4-oxo-1H,4H-[1,3]thiazeto[3,2-a]quinoline-3-carboxylic acid cyclic carbonate
Pruvel
PRULIFLOXACIN 99%
6-Fluoro-1-methyl-7-[4-[(5-methyl-2-oxo-1,3-dioxol-4-yl)methyl]-1-piperazinyl]-4-oxo-1H,4H-[1,3]thiazeto[3,2-a]quinoline-3-carboxylic acid
Prulifloxacin&gt
AF 3012
1H,4H-[1,3]Thiazeto[3,2-a]quinoline-3-carboxylic acid, 6-fluoro-1-methyl-7-[4-[(5-methyl-2-oxo-1,3-dioxol-4-yl)methyl]-1-piperazinyl]-4-oxo-
hot selling Prulifloxacin
Prulifloxacin USP/EP/BP
Prulifloxacin Polymorph I DISCONTINUED PLEASE SEE P838885
Prulifloxacin Polymorph II DISCONTINUED PLEASE SEE P838885
123447-62-1
6123447-62-1
API
Other Products
Aromatics
Heterocycles
Intermediates & Fine Chemicals
Pharmaceuticals
Sulfur & Selenium Compounds
QUISNON