Rebamipide
CAS No.

Chemical Name:

Rebamipide

Synonyms

Mucosta;Rebagen;opc12759;Rebamipid;opc-12759;0PC-12759;REBAPIMIDE;REBAMIPIDE;Proamipide;Korea-FDA API

CBNumber:

CB5700987

Molecular Formula:

C19H15ClN2O4

Formula Weight:

370.79

MOL File:
Rebamipide Properties
Melting point:

288-290°C dec.
storage temp.

-20°C Freezer
solubility

DMSO: >5mg/mL
form

powder
color

white
Merck

14,8124
CAS DataBase Reference
SAFETY
Risk and Safety Statements
Hazard and Precautionary Statements (GHS)
| | | | |
| --- | --- | --- | --- |
| RIDADR | UN 2811 6.1 / PGIII | | |
| WGK Germany | 3 | | |
| RTECS | VC2518500 | | |
| HS Code | 29337900 | | |
Symbol(GHS):
Signal word:
Danger
Hazard statements:

| Code | Hazard statements | Hazard class | Category | Signal word | Pictogram | P-Codes |
| --- | --- | --- | --- | --- | --- | --- |
| H301 | Toxic if swalloed | Acute toxicity,oral | Category 3 | Danger | | P264, P270, P301+P310, P321, P330,P405, P501 |

Precautionary statements:

| | |
| --- | --- |
| P301+P310 | IF SWALLOWED: Immediately call a POISON CENTER or doctor/physician. |
| Manufacturer | Product number | Product description | CAS number | Packaging | Price | Updated | Buy |
| --- | --- | --- | --- | --- | --- | --- | --- |
| Sigma-Aldrich | R5655 | Rebamipide hydrate ≥98% (HPLC), powder | 90098-04-7 | 5mg | $64.4 | 2018-11-13 | Buy |
| Sigma-Aldrich | R5655 | Rebamipide hydrate ≥98% (HPLC), powder | 90098-04-7 | 25mg | $257 | 2018-11-13 | Buy |
| TCI Chemical | R0085 | Rebamipide >98.0%(HPLC) | 90098-04-7 | 1g | $84 | 2018-11-22 | Buy |
| TCI Chemical | R0085 | Rebamipide >98.0%(HPLC) | 90098-04-7 | 5g | $252 | 2018-11-22 | Buy |
| Cayman Chemical | 17186 | Rebamipide ≥98% | 90098-04-7 | 5g | $145 | 2018-11-13 | Buy |
Rebamipide Chemical Properties,Uses,Production
Description
Rebamipide is a quinolinone derivative that stimulates endogenous PGE2 generation in gastric mucosa, enhancing gastric mucosal defense in a COX-2-dependent manner.
Rebamipide has been shown to inhibit the production of reactive oxygen species and to decrease cytokine release induced by H. pylori infection.
A daily oral dose of 100 mg/kg was found to be protective against the development of pyloric channel ulcers in Mongolian gerbils infected with H. pylori.
In addition to the stomach, rebamipide can also enhance secretion of mucin covering the conjunctiva and cornea, which is important for tear film adhesion.
Rebamipide, a gastroprotective drug, was developed in Japan and was proven to be superior to cetraxate, the former most prescribed drug of the same category, in 1989 in the treatment for gastric ulcers. The initially discovered basic mechanisms of action of rebamipide included its action as a prostaglandin inducer and oxygen free-radical scavenger. In the last 5 years, several basic and clinical studies have been performed for functional dyspepsia, chronic gastritis, NSAID-induced gastrointestinal injuries, gastric ulcer following eradication therapy for Helicobacter pylori, gastric ulcer after endoscopic surgery and ulcerative colitis. In addition, several molecules have been identified as therapeutic targets of rebamipide to explain its pleiotropic pharmacological actions.
Pharmacological effects
The chemical structure of rebamipide contains the para-amide groups in the benzyl group, the carbonyl group in 2' position, and the double bond in 3', 4' position. It has a dose-dependent inhibitory effect on the reactive oxygen species produced by the activation of neutrophils and can further effectively scavenger free radicals, thereby preventing the damage of free radical on the gastric mucosa. This product can also promote gastric prostaglandin synthesis, enhance gastric mucosal barrier. In addition, by preventing the adhesion of Helicobacter pylori (Hp) adhesion to gastric epithelial cells, the product can reduce oxidative stress, reduce the concentration of cell factor produced by H. pylori and further inhibiting of HP's injury on gastric mucosa.
Animal experiment has already showed that rebamipide can remove free radicals within the epithelial cells, and have a significant inhibition on the O2-produced by neutrophils; it also has some effects on eliminating hydroxyl radical; it can also inhibit HP and its production of chemotaxis factors. It can also inhibit the injury of gastric mucosa caused by bile acid and increase the synthesis of prostaglandins.
The above information is edited by the chemicalbook of Dai Xiongfeng.
Pharmacokinetics
Absorption and Metabolism: After oral administration of 0.6g, the time for reaching peak of plasma concentration is (1.95 ± 0.73) h, the peak plasma concentration is (510.3 ± 152.0) ng/ml, its elimination half-life is (1.75 ± 0.63) hours. According to reports, after oral administration of 0.1 g of rebamipide 0.1g, after about two hours, the plasma concentration reaches peak at 210ng/ml with the elimination half-life of about 2 hours; about 10% of the dose is excreted through the urine. Multiple dose study has showed that the drug did not accumulate in the human body.
synthetic route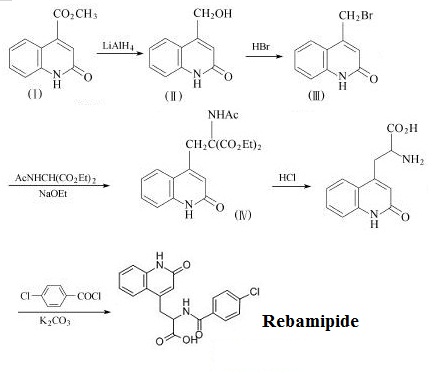 Figure 2 The synthetic route of Rebamipide.
Indications
1. Prevents and treatment of injury of gastric mucosal caused by NSAIDs
Rebamipide has an obvious reversal effect on the side effects of NSAIDs drug-induced reduction of the synthesis of gastric mucosal prostaglandin and increased permeability of mucosa. Further study has found that patients taking NSAIDs had gotten high expression of gastric epithelial HIF-1, suggesting that the gastric mucosa of patients is within hypoxic-ischemic state; However, patients taking rebamipide has significantly reduced HIF-1 expression, demonstrating that rebamipide has a very good protective effect on the gastric mucosa of patients taking NSAIDs table. From this perspective, rebamipide may have a prevention and treatment effect on NSAIDs (especially non-selective NSAIDs) induced gastric mucosal damage.
2. HP-related gastritis treatment
Haruma et al have reported that: in the observation of clinical treatment of 86 HP-positive patients, 53 patients taking rebamipide had stomach antrum and stomach body monocytes with significant reduction on granulocytes cell infiltration and had the stomach inflammation much more be alleviated than those without medication, indicating that it has a high-quality effect on treating HP-associated gastritis.
3. Other
Studies have reported that patients with gastric cancer who have taken rebamipide before surgeries had significant lower body temperature than the control group at 3 days after surgeries. Moreover, their serum IL-6 levels are also significantly lower than the control group, demonstrating that rebamipide has alleviated effect on the post-surgery systemic inflammatory response syndrome of gastric cancer patients; rebamipide may also become a new means of treatment for ulcerative colitis; may also become a new and effective approach for treating Meniere's disease.
Dosage
The adult dosage of rebamipide is 100 mg orally three times daily.
RAU:
3 tablets/day for 7-14 days.
Behcet's disease:
3 tablets/day for 2 months.
side effects
The most commonly reported Rebamipide side effects:
Pyrexia (4)
Pleural Effusion (4)
Renal Failure Acute (4)
Liver Disorder (4)
Nausea (4)
Pancytopenia (3)
Dyspnoea (3)
Diarrhoea (3)
Hypokalaemia (3)
Malaise (3)
Renal Impairment (3)
Decreased Appetite (3)
Transitional Cell Carcinoma (2)
Constipation (2)
Urticaria (2)
Pruritus (2)
Vomiting (2)
Feeling Abnormal (2)
Blood Glucose Increased (2)
Blood Pressure Decreased (2)
Hypersensitivity and rash was seen in less than 1% of patients.
Safety
Rebamipide promotes the ulcer healing rate to be as high as 56% to 67%, higher than other gastric mucosal protective agent; it can increase the eradication frequency without the increase of antibiotics, preventing phenomenon of the increase of adverse reactions caused by increased dose of antibiotics.
Side effects
Adverse reactions include leukopenia, thrombocytopenia, dizziness, drowsiness, numbness, abnormal taste, bloating, constipation, thirst, nausea, vomiting, heartburn, belching, abdominal pain, diarrhea, throat foreign body sensation, increased blood urea nitrogen, swollen breasts galactorrhea, menstrual disorders and eczema. It may also cause male breast enlargement. It can also occasionally cause coughing, difficulty in breathing, palpitations, fever, swelling, rash, itching and liver dysfunction. During the medication, if allergic reactions such as itching, rashes or eczema occurs, stop taking drugs immediately. The incidence is about 2.2% with the symptoms disappearing after withdrawal. Disable it for people who are allergic to this drug. The elderly and pregnant women should take with caution. Lactating women should stop breastfeeding upon medication. Safety of children's medication safety is still unclear.
Chemical Properties
obtain the white powder from dimethylformamide-water with its hemihydrate m.p. being 288-290°C (decomposition).
(-)-Configuration: from dimethylformamide to give colorless needles, mp 305~306 °C (decomposition). [α] D20-116.7 ° (C = 1.0, dimethylformamide).
(+)-Configuration: from dimethylformamide to give colorless needles, mp 305~306 °C (decomposition). [α] D20 + 116.9 ° (C = 1.0, dimethylformamide).
Uses
It is used for treating stomach ulcers.
It is a kind of novel anti-ulcer drugs.
Chemical Properties
White Powder
Uses
Shows antiulcer activity in rats
Uses
antiulcer, antioxidant
Uses
An inducer of endogenous prostaglandin and a oxygen-derived free radical scavenger.
Rebamipide Preparation Products And Raw materials
Raw materials
Preparation Products
---
Rebamipide Suppliers
Global( 218)Suppliers
---
View Lastest Price from Rebamipide manufacturers
Image
Release date
Product
Price
Min. Order
Purity
Supply Ability
Manufacturer
2018-08-01
Rebamipide
90098-04-7
US $100.00 / KG
1KG
99%
Customized
career henan chemical co
90098-04-7(Rebamipide)Related Search:
---
1,2-dihydro-alpha-((4-chlorobenzoyl)amino)-2-oxo-4-quinolinepropanoicaci(
2-dihydro-alpha-((4-chlorobenzoyl)amino)-2-oxo-(+-)-4-quinolinepropanoicaci
opc12759
opc-12759
Rebamipid
REBAMIPIDE
REBAPIMIDE
REBAMIPIDE,99.5%
RebamipideRebamipide
(+-)-1,2-dihydro-alpha-((4-chlorobenzoyl)amino)-2-oxo-4-quinolinepropanoica
(+-)-2-(4-chlorobenzoylamino)-3-(2(1h)-quinolinon-4-yl)propionicacid
Mucosta
Proamipide
OPC-12759, Mucosta, a-[(4-Chlorobenzoyl)-amino]-1,2-dihydro-2-oxo-4-quinolinepropanoic Acid
4-Quinolinepropanoic acid, a-[(4-chlorobenzoyl)amino]-1,2-dihydro-2-oxo- (9CI)
OPC 12759 hydrate
Proamipide hydrate
Rebamipide hydrate
α-[(4-Chlorobenzoyl)amino]-1,2-dihydro-2-oxo-4-quinolinepropanoic acid hydrate
Rebagen
Rebamipide, 99%, Inducer of endogenous prostaglandin and a oxygen-derived free radical scavenger
2-dihydro-alpha-((4-chlorobenzoyl)amino)-2-oxo- (+-)-4-quinolinepropanoic acid
2-(4-Chlorobenzoylamino)-3-(1,2-dihydro-2-oxo-4-quinolyl)propionic acid
2-(4-CHLOROBENZAMIDO)-3-(2-OXO-1,2-DIHYDROQUINOLIN-4-YL)PROPANOIC ACID
OPC-12759, Mucosta, α-[(4-Chlorobenzoyl)-amino]-1,2-dihydro-2-oxo-4-quinolinepropanoic Acid
2-(4-Chlorobenzoylamino)-3-(1,2-dihydro-2-oxo-4-
0PC-12759
α-[(4-Chlorobenzoyl)amino]-1,2-dihydro-2-oxo-4-quinolinepmpanoic acid
(+-)-1,2-Dihydro-alpha-((4-chlorobenzoyl)amino)-2-oxo-4-quinolinepropanoic acid
4-Quinolinepropanoic acid, 1,2-dihydro-alpha-((4-chlorobenzoyl)amino)-2-oxo-, (+-)
2-(4-Chlorobenzoylamino)-3-(2-oxo-1,2-dihydroquinolin-4-yl)propionic acid
α-[(4-Chlorobenzoyl)amino]-1,2-dihydro-2-oxo-4-quinolinepropanoic acid
2-[(4-chlorobenzoyl)amino]-3-(2-keto-1H-quinolin-4-yl)propionic acid
2-[(4-chlorobenzoyl)amino]-3-(2-oxo-1H-quinolin-4-yl)propanoic acid
2-[(4-chlorophenyl)carbonylamino]-3-(2-oxo-1H-quinolin-4-yl)propanoic acid
Korea-FDA API
2-(4-Chlorobenzamido)-3-[2(1H)-quinolinon-4-yl]propionic Acid
Mucosta hydrate
11911-90-1
Amino Acid Derivatives
Active Pharmaceutical Ingredients
Antiulcerative
C19H15ClN2O4
90098-04-7
90089-04-7
Intermediates & Fine Chemicals
Pharmaceuticals
API's