Carvacrol
CAS No.

Chemical Name:

Carvacrol

Synonyms

Cymenol;Oxycymol;o-Thymol;ISOTHYMOL;CARVACROL;FEMA 2245;Antioxine;Karvakrol;-2-methyL;CYMOPHENOL

CBNumber:

CB6134604

Molecular Formula:

C10H14O

Formula Weight:

150.22

MOL File:
Carvacrol Properties
Melting point:

3-4 °C(lit.)

Boiling point:

236-237 °C(lit.)

Density

0.976 g/mL at 20 °C(lit.)

refractive index

n20/D 1.522(lit.)

FEMA
Flash point:

224 °F

storage temp.

-20°C
solubility

1.25g/l
form

neat
pka

10.38±0.10(Predicted)
Water Solubility

Insoluble
JECFA Number

710
Merck

14,1872
BRN

1860514
Stability:

Stable. Combustible. Incompatible with strong bases, strong oxidizing agents.
InChIKey

RECUKUPTGUEGMW-UHFFFAOYSA-N
CAS DataBase Reference
Substances Added to Food (formerly EAFUS)
EWG's Food Scores
FDA UNII
NIST Chemistry Reference
EPA Substance Registry System
SAFETY
Risk and Safety Statements
| Manufacturer | Product number | Product description | CAS number | Packaging | Price | Updated | Buy |
| --- | --- | --- | --- | --- | --- | --- | --- |
| Sigma-Aldrich | 282197 | Carvacrol 98% | 499-75-2 | 10g | $54.3 | 2021-03-22 | Buy |
| Sigma-Aldrich | W224511 | Carvacrol natural, 99%, FG | 499-75-2 | 100 g | $61 | 2021-03-22 | Buy |
| Sigma-Aldrich | W224502 | Carvacrol ≥98%, FCC, FG | 499-75-2 | 100 g | $70 | 2021-03-22 | Buy |
| Sigma-Aldrich | 8.20258 | 5-Isopropyl-2-methylphenol for synthesis | 499-75-2 | 50 mL | $97.12 | 2021-03-22 | Buy |
| Sigma-Aldrich | W224502 | Carvacrol ≥98%, FCC, FG | 499-75-2 | 1 kg | $137 | 2021-03-22 | Buy |
Carvacrol Chemical Properties,Uses,Production
Artificial flavor
Carvacrol is the isomeric body of thymol with similar aroma as thymol. Carvacrol naturally exists in thyme oil and other essential oils, having especially high content in the thyme oil produced in Spain.
Carvacrol is mainly used in the preparation of dill, girofle, mint and vanilla flavor to be used for toothpaste, toothpaste powder, oral products, talcum powder, soap and daily industrial products. In medicine, it is used for local anesthetics. In addition, carvacrol is capable of killing bacteria and intestinal parasites and can be used as disinfectants and fungicides. According to the information reported, the acute toxicity data of carvacrol: oral LD50810mg/kg (rat), skin test: LD50> 5g/kg (rabbit).
Thyme plant has its origin including the Northeast, Hebei, and Inner Mongolia, Gansu, Qinghai and Xinjiang and other provinces. Ingredients: whole plant of thyme contains about 0.15~0.5% volatile oil (in oil, the component mainly contains carvacrol, paraffin, thymol), amaroid and tannin. Leaves contain free oleanolic acid, ursolic acid, caffeic acid and so on. Thyme can be not only used in medicine, for spices, but also be as the superior natural health ingredients of the processed foods. Since the 1980s, thyme-like herbal foods have become very popular. Studies have shown that thyme-containing volatile oils, in addition to being used as seasoning and for treatment of illnesses, also have anti-corrosion, antibacterial and other functions. Therefore, the consumers can benefit a lot using it as food raw materials. Because of this, in Europe, natural herbal tea also contains thyme. For example, a kind of herb tea raw material having anti-cough effect and being able to prevent and treat bronchitis has 10% thyme leaves.
Image 1: Thymus plant
Chemical properties
Use sulfuric acid to sulfonate the p-isopropyl toluene, generating p-isopropyl toluene-2-sulfonic acid. Then we can obtain carvacrol after alkali melting treatment.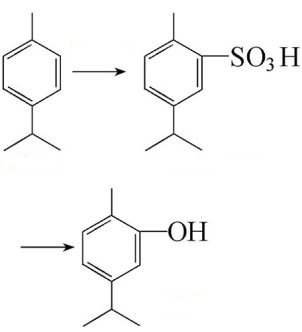 Image 2: Preparation of carvacrol from p-isopropyltoluene
Carvacrol, when co-melted together with potassium hydroxide, can give 2-hydroxy-4-isopropyl benzoic acid while reaction with phosphorus pentachloride can generate 2-chloro-1-methyl-4-isopropyl benzene. In acetic acid, it reaction with 1 mol Bromine can generate 4-bromocarbinol while its reaction with 2 mol bromine can generate 4, 6-dibromo carvacrol; if reacted with bromine and aluminum, we can obtain tetrabromo-o-cresol. It is easily soluble in concentrated sulfuric acid to produce 2-methyl-5-isopropyl phenol-4-sulfonic acid. In aqueous sodium hydroxide solution, it can be reacted with formaldehyde to generate carvacrol phenols alcohol:
Image 3: The reaction between carvacrol and formaldehyde for generation of carvacrol phenolic alcohol
It exhibits green color when reacted with ferric chloride in ethanol with no significant color in the water.
Content analysis
It can be determined by the non-polar column method by GT-10-4.
Toxicity
GRAS (FEMA).
LD50: 810 mg/kg (rat, oral).
Toxicity
GRAS (FEMA).
LD50: 810 mg/kg (rat, oral).
Usage limit
FEMA (mg/kg): soft drinks 26; cold drinks 34; candy 92; baked goods 120; condiments 37.
Take appropriate as limit (FDA § 172.515, 2000).
Allow to use (GB 2760-1996).
Standard for Maximum Allowable Amount
Name of additive
Field allowed to use it as additive
Function of additive
Maximal allowable amount(g/kg)
arvacrol
Food
Food spices
The perfume ingredients used in formulating fragrances shall not exceed the maximum allowable documented amount in GB 2760
Chemical properties
It appears as colorless to pale yellow slightly viscous oil. When placed in air and light, its color becomes darker. It has spicy, cool incense, herbs incense with thymol-like smell. It has a boiling point of 238 ° C, the melting point of 0.5 to 1 ° C and the flash point of 100 ° C. It is soluble ethanol, ethyl ether, propylene glycol and alkali, do not dissolve in water. It is miscible in oil.
The natural products are found in thyme oil (about 70%), oregano oil (about 80%) and mange to oil and so on.
Application
Spices; It is mainly used for the preparation of dill, girofle, meat, peppermint, vanilla flavor and so on.
It can be used for the preparation of spices, fungicides and disinfectants. As a spice, it can be used in toothpaste, soap and other daily necessities, but also for food flavors.
It can be used for spices, food additives, feed additives, antioxidants, sanitation fungicide, insect repellent, preservatives, deodorant and pharmaceutical intermediates.
Preparation
It can be obtained through treatment of the essential oil containing rich content of natural carvacrol followed by ether extraction or steam distillation to derive it.
It can be derived by the sulfonation of thymol followed by alkali treatment.
Category
Pesticides
Toxic classification
middle-level poisoning
Acute toxicity
Oral-rat LD50: 810 mg/kg; intravenous-mouse LD50: 80 mg/kg
Stimulation Data Skin-Rabbit 500 mg/24 h Severe
Flammability and Hazardous characteristics
It is flammable upon heat, fire and strong oxidants with thermal decomposition releasing spicy stimulated smoke
Storage and transportation characteristics
Treasury: low temperature, ventilated and dry; avoid fire and high temperature; store it separately from oxidant.
Extinguishing agent
fog, carbon dioxide, foam, dry powder
Chemical Properties
liquid
Chemical Properties
Carvacrol has a characteristic pungent, warm odor. The commercial product consists of a mixture of isomers differing because of the position of the isopropyl radical. The odor characteristics differ between the technical (lower grade) and pure (higher grade) commercial products.
Occurrence
Reported found in cumin seed, thyme, oregano, calamus, lovage, myrtle and lemon balm.
Uses
Carvacrol is a flavoring agent that is a colorless to pale yellow liquid. it has a spicy and pungent odor, resembling thymol. it is insoluble in water and soluble in alcohol and ether. it is a mixture of the isomeric carvacrols (isopropyl o-creols), and is obtained by chemical synthesis. it is also an ingredient of savory, a fragrant herb in nature.
Uses
As disinfectant; in organic syntheses.
Definition
ChEBI: A phenol that is a natural monoterpene derivative of cymene. An inhibitor of bacterial growth, it is used as a food additive. Potent activator of the human ion channels transient receptor potential V3 (TRPV3) and A1 (TRPA1).
Preparation
From p-cymene by sulfonation and subsequent alkali fusion.
Aroma threshold values
Detection at 2.29 ppm.
Taste threshold values
Taste characteristics at 5.0 ppm: spicy, herbal phenolic, medicinal and woody.
Synthesis Reference(s)
Tetrahedron Letters, 19, p. 2545, 1978
DOI:
10.1016/S0040-4039(01)94822-1
Safety Profile
Poison by ingestion, intravenous, and subcutaneous routes. Moderately toxic by skin contact. A severe skin irritant. Combustible liquid. When heated to decomposition it emits acrid smoke and irritating fumes.
Carvacrol Preparation Products And Raw materials
Raw materials
Eucalyptus Citriodara Oil
Thymol
Bicyclo[4.1.0]hept-3-en-2-one, 4,7,7-trimethyl-
Bicyclo[4.1.0]hept-3-en-2-one, 3,7,7-trimethyl-
2,4-Cycloheptadien-1-one, 3,6,6-trimethyl-
Bicyclo[4.1.0]hept-4-en-3-one, 4,7,7-trimethyl-
2,6,6-TRIMETHYL-2,4-CYCLOHEPTADIEN-1-ONE
5-ISOPROPYL-3-METHYLPHENOL
Preparation Products
---
---
View Lastest Price from Carvacrol manufacturers
Image
Release date
Product
Price
Min. Order
Purity
Supply Ability
Manufacturer
2021-08-26
Carvacrol
499-75-2
US $5.70 / Kg/Drum
10g
99%
10000kg
Hebei Crovell Biotech Co Ltd
2021-07-13
Carvacrol
499-75-2
US $15.00-10.00 / KG
1KG
99%+ HPLC
Monthly supply of 1 ton
Zhuozhou Wenxi import and Export Co., Ltd
2021-07-10
Carvacrol
499-75-2
US $15.00-10.00 / KG
1KG
99%+ HPLC
Monthly supply of 1 ton
Zhuozhou Wenxi import and Export Co., Ltd
---
---
499-75-2(Carvacrol)Related Search:
---
1-Hydroxy-2-methyl-5-isopropylbenzene
2-Hydroxy-1-methyl-4-(1-methylethyl)benzene
2-hydroxy-4-(2-propyl)toluene
2-hydroxy-p-cymen
2-methyl-5-(1-methylethyl)-pheno
5-ISOPROPYL-O-CRESOL
5-ISOPROPYL-2-METHYLPHENOL
o-Thymol
Oxycymol
p-Cymene, 2-hydroxy-
Phenol, 3-isopropyl-6-methyl-
Phenol, 5-isopropyl-2-methyl-
Phenol,2-methyl-5-(1-methylethyl)-
2-METHYL-5-ISOPROPYLPHENOL
2-METHYL-5-(1-METHYLETHYL)PHENOL
2-HYDROXY-4-ISOPROPYL-1-METHYLBENZENE
2-HYDROXY-4-CYMENE
2-HYDROXY-P-CYMENE
ISOTHYMOL
Methyl-5-(1-methylethyl)phenol
CYMOPHENOL
CARVACROL
FEMA 2245
Hydroxy-p-cymene
P-CYMEN-2-OL
Isothymol,95%
CARVACROL 98+% FCC
2-para-cymenol
2-p-Cymenol
3-isopropyl-6-methyl-pheno
3-Isopropyl-6-methylphenol
5-isopropyl-2-methyl-pheno
5-isopropyl-o-creso
6-methyl-3-isopropylphenol
Antioxine
Cymenol
Isopropyl-o-cresol
Isopropylo-cresol
Karvakrol
o-Cresol, 5-isopropyl-
o-cresol,5-isopropyl
ISOTHYMOL 99%
THYMOL, ISO-
CARVACROL(SG)
CARVEOL, (-)-(RG)
5-ISOPROPYL-2-METHYLPHENOL 97+%
2-HYDROXY-4-ISOPROPYL-1-METHYLBENZENE 99%
CARVACROL WITH GC
CARVACROL, NATURAL
5-Isopropyl-2-methylphenol, 98+%
Carvacrol,5-Isopropyl-2-Methylphenol
CARVACROL(P)
Isothymol 5-Isopropyl-o-cresol 5-Isopropyl-2-methylphenol
2-HydroxycyMene
Carvacrol 98%
2-Cymophenol
5-Isopropyl-2-methylphenol for synthesis
Isopropylhydroxytoluene