Calcium chloride dihydrate
CAS No.

Chemical Name:

Calcium chloride dihydrate

Synonyms

Sinjarite;replenisher(calcium);Calcium chloride dih;CALCIUM CHLORIDE 6H2O;CalciumCitrateExtraPure;Calciumchloride,granular;CalciumChlorideHydratedIp;alcium chloride dihydrate;Calcium chloride dihydrate;CalciumChlorideDihydrateAr

CBNumber:

CB6218827

Molecular Formula:

CaCl2H4O2

Formula Weight:

147.01

MOL File:
Calcium chloride dihydrate Properties
Melting point:

30 °C

Density

1.71 g/mL at 25 °C(lit.)

vapor pressure

0.01 mm Hg ( 20 °C)

refractive index

~1.358
storage temp.

Store at +15°C to +25°C.
solubility

H2O: 1 M at 20 °C, clear, colorless

form

Solid
color

White to white-grayish
Specific Gravity

0.835
Odor

Odorless
PH Range

5 - 8
PH

4.5-8.5 (50g/l, H2O, 20℃)
Water Solubility

1000 g/L (0 ºC)
Sensitive

Hygroscopic
λmax

λ: 260 nm Amax: 0.015
λ: 280 nm Amax: 0.012
Merck

14,1659
Stability:

Stable. Hygroscopic. Incompatible with vinylmethyl ether.
InChIKey

LLSDKQJKOVVTOJ-UHFFFAOYSA-L
CAS DataBase Reference
Substances Added to Food (formerly EAFUS)
SCOGS (Select Committee on GRAS Substances)
EPA Substance Registry System
SAFETY
Risk and Safety Statements
Calcium chloride dihydrate price More Price(64)
| Manufacturer | Product number | Product description | CAS number | Packaging | Price | Updated | Buy |
| --- | --- | --- | --- | --- | --- | --- | --- |
| Sigma-Aldrich | 208291 | Calcium chloride dihydrate for molecular biology | 10035-04-8 | 250 g | $34.04 | 2021-03-22 | Buy |
| Sigma-Aldrich | 1.42002 | Calcium chloride dihydrate EMPROVE? ESSENTIAL Ph Eur,BP,JP,USP,FCC,E 509 | 10035-04-8 | 1 kg | $47.7 | 2021-03-22 | Buy |
| Sigma-Aldrich | 1.02382 | Calcium chloride dihydrate for analysis EMSURE? ACS,Reag. Ph Eur | 10035-04-8 | 250 g | $52.35 | 2021-03-22 | Buy |
| Sigma-Aldrich | 3000-OP | OmniPur Calcium Chloride, Dihydrate - CAS 10035-04-8 - Calbiochem | 10035-04-8 | 500 g | $64.56 | 2021-03-22 | Buy |
| Sigma-Aldrich | 21102 | Calcium chloride dihydrate tested according to Ph. Eur. | 10035-04-8 | 1 kg | $71.1 | 2021-03-22 | Buy |
Calcium chloride dihydrate Chemical Properties,Uses,Production
Description
Calcium chloride dihydrate (CaCl2﹒2H2O) is the hydrate form of calcium chloride. Calcium chloride is an inorganic compound consisting of calcium and chloride. It has various kinds of applications. For example, it can be used as a desiccant due to its high hygroscopicity; used for the deicing and dust control; for road surfacing; as brine for refrigeration plants, ice and cement; increasing the water hardness in the swimming pools; as a food additives; increasing the cell membrane permeability to facilitate the genetic transformation of cells; for the treatment of hypocalcemia in which the body requires a prompt increase in blood plasma calcium levels, For its production, it can be either produced directly from limestone or produced by the Solvary process as the by-product. In addition, it can also be obtained by purification from brine.
Uses
Calcium chloride dihydrate is an odourless white solid in the form of small flakes. It is deliquescent (absorbs moisture from the air) and rapidly dissolves in water producing heat (exothermic). It has many industrial applications and is commonly used to prevent dusting, as a drying agent and to melt ice. It is used in swimming pools and aquariums as a pH buffer and a rapid source of calcium ions.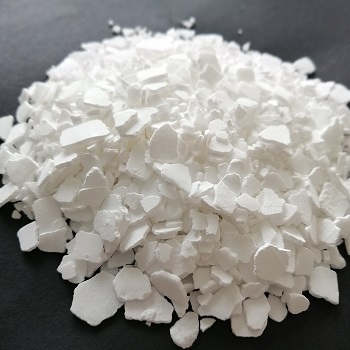 Calcium Chloride is a general purpose food additive, the anhydrous form being readily soluble in water with a solubility of 59 g in 100 ml of water at 0°C. It dissolves with the liberation of heat. It also exists as calcium chloride dihydrate, being very soluble in water with a solubility of 97 g in 100 ml at 0°C. It is used as a firming agent for canned tomatoes, potatoes, and apple slices. In evaporated milk, it is used at levels not more than 0.1 percent to adjust the salt balance so as to prevent coagulation of milk during sterilization. It is used with disodium EDTA to protect the favor in pickles and as a source of calcium ions for reaction with alginates to form gels.
Reference
https://en.wikipedia.org/wiki/Calcium_chloride
https://pubchem.ncbi.nlm.nih.gov/compound/Calcium_dichloride#section=Information-Sources
https://www.drugs.com/pro/calcium-chloride.html
Chemical Properties
Calcium chloride is a colorless to off-white crystalline solid which is deliquescent (absorb water). When heated, crystals lose water @ 100C.
Uses
cosmetic ingredient.
Food grade calcium chloride is used in various applications within the food and beverage industries.
In the production of beer and soft drinks, CaCl2 is used as a source of calcium to regulate the hardness of water.
In the production of cheese, CaCl2 is used as a source of calcium.
CaCl2 is also used to increase the firmness of canned fruits and pickled vegetables.
CaCl2 is also used as a secondary cooling agent in various processes that operate according to food regulations.
Uses
Preparation of calcium standard solutions; electrolyte.
Definition
ChEBI: A hydrate that is the dihydrate form of calcium chloride.
brand name
Cal Plus (Mallinckrodt).
Biological Functions
Calcium chloride is a commonly used reagent in biochemistry. Calcium plays important roles in many biological processes, including signal transduction, muscle contraction, and maintenance of cell membrane and cell wall stability.Extensive reviews of the experimental measurement of biological calcium have been published.
Calcium chloride is used in the preparation and transformation of competent E. coli and in the transfection of eukaryotic cells with either plasmid DNA or high molecular weight genomic DNA.The CaCl2-mediated electroporation of E. coli with the plasmid DNA pBR322 has been studied.A protocol for the concentration of virus vectors that uses CaCl2 has been published.
CaCl2 has been used in the stabilization and twodimensional crystallization of the NADH-ubiquinone oxidoreductase (complex I) from Escherichia coli. The crystallization of porcine pancreatic elastase in the presence of CaCl2 in the presence of sodium citrate reveals binding of calcium in the metal binding site of the protein.The effect of CaCl2 on the total fluorescence in the polymerication of the tubulin-like FtsZ division protein of Escherichia coli has been studied by a multiwell fluorescent assay.
Potential Exposure
Calcium chloride is used as road salt for melting snow, a drying agent in desiccators, for dehydrating organic liquids and gases, in refrigeration brines and antifreeze, as a dust-proofing agent, food additives, concrete hardening accelerator, and others. May react with strong oxidizers.
Shipping
There are no label or maximum shipping quantity requirements set by DOT.
Purification Methods
Crystallise it from ethanol. It is hygroscopic. It loses H2O at 200o so it can be dried at high temperatures to dehydrate it. The hexahydrate [7774-34-7] has m 30o and d 1.67.
Properties and Applications
| | |
| --- | --- |
| ITEMS | SPECIFICATION |
| APPEARANCE | WHITE,HARD ODORLESS FLAKE, POWDER,PELLET,GRANULE |
| CALCIUM CHLORIDE(As CaCl2) | 77% min |
| MAGNESIUM&ALKALI METAL SALT (As NaCl) | 4.0% max |
| WATER INSOLUBLE MATTER | 0.2% max |
| ALKALINITY(As Ca(OH)2) | 0.15% max |
| SULFATE (As CaSO4) | 0.25% max |
| pH VALUE | 7-11 |
| As | 5 ppm max |
| Pb | 10 ppm max |
| Fe | 10 ppm max |
Incompatibilities
The solution in water is a weak base. Reacts with zinc in presence of moisture, forming highlyflammable hydrogen gas. Dissolves violently in water with generation of much heat. Incompatible with water, bromine trifluoride; 2-furan, percarboxylic acid. May attack some building materials and metals in the presence of moisture.
Calcium chloride dihydrate Preparation Products And Raw materials
Raw materials
Preparation Products
---
---
View Lastest Price from Calcium chloride dihydrate manufacturers
Image
Release date
Product
Price
Min. Order
Purity
Supply Ability
Manufacturer
2021-09-07
Calcium chloride dihydrate
10035-04-8
US $10.00 / Kg/Drum
1KG
99%
5000tons per month
Wuhan Mulei New Material Technology Co. Ltd
2021-09-02
calcium chloride dihydrate
10035-04-8
US $1.00-80.00 / KG
0.5KG
>99%
20tons
Anhui Rencheng Technology Co., Ltd
2021-08-26
calcium chloride dihydrate
10035-04-8
US $10.00 / Kg/Drum
1KG
98%
10 ton
Hebei Crovell Biotech Co Ltd
---
Calcium chloride dihydrate Spectrum
---
10035-04-8(Calcium chloride dihydrate)Related Search:
---
Calciumchloride,granular
calciumdichloridedihydrate
replenisher(calcium)
CalciumChlorideDihydrateAr
CalciumChlorideDihydrateAcs/Usp
CalciumChloride,1MSterileSolution
CalciumChlorideDihydrateCaCl2*2H2O
Calciichloridumdihydricum,PhEur01/2005:0015
CALCIUM CHLORIDE 2-HYDRATE, MOLECULAR BIOLOGY GRADE
CALCIUM CHLORIDE 2-HYDRATE, PHARMA
Calcium chloride dihydrate
Calcium chloride dihydrate, flakes for drying purposes, 77-80% CaCl2, extra pure
Calcium chloride dihydrate, for analysis ACS, 99.0+%
Calcium chloride dihydrate, for analysis, 99+%
CALCIUM CHLORIDE, DIHYDRATE BIO-REFINED
CALCIUM CHLORIDE, DIHYDRATE REAGENT (ACS)
Calcium chloride (CaCl2), dihydrate
CALCIUMCHLORIDE,DIHYDRATE,BIOTECHGRADE
CALCIUMCHLORIDE,DIHYDRATE,TECHNICAL
CALCIUMCHLORIDE,DIHYDRATE,USP,EP,BP,JP
Calcium Chloride, Food Grade
Calcium chloride dihydrate, ACS, 99.0-105.0%
Calcium chloride dihydrate, 99% min
CALCIUM CHLORIDE DIHYDRATE extrapure AR
Calcium chloride dihydrate, ACS, CaCl 74.0-78.0%
Calcium Chloride, Desiccant, Reagent
Calcium Chloride, Dihydrate, Reagent
Calcium chloride dihydrate/ 99+%
CALCIUM CHLORIDE ULTRA PURE
Calcium chloride dih
EMPROVE(R) CalciuM Chloride, Dihydrate, Extra Pure, USP, BP, FCC, JP, Ph Eur
Calcium Chloride (1 g) (AS)
Dihydrate CalciuM Chloride
CalciuM chloride dihydrate, for analysis ACS, 99+% 500GR
CalciuM chloride dihydrate, for analysis, 99+% 1KG
CalciuM Chloride, Dihydrate, Powder, Reagent
CalciuM chloride,1M, Sterile
CalciuM chloride-2H2O analytical grade
CalciuM chloride.2H2O Molecular biology grade
CALCIUM CHLORIDE DIHYDRATE CRYST. P.A.
Calcium chloride dihydrate ACS reagent, >=99%
Calcium chloride dihydrate puriss. p.a., ACS reagent, reag. Ph. Eur., >=99%
Calcium chloride dihydrate puriss., meets analytical specification of Ph. Eur., USP, FCC, E509, 99-103%, <=0.0001% Al
Calcium chloride dihydrate ReagentPlus(R), >=99.0%
Calcium chloride dihydrate Vetec(TM) reagent grade, 99%
CalciuM chloride dihydrate, 99.0-105.0%
COOMASSIE BRILLIANT BLUE R-250 ULTRAPURE
PRIMARY OPALESCENCE SUSPENSION
CALCIUM CHLORIDE DIHYDRATE BIOXTRA
CALCIUM CHLORIDE DIHYDRATE CELLCULTU
Calcium chloride dihydrate for analysis EMSURE ACS,Reag. Ph Eur
Calcium chloride dihydrate - Industrial grade
calcium chloride insect cell culture*tested
CALCII CHLORIDUM HEXAHYDRICUM
CALCIUM (II) CHLORIDE, HYDROUS
CALCIUM CHLORIDE 6H2O
CALCIUM CHLORIDE 6-HYDRATE
CALCIUM CHLORIDE, HYDRATED