Hexazinone
CAS No.

Chemical Name:

Hexazinone

Synonyms

VELPAR;dpx3674;velpark;velparl;DPX 3674;gridball;Hexazinon;Hexazinoe;sha107201;DPX-A3674

CBNumber:

CB7319547

Molecular Formula:

C12H20N4O2

Formula Weight:

252.31

MOL File:
Hexazinone Properties
Melting point:

97-100.5°
Boiling point:

395.49°C (rough estimate)
Density

1.2500
refractive index

1.6120 (estimate)
Flash point:

11℃
storage temp.

APPROX 4°C
pka

2.05±0.70(Predicted)
form

Powder
color

Beige
Water Solubility

33g/L(25 ºC)
BRN

618801
CAS DataBase Reference
EWG's Food Scores
FDA UNII
NIST Chemistry Reference
EPA Substance Registry System
Pesticides: Freedom of Information Act (FOIA)
SAFETY
Risk and Safety Statements
| Manufacturer | Product number | Product description | CAS number | Packaging | Price | Updated | Buy |
| --- | --- | --- | --- | --- | --- | --- | --- |
| Sigma-Aldrich | 36129 | Hexazinone PESTANAL | 51235-04-2 | 100mg | $63 | 2021-03-22 | Buy |
| TCI Chemical | H1686 | Hexazinone >98.0%(HPLC)(T) | 51235-04-2 | 5g | $71 | 2021-03-22 | Buy |
| TCI Chemical | H1686 | Hexazinone >98.0%(HPLC)(T) | 51235-04-2 | 25g | $213 | 2021-03-22 | Buy |
Hexazinone Chemical Properties,Uses,Production
Chemical Properties
The pure product is white crystalline solid. m.p.115~117℃. Vapour pressure is 2.7×10-3Pa (25℃)、8.5×10-3Pa (86℃). Relative density is 1.25. The solubility at 25 ℃: 3880g/kg in chloroform, 2650g/kg in methanol, 836g/kg in dimethylformamide,790g/kg in acetone, 940g/kg in benzene, 386g/kg in toluene, 3g/kg in hexane and 33g/kg in water. In the water solution with pH value of 5~9, it is stable at normal temperature and will be decomposed by microbes in the soil.
Uses
Post bud contact killing herbicide and the inhibitor of photosynthesis in plants. Its weed killing spectrum and killing shrub spectrum are wide, and its toxicity is strong and effective. It is used for tending young forests of evergreen coniferous forests, such as Pinus koraiensis, Pinus sylvestris, Picea spruce, Pinus massoniana and so on. Before the afforestation, it is applied to weeding and extinguishing irrigation, maintaining and opening forest fire prevention and forest soil improvement etc...It can also be used for weeding and irrigation on both sides of the oil depot, airport and road. It can prevent green bristlegrass, filipendula palmate, angelica dahurica,sedge, herba elsholtziae, reed, deyeuxia angustifolia, fern, clematis, veronica spuria, cephalanoplos segetum, wild oats, quinoa, millet, etc.. The woody plants it can can control include yellow lonicera japonica, pearl, hazel wood, spiraea salicifolia, acanthopanax senticosus, acanthopanax, winged elm, aspen, birch, quercus mongolica, linden, oak, linden, ashtree, phellodendron amurense rupr, juglans mandshurica etc.. It can control annual weed and biennial weed. A dose of 2~5kg/hm2 control weeds for a short term. Most perennial weeds can be prevented by the dose of 6~12kg/hm2. Nonionic surfactants can be added to this product.
Mechanism of action
It mainly inhibits the photosynthesis of plants and causes the disordered generation of plants and causes death. Both plant root and leaf surface can absorb the cyclohexanone, which is transported mainly through the xylem. It has great mobility in the soil and can be decomposed by soil microbes after entering the soil. It has no harm to the root of the pine tree. 7 days after the weeds have been treated, the leaves will have necrosis until the whole leaf has withered. The whole process including the upper part above ground (about 2 weeks) and the rotting of the root lasts for 1 month. It will last for 1 month from the appearance of necrosison the new leaves to rotting roots of the shrubs lasts for about 2 months. The first defoliation of non - objective arbor takes place 20~30 days after the injury. In the future, the new born leaves will be molted again, repeating 3~5 times in a row. From the spot to the formation of shrub leaf rot lasted for about 2 months. The upper part of the ground dies in 60~120 days. The roots rot in the fall of second.
Toxicity
The drug is of toxicity when acute oral LD50 is 1690mg/kg in rats, acute percutaneous is LD50>5278mg/kg in rabbits, acute transdermal is LD50>2000mg/kg in rats. It has a stimulating effect on the eyes of rabbits. The accumulative coefficient K value is >5, which belongs to the mild accumulative pesticide.There is no teratogenic, carcinogenic and mutagenic effects on animals within the range of experiments. No abnormality is found in the three generation reproduction test and neurotoxicity test. The non-cation dose for two years of feeding test: 200mg/kg for rats,LC50388mg/L for rainbow trout, LD50>5000mg/kg for quail, LD50>10000mg/kg for wild duck and, LC5060μg for per bee.
Preparation method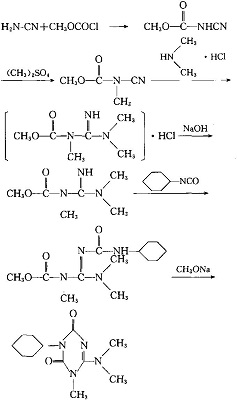 Uses
Herbicide.
Uses
Hexazinone is a triazine compound used as a preemergence or postemergence herbicide to control many annual grasses and broad-leaved weeds in noncropped land and certain crops such as alfalfa, blueberries, coffee, pecans and sugarcane
Production Methods
Hexazinone is a postemergence contact herbicide effective against many annual and biennial weeds and, except for Johnson grass, most perennial weeds. Human contact is likely at the use stage, and dermal contact and inhalation are of most concern.
General Description
White crystalline solid. Corrosive eye irritant. Used as an herbicide.
Air & Water Reactions
Water soluble. Rapidly decomposed in solution by strong acids and bases.
Reactivity Profile
A triazine.
Carcinogenicity
No carcinogenicity was detected among pups of rats fed up to 5000 ppm for 2 years. Similarly, no increase in tumors was produced by feeding up to 10,000 ppm hexazinone to mice.
Environmental Fate
Soil/
Plant.
Biodegrades in soil and natural waters releasing carbon dioxide. The reported half-life in soil is 1 to 6 months (Hartley and Kidd, 1987). Rhodes (1980a) found that the persistence of hexazinone varied from 4 weeks in a Delaware sandy loam to 24 weeks in a Mississippi silt loam.
Hexazinone is subject to microbial degradation (Rhodes, 1980a; Feng, 1987). Metabolites identified in soils, alfalfa and/or sugarcane include 3-(4-hydroxycyclohexyl)-6(dimethylamino)-1-methyl-1,3,5-triazine-2,4(1H,3H)-dione, 3-cyclohexyl-6-(methylamino)-1
Feng (1987) monitored the persistence and degradation of hexazinone in a silt loam soil 104 days after treatment of the herbicide. After 104 days, 66% of the hexazinone degraded via hydroxylation to form the major metabolite 3-(4-hydroxycyclohexyl)-6(dime
No traces of hexazinone or its metabolites were detected on treated blueberries (Jenson and Kimball, 1985).
Photolytic.
Photodegradation products identified in aqueous hexazinone solutions following exposure to UV light (λ = 300–400 nm) were 3-(4-hydroxycyclohexyl)-6-(dimethylamino)-1-methyl-1,3,5-triazine-2,4(1H,3H)-dione, 3-cyclohexyl-6-(methylamino)
Metabolic pathway
In clay and sand soils, hexazinone is metabolized by hydroxylation at the 4-position of the cyclohexane ring and mono-N-demethylation to give [3-(4- hydroxycyclohexyl)-6-(dimethylamino)-1-methyl-1,3,5- triazine-2,4-(1H,3H )-dione], and [3-cyclohexyl-6- (methylamino)-1-methyl-1,3,5-triazine-2,4-(1H,3H )- dione, respectively. N-Demethylated metabolite is found in a comparatively higher percentage than the hydroxylated metabolite in both clay and sand soils.
Hexazinone Preparation Products And Raw materials
Raw materials
Preparation Products
---
---
View Lastest Price from Hexazinone manufacturers
Image
Release date
Product
Price
Min. Order
Purity
Supply Ability
Manufacturer
2020-01-10
Hexazinone
51235-04-2
US $1.00 / g
1g
99.0%
100kg
Career Henan Chemical Co
51235-04-2(Hexazinone)Related Search:
---
VELPAR
HEXAZINONE
3-CYCLOHEXYL-6-(DIMETHYLAMINO)-1-METHYL-1,3,5-TRIAZINE-2,4-(1H,3H)-DIONE
3-CYCLOHEXYL-6-DIMETHYLAMINO-1-METHYL-1,3,5-TRIAZINE-2,4-DIONE
5-triazine-2,4(1h,3h)-dione,3-cyclohexyl-6-(dimethylamino)-1-methyl-3
brushkiller
DPX 3674
dpx3674
gridball
Hexazinoe
Hexazinon
sha107201
s-Triazine-2,4(1H,3H)-dione, 3-cyclohexyl-6-(dimethylamino)-1-methyl-
Velpar weed killer
velpark
velparl
velparweedkiller
3-Cyclohexyl-1-methyl-6-(dimethylamino)-s-triazine-2,4(1H,3H)-dione
Cyclohexyl-6-(dimethylamino)-1-methyl-s-triazine-2,4(1H,3H)-dione
DPX-A3674
Kexazinone
Velpar 2L
Velpar 90W
Velpar RP
Velpar(Du Pont)
VELPAR, 1GM, NEAT
HEXAZINON PESTANAL 250 MG
HEXAZINONE PESTANAL
1,3,5-Triazine-2,4(1H,3H)-dione, 3-cyclohexyl-6-(dimethylamino)-1-methyl-
hexazinone (bsi,iso,ansi,wssa)
hexazinone solution
Hexazinone(Velpar)
3-cyclohexyl-6-dimethylamino-1-methyl-1,2,3,4-tetrahydro-1,3,5-triazine-2,4-dione hexazinone
Hexazinone-d6
Hexazinone 0.1
Velpar 1g [51235-04-2]
hexadinone
Hexazinone Standard
3,5-Triazine-2,4(1H,3H)-dione,3-cyclohexyl-6-(dimethylamino)-1-methyl-1
3-Cyclohexy-6-(dimethylamino)-1-methyl-1,3,5-triazine-2,4(1H,3H)-dione
3-Cyclohexyl-1-methyl-6-(dimethylamino)-s-trazine-2,4(1H,3H)-dione
3-Cyclohexyl-6-(dimethylamino)-1-methyl-s-triazine-2,4(1H,3H)-dione
3-cyclohexyl-6-(dimethylamino)-1-methyl-s-triazine-2,4(ih,3h)-dione
3-cyclohexyl-6-dimethylamino-1-methyl-1,2,3,4-tetrahydro-1,3,5-triazine-2,4-dione
3h)-dione,3-cyclohexyl-6-(dimethylamino)-1-methyl-s-triazine-4(1h
Hexazinone @1000 μg/mL in MeOH
Hexazinone@1000 μg/mL in Acetonitrile
VelparSolution,100mg/L,5ml
Velpar(Hexazinone)Solution,1000mg/L,1ml
Hexazinone Standard Solution
51235-04-2
C12H20N4O2
Pesticides&Metabolites
Triazinone structure
Alphabetic
Analytical Standards
V
Alpha sort