Phenoxybenzamine hydrochloride
CAS No.

Chemical Name:

Phenoxybenzamine hydrochloride

Synonyms

688A;Bensylyt;benzylyt;SKF-688A;dibenylin;NSC 37448;nci-c01661;dibenzyran;dibenzyline;bensylytnen

CBNumber:

CB8172020

Molecular Formula:

C18H22ClNO.ClH

Formula Weight:

340.29

MOL File:
Phenoxybenzamine hydrochloride Properties
Melting point:

137.5°C
storage temp.

15-25°C
solubility

H2O: slightly soluble

form

powder

pka

pKa 4.4 (Uncertain)
color

white

Water Solubility

<0.01 g/100 mL at 18.5 ºC
Merck

14,7256
CAS DataBase Reference
FDA UNII
Proposition 65 List
Proposition 65 List
NCI Drug Dictionary
ATC code
IARC

2B (Vol. 24, Sup 7) 1987
EPA Substance Registry System
SAFETY
Risk and Safety Statements
Phenoxybenzamine hydrochloride price More Price(11)
| Manufacturer | Product number | Product description | CAS number | Packaging | Price | Updated | Buy |
| --- | --- | --- | --- | --- | --- | --- | --- |
| Sigma-Aldrich | B019 | Phenoxybenzamine hydrochloride ≥97%, powder | 63-92-3 | 250mg | $121 | 2021-03-22 | Buy |
| Sigma-Aldrich | 1526007 | Phenoxybenzamine hydrochloride United States Pharmacopeia (USP) Reference Standard | 63-92-3 | 250mg | $366 | 2021-03-22 | Buy |
| TCI Chemical | D0158 | Phenoxybenzamine Hydrochloride >98.0%(T) | 63-92-3 | 1g | $42 | 2021-03-22 | Buy |
| TCI Chemical | D0158 | Phenoxybenzamine Hydrochloride >98.0%(T) | 63-92-3 | 25g | $373 | 2021-03-22 | Buy |
| Alfa Aesar | J61900 | Phenoxybenzamine hydrochloride | 63-92-3 | 1g | $42.1 | 2021-03-22 | Buy |
Phenoxybenzamine hydrochloride Chemical Properties,Uses,Production
Chemical Properties
White Solid
Chemical Properties
White crystalline solid or powder. Odorless.
Originator
Dibenzyline, SKF, US ,1953
Uses
Phenoxybenzamine is used in treating pheochromocytoma, swelling of the medullary layer of the adrenal glands, during which a large quantity of epinephrine is produced, which leads to a significant elevation of blood pressure.
Uses
alpha adrenergic blocker
Uses
An irreversible α-antagonist. Used in the treatment of hypertension, it has a relatively slow onset and prolonged effect when compared to alternative α-blockers.
Manufacturing Process
Step 1: In a 500 ml flask equipped with gas inlet tube, dropping funnel and reflux condenser is placed 139 grams of 1-phenoxy-2-propanol. A stream of dry air is bubbled through the alcohol while 55 grams of thionyl chloride is added dropwise with external cooling. The stream of dry air is continued for about six hours or until most of the hydrogen chloride has been expelled and then another 55 grams of thionyl chloride is added. The reaction mixture is allowed to stand twenty-four hours, a few drops of pyridine are added and the mixture heated 4 hours on the steam bath. The cooled reaction mixture is poured into water, the crude product is washed with dilute sodium bicarbonate solution and finally taken up in benzene. The benzene is distilled at ordinary pressure and the residue distilled in vacuo to yield 60-70% of 1-phenoxy-2chloropropane, BP 93°-94°C/5 mm.
Step 2: To 494 grams of ethanolamine, heated to approximately 150°C in a 500 ml flask equipped with stirrer, condenser and dropping funnel, is added 465 grams of 1-phenoxy-2-chloropropane with mechanical stirring. The reaction mixture is then heated to reflux for 3 hours, cooled and poured into a liter of water. The organic layer is extracted into ether and the ether solution is extracted with dilute hydrochloric acid. The aqueous acid solution is then made alkaline with 40% sodium hydroxide solution and the organic base is extracted into ether. Removal of the ether leaves N-(phenoxyisopropyl)ethanolamine which, after recrystallization from hexane, melts at 70.5°-72°C.
Step 3: To 43 grams of N-(phenoxyisopropyl)ethanolamine dissolved in 500 ml of alcohol in a 1,000 ml flask equipped with stirrer and condenser is added 28 grams of benzyl chloride and 18.5 grams of sodium bicarbonate. The mixture is stirred and refluxed for 10 hours and then approximately half the alcohol is removed by distillation. The remaining solution is poured into 500 ml of water and the organic material extracted with 3 100-ml portions of ether. The combined ether extracts are washed with water, dried over anhydrous potassium carbonate and filtered. After removal of the ether, the residue is distilled in vacuo to yield N-(phenoxyisopropyl)-Nbenzylethanolamine, BP 163°-168°C/0.2 mm.
Step 4: A solution of 20 grams of the above amino alcohol is dissolved in 50 ml of dry chloroform and treated with dry hydrogen chloride until acid. Then a solution of 9 grams of thionyl chloride in 50 ml of dry chloroform is added and the reaction mixture is heated on a water bath at 50°-60°C for 2 hours. Most of the chloroform is removed by distillation under reduced pressure. Addition of ether to the residue causes the product to crystallize. After recrystallization from a mixture of alcohol and ether, the N-(phenoxyisopropyl)-N-benzyl-βchloroethylamine hydrochloride melts at 137.5°-140°C.
brand name
Dibenzyline (WellSpring).
Therapeutic Function
Adrenergic blocker
General Description
White crystalline powder. Melting point 137.5-140°C. Used as an antihypertensive drug.
General Description
Phenoxybenzamine (Dibenzyline) an old but powerfulα-blocker, is a haloalkylamine that blocksα1- and α2-receptors irreversibly. Phenoxybenzamine administrationhas been described as producing a "chemical sympathectomy"because of its selective blockade of the excitatory responses of smooth muscle and of the heart muscle.Although phenoxybenzamine is capable of blockingacetylcholine, histamine, and serotonin receptors, itsprimary pharmacological effects, especially that of vasodilation,may be attributed to its α-adrenergic blockingcapability. As would be expected of a drug that producessuch a profound α-blockade, administration is frequentlyassociated with reflex tachycardia, increased cardiacoutput, and postural hypotension. There is also evidenceindicating that blockade of presynaptic 2-receptorscontribute to the increased heart rate produced byphenoxybenzamine.
Air & Water Reactions
Light sensitive and may be sensitive to exposure to air . Insoluble in water.
Fire Hazard
Flash point data are not available for Phenoxybenzamine hydrochloride , but Phenoxybenzamine hydrochloride is probably combustible.
Mechanism of action
Because α-agonists cause vasoconstriction and raise blood pressure, one would expect α-antagonists to be therapeutically used as antihypertensive agents. An old but powerful drug in this class is phenoxybenzamine (dibenzyline), a β-haloalkylamine that alkylates α-receptors. β-haloalkylamines are present in nitrogen mustard anticancer agents and are highly reactive alkylating agents. The acid salt of phenoxybenzamine is stable, but at physiologic pH, equilibrium exists between the protonated drug and free base. Because of its receptor nonselectivity and toxicity, the use of phenoxybenzamine largely is limited to alleviating the sympathetic effects of pheochromocytoma. This tumor of chromaffin cells of the adrenal medulla produces large amounts of epinephrine and norepinephrine, which are released into the bloodstream, producing hypertension and generalized sympathetic stimulation.
Clinical Use
Oral phenoxybenzamine is used for the preoperativemanagement of patients with pheochromocytoma and in thechronic management of patients whose tumors are notamenable to surgery. Only about 20% to 30% of an oraldose is absorbed.
Safety Profile
Confumed carcinogen with experimental carcinogenic and teratogenic data. Poison by intraperitoneal,intravenous, and subcutaneous routes. Human systemic effects by ingestion: changes in tubules, including acute renal failure, acute tubular necrosis. Moderately toxic by ingestion. Other experimental reproductive effects. Mutation data reported. A long-acting adrenergic blocker. When heated to decomposition it emits very toxic fumes of NOx and Cl-.
Chemical Synthesis
Phenoxybenzamine, N-(2-chloroethyl)-N-(1-methyl-2-phenoxyethyl) benzylamine (12.2.5), is synthesized by reacting phenol with propylenoxide, which forms 1-phenoxy-2-propanol (12.2.1), the chlorination of which with thionyl chloride gives 1-phenoxy-2-propylchloride (12.2.2). Reacting this with 2-aminoethanol leads to formation of 1-phenoxy-2-(2-hydroxyethyl)aminopropane (12.2.3). Alkylation of the secondary amino group gives N-(2-hydroxyethyl)-N-(1-methyl-2-phenoxyethyl)benzylamine (12.2.4), the hydroxyl group of which is chlorinated using thionyl chloride, giving phenoxybenzamine (12.2.5) [31].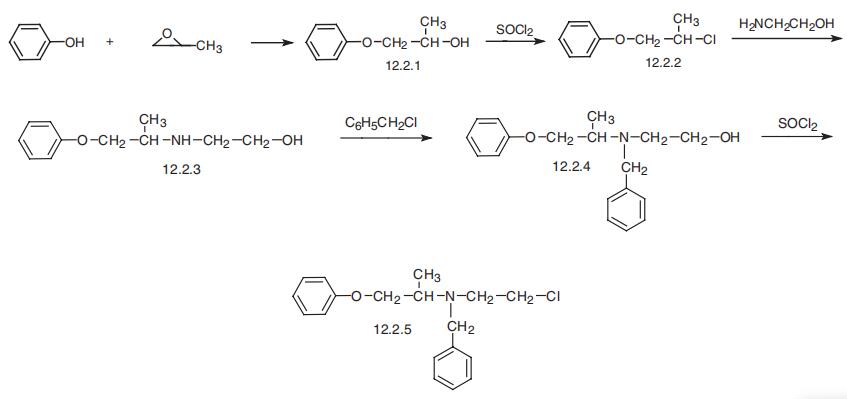 Potential Exposure
Used as an antihypertensive drug
Veterinary Drugs and Treatments
Phenoxybenzamine is used in small animals primarily for its effect in reducing internal urethral sphincter tone in dogs and cats when urethral sphincter hypertonus is present. It can also be used to treat the hypertension associated with pheochromocytoma prior to surgery or as adjunctive therapy in endotoxicosis.
In horses, phenoxybenzamine has been used for preventing or treating laminitis in its early stages and to treat secretory diarrheas.
Carcinogenicity
Phenoxybenzamine hydrochloride is reasonably anticipated to be a human carcinogen based on sufficient evidence of carcinogenicity from studies in experimental animals.
Shipping
UN3249 Medicine, solid, toxic, n.o.s., Hazard Class: 6.1; Labels: 6.1-Poisonous materials
Incompatibilities
Incompatible with oxidizers (chlorates, nitrates, peroxides, permanganates, perchlorates, chlorine, bromine, fluorine, etc.); contact may cause fires or explosions. Keep away from alkaline materials, strong bases, strong acids, oxoacids, epoxides. Sensitive upon exposure to light and air. May form unstable and explosive peroxides upon standing.
Waste Disposal
Use a licensed professional waste disposal service to dispose of this material. Dissolve or mix the material with a combustible solvent and burn in a chemical incinerator equipped with an afterburner and scrubber. All federal, state, and local environmental regulations must be observed. It is inappropriate and possibly dangerous to the environment to dispose of expired or waste pharmaceuticals by flushing them down the toilet or discarding them to the trash. Household quantities of expired or waste pharmaceuticals may be mixed with wet cat litter or coffee grounds, double-bagged in plastic, discard in trash. Larger quantities shall carefully take into consideration applicable DEA, EPA, and FDA regulations. If possible return the pharmaceutical to the manufacturer for proper disposal being careful to properly label and securely package the material. Alternatively, the waste pharmaceutical shall be labeled, securely packaged and transported by a state licensed medical waste contractor to dispose by burial in a licensed hazardous or toxic waste landfill or incinerator.
Phenoxybenzamine hydrochloride Preparation Products And Raw materials
Raw materials
Preparation Products
---
---
View Lastest Price from Phenoxybenzamine hydrochloride manufacturers
---
Phenoxybenzamine hydrochloride Spectrum
---
63-92-3(Phenoxybenzamine hydrochloride )Related Search:
---
Benzenemethanamine, N-(2-chloroethyl)-N-(1-methyl-2-phenoxyethyl)-, hydrochloride
PHENOXYBENZAMINEHYDROCHLORIDE,USP
Bensylyt
BENZYLAMINE,N-(2-CHLOROETHYL)-N-(1-METHYL-2-PHENOXYETHYL)-HYDROCHLORIDE
fenossibenzamina
fenoxybenzamin
n-(2-chloroethyl)-n-(1-methyl-2-phenoxyethyl)-benzenemethanaminhydrochlo
n-(2-chloroethyl)-n-(1-methyl-2-phenoxyethyl)-benzylaminhydrochloride
n-2-phenoxyisopropyl-n-benzyl-chloroethylaminehydrochloride
n-benzyl-n-phenoxyisopropyl-beta-chlorethylaminehydrochloride
nci-c01661
2-(n-benzyl-2-chloroethylamino)-1-phenoxypropane hydrochloride
Phenoxybenzamide
PHENOXYBENZAMINE HYDROCHLORIDE >97% SELE CTIVE A-ADRENERGI
PHENYOXYBENZAMINE HYDROCHLORIDE
688A
benzylyt
dibenylin
dibenzyline
Phenoxybenzamide, HCl
N-2-Phenoxyisopropyl-N-benzyl-b-chloroethylamine hydrochloride
Dibenyline hydrochloride
SKF-688A
N-Benzyl-N-(2-chloroethyl)-1-phenoxypropan-2-aMine hydrochloride
Dibenzyline Chloride
NSC 37448
N-(2-Chloroethyl)-N-(1-methyl-2-phenoxyethyl)benzylamine Hydrochloride Dibenzyline Hydrochloride N-Phenoxyisopropyl-N-benzyl-2-chloroethylamine Hydrochloride
Phenoxybenzamine Hydrochloride (250 mg)
bensylytnen
benzyl(2-chloroethyl)(1-methyl-2-phenoxyethyl)aminehydrochloride
dibenzyran
n-phenoxyisopropyl-n-benzyl-beta-chloroethylaminehydrochloride
phenoxybenzamidehydrochloride
BENZENE METHANAMINE HYDROCHLORIDE
DIBENZYLINE HYDROCHLORIDE
N-PHENOXYISOPROPYL-N-BENZYL-2-CHLOROETHYLAMINE HYDROCHLORIDE
PHENOXYBENZAMINE
PHENOXYBENZAMINE HCL
PHENOXYBENZAMINE HYDROCHLORIDE
n-(2-chloroethyl)-n-(1-methyl-2-phenoxyethyl)benzenemethanamine hydrochloride
N-(2-CHLOROETHYL)-N-(1-METHYL-2-PHENOXYETHYL)BENZYLAMINE HYDROCHLORIDE
N-(2-chloroethyl)-N-(1-methyl-2-phenoxyethyl)- benzenemethanamine, hydrochloride (1:1)
C18H23ClNOphenoxybenzamine hydrochloride
PHENOXYBENZAMINE HCL;DIBENZYLINE HYDROCHLORIDE
Phenoxybenzamine Hydrochloride &gt
Phenoxybenzamine hydrochloride USP/EP/BP
63-92-3
C18H23ClNO
C18H23ClNOCl
C18H23Cl2NO
C18H22ClNOHCl
C18H22ClNOClH
DIBENZYLINE
Amines
Aromatics
Intermediates & Fine Chemicals
Pharmaceuticals