Pidotimod
CAS No.

Chemical Name:

Pidotimod

Synonyms

Axil;Onaka;Adimod;pgt/1a;PoliMod;PIDOTIMOD;Pidomomod;Pidolimod;Pidotomod;Pidotimod&gt

CBNumber:

CB9745917

Molecular Formula:

C9H12N2O4S

Formula Weight:

244.27

MOL File:
Pidotimod Properties
Melting point:

194-198°C (dec.)
alpha

D25 -150° (c = 2 in 5N HCl)
Boiling point:

663.0±55.0 °C(Predicted)
Density

1.53
storage temp.

Keep in dark place,Sealed in dry,2-8°C
form

powder
pka

3.03(at 25℃)
color

white to beige
optical activity

[α]/D -135 to -155°, c = 1 in 6 M HCl
Merck

14,7419
CAS DataBase Reference
FDA UNII
ATC code
SAFETY
Risk and Safety Statements
| | | | |
| --- | --- | --- | --- |
| RTECS | XJ5426675 | | |
| Toxicity | LD50 in mice and rats (mg/kg): >4000 i.v.; >4000 i.m.; >8000 i.p.; >8000 orally (Coppi) | | |
| Manufacturer | Product number | Product description | CAS number | Packaging | Price | Updated | Buy |
| --- | --- | --- | --- | --- | --- | --- | --- |
| Sigma-Aldrich | SML1335 | Pidotimod ≥98% (HPLC) | 121808-62-6 | 50mg | $98.6 | 2021-12-16 | Buy |
| Sigma-Aldrich | SML1335 | Pidotimod ≥98% (HPLC) | 121808-62-6 | 250mg | $387 | 2021-12-16 | Buy |
| TCI Chemical | P2147 | Pidotimod >98.0%(HPLC)(T) | 121808-62-6 | 5g | $129 | 2021-12-16 | Buy |
| TCI Chemical | P2147 | Pidotimod >98.0%(HPLC)(T) | 121808-62-6 | 25g | $325 | 2021-12-16 | Buy |
| Cayman Chemical | 18725 | Pidotimod ≥98% | 121808-62-6 | 5g | $75 | 2021-12-16 | Buy |
Pidotimod Chemical Properties,Uses,Production
Immunomodulator
Pidotimod, chemical name (4R)-3-(5-oxo-L-prolyl)-1,3-thiazolidine-4-carboxylic acid, is a representative of synthetic immunostimulants, its structure is similar with dipeptide. Pidotimod has anti-toxicity, anti-oxidation, anti-irritation, anti-infectivity properties etc.; it can promote both innate immunity responses and adaptive immunity responses. Clinically it is mainly used to treat children with recurrent respiratory infections, chronic bronchitis, recurrent urinary tract infections, other chronic diseases caused by machine body with low immune function and to reduce the recurrence of tumor. Pidotimod can be rapidly absorbed, excreted with no accumulation in the body, with good tolerance and with no restriction on the age of patients.
Pidotimod was originally developed by Poli Industria Chimica S.p.A, Italy. It was listed in 1993 and put into clinical practice. In 2003 our country imported pidotimod oral solution. At present, there are few approved raw material manufacturers to produce pidotimod.
Immunomodulators are drugs that regulate the function of the immune system. Studies have found that some immunomodulators do not have effect on the normal immune system, but can enhance the function of the immune system and regulate the immune responses. Pidotimod is a synthetic immunosuppressive agent with dipeptide like structure, and promote both innate and adaptive immunity of the machine body. On the one hand, pidotimod can block phagocytosis of cyclophosphamide on phagocytic cells (monocyte/macrophage, neutrophils, and etc.) and the suppression effect of cyclophosphamide on the proliferation of lymphocyte, enhance the phagocytosis of phagocytic cells, increase the cell chemotaxis, enhance the sensitivity of B cells, produce more antibodies to against foreign bodies, especially increase the production of protective secretory IgA; activate the natural killer cell (NK) to regulate the balance of T cells in the immune system; stimulate the proliferation of B/T lymphocyte. On the other hand, by stimulating the production of cytokines, interleukin-2 and interferon-y, pidotimod can further promote the phagocytosis of phagocytic cells, the activation of lymphocyte and cellular immune response; correct the imbalance of CD4+/CD8+ ratio in pathological condition to regulate the body's immune system to the steady state under normal physiological condition. Furthermore, pidotimod can enhance deficitary feedback mechanism between the hypothalamic-pituitary-adrenal (HPA) axis and interleukin-1 (IL-1). Further studies have shown that: pidotimod could reconstitute the cellularity of the pritoneum and of the spleens of mice immunodepressed by mPDN. Pidotimod stimulate production of cytokines and other effects, the mutual coordination and restraint of vary cytokines and immune cells to adjust the immune system disorder in pathological condition to the normal body immunity.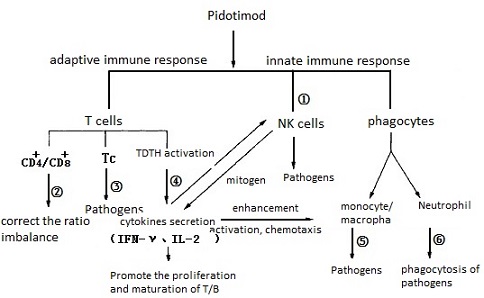 Figure 1: Function mechanism of pidotimod
①: Pidotimod activates natural killer cells.
②: Pidotimod can correct the imbalance of CD+4/Cd+8 ratio.
③: Pidotimod can increase the activity of T cells and enhance the ability of T cells to eliminate virus.
④: Pidotimod can increase the level of IL/2 and IFN-γ in the immune response, enhance the body immunity.
⑤: Pidotimod can promote the activity of macrophage.
⑥: Pidotimod can quickly increase the chemotaxis of neutrophils.
Physical and Chemical Properties
The chemical name of pidotimod is: (4R)-3-(5-oxo-L-prolyl)-1,3-thiazolidine-4-carboxylic acid. Its formula is C9H13N2O4S, molecular mass is 244.26 g/mol. It is a white odorless crystalline powder, soluble in water, almost insoluble in chloroform. Its melting point is: 192-198°C.
Synthesis Method
First L-cysteine (1) was reacted with formaldehyde to give L-thiazolidine-4-carboxylic acid (2). L-pyroglutamic acid (3) was reacted with pentachlorophenol in solvent N,N-dimethylformamide (DMF) and with the presence of a condensing agent dicyclohexylcarbodiimide (DCC) to give L-pyroglutamic acid pentachlorophenyl ester (4). The compound (2) reacted with compound (4) in solvent DMF and with deacid agent triethylamine to give pidotimod after dehydration condensation.
Figure 2: Synthesis route of pidotimod.
Clinical Applications
Applicable to patients with low immune function. It can be used to treat recurrent respiratory tract infection; infection in ear, nose, and throat; as adjuvant therapy for urogenital system infection; to treat virus infection, malignancies, and other chronic diseases.
Pharmacokinetics
This product can be taken orally, the bioavailability is 35%. Food intake might affect the absorbance of this drug. 2 hours after oral administration the peak of pidotimod concentration in plasma is reached. The plasma protein binding rate of pidotimod is very low and it is barely metabolized in body, and almost excreted as unmodified drug in the urine. The half life of pidotimod is 4 hours.
The physical and chemical properties, synthesis method, clinical applications, adverse reactions etc. are edited by the editor Dongfang of Chemicalbook. (2016-01-13)
Adverse Reactions
Occasionally observed headaches, dizziness, nausea, vomiting, diarrhea, rash etc.
Toboos: Allergic to this product disabled.
Precautions
Highly susceptible individuals with caution.
There is no information about this drug concerning pregnant and lactating women, thus, it is not suitable for pregnant and lactating women.
Strictly abide by the usage and dosage in children. There are no reports on the application for children under 2 years old.
There are no systematic clinical data on elderly patients.
There are no reports on the overdose of this drug. In case of overdose, conventional methods could be used, such as vomiting, cathartic, infusion, and other drugs to promote excretion of excessive drug.
Drug Interactions
Avoid taking this drug when taking meals. It can be taken either before meals or 2 hours after the meal.
Description
Pidotimod, a dipeptide immunomodulating agent, has been introduced as immunostimulant therapy in patients with cell-mediated immunosuppression during respiratory or urinary tract infections. Its mode of action on the immune system is by activation of T-lymphocytes via interleukin (IL)-2 stimulation and macrophages via activation of superoxide dismutase and chemotaxis. In mice, treatment with pidotimod causes significant increase in the natural killer cell activity that may play an important role in immunosurveillance against tumors and in physiological homeostasis. Pidotimod can reverse the immunosuppression caused by surgical stress and has antiinflammatory, antioxidant, and antiaging properties. It has also been reported to provide protection from bacterial infections in mice.
Chemical Properties
White Solid
Originator
Poli (Italy)
Uses
Immunostimulant used in patients with cell-mediated immunodepression.
Uses
immune stimulant
brand name
Polimod; Pigitil; Axil; Onaka
Synthesis of Pidotimod from Pidotimod Impurity 2
Pidotimod Preparation Products And Raw materials
Raw materials
Preparation Products
---
---
View Lastest Price from Pidotimod manufacturers
Image
Release date
Product
Price
Min. Order
Purity
Supply Ability
Manufacturer
2022-01-21
Pidotimod
121808-62-6
US $0.00 / KG
100g
98%+
100kg
WUHAN CIRCLE POWDER TECHNOLOGY CO.,LTD
2022-01-20
Pidotimod
121808-62-6
US $100.00 / KG
1KG
99
5tons
Shanxi Naipu Import and Export Co.,Ltd
2021-10-20
Pidotimod
121808-62-6
US $121.00 / KG
1KG
99%
9000kg/per week
Hebei Lingding Biological Technology Co., Ltd
121808-62-6(Pidotimod)Related Search:
---
(4R)-3-[(2S)-5-Oxopyrrolidine-2-carbonyl]-1,3-thiazolidine-4-carboxylic acid
Adimod
(4S)-3-(5-Oxo-L-prolyl)thiazolidine-4-carboxylic acid
3-Pyroglutamoylthiazolidine-4-carboxylic acid
(4R)-3-[(2S)-5-ketopyrrolidine-2-carbonyl]thiazolidine-4-carboxylic acid
(4R)-3-[(2S)-5-oxopyrrolidin-2-yl]carbonyl-1,3-thiazolidine-4-carboxylic acid
3-L-pyroglutaMyl-L-thiazolidine-4-carboxylic acid
(R)-3-((S)-5-Oxopyrrolidine-2-carbonyl)thiazolidine-4-carboxylic acid
Axil
Onaka
PoliMod
4-Thiazolidinecarboxylic acid, 3-[[(2S)-5-oxo-2-pyrrolidinyl]carbonyl]-, (4R)-
PidotiMod API
3-(5-OXO-2-PYRROLIDINYL)CARBONYL-4-THIAZOLIDINECARBOXYLICACID
Pidotimod W S
(R)-3-((S)-2-oxopyrrolidine-5-carbonyl)thiazolidine-4-carboxylic acid
((R)-3-[(S)-(5-oxo-2-pyrrolidinyl) carbonyl]-thiazolidine-4-carboxylic acid
(r-(r*,s*))-3-((5-oxo-2-pyrrolidinyl)carbonyl)-4-thiazolidinecarboxylicacid
(r)-3-((s)-(5-oxo-2-pyrrolidinyl)carbonyl)-thiazolidin-4-carbonsaeure
4-thiazolidinecarboxylicacid,3-((5-oxo-2-pyrrolidinyl)carbonyl)-,(r-(r*,s*))
pgt/1a
(R)-3-[(S)-(5-OXO-2-PYRROLIDINYL)CARBOXYL]-THIAZOLIDINE-4-CARBOCYLIC ACID
PIDOTIMOD
(4r)-3-[[(2s)-5-oxo-2-pyrrolidinyl]carbonyl]-4-thiazolidinecarboxylic acid
(4R)-3-[oxo-[(2S)-5-oxo-2-pyrrolidinyl]methyl]-4-thiazolidinecarboxylic acid
Pidomomod
Pidotimod Pidotimod
Pidotimod&gt
Pidolimod
(R)-3-((S)-5-Oxopyrrolidine-2-carbonyl)thiazolidine-4-carboxylicaci
top quality Pidotimod
(R)-3-[[(S)-5-Oxo-2-pyrrolidinyl]carbonyl]-1,3-thiazolidine-4-carboxylic Acid
Pidotimod USP/EP/BP
Pidotomod
121808-62-6
121808-92-6
POLIMOD
Chiral Reagents
Intermediates & Fine Chemicals
Pharmaceuticals
Sulfur & Selenium Compounds
API