Trisodium citrate dihydrate
CAS No.

Chemical Name:

Trisodium citrate dihydrate

Synonyms

abs9147;NATRII CITRAS;Citratic acid;CITRIC ACID H2O;CITRIC ACID MON;CITRIC ACID MONO;CITRIC ACID BP93;SodiumCitrateBp93;SODIUM CITRATE USP;SODIUM CITRATE 2H2O

CBNumber:

CB9752065

Molecular Formula:

C6H9Na3O9

Formula Weight:

294.1

MOL File:
Trisodium citrate dihydrate Properties
Melting point:

>300 °C(lit.)

Density

1.76
Flash point:

173.9 °C
storage temp.

Store at +5°C to +30°C.
solubility

H2O: 100 mg/mL

form

powder

color

white

Odor

Odorless
PH Range

7.5 - 9 at 29.4 g/l at 25 °C
PH

7.0-9.0 (25℃, 50mg/mL in H2O)
Water Solubility

720 g/L (25 ºC)
λmax

λ: 260 nm Amax: 0.01
λ: 280 nm Amax: 0.01
Merck

14,8602
BRN

6104939
Stability:

Stable. Incompatible with bases, reducing agents, oxidizing agents.
InChIKey

NLJMYIDDQXHKNR-UHFFFAOYSA-K
CAS DataBase Reference
FDA UNII
EPA Substance Registry System
SAFETY
Risk and Safety Statements
Trisodium citrate dihydrate price More Price(138)
| Manufacturer | Product number | Product description | CAS number | Packaging | Price | Updated | Buy |
| --- | --- | --- | --- | --- | --- | --- | --- |
| Sigma-Aldrich | W302600 | Sodium citrate dihydrate ≥99%,FG | 6132-04-3 | 1 SAMPLE-K | $50 | 2021-12-16 | Buy |
| Sigma-Aldrich | 1.06432 | tri-Sodium citrate dihydrate cryst., EMPROVE? ESSENTIAL Ph Eur,BP,JP,USP,E 331 | 6132-04-3 | 1 kg | $47.3 | 2021-12-16 | Buy |
| Sigma-Aldrich | 1.06446 | tri-Sodium citrate dihydrate powder EMPROVE? ESSENTIAL Ph Eur,BP,JP,USP,E 331 | 6132-04-3 | 1 kg | $48.6 | 2021-12-16 | Buy |
| Sigma-Aldrich | 1.06448 | tri-Sodium citrate dihydrate for analysis EMSURE? ACS,ISO,Reag. Ph Eur | 6132-04-3 | 500 g | $59.57 | 2021-12-16 | Buy |
| Sigma-Aldrich | 1.37042 | TRI-SODIUM CITRATE DIHYDRAT. CRYST. EMPROVE? EXPERT Ph Eur,BP,JP,USP,ACS | 6132-04-3 | 1 kg | $57.1 | 2021-12-16 | Buy |
Trisodium citrate dihydrate Chemical Properties,Uses,Production
General description
Sodium citrate, (molecular formula: Na3C6H5O7 • 2H2O) has molecular weight of 294.1, is a colorless crystal or white crystalline powder product; it is odorless, salty taste, and cool.It will lose its crystal water at 150 °C and will be decomposed at even higher temperature. It also has slight deliquescence in wet air and has weathering property upon hot air. It is soluble in water and glycerol, but insoluble in alcohol and some other organic solvents. Sodium citrate has no toxic effect, and has pH adjusting capability as well as having a good stability, and therefore can be used in the food industry. Sodium citrate has the greatest demand when being used as a food additive; As food additives, it is mainly used as flavoring agents, buffers, emulsifiers, bulking agents, stabilizers and preservatives; in addition, combination between sodium citrate and citric acid can be used in a variety of jams, jelly, juice, drinks, cold drinks, dairy products and pastries gelling agents, flavoring agents and nutritional supplements.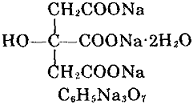 Excellent performance
Sodium citrate is currently the most important citrate. It is produced by two steps: first starch food is fermented to generate citric acid; secondly, citric acid is neutralized by alkali to generate the final products. Sodium citrate has the following excellent performance:
Safe and nontoxic properties; Since the basic raw material for the preparation of sodium citrate mainly comes from the food, it is absolutely safe and reliable without causing harm to human health. The United Nations Food and Agriculture and the World Health Organization has no restriction in its daily intake, which means that this product can be considered as non-toxic food.
It is biodegradable. After subjecting to the dilution of a large amount of water, sodium citrate is partially converted into citrate, which coexists with sodium citrate in the same system. Citrate is easy to subject to biological degradation at water by the action of oxygen, heat, light, bacteria and microbes. Its decomposition pathways are generally going through aconitic acid, itaconic acid, citraconic acid anhydride to be further converted to carbon dioxide and water.
The ability of forming complex with metal ions. Sodium citrate has a good capability of forming complex with some metal ions such as Ca2+, Mg2+; for other ions such as Fe2+, it also has a good complex-forming ability.
Excellent solubility, and the solubility increases with increasing temperature of water.
It has a good capability for pH adjustment and a good buffering property. Sodium citrate is a weak acid-strong alkali salt; When combined with citrate, they can form a pH buffer with strong compatibility; therefore, this is very useful for some cases in which it is not suitable to have large change of pH value. In addition, sodium citrate also has excellent retardation performance and stability.
The above information is edited by the chemicalbook of Dai xiongfeng.
Reference quality standards
British Pharmacopoeia BP98 Edition
Quality Item Technical Index
Content 99.0-101.0%
PH Meet the rule
Heavy Metal (PB) ≤ 0.001%
Arsenic ≤ 0.0001%
Ferric ≤ 0.001%
Oxalate ≤ 0.03%
Sulfate ≤ 0.015%
Readily carbonizable substance Meet the rule
Chloride ≤ 0.005%
Water 11.0-13.0%
Appearance of the solution clear and transparent solution, colorless
Pyrogen consistent with the test
Effect and application
During the process of clinically taking fresh blood, adding some amount of sterile sodium citrate can play a role in prevent blood clotting; this is exactly taking advantage of the features that calcium citrate can form soluble complexes with calcium ion; In the field of medicine, it is used for the in vitro anti-clotting drugs and anticoagulants drugs, phlegm drugs, and diuretics drugs during blood transfusions; it can also used for cyanide-free electroplating industry; also used as developer for photographic industry. It can be used as flavoring agents, buffering materials, emulsifiers, and stabilizer in the food industry. Moreover, it is also widely used in chemical, metallurgical industry, the absorption of sulfur dioxide exhaust with the absorption rate of 99% and regenerate liquid sulfur dioxide citrate for recycle application. Sodium citrate has a good water solubility and a excellent cheating capability with Ca2 +, Mg2 + and other metal ions; it is biodegradable and has a strong dispersing ability and anti-redeposition ability; Daily-applied chemical detergents use it as alternative to trimer sodium phosphate for production of non-phosphorus detergent and phosphate-free liquid detergent. Adding a certain amount sodium citrate to the detergent can significantly increase the cleaning ability of detergent cleaning. The large scale of application of sodium tripolyphosphate as a builder in detergents is an important discovery in synthetic detergent industry. It is non-toxic without environmental pollution; it can also be acted as a buffer for the production of cosmetics.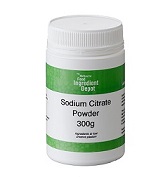 Chemical Properties
It is colorless crystals or white crystalline powder, and is odorless, cool and salty. It has no melting point with a relative density of 1.857. It is stable in air at room temperature with loss of crystal water when being heated to 150 °C loss of crystal water; further heating will cause its decomposition. It is insoluble in ethanol but highly soluble in water. 5% aqueous solution has a pH value of 7.6 to 8.6. Rats by intraperitoneal injection: LD50: 1549 mg/kg; ADI without any special provisions (FAOWHO, 1994).
Uses
It can be used as Ph adjusting agents and emulsifying enhancers applied to jam, candy, jelly and ice cream; its combination with citric acid has an effect of alleviating tour; it also has effects on forming complex with metal ions. China rules that it can be applied to various types of food with appropriate usage according to the absolute necessity.
It can be used as a food additive, as complex agent and buffering agent in electroplating industry; at the field of pharmaceutical industry, it is used for the manufacturing of anti-clotting drugs; and used as the detergent additives in light industry.
It is used as the analysis agents used for chromatography analysis and can also used for preparing bacterial culture medium; moreover, it can also be applied into pharmaceutical industry.
The product can be used for the flavoring processing of food, as stabilizers, buffers and deputy complex-forming agents in non-toxic electroplating industry; at pharmaceutical industry, it is used as anti-clotting agent, phlegm drugs and diuretics drugs. It can also be used in brewing, injection, newspaper and movies medicines.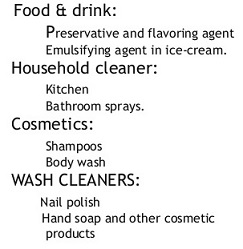 Production methods
It is produced by the neutralization of citric acid by sodium hydroxide or sodium bicarbonate. Dissolve sodium bicarbonate in water upon stirring and heating; add citric acid, continue to heat up to 85-90 °C; adjust the pH to 6.8; adjust active carbon for bleaching. Filter when the mixture is still hot; condense the filtrate under reduced pressure; cool and the crystal comes out; filter, wash, dry to obtain the final products of sodium citrate.
C6H8O7 + 3NaHCO3 → C6H5Na3O7 • 2H2O + 3CO2 ↑ + H2O
Chemical Properties
white powder or colourless crystals
Chemical Properties
Sodium citrate dihydrate consists of odorless, colorless, monoclinic crystals, or a white crystalline powder with a cooling, saline taste. It is slightly deliquescent in moist air, and in warm dry air it is efflorescent. Although most pharmacopeias specify that sodium citrate is the dihydrate, the USP 32 states that sodium citrate may be either the dihydrate or anhydrous material.
Uses
Sodium citrate is chiefly used as a food additive, usually for flavor or as a preservative.
Uses
Anticoagulant for collection of blood. In photography; as sequestering agent to remove trace metals; as emulsifier, acidulant and sequestrant in foods.
Uses
An anticoagulant also used as a biological buffer
Uses
Trisodium citrate dihydrate, is widely applied in food, beverages and fillers as a buffering, sequestering or an emulsifying agent. It used as an anticoagulant in blood transfusions, osmotic laxative, functional fluids, solvents cleaning, furnishing care products, laundry dishwashing products and cleaning automobile radiators.
Production Methods
Sodium citrate is prepared by adding sodium carbonate to a solution of citric acid until effervescence ceases. The resulting solution is filtered and evaporated to dryness.
Definition
ChEBI: The dihydrate of trisodium citrate.
General Description
Sodium citrate tribasic dihydrate is the tribasic dihydrate sodium salt of citric acid.
Pharmaceutical Applications
Sodium citrate, as either the dihydrate or anhydrous material, is widely used in pharmaceutical formulations.
It is used in food products, primarily to adjust the pH of solutions. It is also used as a sequestering agent. The anhydrous material is used in effervescent tablet formulations. Sodium citrate is additionally used as a blood anticoagulant either alone or in combination with other citrates such as disodium hydrogen citrate.
Therapeutically, sodium citrate is used to relieve the painful irritation caused by cystitis, and also to treat dehydration and acidosis due to diarrhea.
Biological Activity
Commonly used laboratory reagent
Biochem/physiol Actions
Sodium citrate can act as a buffering agent, resisting changes in pH. Used in blood collection tubes, the citrate chelates calcium ions in blood and thereby disrupts blood clotting. Citrate is a intermediate in the TCA cycle and fatty acid synthesis. Citrate is an allosteric modulator of acetyl-CoA carboxylase, the enzyme that regulates the conversion of acetyl-CoA to malonyl-CoA.
Safety
After ingestion, sodium citrate is absorbed and metabolized to bicarbonate. Although it is generally regarded as a nontoxic and nonirritant excipient, excessive consumption may cause gastrointestinal discomfort or diarrhea. Therapeutically, in adults, up to 15 g daily of sodium citrate dihydrate may be administered orally, in divided doses, as an aqueous solution to relieve the painful irritation caused by cystitis.
Citrates and citric acid enhance intestinal aluminum absorption in renal patients, which may lead to increased, harmful serum aluminum levels. It has therefore been suggested that patients with renal failure taking aluminum compounds to control phosphate absorption should not be prescribed citrate- or citric acid-containing products.
storage
Sodium citrate dihydrate is a stable material. Aqueous solutions may be sterilized by autoclaving. On storage, aqueous solutions may cause the separation of small, solid particles from glass containers.
The bulk material should be stored in an airtight container in a cool, dry place.
Purification Methods
Crystallise the salt from warm water by cooling to 0o. [Beilstein 3 III 1100, 3 IV 1274.]
Incompatibilities
Aqueous solutions are slightly alkaline and will react with acidic substances. Alkaloidal salts may be precipitated from their aqueous or hydro-alcohol solutions. Calcium and strontium salts will cause precipitation of the corresponding citrates. Other incompatibilities include bases, reducing agents, and oxidizing agents.
Regulatory Status
GRAS listed. Accepted for use as a food additive in Europe. Included in the FDA Inactive Ingredients Database (inhalations; injections; ophthalmic products; oral solutions, suspensions, syrups and tablets; nasal, otic, rectal, topical, transdermal, and vaginal preparations). Included in nonparenteral and parenteral medicines licensed in the UK. Included in the Canadian List of Acceptable Non-medicinal Ingredients.
Trisodium citrate dihydrate Preparation Products And Raw materials
Raw materials
Preparation Products
---
---
View Lastest Price from Trisodium citrate dihydrate manufacturers
Image
Release date
Product
Price
Min. Order
Purity
Supply Ability
Manufacturer
2022-01-21
Sodium citrate dihydrate
6132-04-3
US $20.00 / Kg/Drum
25Kg/Drum
99.99%
1 ton per week
Wuhan Mulei New Material Technology Co. Ltd
2021-11-30
Trisodium citrate dihydrate
6132-04-3
US $1040.00 / T
1T
98%
10-500mt
Baoji Guokang Bio-Technology Co., Ltd.
2021-11-15
Trisodium citrate dihydrate
6132-04-3
US $50.00 / KG
3000KG
99%
500ton/Month
Hebei Yirun Sega Biological Technology Co. Ltd
6132-04-3(Trisodium citrate dihydrate)Related Search:
---
ANTI-BABOON IGM, BIOTIN
BETA-HYDROXY-TRICARBOXYLIC ACID MONOHYDRATE
HYDROXYTRICARBALLYLIC ACID MONOHYDRATE
CITRIC ACID NA3-SALT 2H2O
CITRIC ACID H2O
CITRIC ACID TRISODIUM SALT DIHYDRATE
CITRIC ACID, 3NA, DIHYDRATE
CITRIC ACID-1-HYDRATE
2-Hydroxy-1,2,3-propanenetricarboxylicacidtrisodiumsaltdihydrate
Citric acid, trisodiuM salt dihydrate, ACS reagent
Citric acid, trisodiuM salt dihydrate, 99%, for biocheMistry
TRI-SODIUM CITRATE DIHYDRATE P.A. EMSURE
SodiuM Citrate (AS)
Sodium Citrate (1 g) (AS)
SODIUM CITRATE、SODIUM CITRATE DEHYDRATE
sodiuM 2-hydroxypropane-1,2,3-tricarboxylate dihydrate
Sodium Citrate (1 g)
Sodium citrate tribasic dihydrate ACS reagent, >=99.0%
Sodium citrate tribasic dihydrate puriss. p.a., ACS reagent, >=99.0% (NT)
Sodium citrate tribasic dihydrate Vetec(TM) reagent grade, 98%
ACIDUM CITRICUM MONOHYDRICUM
2-HYDROXY-1,2,3-PROPANETRICARBOXYLIC ACID, MONOHYDRATE
2-HYDROXY-1,2,3-PROPANETRICARBOXYLIC ACID, TRISODIUM SALT, DIHYDRATE
SODIUM CITRATE 2H2O
SODIUM CITRATE, DIHYDRATE
SODIUM CITRATE TRIBASIC DIHYDRATE
SODIUM CITRATE TRISODIUM SALT DIHYDRATE
SODIUM CITRADE DIHYDRATE
NATRII CITRAS
SODIUM CITRATE, USP, DIHYDRATE POWDER
CITRIC ACID MONO BP93
CITRIC ACID ANHYDROUS 40-120 MESH
CITRIC ACID MON
CITRIC ACID MONOHYDRATE BP93
CITRIC ACID MONO
CITRIC ACID MONO AND ANH
CITRIC ACID MONO BP-93 & BP-98
CITRIC ACID BP93
CITRIC ACID ANHYDROUS USP
CITRIC ACID MONODYRATE BP93
CITRIC ACID FOOD GRADE
CITRIC ACID MONO BP98
CITRIC ACID MONOHYDRATE FOOD GRADE
Cit acid monohydrate
Citratic acid
SODIUM CITRATE TRIBASIC DIHYDRATE USP
TRI-SODIUM CITRATE DIHYDRATE, FOR MOLECU LAR BIOLOGY
SODIUM CITRATE TRIBASIC DIHYDRATE, REAGENT GRADE, 99%
TRI-SODIUM CITRATE DIHYDRATE, FOR LUMINE SCENCE
Sodium citrate tribasic Dihydrate, Eluent additive for LC-MS
CITRIC ACID TRISODIUM DIHYDRATESIGMAULTR A
SODIUM CITRATE DIHYDRATE, 99+%, A.C.S. REAGENT
CITRIC ACID TRISODIUM DIHYDRATE
CITRIC ACID, TRISODIUM SALT DIHYDRATE, 9 9%
SODIUM CITRATE DIHYDRATE 99+%
TRI-SODIUM CITRATE-2-HYDRATE R. G., REAG . ACS, REAG. ISO, REAG. PH. EUR.
SODIUM CITRATE TRIBASIC DIHYDRATE, PH EUR
SodiumCitrateBp93