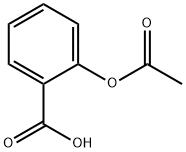 Suppliers by country/region
Vendor type
Properties
Melting point:

134-136 °C(lit.)

Boiling point:

272.96°C (rough estimate)
Density

1.35
refractive index

1.4500 (estimate)
Flash point:

250 °C
storage temp.

Store at RT.
solubility

H2O: 10 mg/mL at 37 °C

form

crystalline

color

white

pka

3.5(at 25℃)
Water Solubility

3.3 g/L (20 ºC)
Merck

14,851
BRN

779271
Stability:

Stable. Keep dry. Incompatible with strong oxidizing agents, strong bases, strong acids, various other compounds such as iodides, iron salts, quinine salts, etc.
InChIKey

BSYNRYMUTXBXSQ-UHFFFAOYSA-N
Safety Information
Symbol(GHS)
Signal word

Warning
Hazard statements
Precautionary statements
Hazard Codes
Risk Statements
Safety Statements
RIDADR

UN 1851
WGK Germany

1

RTECS

VO0700000

TSCA

Yes
HazardClass

6.1
PackingGroup

III
HS Code

29182210
Toxicity

LD50 orally in mice, rats: 1.1, 1.5 g/kg (Hart)
Use
Acetylsalicylic acid, also known as aspirin, is an analgesic-antipyretic medicine made by salicylic acid interacting with acetic anhydride. It is a white crystalline powder, odorless, stable in dry air. It will be slowly hydrolyzed to be salicylic acid and acetic acid in moist air, and aqueous solution has acidic reaction. Slightly soluble in water, soluble in ethanol, ethyl ether, chloroform, sodium hydroxide solution and sodium carbonate solution. Acetylsalicylic acid has antipyretic analgesic, anti-inflammatory and anti-rheumatism effect, thats why it is often used for fever, headache, muscle pain, neuralgia, rheumatic fever, acute rheumatic arthritis, gout, etc.; also it has antiplatelet aggregation effect, and can be used for prevention of arterial thrombosis, atherosclerosis, transient cerebral ischemia and myocardial infarction; in addition, acetylsalicylic acid also can be used in the treatment of biliary tract roundworm disease and athlete's foot. Pharmacological actions Acetylsalicylic acid is one of the traditional antipyretic analgesics, as well as the role of platelet aggregation. Acetylsalicylic acid in the body has the characteristics of the antithrombotic, can reduce the formation of obstructive blood clots in surrounding arteries, and inhibit release of platelet response and endogenous ADP, 5-HT, etc., therefore to inhibit second phase other than the first phase of platelet aggregation. The mechanism of action of acetylsalicylic acid is to make platelets cyclooxygenase acetylation, thus inhibiting the formation of ring peroxide, and TXA2 formation is also reduced as well. At the mean time make the platelet membrane protein acetylation, and inhibit platelet membrane enzyme, which helps to inhibit platelet function. As the cyclooxygenase is inhibited, it impacts blood vessel wall synthesized to be PGI2, the platelet TXA2 synthetic enzymes also to be inhibited; so it would impact formation of both TXA2 and PGI2 when it is large doses. Suitable for ischemic heart disease, after percutaneous transluminal coronary angioplasty or coronary artery bypass grafting, prevent transient ischemic stroke, myocardial infarction and reduce the incidence of arrhythmia. The above information is edited by the Chemicalbook He Liao Pu.
301 supplier list of "Acetylsalicylic acid"