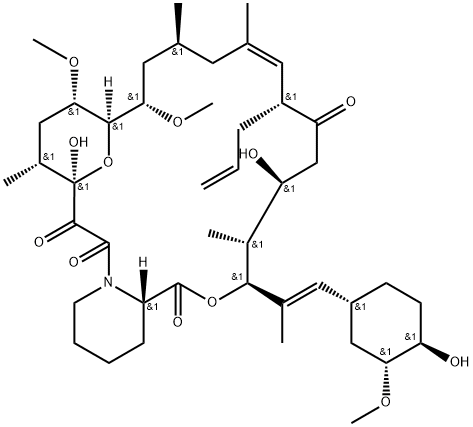 CAS:

104987-11-3
MF:

C44H69NO12
MW:

804.02
Suppliers by country/region
Vendor type
Properties
Melting point:

113-115°C
Boiling point:

871.7±75.0 °C(Predicted)
Density

1.19±0.1 g/cm3(Predicted)
Flash point:

2℃
storage temp.

−20°C

solubility

DMSO: >3 mg/mL

pka

9.97±0.70(Predicted)
form

solid

color

white

Water Solubility

Freely soluble in DMSO or ethanol. Poorly soluble in water.Soluble in dimethyl sulfoxide, ethanol, water, acetone, chloroform, ethyl acetate, ether, methanol and dimethyl formamide.
InChIKey

QJJXYPPXXYFBGM-LFZNUXCKSA-N
Safety Information
Symbol(GHS)
Signal word

Danger
Hazard statements
Precautionary statements
Hazard Codes
Risk Statements
Safety Statements
RIDADR

UN 2811 6.1/PG 3

WGK Germany

3

RTECS

KD4201200

HazardClass

6.1
HS Code

29349990
Use
1 Ruzicka T, Assmann T, Homey B. Tacrolimus: The drug for the turn of the millennium? Arch Dermatol 1999; 135: 574580. Lawrence ID. Tacrolimus (FK506): experience in dermatology. Dermatol Ther 1998; 5: 7484. Michel G, Kemeny L, Homey B, Ruzicka T. FK506 in the treatment of inflammatory skin disease: promises and perspectives. Immunol Today 1996; 17: 106108. Bieber T. Topical tacrolimus (FK506): a new milestone in the management of atopic dermatitis. J Allergy Clin Immunol 1998; 102: 555557. Ruzicka T, Bieber T, Schopf E et al. A short-term trial of tacrolimus ointment for atopic dermatitis. N Engl J Med 1997; 337: 816821. Alaiti S, Kang S, Fiedler VC et al. Tacrolimus (FK506) ointment for atopic dermatitis: a phase I study in adults and children. J Am Acad Dermatol 1998; 38: 6976. Hanifin JM, Chan S. Biochemical and immunologic mechanisms in atopic dermatitis: New targets for emerging therapies. J Am Acad Dermatol 1999; 41: 7277. Laurema AI, Granlund H, Reitamo S. Use of the newer immunosuppressive agents in dermatology. Bio Drugs 1997; 8: 96106. Shirbacheh MV, Jones JW, Harralson TA et al. Pharmacokinetics of intra-arterial delivery of tacrolimus to vascularly isolated rabbit forelimb. J Pharmacol Exp Ther 1999; 289: 11961201. Perego C, Lattuada D, Casnici C et al. Evidence that SMS 201995 enhances the immunosuppressive effect of FK506. Int J Immunopharmacol 1998; 20: 479490. Fleischer AB. Treatment of atopic dermatitis: Role of tacrolimus ointment as a topical noncorticosteroid therapy. J Allergy Clin Immunol 2000; 104: S126S130. Wollenberg A, Bieber T. FK-506/Tacrolimus. In: Burg G, Dummer RG, editors. Strategies for Immunointerventions in Dermatology. Springer-Verlag, Heidelberg, 1997: 5357. Columbo M, Bochner BS, Marone G. Human skin mast cells express functional beta1 integrins that mediate adhesion to extracellular martix proteins. J Immunol 1995; 154: 60586064. Panhans-Gro A, Novak N, Kraft S et al. Human epidermal Langerhans cells are targets for the immnosuppressive macrolide tacrolimus (FK506). J Allergy Clin Immunol 2001; 107: 345352. Reitamo S. Tacrolimus: a new topical immunomodulatory therapy for atopic dermatitis. J Allergy Clin Immunol 2001; 107: 445448. Nagai H, Hiyama H, Matsuo A et al. FK-506 and cyclosporin A potentiate the IgE antibody production by contact sensitization with hapten in mice. J Pharmacol Exp Ther 1997; 283: 321327. Homey B, Assmann T, Vohr H-W et al. Topical FK506 suppresses cytokine and costimulatory molecule expression in epidermal and local draining lymph node cells during primary skin immune responses. J Immunol 1998; 160: 53315340. Leung DYM, Soter NA. Cellular and immunologic mechanisms in atopic dermatitis. J Am Acad Dermatol 2001; 44: S1S12. Nash RA, Etzioni R, Storb R et al. Tacrolimus (FK506) alone or in combination with methotrexate or methylprednisolone for the prevention of acute graft-versus-host disease after marrow transplantation from HLA-matched siblings: a single-center study. Blood 1995; 85: 37463753. Nielsen FT, Leyssac PP, Kemp E et al. Nephrotoxicity of FK-506 in the rat. Studies on glomerular and tubular function, and on the relationship between efficacy and toxicity. Nephrol Dial Transplant 1995; 10: 334340. Nasr IS. Topical tacrolimus in dermatology. Clin Exp Dermatol 2000; 25: 250254. Compendium of Pharmaceuticals Specialties, 35th edn. Webcom Limited, Toronto, 2000: 12871292. Manez R, Jain A, Marino IR, Thomson AW. Comparative evaluation of tacrolimus (FK506) and cyclosporin A as immunosuppressive agents. Transplant Rev 1995; 9: 6376. Nousari Hossein C, Sragovich A, Kimyai-Asadi A et al. Mycophenolate mofetil in autoimmune and inflammatory skin disorders. J Am Acad Dermatol 1999; 40: 265268. Ohashi Y, Minegishi M, Fujie H et al. Successful treatment of steroid-resistant severe acute GVHD with 24-h continuous infusion of FK506. Bone Marrow Transplant 1997; 19: 625627. Jegasothy BV, Ackerman CD, Todo S et al. Tacrolimus (FK506) A new therapeutic agent for severe recalcitrant psoriasis. Arch Dermatol 1992; 128: 781785.
301 supplier list of "Tacrolimus"