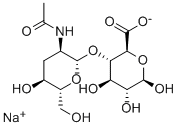 CAS:

9067-32-7
MF:

C14H22NNaO11
MW:

403.31
Suppliers by country/region
Company Type
Properties
Melting point:

>209°C (dec.)
alpha

D25 -74° (c = 0.25 in water): Rapport et al., J. Am. Chem. Soc. 73, 2416 (1951)
storage temp.

-20°C
solubility

H2O: 5 mg/mL, clear, colorless
form

Powder
color

White to cream
PH

pH(2g/l,25℃) : 5.5~7.5
Water Solubility

SOLUBLE
Merck

13,4776
Stability:

Stable. Incompatible with strong oxidizing agents.
InChIKey

MAKUBRYLFHZREJ-JWBQXVCJSA-M
Safety Information
Hazard Codes
Risk Statements
Safety Statements
WGK Germany

3
RTECS

MT7250000
F
HS Code

39139000
Toxicity

LD50 oral in rabbit: > 1gm/kg
Use
Sodium hyaluronate is a natural substance and it is also known as hyaluronic acid or hyaluronan. Sodium hyaluronate functions as a tissue lubricant and is thought to play an important role in modulating the interactions between adjacent tissues. Examples are the vitreous body of the eye itself, the tear film, the joint cartilage, the synovial fluid in the joints, all the mucuous membranes of the body, and also the basic substance of the skin which consists of up to 55% sodium hyaluronate.
441 supplier list of "Sodium hyaluronate"