Larotrectinib (LOXO-101)- Pharmacodynamics
Dec 13,2019
Larotrectinib (VITRAKVIR) is an orally administered, small molecule, highly-selective, tropomyosin receptor kinase (TRK) inhibitor that was developed by Loxo Oncology in collaboration with Bayer AG as a treatment for adult and paediatric patients whose cancers harbour neurotrophic receptor tyrosine kinase (NTRK) gene fusions.
Larotrectinib is a highly selective, potent inhibitor of TRKA, TRKB and TRKC (in vitro 50% inhibitory constant 5–11 nmol/L), with minimal or no activity against other kinase and non-kinase targets [1, 2]. Inhibition of TRKs prevents TRK activation, resulting in both the induction of cellular apoptosis and the inhibition of cell growth in tumours that overexpress TRKs.
In vivo and in vitro, larotrectinib exhibited antitumour activity in cells with constitutive activation of TRK proteins resulting from gene fusions or deletion of a protein regulatory domain, or cells overexpressing TRK protein. In vitro, larotrectinib exhibited minimal activity in cell lines with point mutations in the TRKA kinase domain, including the clinically identified acquired resistance mutation G595R. Doebele et al. performed proliferation assays on three cell line models harboring NTRK gene fusions (a lung carcinoma cell line, the KM 12 cell line derived from colorectal cancer, and a cell line from an AML patient). They observed a dose-dependent inhibition of cell proliferation by Larotrectinib in all three cell lines. The IC50 was less than 100 nmol/l for the lung cancer cell line and less than 10 nmol/l for the colorectal cancer cell line. Vaishnavi and colleagues had formerly shown that Larotrectinib brings no effect to cell lines lacking an NTRK gene fusion. In preclinical in vivo xenograft mouse models harboring NTRK fusions, Larotrectinib also demonstrated potent tumor growth inhibition: Doebele and colleagues injected the KM 12 cell line into athymic nude mice and then treated them with Larotrectinib orally. They found dose-dependent tumor growth inhibition. [3, 4, 5]
Clinically identified acquired resistance to larotrectinib associated with point mutations in the TRKC kinase domain included G632R, G696A and FD617L. At supratherapeutic doses (9 × recommended adult dose), larotrectinib does not prolong the QTc interval to any clinically relevant extent [3, 5] .
Larotrectinib received its first global approval on 26 November 2018 in the USA for the treatment of adult and paediatric patients with solid tumours that have a NTRK gene fusion without a known acquired resistance mutation, are metastatic or where surgical resection is likely to result in severe morbidity, and have no satisfactory alternative treatments or that have progressed following treatment[6].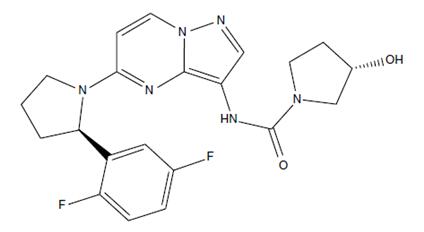 References
1.Berger S. Martens UM, Bochum S. Larotrectinib (LOXO-101)[J]. Recent Results Cancer Res. 2018, 211:141–51.
2.Vaishnavi A, Le A, Doebele RC. TRKing down an old oncogene in a new era of targeted therapy[J]. Cancer Discov. 2015, 5(1):25–34.
3.Kummar S, Lassen UN. TRK inhibition: a new tumor-agnostic treatment strategy[J]. Target Oncol. 2018, 13(5):545–56.
4.Doebele RC, Davis LE, Vaishnavi A. An oncogenic NTRK fusion in a patient with soft-tissue sarcoma with response to the tropomyosin-related kinase inhibitor LOXO-101[J]. Cancer Discov. 2015, 5(10):1049–57.
5.Drilon A, Laetsch TW, Kummar S. Efficacy of larotrectinib in TRK fusion-positive cancers in adults and children[J]. New Engl J Med. 2018, 378(8):731–9.
6.Lesley J. Scott. Larotrectinib: First Global Approval[J]. Drugs, 2009, 79:201–206
Related articles
Related Qustion
See also
AZD3759 is a selective EGFR inhibitor that can fully penetrate the blood-brain barrier (BBB), with equal free concentrations in the blood, cerebrospinal fluid, and brain tissue.....
Dec 13,2019
Inhibitors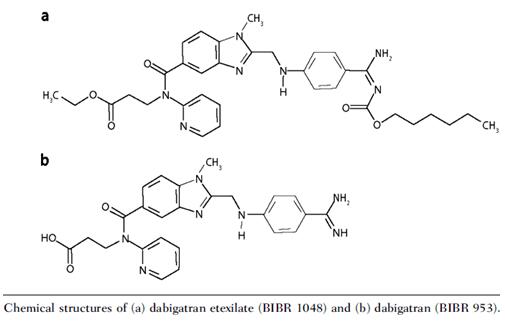 Dabigatran etexilate (Pradaxa, BIBR 1048, Boehringer Ingelheim) is the prodrug of dabigatran (originally known as BIBR 953), a potent, nonpeptidic small molecule.....
Dec 13,2019
Inhibitors
$0.00 / Kg/Bag
2021-10-16
CAS:1223403-58-4
Min. Order: 10g
Purity: 98%min
Supply Ability: 100kgs
$15.00-10.00 / KG
2021-07-13
CAS:1223403-58-4
Min. Order: 1KG
Purity: 99%+ HPLC
Supply Ability: Monthly supply of 1 ton
$15.00-10.00 / KG
2021-07-10
CAS:1223403-58-4
Min. Order: 1KG
Purity: 99%+ HPLC
Supply Ability: Monthly supply of 1 ton