Zinc bromide
CAS No.

Chemical Name:

Zinc bromide

Synonyms

ZnBr2;Zinc broMid;Dibromozinc;ZINC BROMIDE;zincdibromide;ZINC(II) BROMIDE;zincbromide(znbr2);ZINC BROMIDE, 98+%;ZincbromidePURATREM;Zinc bromide(solid)

CBNumber:

CB9680793

Molecular Formula:

Br2Zn

Formula Weight:

225.2

MOL File:
Zinc bromide Properties
Melting point:

394 °C (lit.)
Boiling point:

~670 °C/1 atm (lit.)
Density

4.22
refractive index

1.5452
Flash point:

650°C
storage temp.

Store below +30°C.
solubility

Soluble in alcohol, ether, acetone and tetrahydrofuran.
form

beads

color

White to pale cream
Specific Gravity

4.2012?
PH

4 (H2O, 20℃)(saturated solution)
Water Solubility

soluble, 447 g/100 mL (20 ºC)
Sensitive

Hygroscopic
Merck

14,1029
Stability:

Stable. Forms explosive mixtures with sodium and potassium. Protect from moisture.
CAS DataBase Reference
EWG's Food Scores
FDA UNII
NIST Chemistry Reference
EPA Substance Registry System
SAFETY
Risk and Safety Statements
| Manufacturer | Product number | Product description | CAS number | Packaging | Price | Updated | Buy |
| --- | --- | --- | --- | --- | --- | --- | --- |
| Sigma-Aldrich | 8.18631 | Zinc bromide anhydrous for synthesis | 7699-45-8 | 5 g | $33.76 | 2021-03-22 | Buy |
| Sigma-Aldrich | 230022 | Zinc bromide 99.999% trace metals basis | 7699-45-8 | 10g | $72.1 | 2021-03-22 | Buy |
| Sigma-Aldrich | 8.18631 | Zinc bromide anhydrous for synthesis | 7699-45-8 | 250 g | $99.9 | 2021-03-22 | Buy |
| Sigma-Aldrich | 230022 | Zinc bromide 99.999% trace metals basis | 7699-45-8 | 50g | $252 | 2021-03-22 | Buy |
| Sigma-Aldrich | 8.18631 | Zinc bromide anhydrous for synthesis | 7699-45-8 | 1 kg | $270.1 | 2021-03-22 | Buy |
Zinc bromide Chemical Properties,Uses,Production
Description
Zinc bromide (chemical formula: ZnBr2) is an inorganic compound consisting of zinc and bromide. It is manufactured through the reaction between zinc oxide (alternatively, zinc metal) with hydrobromic acid, alternatively by the reaction between zinc metal and bromine. It is a kind of Lewis acid in organic chemistry. It can be used as the electrolyte in the zinc bromide battery. In oil and natural gas industry, its related solution can be used to displace drilling mud. Moreover, its solution can be used as a transparent shield against radiation. Finally, it can be used as a catalyst for the Stereospecific and regioselective reaction between silacyclopropanes with carbonyl compounds.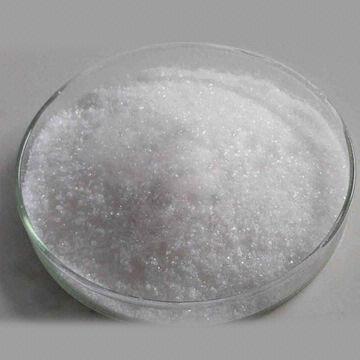 References
https://en.wikipedia.org/wiki/Zinc_bromide
https://www.alfa.com/en/catalog/B22510/
Chemical Properties
Zinc bromide is an odorless white crystalline solid or white hygroscopic powder.
Physical properties
White crystalline powder; sharp metallic taste; orthorhombic structure; refractive index 1.5452; density 4.20 g/cm
3
; very hygroscopic; melts at 394°C; vaporizes at 650°C; highly soluble in water 447g/100 mL at 20°C; aqueous solution acidic; very soluble in alcohol, ether, and acetone; soluble in alkali hydroxides and ammonia solution.
Uses
Zinc bromide is a white crystalline powder prepared by dissolving zinc carbonate in hydrobromic acid.
Zinc chloride (ZnCl2) is a white granular crystal made by the action of hydrochloric acid on zinc.
Zinc iodide (ZnI2) is a white powder made by dissolving zinc in ionic acid. All of the zinc halides are soluble in water, alcohol, and ether. They were all used as halides for the collodion emulsion processes.
Uses
Optimal catalyst for stereospecific and regioselective reaction of silacyclopropanes with carbonyl compounds.1
Uses
Making silver bromide collodion emulsions for photography; in the shielding of viewing windows for nuclear reactions.
Preparation
Zinc bromide is prepared by mixing barium bromide and zinc sulfate solutions. The product barium sulfate is removed by filtration and the filtrate is evaporated to obtain crystals of zinc bromide: BaBr
2
+ ZnSO
4
→ ZnBr
2
+ BaSO
4
Zinc bromide also may be prepared by the action of zinc with hydrobromic acid followed by crystallization.
General Description
A white crystalline noncombustible solid. The primary hazard is the threat to the environment. Immediate steps should be taken to limit its spread to the environment. Zinc bromide is used in medicine, in photography.
Air & Water Reactions
Hygroscopic. Water soluble
Reactivity Profile
Acidic inorganic salts, such as Zinc bromide, are generally soluble in water. The resulting solutions contain moderate concentrations of hydrogen ions and have pH's of less than 7.0. They react as acids to neutralize bases. These neutralizations generate heat, but less or far less than is generated by neutralization of inorganic acids, inorganic oxoacids, and carboxylic acid. They usually do not react as either oxidizing agents or reducing agents but such behavior is not impossible. Many of these compounds catalyze organic reactions.
Health Hazard
Inhalation of dust may irritate nose and throat. Ingestion can cause irritation or corrosion of the alimentary tract; if large amount is swallowed and not thrown up, drowsiness and other symptoms of bromide poisoning may occur. Contact with eyes or skin causes irritation.
Potential Exposure
Zinc bromide is used in photography, rayon manufacturing and medicine
Shipping
UN3260 Corrosive solid, acidic, inorganic, n.o.s., Hazard class: 8; Labels: 8-Corrosive material, Technical Name Required. UN3077 Environmentally hazardous substances, solid, n.o.s., Hazard class: 9; Labels: 9-Miscellaneous hazardous material, Technical Name Required.
Purification Methods
Heat ZnBr2 to 300o under vacuum (2x10-2 mm) for 1hour, then sublime it. [Wagenknecht & Juza Handbook of Preparative Inorganic Chemistry (Ed. Brauer) Academic Press Vol II p 1072 1965.]
Incompatibilities
Keep away from alkali metals. Incompatible with oxidizers (chlorates, nitrates, peroxides, permanganates, perchlorates, chlorine, bromine, fluorine, etc.); contact may cause fires or explosions. Keep away from alkaline materials, strong bases, strong acids, oxoacids, epoxides, metallic sodium, or potassium. Store above 32 ℉/0℃.
Zinc bromide Preparation Products And Raw materials
Raw materials
Preparation Products
---
---
View Lastest Price from Zinc bromide manufacturers
Image
Release date
Product
Price
Min. Order
Purity
Supply Ability
Manufacturer
2021-08-25
Zinc bromide
7699-45-8
US $1.00 / KG
1KG
99%
100MT
Henan Xiangtong Chemical Co., Ltd.
2021-07-13
Zinc bromide
7699-45-8
US $15.00-10.00 / KG
1KG
99%+ HPLC
Monthly supply of 1 ton
Zhuozhou Wenxi import and Export Co., Ltd
2021-07-09
Zinc bromide
7699-45-8
US $15.00-10.00 / KG
1KG
99%+ HPLC
Monthly supply of 1 ton
Zhuozhou Wenxi import and Export Co., Ltd
7699-45-8(Zinc bromide)Related Search:
---
Zinc bromide (ZnBr2)
Zinc bromide anhydrous
zincbromide(znbr2)
zincdibromide
ZnBr2
ZINC BROMIDE
ZINC(II) BROMIDE
ZINC BROMIDE SOL. D20 2,5 OPTICAL GRADE FOR SHIELDED WINDOWS OF HOT CELLS
ZINC BROMIDE, 98+%
ZINC BROMIDE REAGENT GRADE >=98%
Zinc bromide, 99.999% metals basis
ZincbromidePURATREM
Zincbromidewhitepowder
Zinc bromide,98+%,extra pure,anhydrous
Zinc bromide hydrate, Puratronic, 99.999% (metals basis)
Zinc bromide hydrate
Zinc bromide, ultra dry (metals basis)
ZINC BROMIDE SOL. D20 2,5 OPTICAL GRADE FOR SHIELDED WIN
"Zinc bromide, anhydrous/ 99+%"
Zinc bromide, extra pure, (trace metal basis), 99.999%
Zinc broMide, 99.999%, (trace Metal basis), extra pure
Zinc broMide, anhydrous, extra pure, 98+% 100GR
Zinc broMide, anhydrous, extra pure, 98+% 500GR
Zinc bromide crystalline, anhydrous, beads, -10 mesh, 99.999% trace metals basis
Zinc bromide puriss., anhydrous, >=98%
Zinc broMide 99.999% trace Metals basis
Zinc broMide, 99.9% [anhydrous] ,water<0.2%
Zinc broMid
Zinc Bromide Solution (CAS No. : & 7789-41-5 MIXTURE)
ZINC BROMIDE EXTRA PURE
ZINC BROMIDE, ANHYDROUS, BEADS, -10 MESH , 99.999%
ZINC BROMIDE, 99.9% (METALS BASIS)
ZINC BROMIDE (99.999%-ZN) SPECTRO
ZincBromide(Anhydrous)ForSynthesis
Zinc(II) bromide, anhydrous, 98%
Zincbromide,anhydrous,98+%
Zincbromide,anhydrous,99.999%(metalsbasis)
Zinc bromide, extra pure, 99.999%
ZINC BROMIDE REAGENT
Zincbromide(99.9%-Zn)
Zincbromide(99.999%-Zn)PURATREM
zinc bromide, ultra dry
ZINCBROMIDE,ANHYDROUS,REAGENT
Zinc bromide(liquid)
Zinc bromide(solid)
Zinc bromide, anhydrous, extra pure, 98+%
Zinc bromide hydrate, Puratronic(R), 99.999% (metals basis)
Zinc bromide, ultra dry, 99.999% (metals basis)
Zinc bromide solution
Dibromozinc
Zinc bromide, 98+%, anhydrous, extra pure
Zinc bromide, 99.999%, extra pure
Zinc bromide, anhydrous, extra pure
Zinc bromide, 99.9% trace metals basis
Zinc bromide, anhydrous, ampuled under argon, 99.999% trace metals basis
Zinc bromide, 99.999%
Zinc bromide (ZnBr2) 99.999% (METALS BASIS)
Zinc bromide, 99.5%, anhydrous