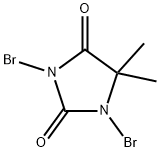 CAS:

77-48-5
MF:

C5H6Br2N2O2
MW:

285.92
Suppliers by country/region
Vendor type
Properties
Melting point:

197-199 °C (dec.)(lit.)

Boiling point:

250.2±23.0 °C(Predicted)
Density

1.00 g/cm3 (25℃)
refractive index

1.6220 (estimate)
Flash point:

155 °C
storage temp.

0-6°C
solubility

1g/l
pka

-3.44±0.40(Predicted)
form

Powder
color

Cream or light yellow
Water Solubility

Soluble in Alcohol, Ether, Benzene. Insoluble in Water.
Sensitive

Moisture Sensitive
Decomposition

197-199 ºC
Merck

14,3017
BRN

146024
Safety Information
Symbol(GHS)
Signal word

Danger
Hazard statements
Precautionary statements
Hazard Codes
Risk Statements
Safety Statements
RIDADR

UN 3087 5.1/PG 2

WGK Germany

3

RTECS

MU0686000

Hazard Note

Harmful/Irritant
TSCA

Yes
HazardClass

5.1
PackingGroup

II
HS Code

29332100
Use
Adding an appropriate amount of water to dimethyl hydantoin, control the temperature at about 30 ℃ for stirring of 30min until all the dimethyl hydantoin is dissolved. Add drop wise of appropriate amount of bromine within a certain period of time and then have reaction for several hours. After the completion of the reaction, cool the solution, crystallize using ethanol, filter, and dry with the light-yellow solid being finished product of DBDMH. The optimal condition for experimentally determination and synthesis of DBDMH is: the optimum molar ratio of DMH to bromine is 1: 2.0; the solvent amount is 80 mL (water) /0.1mol (Hein); the reaction temperature should be about 30 ℃; Reaction time is around 5min with the yield of 1,3-dibromo-5,5-dimethylhydantoin being up to 80%.
237 supplier list of "1,3-Dibromo-5,5-dimethylhydantoin"