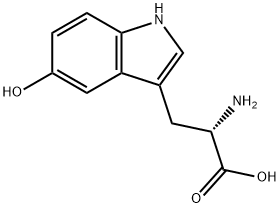 CAS:

56-69-9
MF:

C11H12N2O3
MW:

220.22
Suppliers by country/region
Company Type
Properties
Melting point:

298-300°C
Boiling point:

361.16°C (rough estimate)
Density

1.484
refractive index

1.5200 (estimate)
storage temp.

Keep in dark place,Sealed in dry,Room Temperature
form

solid
pka

2.22±0.10(Predicted)
Water Solubility

Soluble in water (4 mg/ml at 25°C), methanol.
Merck

14,4847
BRN

88199
InChIKey

LDCYZAJDBXYCGN-UHFFFAOYSA-N
Safety Information
Safety Statements
WGK Germany

3
RTECS

YN7100000
PackingGroup

III
Use
5-Hydroxytryptophan (5-HTP) is an aromatic amino acid naturally produced by the body from the essential amino acid L-tryptophan (LT). Produced commercially by extraction from the seeds of the African plant, Griffonia simplicifolia, 5-HTP has been used clinically for over 30 years. The clinical efficacy of 5-HTP is due to its ability to increase production of serotonin in the brain.
262 supplier list of "5-Hydroxytryptophan"