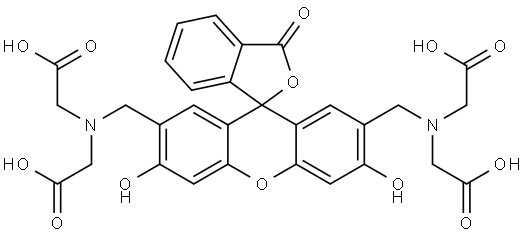 CAS:

1461-15-0
MF:

C30H26N2O13
MW:

622.53
Suppliers by country/region
Vendor type
Properties
Melting point:

200 °C
Boiling point:

662.7°C (rough estimate)
Density

1.4388 (rough estimate)
refractive index

1.5800 (estimate)
storage temp.

Keep in dark place,Sealed in dry,Room Temperature
solubility

H2O: soluble

pka

6.67(at 25℃)
form

Powder
color

Yellow-orange to orange-brown
PH Range

Weak green ' uorescence (6.0) to strong green ' uorescence (7.2)
Water Solubility

insoluble
λmax

494nm
Stability:

Stable. Incompatible with strong oxidizing agents.
Biological Applications

Calcium indicator; fluoride indicator; iron indicator; mercury indicator; detecting nucleic acids,proteins; treating osteoporosis; drug delivery systems
Major Application

Chemical-mechanical polishing, stabilizing liposomes, cell motility assay, detecting nucleic acids, virus, screening safety of gastric mucosa, MDR inhibitors, delivery, imaging atherosclerotic plaque
Safety Information
Hazard Codes
Risk Statements
Safety Statements
WGK Germany

3

F
HS Code

32041900
Use
Calcein is a anthene that is commonly used for the fluorometric determination of calcium in solution. As this form of calcein is not membrane permeable, it can be used in assays that evaluate membrane integrity. Calcein can also be used as a fluorescent indicator for fluoride, iron, and mercury. [Cayman Chemical]
211 supplier list of "Fluorexon"