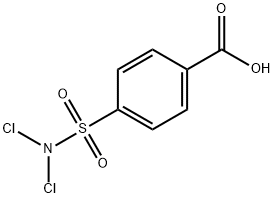 CAS:

80-13-7
MF:

C7H5Cl2NO4S
MW:

270.09
Suppliers by country/region
Company Type
Properties
Melting point:

195°C (rough estimate)
Boiling point:

437.0±47.0 °C(Predicted)
Density

1.5426 (rough estimate)
refractive index

1.6000 (estimate)
form

neat
pka

3.29±0.10(Predicted)
Merck

14,4590
Stability:

Stable, but may be light sensitive. Incompatible with strong oxidizing agents.
Safety Information
Symbol(GHS)


GHS07
Signal word

Warning
Hazard statements
Precautionary statements
RIDADR

1479
WGK Germany

3

RTECS

DG8050000

HazardClass

5.1
PackingGroup

III
Use
p-Dichlorosulfamoylbenzoic acid is a white, crystalline,photosensitive compound with a faint chlorine odor.Halazone is only slightly soluble in water at pH 7 but becomesvery soluble in alkaline solutions. The sodium salt ofhalazone is used to disinfect drinking water.
75 supplier list of "Halazone"