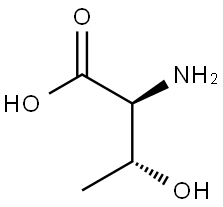 Suppliers by country/region
Vendor type
Properties
Melting point:

256 °C (dec.) (lit.)
Boiling point:

222.38°C (rough estimate)
alpha

-28.4 º (c=6, H2O)
Density

1.3126 (rough estimate)
FEMA
refractive index

-28 ° (C=6, H2O)
storage temp.

2-8°C
solubility

H2O: 50 mg/mL

form

powder

pka

2.09(at 25℃)
color

Yellow
PH

5-6 (100g/l, H2O, 20℃)
optical activity

[α]20/D 28.5±0.5°, c = 5% in H2O
Water Solubility

90 g/L (20 ºC)
JECFA Number

2119
Merck

14,9380
BRN

1721646
Stability:

Stable. Incompatible with strong oxidizing agents.
InChIKey

AYFVYJQAPQTCCC-GBXIJSLDSA-N
Safety Information
Hazard Codes
Risk Statements
Safety Statements
WGK Germany

3

RTECS

XO8590000

Hazard Note

Irritant
TSCA

Yes
HS Code

29225000
Use
L-Threonine can be produced using strains of E. coli or C. glutamicum. As threonine is also an amino acid of the aspartate family, aspartate semialdehyde is a common intermediate with the biosynthesis of L-lysine. In order to optimize a high-yielding L-threonine–producing strain, the following strategy is applied: the pathway towards L-lysine is minimized by reducing the activity of dihydrodipicolinate synthase (dapA) and at the same time the pathway towards L-threonine is favored by overexpression of the genes of the threonine operon, which consists of the genes for homoserine dehydratase (thrA), homoserine kinase (thrB), and threonine synthase (thrC). As L-threonine is also a precursor for L-isoleucine, further conversion of L-threonine into L-isoleucine has to be minimized by deactivation of the threonine dehydratase gene (ilvA). In the meantime, E. coli based strains have also been developed by the application of systems biology, not only by deletion or downregulation of the competing pathways such as L-lysine, L-methionine, and L-isoleucine, but also by optimization of the supply of key precursors such as oxaloacetate. The E. coli strain has been reported to produce 82 g/L L-threonine in 48 h with a carbon yield of 39 %. A more detailed description of the development of a commercial L-threonine process has been given by Debabov. Today L-threonine is manufactured on a commercial scale of several thousand tonnes using the E. coli fermentation process.
443 supplier list of "L-Threonine"