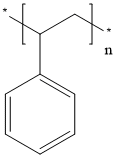 Suppliers by country/region
Vendor type
Properties
Melting point:

212 °C

Boiling point:

30-80 °C
Density

1.06 g/mL at 25 °C

refractive index

n20/D 1.5916

Flash point:

>230 °F

storage temp.

2-8°C

form

powder

color

White
Water Solubility

insoluble
Stability:

Stable. Combustible. Incompatible with strong oxidizing agents.
InChIKey

ZJMWRROPUADPEA-UHFFFAOYSA-N
Safety Information
Hazard Codes
Risk Statements
Safety Statements
RIDADR

2211
WGK Germany

3

RTECS

WL6475000

TSCA

Yes
HazardClass

9
PackingGroup

III
HS Code

39039000
Use
Polystyrene is brittle at room temperature,becomes soft at 80°C, and is often modified bycopolymerization. Traditionally, it is used infilm form for capacitors, and it remains competitivefor this application. Polystyrene is alsoused for coaxial-cable insulation, but in woundstrip or bead form, because the solid is not veryflexible.Poly(styrene) is white powder or beads, or clear solid poly styrene: A clear glasslike materialmanufactured by free-radicalpolymerization of phenylethene(styrene) using benzoyl peroxide asan initiator. It is used as both a thermaland electrical insulator and forpacking and decorative purposes.
129 supplier list of "Polystyrene"