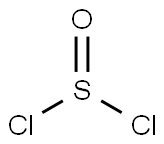 Suppliers by country/region
Vendor type
Properties
Melting point:

-105 °C
Boiling point:

79 °C(lit.)

Density

1.64 g/mL at 20 °C

vapor density

4.1 (vs air)

vapor pressure

97 mm Hg ( 20 °C)

refractive index

n20/D 1.518(lit.)

Flash point:

105°C
storage temp.

Store at RT.
solubility

Miscible with toluene, chloroform, benzene, carbon tetrachloride and diethyl ether.
form

Liquid
color

≤50(APHA)

Odor

Characteristic, pungent odor
Water Solubility

REACTS
Sensitive

Moisture Sensitive
Merck

14,9348
Stability:

Reacts violently with water. Incompatible with most common metals, strong reducing agents, strong bases, alcohols, amines.
Safety Information
Symbol(GHS)
Signal word

Danger
Hazard statements
Precautionary statements
Hazard Codes
Risk Statements
Safety Statements
RIDADR

UN 1836 8/PG 1

WGK Germany

1

RTECS

XM5150000

F
TSCA

Yes
HazardClass

8
PackingGroup

I
HS Code

28121095
Use
Thionyl chloride is an important intermediate of organic chemistry and is mainly used in medicine, pesticides, dyes and industrial organic synthesis industry as chlorinating agent. Consumption structure: the pharmaceutical industry accounted for 25%, pesticide industry accounted for 50%, dyestuff industry accounted for 5% and other industries accounted for 20%. The pesticide industry contributes the major part for consumption of thionyl chloride and is mainly used for the production of inabenfide, valerate, fenvalerate, mosquito-killing dimerthrin, flucythrinate, diflubenzuron, isocarbophos, fenpropathrin, endosulfan, deltamethrin, a (b) group chlorpyrifos, oxazolidinone, quizalofop and warfarin. Because thionyl chloride can have fierce reaction with water, it is able to have reaction with metal chloride hydrated salt for production with anhydrous metal chlorides. MCln ? xH2O + x SOCl2 → MCln + x SO2 + 2x HCl Thionyl chloride was subjected heating reflux with a transition metal oxide and can further generate the corresponding oxychloride of the metal: WO3 + 2SOCl2 → WOCl4 + 2SO2 Thionyl chloride has been widely used for converting alcohol and the carboxylic acid into the corresponding acid chloride and chlorinated hydrocarbons. Compared with other agents (such as phosphorus penta-chloride), thionyl chloride is often the preferred reagents, because both the reaction product of sulfur dioxide and hydrogen chloride are gaseous and is easily to be separated. The excess amount of thionyl chloride can be removed by distillation. RC (= O)-OH + O = SCl2 → RC (= O)-Cl + SO2 + HCl R-OH + O = SCl2 → R-Cl + SO2 + HCl. Sulfoacid can react with thionyl chloride to generate sulfonyl chloride. Sulfinic acid can have reaction with thionyl chloride to generate sulfinyl chloride. Phosphonic acid can have reaction with thionyl chloride to generate phosphine chloride. Thionyl chloride can react with mono-substituted formamide to generate the corresponding isonitriles. Amide can react with thionyl chloride to generate imine acyl chloride. Primary amide, upon co-heating with thionyl chloride, will be further dehydrated to become nitrile. The above information is edited by the Chemicalbook of Dai Xiongfeng.
268 supplier list of "Thionyl chloride"