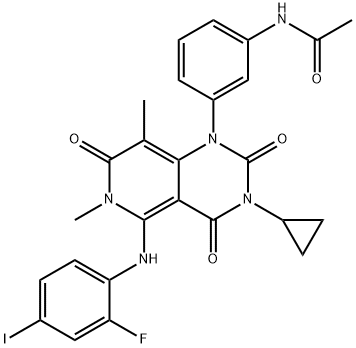 CAS:

871700-17-3
MF:

C26H23FIN5O4
MW:

615.39
Suppliers by country/region
Company Type
Properties
Melting point:

300-301 °C
Density

1.74
form

White solid.
pka

14.76±0.70(Predicted)
Safety Information
Safety Statements
HS Code

29339900
Use
MEK, also known as MAPK, is a dual specificity threonine/tyrosine kinase that is a key node in the Raf–Ras–MEK signaling pathway. Small-molecule MEK inhibitors represent the largest group of type III allosteric inhibitors that do not bind to the ATP binding pocket. As of December 2016, besides the FDA-approved MEK1/2 inhibitors trametinib (Mekinist(R), GlaxoSmithKline) and cobimetinib (Cotellic(R), Roche), over 10 MEK inhibitors are currently in clinical trials. Trametinib was approved by FDA in 2013 for the treatment of patients with either B-Raf V600E or V600K mutated metastatic melanoma. Considering the fact that MEK and Raf are different kinases along the same pathway of Ras–Raf–MEK/ERK signaling cascade, combination strategies using both MEK and B-Raf inhibitors were utilized to overcome the observed progression using single-agent trametinib, which usually occurs within 7months. FDA approved the combination of trametinib and dabrafenib for the treatment of B-Raf V600E/K mutated metastatic melanoma in January 2014 and the combination of cobimetinib and vemurafenib for the same type of indication. Although significant improvement in progression-free survival was observed using MEK/B-Raf combination strategy, the incidence of some common adverse effects, such as vomiting, diarrhea, nausea, rash, and pyrexia, also increased.
202 supplier list of "Trametinib"