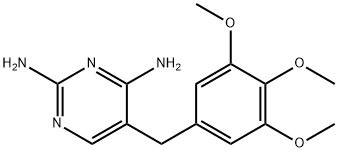 CAS:

738-70-5
MF:

C14H18N4O3
MW:

290.32
Suppliers by country/region
Company Type
Properties
Melting point:

199-203 °C
Boiling point:

432.41°C (rough estimate)
Density

1.1648 (rough estimate)
refractive index

1.6000 (estimate)
storage temp.

2-8°C
solubility

DMSO: soluble

form

white powder

pka

6.6(at 25℃)
color

colorless or white
Water Solubility

<0.1 g/100 mL at 24 ºC
Merck

14,9709
BRN

625127
Stability:

Stable. Incompatible with strong oxidizing agents, acids.
Safety Information
Hazard statements
Precautionary statements
Hazard Codes
Risk Statements
Safety Statements
RIDADR

3249
WGK Germany

3

RTECS

UV8225000

F
HazardClass

6.1(b)
PackingGroup

III
HS Code

29335995
Toxicity

LD50 orally in mice: 7000 mg/kg (Yamamoto)
Use
Trimethoprim (5-[(3,4,5-trimethoxyphenyl)methyl]-2,4-pyrimidinediamine or 2,4-diamino-5-(3,4,5-trimethoxybenzyl)pyrimidine) is closely related to several antimalarialsbut does not have good antimalarial activity by itself; it is,however, a potent antibacterial. Originally introduced incombination with sulfamethoxazole, it is now available as asingle agent.Approved by the FDA in 1980, trimethoprim as a singleagent is used only for the treatment of uncomplicatedurinary tract infections. The argument for trimethoprim asa single agent was summarized in 1979 by Wormser andDeutsch. They point out that several studies comparingtrimethoprim with TMP–SMX for the treatment ofchronic urinary tract infections found no statistically relevantdifference between the two courses of therapy.The concern is that when used as a single agent, bacterianow susceptible to trimethoprim will rapidly developresistance. In combination with a sulfonamide, however,the bacteria will be less likely to do so. That is, they willnot survive long enough to easily develop resistance toboth drugs.
400 supplier list of "Trimethoprim"