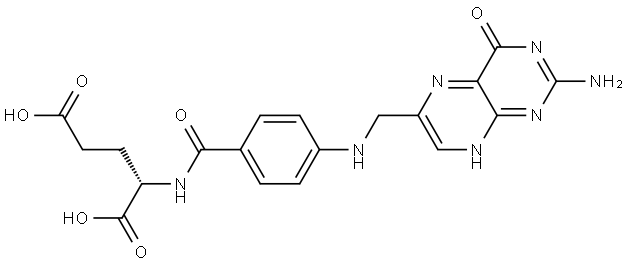 Suppliers by country/region
Company Type
Properties
Melting point:

250 °C
alpha

20 º (c=1, 0.1N NaOH)
Boiling point:

552.35°C (rough estimate)
Density

1.4704 (rough estimate)
refractive index

1.6800 (estimate)
storage temp.

2-8°C
solubility

boiling water: soluble1%
form

Crystalline Powder
pka

pKa 2.5 (Uncertain)
color

Yellow to orange
Odor

Odorless
PH Range

4
Water Solubility

1.6 mg/L (25 ºC)
Merck

14,4221
BRN

100781
Stability:

Stable. Incompatible with heavy metal ions, strong oxidizing agents, strong reducing agents. Solutions may be light and heat sensitive.
InChIKey

OVBPIULPVIDEAO-LBPRGKRZSA-N
Safety Information
Signal word

Warning
Hazard statements
Precautionary statements
Risk Statements
Safety Statements
WGK Germany

1

RTECS

LP5425000

F
TSCA

Yes
HS Code

29362900
Use
folic acid is generally used as an emollient. In vitro and in vivo skin studies now indicate its capacity to aid in DnA synthesis and repair, promote cellular turnover, reduce wrinkles, and promote skin firmness. There is some indication that folic acid may also protect DnA from uV-induced damage. Folic acid is a member of the vitamin B complex and is naturally occurring in leafy greens.
565 supplier list of "Folic acid"