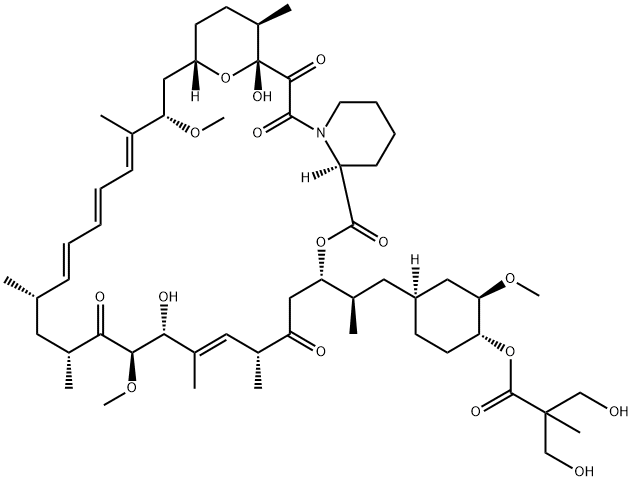 CAS:

162635-04-3
MF:

C56H87NO16
MW:

1030.29
Suppliers by country/region
Vendor type
Properties
Melting point:

99-101°C
Boiling point:

1048.4±75.0 °C(Predicted)
Density

1.21
Flash point:

587.8℃
storage temp.

-20°C Freezer
solubility

Soluble in chloroform, methanol.
pka

10.40±0.70(Predicted)
form

powder
color

white to off-white
Merck

14,9142
InChIKey

CBPNZQVSJQDFBE-FUXHJELOSA-N
Safety Information
Safety Statements
WGK Germany

3
RTECS

VE6257000
HS Code

29349990
Use
While renal cell carcinoma (RCC) accounts for only 2 3% of all cancers, the 5-year survival rate for advanced RCC disease is only 5 10%, with approximately 13,000 deaths occurring annually (US statistics only). Immunotherapeutic cytokine options, such as IFN-αand IL-2, have traditionally been frontline treatments, but these agents are not efficacious in all patients and can cause serious side effects. In addition, bevacizumab, a monoclonal antibody against VEGF, has also demonstrated prolongation of PFS. The newest entry for this indication focuses on targets that are downstream from VEGF. Temsirolimus is an inhibitor of the serine/threonine kinase mTOR, which is the mammalian target of rapamycin. mTOR has been implicated in cell replication through control of the cell cycle translation of specific mRNAs. Inhibition of mTOR prevents phosphorylation of the 4E binding protein-1 and the 40S ribosomal protein S6 kinase that are responsible for cell cycle protein translation initiation; cell cycle arrest occurs as the result of termination of cell division from the G1 to the S phase. Disruption of mTOR signaling also has antiangiogenic effects that could be deemed essential in combating RCC, which is driven by unregulated angiogenesis. Temsirolimus is the 2,2-bis(hydroxymethyl)propionate ester of rapamycin (sirolimus), a macrolide fungicide isolated from the bacteria Streptomyces hygroscopicus. Similar to its parent sirolimus, temsirolimus interacts with mTOR through its complex with FK-506 binding protein 12.
137 supplier list of "Temsirolimus"