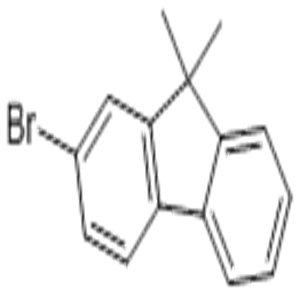 9H-Fluorene, 2-bromo-9,9-dimethyl-
| | |
| --- | --- |
| Price | Get Latest Price |
| Package | 1KG |
| | |
| --- | --- |
| Min. Order: | 1KG |
| Supply Ability: | 150KG /month |
| Update Time: | 2023-01-30 |
Product Details
Product Name:

9H-Fluorene, 2-bromo-9,9-dimethyl-

CAS No.:

28320-31-2

Min. Order:

1KG

Purity:

98.00%

Supply Ability:

150KG /month

Release date:

2023/01/30
| | |
| --- | --- |
| Product name: | 2-Bromo-9,9-dimethylfluorene |
| CAS NO.: | 28320-31-2 |
| Structure: | |
| Synonyms: | 2-broMo-9,9-diMethyl-9H-fluorene (2BDMF);2--9,9-two MethylbroMidefluorene;9H-Fluorene,2-broMo-9,9-diMethyl-;9,9-Dimethyl-2-bromofluorenone;2-bromo-9,9-dimethyl-fluororene;2-Bromo-9,9-dimethylfluorene;2-Bromo-9,9-dimethylfluuoren;2-BROMO-9,9-DIMETHYLFLUOROENE |
| MF: | C15H13Br |
| MW: | 273.17 |
| Melting point : | 68°C |
| Chemical Properties: | White powder |
| Purity | 98% |
| Capacity: | 150KG /month |
| Package | In paper drums /Fluoride drums /iron drums /plastic drums/IBC Tank ,etc. |
| Shipment method : | By Sea ,Air ,Courier door to door ,etc. |
| Storeage: | Under room temperature ,keep away from direct sun light |
| Loading Port : | China any port ,Beijing ,Shanghai ,Hongkong |
| Transportation condition: | Shipped as non- dangerous chemicals |
| Application: | OLED display screen,Electronic chemicals |
Introduction
OLED (Organic Light Emitting Diodes) is a flat light emitting technology, made by placing a series of organic thin films between two conductors. When electrical current is applied, a bright light is emitted. OLEDs are emissive display that do not require a backlight and so are thinner and more efficient than LCD displays (which do require a white backlight).
The products of OLED intermediates produced by our company is a kind of organic electroluminescent materials to make OLED display screen
OLED displays are not just thin and efficient - they provide the best image quality ever and they can also be made transparent, flexible, foldable and even rollable and stretchable in the future. OLED represent the future of display technology!
The intermediate can be used in OLED series, such as Thiophene series, Fluorene series, Boronic Acid series and so on.
The Related Products:2-Bromo-9,9-dimethylfluorene
CAS NO. 28320-31-2
1. 4-BroMo-9,9-diMethyl fluoreneCAS NO.942615-32-9
2. 4-bromo-9,9'-Spirobi[9H-fluorene CAS NO.1161009-88-6
3. N-[1,1'-biphenyl]-4-yl-N-(4-broMophenyl)-9,9-diMethyl-9H-Fluoren-2-aMine CAS NO.1246562-40-2
Company Profile Introduction
Who we are ? Located in Zhengzhou City, China , Henan Daken Chemical Co.,Ltd was Established in June ,1983.We have a 35 years history for fine chemical synthesis .Daken has young technology team with 24 persons ,among which there are 6 persons with Doctor's degree ,and 9 persons with Master's degree in chemical .Daken has 61 projects at national or provincial level ,29 patents ,116 papers ,and 12 awards by government .Research and Development is the backbone of Daken. Have right mix of experienced, young and enthusiastic research team to find simple and innovative solutions to critical challenges in synthetic chemistry What we do ? Daken's custom Synthesis derives from its proven expertise in fine chemical synthesis, chemical process development to manufacturing at varied scales, a deep understanding of complex chemical processes and manufacturing. Our team of experienced Scientists has expertise in the custom synthesis of a wide range of molecules weight like catalyst ,electronic chemicals ,Organic Silanes ,and other Chemical Intermediates. We offer a full range of services in custom organic synthesis, accomplishing complex, multi-step syntheses and "difficult to synthesize" chemistry projects. What we mainly produce ? 1. Metal Catalysts &Phosphorus Compounds 2. Electronic Chemicals 3. Organic Silanes 4. Custom Synthesis 5. Asian Procurement Agency 6. Thirty-party Chemical quality Analysis How is Our Manufacturing Base ? Covers 110 thousand square meters Have experience of industrial production under anhydrous and anaerobic condition Affords to carry out industrial production with Temperature condition from -80℃ to 200 ℃ Affords to carry out industrial production with high temperature and high pressure. How to contact us ? If you have customization demand on new structurers ,Sent inquiry to info@dakenchem.com ,we will try to response within 24 hours .
Recommended supplier
Product name
Price
Suppliers
Update time

$0.00

/25kg

PNP Biotech Co. Ltd

2022-09-15

$12.00

/25KG

Jinan Finer Chemical Co., Ltd

2022-04-29

$30.00

/1KG

Shanxi Lianxu New Material Co., LTD

2021-10-26

$10.00

/1KG

Hebei Guanlang Biotechnology Co., Ltd.

2021-07-15

$100.00

/1KG

Hebei Minshang Biological Technology Co. LTD

2021-02-18

$10.00

/1KG

Shijiazhuang Erche Biotechnology Co., Ltd

2020-12-04

$0.00

/1ASSAYS

Shanghai Dumi Biotechnology Co.,LTD

2020-11-23

$39.00

/1KG/Tin

Hebei Lihe Biotechnology Co.,Ltd

2020-10-29

$90.00

/1KG

Hebei Runbin Biotechnology Co. LTD

2020-08-28

$20.00

/1KG

Speranza Chemical Co., Ltd.

2019-12-24

6YR

China
Chat Now!
Since:

2017-03-15

Address:

Zhengzhou ,450000,Henan ,China

+86-18538173818
info@dakenchem.com