What is Folinic acid?
Aug 5,2021
The main component of leucovorin(Folinic acid) is calcium leucovorin. Calcium folinate, chemical name N-[4-[(2-amino-5-formyl-4-oxo-1,6,7,8-tetrahydro-6-pteridyl)methyl]amino] Benzoyl-L-glutamate calcium salt, white to slightly yellow crystal or amorphous powder; odorless. Dissolved in water, almost insoluble in ethanol or ether; dissolved in 0.1mol/L sodium hydroxide solution. It is a derivative of folic acid, which is a vitamin required for DNA synthesis, DNA repair and DNA methylation, and it also acts as a cofactor in biological reactions involving folic acid.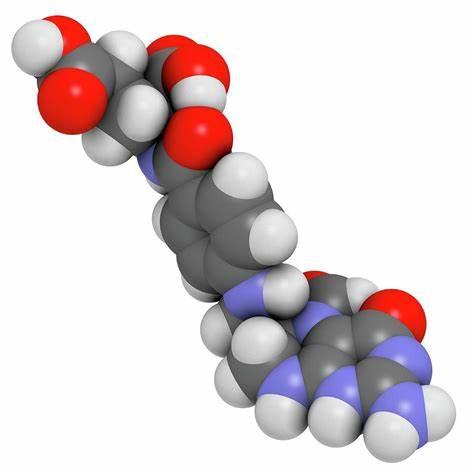 Indications
Folinic acid is suitable for:
1. It is mainly used as an antidote for folic acid antagonists (such as methotrexate, pyrimethamine or trimethoprim, etc.).
2. It is used to prevent severe toxic effects caused by methotrexate overdose or high-dose treatment.
3. Megaloblastic anemia caused by folic acid deficiency.
4. When combined with fluorouracil, it is used to treat advanced colon cancer and rectal cancer.
Related articles
Related Qustion
See also
D-tagatose is a kind of rare sugar. It is a new functional sweetener discovered in recent years that has the functions of low-calorie, lowering blood sugar, regulating intestinal flora, and anti-caries.....
Aug 5,2021
Biochemical Engineering
Paraffin wax is usually non-toxic, it is mainly composed of carbon and hydrogen.....
Aug 5,2021
Food Additives
$11.00 / Kg/Bag
2021-12-01
CAS:58-05-9
Min. Order: 1g
Purity: 99%
Supply Ability: 10000kg
$1.10 / g
2021-07-31
CAS:58-05-9
Min. Order: 1g
Purity: 99.9%
Supply Ability: 100 Tons min
$2100.00-1850.00 / KG
2021-05-12
CAS:58-05-9
Min. Order: 1KG
Purity: 99% HPLC, USP43
Supply Ability: 1 tons