Betaine hydrochloride
CAS No.

Chemical Name:

Betaine hydrochloride

Synonyms

Achyin;Euacid;Muriat;Acidin;ACIDOL;Acinorm;Achylin;Acidine;BET HCL;Pepsacid

CBNumber:

CB5314043

Molecular Formula:

C5H12ClNO2

Formula Weight:

153.61

MOL File:
Betaine hydrochloride Properties
Melting point:

241-242 °C(lit.)

FEMA
storage temp.

room temp
solubility

H2O: 1 M at 20 °C, clear, colorless

form

Powder or Crystals
color

Colorless to white
PH

1 (50g/l, H2O, 20℃)
Water Solubility

64.7 g/100 mL (25 ºC)
Merck

14,1179
BRN

3916181
InChIKey

HOPSCVCBEOCPJZ-UHFFFAOYSA-N
FDA 21 CFR
CAS DataBase Reference
EWG's Food Scores
FDA UNII
ATC code
NIST Chemistry Reference
EPA Substance Registry System
SAFETY
Risk and Safety Statements
| Manufacturer | Product number | Product description | CAS number | Packaging | Price | Updated | Buy |
| --- | --- | --- | --- | --- | --- | --- | --- |
| Sigma-Aldrich | 8.14633 | Betain hydrochloride for synthesis | 590-46-5 | 100 g | $19.79 | 2021-03-22 | Buy |
| Sigma-Aldrich | 8.14633 | Betain hydrochloride for synthesis | 590-46-5 | 1 kg | $94.35 | 2021-03-22 | Buy |
| Sigma-Aldrich | B3501 | Betaine hydrochloride ≥99% | 590-46-5 | 1kg | $115 | 2021-03-22 | Buy |
| Sigma-Aldrich | PHR2356 | Betaine Hydrochloride Pharmaceutical Secondary Standard; Certified Reference Material | 590-46-5 | 300MG | $149 | 2021-03-22 | Buy |
| Sigma-Aldrich | 1065709 | Betaine hydrochloride United States Pharmacopeia (USP) Reference Standard | 590-46-5 | 200mg | $366 | 2021-03-22 | Buy |
Betaine hydrochloride Chemical Properties,Uses,Production
Description
Betaine hydrochloride is a vitamin-like substance that is a source of hydrochloric acid and aids the production of stomach acid. Gastric acid also helps protect the gastrointestinal tract from harmful bacteria. A normal level of gastric acid in the stomach—100,000-1,000,000 times more acidic than water—is sufficient to destroy bacteria, but some people produce deficient amounts of stomach acid, a condition that may lead to bacterial and parasitic infections of the intestines.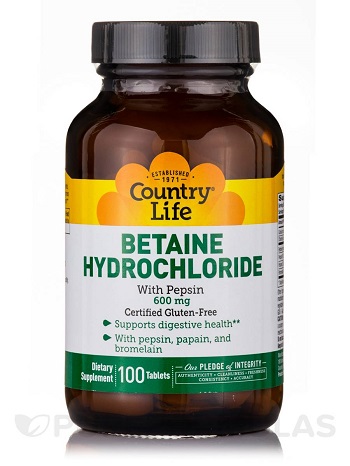 One study showed that fasting people with normal gastric acid levels in the stomach had almost no bacteria in the small in- testine, while individuals with low levels of hydrochloric acid had some bacterial colonization in the stomach.Betaine hydrochloride is therefore recommended by some medical practitioners to sustain a healthy and normal production of stomach acid, especially to those that suffer from disorders such as allergies and asthma.
Betaine hydrochloride is a synthesized chemical, and is not obtained from any plant or animal source. Gastric acid is produced by stomach cells, and is not available from any food source. Occasionally, betaine (C5H11NO2 )is recommended to reduce blood levels of homocysteine, which is associated with heart disease. This form of betaine is different from betaine hydrochlo- ride, and is available only with a doctor's prescription.
Chemical Properties
colorless to white crystals
Uses
Betaine hydrochloride can be used as antiarteriosclerotic, hypolipaemic, hepatoprotectant.
Uses
antiprotozoal, coccidiostat
Uses
Betaine is used as gastric acidifier.naturopaths have long held that low stomach acid is a widespread problem that interferes with the digestion and absorption of nutrients. Betaine hydrochloride is one of the most common recommendations for this condi- tion. It helps make some minerals and other nutrients more absorbable, and may be especially helpful with nu- tritional supplements, which are often taken in tablets or capsules that may not be easily digested.
Indications
Betaine hydrochloride may be used as a lipotropic. Lipotropics aid in preventing the accumulation of fat in the liver, and usually help in the detoxification of metabolic wastes and toxins. They may be used to help with weight loss.
Betaine hydrochloride has been used as a source of hydrochloric acid in the treatment of hypochlorhydria, a condition in which an abnormally low amount of hydrochloric acid is in the stomach. It has been used in preparations for the treatment of liver disorders, hypokalaemia (abnormally low levels of potassium in the blood), CO2 production in double contrast radiography, and high homocysteine. Betaine hydrochloride has also been used to treat tic douloreux (a condition which involves spasmodic pain along the course of a facial nerve), cystinuria (a hereditary defect that results in recurrent kidney stone formation), and vitiligo (a condition that is characterized by milky-white patches on otherwise normal skin).
Biological Functions
Betaine hydrochloride and pepsin are naturally occurring gastric-juice components that render nutrients available for absorption and biological acitivity. Specifically, Betaine hydrochloride is an acidic form of betaine, which promotes optimal gastric lumen acidity and pepsin is a protein-digesting enzyme that catalyzes the splitting of peptide bonds.
Betaine HCl is an excellent source of hydrochloric acid, also known as stomach acid. Supplementing with betaine HCl can be very beneficial, as insufficient production of hydrochloric acid is fairly widespread and often overlooked. Certain situations, such as normal aging, can decrease the body's natural production of HCl.
Clinical Use
Betaine hydrochloride (pronounced beta-een) is the acid form of trimethyiglycine (TMG). It is available as an over-the-counter drug. The most common use of betaine hydrochloride is as digestive aid for people who suffer from low gastric acidity (hypochlorhydria), a common complaint in the elderly and a cause of chronic indigestion. Although such a practice is unwise. betaine hydrochloride can be of use in cases of overeating. Gourmands, in particular, suffer less discomfort after indulgences if they take betaine hydrochloride with their feasts.
Betaine hydrochloride is not only a digestive aid, but it also confers all the benefits of TMG (see next). However, betaine hydrochloride should not be used by anyone with chronic indigestion or heartburn without first seeking medical evaluation of the problem to make sure that there is not a more serious underlying condition. such as stomach ulcers. Betaine hydrochloride should be taken only with meals, and then only after first eating a few bites of food. The usual dose of betaine hydrochloride for hypochlorhydria is 500 milligrams. which is equivalent to 1.1 cubic centimeter (about a quarter teaspoon) of pharmaceutical Dilute Hydrochloric acid.
Side effects
Side effects are seldom seen, but as of 2013 betaine hydrochloride had not been through rigorous safety studies. Its safety, especially for young children, pregnant or nursing women, or those with severe liver or kidney disease, is not known.
In very high doses, betaine hydrochlorine has been associated with heartburn or burning of the stomach lining.
Drug interactions
People taking nonsteroidal anti-inflammatory drugs (NSAIDs), cortisone-like drugs, or other medications that could cause peptic ulcers should not take betaine hy- drochloride.
Purification Methods
Recrystallise the salt from EtOH. Its solubility at 25o is 65% in H2O, and 5% in EtOH. [Edsall J Am Chem Soc 66 1767 1943, Kuhn & Ruelius Chem Ber 83 420 1950, Beilstein 4 III 1127, IV 2369.]
Precautions
People with a history of ulcers, heartburn, or other gastrointestinal symptoms should see a nutritionally oriented doctor before taking betaine hydrochloride, and no one should take more than 10 grains (650 mg) without a physician's recommendation. Large amounts of betaine hydrochloride can burn the lining of the stomach. If a burning sensation is experienced, betaine hydrochloride should be immediately discontinued.
Betaine hydrochloride Preparation Products And Raw materials
Raw materials
Preparation Products
---
---
View Lastest Price from Betaine hydrochloride manufacturers
Image
Release date
Product
Price
Min. Order
Purity
Supply Ability
Manufacturer
2021-11-02
Betaine hydrochloride
590-46-5
US $30.00 / KG
1KG
99
5000T
Baoji Guokang Healthchem co.,ltd
2021-08-14
Betaine hydrochloride
590-46-5
1KG
99
10tons
Shijiazhuang tongyang Import and Export Co., LTD
2021-07-30
Betaine hydrochloride
590-46-5
US $10.00 / KG
1KG
99%
10 mt
Hebei Guanlang Biotechnology Co., Ltd.
---
Betaine hydrochloride Spectrum
---
590-46-5(Betaine hydrochloride)Related Search:
---
Betaine Hydrochloride, AR
acidolhydrochloride
Acidol-Pepsin
Acinorm
Acipepsol
Aciventral forte
aciventralforte
Ammonium, (carboxymethyl)trimethyl-, chloride
component of Acidol-Pepsin
component of Normacid
glycinebetainehydrochloride
Glycocollbetaine hydrochloride
BETAINE HCL (S)
BETAINE HCL 60 MESH (S)
BENTAINEHCL
BETAINE 30
BETAINE HYDROCHLORIDE SIGMAULTRA
Betaine HCl USP
TrimethylglycineHCl
BETAINE HYDROCHLORIDE, USP
Betaine hydrochloride (non-medicinal)
Betaine hydrochloride, pure, 99%
Rubrine C hydrochloride
BETAINE HYDROCHLORIDE, 99%, PURE
BETAINE HCL(P)
Betaine Hydrochloride (200 mg)
Betaine hydrochlorid
Betaine hydrochloride SigmaUltra, >=99%
Betaine hydrochloride, 99%, extra pure
BETAIN HYDROCHLORIDE FOR SYNTHESIS
Achyin
Euacid
Muriat
Pepsacid
Betaine HC1
N-(CarboxyMethyl)-N,N,N-triMethylaMMoniuM Chloride
N-N,N,N-triMethyl-d3-aMMoniuM Chloride
Betaine hydrochloride≥ 98% (Titration)
(carboxymethyl)trimethyl-ammoniuchloride
1-carboxy-n,n,n-trimethyl-methanaminiuchloride
Achylin
Acidin
Acidine
Acidogeno
Caustic hydrochloride
Soybean isolate protein
Methanaminium,1-carboxy-N,N,N-trimethyl-, chloride (1:1)
glycocollbetainhydrochloride
glykokollbetain-chlorid
Methanaminium, 1-carboxy-N,N,N-trimethyl-, chloride
Pluchine
rubrainehydrochloride
1-CARBOXY-N,N,N-TRIMETHYLMETHANAMINIUM, CHLORIDE
ACIDOL
A-EARLEINE HYDROCHLORIDE
(CARBOXYMETHYL)(TRIMETHYL)AMMONIUM CHLORIDE
(CARBOXYMETHYL)TRIMETHYLAMMONIUM HYDROCHLORIDE
(CARBOXYMETHYL)TRIMETHYLAMMONIUM HYDROXIDE ANHYDRIDE HYDROCHLORIDE