Ammonium acetate
CAS No.

Chemical Name:

Ammonium acetate

Synonyms

NH Ac;NH4OAC;Ammoniumacetat;MARKER DNA 1KBP;AMMONIUM ACETATE;Ammonium aletate;acetated'ammonium;AmmoniumAcetateGr;Ammonium ethanoate;AMMONIUM ACETATE TS

CBNumber:

CB8438173

Molecular Formula:

C2H7NO2

Formula Weight:

77.08

MOL File:
Ammonium acetate Properties
Melting point:

110-112 °C (dec.)(lit.)

Boiling point:

138.46°C (rough estimate)
Density

1.07 g/mL at 20 °C

refractive index

1.4350 (estimate)
Flash point:

136 °C
storage temp.

2-8°C

solubility

H2O: 1 M at 20 °C, clear, colorless

pka

4.6(Acetic Acid), 9.3(Ammonium Hydroxide)(at 25℃)
form

Solid
color

White
Odor

Slight acetic acid odor
PH

6.7-7.3 (50g/l, H2O, 25℃)
PH Range

6.7 - 7.3
Water Solubility

1480 g/L (20 ºC)
λmax

λ: 260 nm Amax: 0.015
λ: 280 nm Amax: 0.01
Sensitive

Hygroscopic
Merck

14,495
BRN

4186741
InChIKey

USFZMSVCRYTOJT-UHFFFAOYSA-N
CAS DataBase Reference
Substances Added to Food (formerly EAFUS)
EWG's Food Scores
FDA UNII
NIST Chemistry Reference
EPA Substance Registry System
SAFETY
Risk and Safety Statements
| Manufacturer | Product number | Product description | CAS number | Packaging | Price | Updated | Buy |
| --- | --- | --- | --- | --- | --- | --- | --- |
| Sigma-Aldrich | 09689 | Ammonium acetate BioUltra, for molecular biology, ≥99.0% | 631-61-8 | 100g | $24.5 | 2019-12-02 | Buy |
| Sigma-Aldrich | 09689 | Ammonium acetate BioUltra, for molecular biology, ≥99.0% | 631-61-8 | 1kg | $2210 | 2019-12-02 | Buy |
| TCI Chemical | A2269 | Ammonium Acetate >97.0%(T) | 631-61-8 | 250g | $18 | 2020-06-24 | Buy |
| Alfa Aesar | 011599 | Ammonium acetate, ACS, 97.0% min | 631-61-8 | 500g | $52.6 | 2020-06-24 | Buy |
| Alfa Aesar | 011599 | Ammonium acetate, ACS, 97.0% min | 631-61-8 | 2kg | $138 | 2020-06-24 | Buy |
Ammonium acetate Chemical Properties,Uses,Production
Chemical Properties
Ammonium acetate is a white, deliquescent crystalline solid with a slightly acetic odor. It is used as a reagent in analytical chemistry for determining lead and iron content,a chemical intermediate in manufacturing acetamide. It is also a diuretic in veterinary medicine, in other drugs, in textile dyeing, in meat preservative, in foam rubbers, in vinyl plastics, in stripping explosives, and in determining lead and iron content.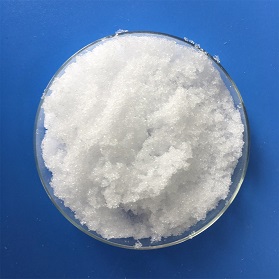 Physical properties
White crystalline solid; deliquescent; melts at 114°C; decomposes at elevated temperatures; density 1.17 g/cm
3
at 20°C, density of a 10% solution 1.022 g/mL, and a 50% solution 1.092 g/mL; very soluble in cold water (1,480 g/L at 4°C); also soluble in cold alcohol and acetone (78.9 g/L in methanol at 15°C); solution loses ammonia on standing and becomes acidic.
Uses
Ammonium acetate is used in the manufacture of acetamide and as a diuretic and diaphoretic in medical applications. The wool industry also uses this salt as a dye mordant.
Buffer solution; determination of lead and iron; separating lead sulfate from other sulfates.
Preparation
Ammonium acetate is manufactured by neutralizing acetic acid with ammonium carbonate or by passing ammonia gas into glacial acetic acid. Acidic ammonium acetate, CH3CO2NH4.CH3CO2H[25007-86-7], is manufactured by dissolving the neutral salt in acetic acid.
General Description
A white crystalline solid. The primary hazard is the threat to the environment. Immediate steps should be taken to limit its spread to the environment. Ammonium acetate is used in chemical analysis, in pharmaceuticals, in preserving foods, and for other uses.
Air & Water Reactions
Water soluble.
Reactivity Profile
Ammonium acetate causes the decomposition of sodium hypochlorite within a few seconds [Mellor 2 Supp. 1:550 1956].
Health Hazard
Inhalation of dust irritates nose and mouth. Ingestion irritates mouth and stomach. Contact with dust causes irritation of eyes and mild irritation of skin.
Fire Hazard
Special Hazards of Combustion Products: Irritating vapors of ammonia acetic acid, and nitrogen oxides may form in fires.
Safety Profile
Poison by intravenous route. Moderately toxic by intraperitoneal route. When heated to decomposition it emits toxic fumes of NO, and NH3
Potential Exposure
Ammonium acetate is used as a chemical reagent, to make drugs; foam rubber; vinyl plastics; explosives, and to preserve foods. An environmental threat.
Shipping
UN3077 Environmentally hazardous substances, solid, n.o.s., Hazard class: 9; Labels: 9-Miscellaneous hazardous material, Technical Name Required.
Purification Methods
Crystallise it twice from anhydrous acetic acid, and dry under vacuum for 24hours at 100o [Proll & Sutcliff Trans Faraday Soc 57 1078 1961].
Incompatibilities
Combustible solid. Incompatible with oxidizers (chlorates, nitrates, peroxides, permanganates, perchlorates, chlorine, bromine, fluorine, etc.); contact may cause fires or explosions. Keep away from alkaline materials, strong bases, strong acids, oxoacids, epoxides, sodium hypochlorite, potassium chlorate, sodium nitrite.
Ammonium acetate Preparation Products And Raw materials
Raw materials
Preparation Products
ETHYL 2-CYANO-3-METHYL-2-PENTENOATE
5-(4-Phenyl-phenyl)thieno[2,3-d]pyrimidin-4(3H)-one ,97%
5-METHYLTHIOPHEN-2-YLMETHYLAMINE
METHYL 2-AMINO-4-PHENYLTHIOPHENE-3-CARBOXYLATE
2-AMINO-4-PHENYL-THIOPHENE-3-CARBOXYLIC ACID ETHYL ESTER
2-AMINO-4-(2,4-DIMETHYL-PHENYL)-THIOPHENE-3-CARBOXYLIC ACID ETHYL ESTER
THIENO[3,2-D]PYRIMIDIN-4(3H)-ONE
5-(2,4-DIMETHYL-PHENYL)-3H-THIENO[2,3-D]PYRIMIDIN-4-ONE
2-CHLORO-4-METHYLQUINOLINE-3-CARBONITRILE
ORNOPROSTIL
Ethyl 3-amino-4,4,4-trifluorocrotonate
5-P-TOLYL-3H-THIENO[2,3-D]PYRIMIDIN-4-ONE
Murexide
ETHYL 2-AMINO-4-(4-FLUOROPHENYL)THIOPHENE-3-CARBOXYLATE
6-Fluorotryptamine hydrochloride
3-HYDROXY-4-METHOXYPHENETHYLAMINE HYDROCHLORIDE
ETHYL 2-AMINO-4-[1,1'-BIPHENYL]-4-YL-3-THIOPHENECARBOXYLATE
QUINOLINIMIDE
5-(4-METHOXY-PHENYL)-3H-THIENO[2,3-D]PYRIMIDIN-4-ONE
3-AMINO-3-(2-THIENYL)PROPANOIC ACID
1-(4-FLUOROPHENYL)ETHYLAMINE
5-(4-FLUOROPHENYL)-3H-THIENO[2,3-D]PYRIMIDIN-4-ONE
2,5-BIS(4-PYRIDYL)-1,3,4-THIADIAZOLE
water proofing agent YS
ETHYL 2-AMINO-4-(4-METHYLPHENYL)-3-THIOPHENECARBOXYLATE
ETHYL 2-AMINO-4-(4-METHOXYPHENYL)-3-THIOPHENECARBOXYLATE
4'-CHLORO-2,2':6',2''-TERPYRIDINE
3,4-Diaminopyridine
Montelukast
5-(4-BROMO-PHENYL)-3H-THIENO[2,3-D]PYRIMIDIN-4-ONE
1-(TERT-BUTYL)-3,5-DIMETHYL-1H-PYRAZOLE
ETHYL 2-AMINO-4-(4-BROMOPHENYL)-3-THIOPHENECARBOXYLATE
2-(3H-Imidazol-4-yl)-ethylamine
4-AMINO-CHROMEN-2-ONE
4-ETHYL-6-HYDROXY-2-METHYLPYRIMIDINE
2-((E)-2-Hydroxy-3-phenylacryloyl)benzoic acid ,97%
Isoquinoline, 7-(bromomethyl)- (9CI)
1-(TERT-BUTYL)-3,5-DIMETHYL-1H-PYRAZOLE-4-CARBALDEHYDE
5-PHENYL-3H-THIENO[2,3-D]PYRIMIDIN-4-ONE
(E)-3-Benzylidene-3H-isochromene-1,4-dione ,97%
---
---
Related articles
I need to make 10M ammonium acetate for DNA extraction. I calculated the amount required for 70 ml solution and started dissol....

Aug 30,2019
---
View Lastest Price from Ammonium acetate manufacturers
Image
Release date
Product
Price
Min. Order
Purity
Supply Ability
Manufacturer
2020-07-21
Ammonium acetate
631-61-8
US $1.20 / KG
25KG
98%
2000 tons
Hebei Yanxi Chemical Co., Ltd.
2020-06-29
ammonium acetate
631-61-8
US $1120.00 / T
1KG
99%
20tons
Hebei Mojin Biotechnology Co., Ltd
2020-06-24
ammonium acetate
631-61-8
US $50.00 / Kg/Bag
25Kg/Bag
99%
200ton
Hebei Mojin Biotechnology Co., Ltd
---
---
631-61-8(Ammonium acetate)Related Search:
---
OmniPur Ammonium Acetate - CAS 631-61-8 - Calbiochem
Acetic acid, ammonium salt (1:1)
acetated'ammonium
Mindererus's spirit
AMMONIUM ACETATE TS
AMMONIUM ACETATE
ACETIC-AMMONIUM ACETATE
ACETIC ACID, AMMONIUM SALT
NH4OAC
Acetic acid, ammonium salt, anhydrous, for analysis, 98+%
Acetic acid, ammonium salt, for analysis ACS, 97+%
Acetic acid, ammonium salt, pure, 98%
AMMONIUM ACETATE BIO-REFINED
AMMONIUM ACETATE, REAGENT (ACS)
Ammonium acetate solution, 7.5 M
Ammoniumacetate,anhydrous,97+%(ACS)
Water with 0.1% ammonium acetate
AMMONIUMACETATE,BIOTECHGRADE
AMMONIUMACETATE,CRYSTAL,REAGENT,ACS
AMMONIUMACETATE,PURIFIED
Ammonium acetate, ACS, 97.0% min
AMMONIUM ACETATE extrapure AR
Ammonium Acetate, crystal
AMMONIUM ACETATEMOLECULAR BIOLOGY GRADE
AMMONIUM ACETATE SOLUTION 7.5MMOLECULAR BIOLOGY GRADE
Ammonium acetate, solution 1 mol/l, buffered at pH = 7
Ammonium acetate, reagent grade, ACS
Ammonium acetate/ 98+%
AMMONIUM ACETATE, 99.99+% METALS BASIS
AMMONIUM ACETATE ULTRA PURE
AMMONIUM ACETATE R. G., REAG. ACS, REAG. ISO, REAG. PH. EUR.
Acetic acid, ammonium salt, for analysis, 98+%
Acetic acid, aMMoniuM salt, 97+%, ACS reagent
Acetic acid, aMMoniuM salt, for analysis ACS, 97+% 25GR
Acetic acid, aMMoniuM salt, for analysis ACS, 97+% 500GR
Acetic acid, aMMoniuM salt, for analysis, 98+% 500GR
Acetic acid, aMMoniuM salt, pure, 98% 1KG
Acetic acid, aMMoniuM salt, 98%, for biocheMistry
AMMONIUM ACETATE EXTRA PURE 1 KG
AMMONIUM ACETATE EXTRA PURE 5 KG
AMMONIUM ACETATE FOR ANALYSIS EMSURE
AMMONIUM ACETATE FRACTOPUR 1 KG
AMMONIUM ACETATE FRACTOPUR 250 G
AMMoniuM acetate, for analysis
AMMoniuM acetate 99.999% trace Metals basis
AMMoniuM acetate, GR,>=99.0%
Ammonium ethanoate
Hexschloroplatinic(IV) acid hexahydrate
NH Ac
AMMONIUM ACETATE, BIO-REFINEDAMMONIUM ACETATE, BIO-REFINEDAMMONIUM ACETATE, BIO-REFINEDAMMONIUM ACETATE, BIO-REFINED
AMMONIUM ACETATE, REAGENT (ACS)AMMONIUM ACETATE, REAGENT (ACS)AMMONIUM ACETATE, REAGENT (ACS)
AMMONIUM ACETATE SOLUTION, F. MOL. BIOL. , 5 M IN WATER
AMMONIUM ACETATE PURISS. P. A., FOR HPLC, > 99.0% (NT)
AMMONIUM ACETATE MOLECULAR BIOLOGYREAGEN T
AMMONIUM ACETATE ACS REAGENT
AMMONIUM ACETATE R. G., REAG. ACS, REAG.
AMMONIUM ACETATE, 99.999%
AMMONIUM ACETATE SIGMAULTRA