Aluminum acetylacetonate - Reaction / Application on Synthetic Works
Dec 9,2019
Aluminum acetylacetonate is an important organic intermediate (building block) to synthetize substituted acetylacetonate products.
The following example is about its application on the synthesis of the complex [(HO)Al(15C5)4Pc] [2].

Tetra-15-crown-5-phthalocyanine (20 mg, 15.68 mmol) was dissolved in 3.1 ml of trichlorobenzene – n-octanol (7:1). The mixture was heated in an argon, and a solution of Al(acac)3 (20.47 mg, 62.72 mmol) and PhOH (14.76 mg,156.8 mmol) in 0.8 ml of CHCl3 was added. The reaction mixture was heated under reflux for 2 hours. Complex formation was monitored by electronic absorption spectroscopy. The resulting green solution was cooled, and the reaction mixture was treated with hexane. The formed precipitate was dissolved in chloroform and chromatographed on column with neutral Al2O3. The complex [(HO)Al(15C5)4Pc] was eluted with a CHCl3-MeOH (93 : 7, v/v) mixture. Yield: 19 mg, 93%.
The following example is about its application on the synthesis of Ru3Al nanosheets [3].

The Ru3Al nanosheets were prepared via a one-pot solvothermal strategy. In a typical synthesis, 0.3 mmol Ru(acac)3, 0.1 mmol Al(acac)3, 0.7 g urea are dissolved into 12 ml deionized water and 6 ml isopropanol (IPA) under sonication and vigorous stirring to form a homogeneous solution. After being stirred for one hour, the mixture solution was transferred into a Teflon-lined stainless steel autoclave with the capacity of 25 ml and maintained at 190 ºC for 18 h. After the hydrothermal reaction, the system was allowed to cool down to room temperature naturally. The final products were collected via centrifugation, washed with deionized water and ethanol for several times, and dried under vacuum at 60 ºC overnight.
The following example is about its application on the synthesis of complexes of N4O6-Type Dipyrrin [4].
A 10 mL round-bottom flask was charged with [H3LB] (5.3 mg, 5.7 μmol) and tris(2,4-pentanedionato)aluminum(III) (18.0 mg, 55.5 μmol). Chloroform (2 mL) and methanol (0.5 mL) were added to the flask. The mixture was refluxed for 21 h. After cooling, the mixture was concentrated in vacuo. The crude was purified by column chromatography on alumina (eluent: chloroform/methanol = 100:0 to 100:2) to give the product (1.7 mg, 1.7 μmol, 29 %).
References
1.Lapkina LA, Larchenko VE, Kirakosyan GA, Tsivadze AY, Troyanov SI, Gorbunova YG. Cation-Induced Dimerization of Crown-Substituted Phthalocyanines by Complexation with Rubidium Nicotinate As Revealed by X-ray Structural Data[J]. Inorganic Chemistry, 2018, 57(1): 82 - 85
2.Zhang H, Liu Q, Xu J, Wei L, Liu Q, Kong X. Holey Ruthenium Nanosheets with Moderate Aluminum Modulation toward Hydrogen Evolution[J]. Inorganic Chemistry, 2019, 58(13):8267 - 8270
3.Saikawa M, Noda T, Matsuoka R, Nakamura T, Nabeshima T. Heterodinuclear Group 13 Element Complexes of N4O6-Type Dipyrrin with an Unsymmetrical Twisted Structure[J]. European Journal of Inorganic Chemistry, 2019, 2019(6):766-769.
Related articles
Related Qustion
See also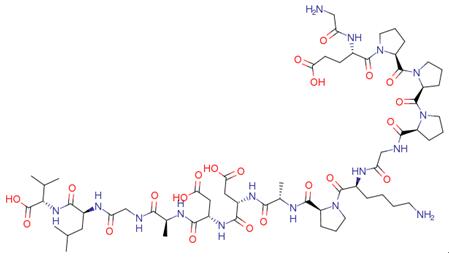 Stable gastric pentadecapeptide BPC 157 is an anti-ulcer peptidergic agent, safe in inflammatory bowel disease clinical trials and wound healing, stable in human gastric juice and has no reported toxicity.....
Dec 9,2019
Inhibitors
2′-C-methyluridine is one of the key intermediates in the synthesis of nucleoside anti-hepatitis C and anti-leukemia drugs. There are two main applications of 2'-C-methyluridine, which are targeted at hepatitis C and leukemia.....
Dec 9,2019
Nucleoside Drugs
Latest Price from Aluminum acetylacetonate manufacturers
US $10.00 / KG
2021-08-21
CAS:13963-57-0
Min. Order: 1KG
Purity: 99%
Supply Ability: 10 mt
US $15.00-10.00 / KG
2021-08-12
CAS:13963-57-0
Min. Order: 1KG
Purity: 99%+ HPLC
Supply Ability: Monthly supply of 1 ton
US $0.00-0.00 / KG
2021-07-20
CAS:13963-57-0
Min. Order: 10mg
Purity: 99%
Supply Ability: 2000tons