Properties and applications of Tacrolimus
Feb 27,2020
Tacrolimus (FK506, C44H69NO12, CAS registry No. 104987-11-3) is a white or off-white crystalline powder. Its melting point is 113-115 oC, and flash point is 481 oC.
Tacrolimus, a hydrophobic macrocyclic lactone, was first isolated in 1985 from the fermentation broth of Streptomyces tsukubaensis, a soil microorganism found in the Tsukuba region of northern Japan. It has been in clinical use in Japan since 1993 and was approved in the US in April 1994 for the prophylaxis of organ rejection after liver transplantation. Tacrolimus is also effective in preventing graft rejection in heart, small bowel, and kidney transplants. Now tacrolimus has been used clinically in the treatment of rejection following transplantation with a variety of organs and also as an immunosuppressive agent in the therapy of autoimmune disorders[1].
Tacrolimus, displays similar, but more potent, immunosuppressive properties to cyclosporin, inhibiting cell-mediated and humoral immune responses. Through its interaction with a specific cytoplasmic immunophilin, tacrolimus inhibits calcium-dependent signal transduction pathways in T cells, thereby preventing transcription of a discrete. Tacrolimus interferes with a variety of exocytosis-related events in cells of haematopoietic lineage (basophils, neutrophils and mast cells), but at concentrations which suppress T cell proliferation, tacrolimus does not modify mononuclear phagocyte function. Tacrolimus displays hepatotrophic properties, stimulating hepatic regeneration following hepatectomy, and confers hepatoprotective and renoprotective effects against ischaemia/reperfusion injury. Tacrolimus has a direct glomeruloconstrictive effect and on subacute administration reduces renal perfusion and glomerular flow. Tacrolimus induced nephrotoxicity has variously been attributed to altered prostaglandin metabolism, lipid peroxidation of the plasma membrane, and enhanced endothelin secretion. In animal models of organ transplantation, tacrolimus has been shown to prolong survival of hepatic, renal, cardiac, small intestine, pancreatic and skin allografts, and to reverse cardiac and renal allograft rejection[1].
Tacrolimus is highly lipophilic and undergoes extensive tissue distribution. In blood, tacrolimus is sequestered by erythrocytes, with the result that plasma drug concentrations are approximately 10 to 30 times lower than whole blood concentrations. Tacrolimus is metabolized extensively in the liver, primarily by demethylation and hydroxylation, with less than 1 % of the parent compound being excreted unaltered in the bile and urine. Hepatic dysfunction is associated with elevated plasma concentrations of tacrolimus, prolongation of the plasma elimination half-life, and reduced plasma clearance.
Tacrolimus is primarily eliminated from the body in the bile by hepatic metabolism, and less than 1% of unchanged drug is excreted in the urine. Cytochrome P450 3A(CYP3A) mediates the bio-transformation of tacrolimus through the demethylation and hydroxylation of hepatic and intestinal CYP3A isoforms, and then tacrolimus is cleared through hepatic metabolism[2]. It is metabolized to at least 8 metabolites[3]. Four of them are major metabolites of varying immunosuppressive activity: 13-O-demethyl (M-I), 31-O-demethyl (M-II), 15-Odemethyl (M-III), and 12-hydroxyl (M-IV). M-I to M-IV are first-generation metabolites, formed directly from the parent drug. M-V to M-VIII are formed from the first-generation metabolites and are considered to be second-generation metabolites.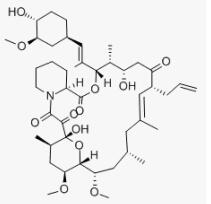 Fig 1. Chemical structure formula of tacrolimus
References
[1]. Peters, D. H.; Fitton, A.; Plosker, G. L.; Faulds, D., Tacrolimus. A review of its pharmacology, and therapeutic potential in hepatic and renal transplantation. Drugs 1993, 46 (4), 746-94.
[2]. Birdwell, K. A.; Decker, B.; Barbarino, J. M.; Peterson, J. F.; Stein, C. M.; Sadee, W.; Wang, D.; Vinks, A. A.; He, Y.; Swen, J. J.; Leeder, J. S.; van Schaik, R.; Thummel, K. E.; Klein, T. E.; Caudle, K. E.; MacPhee, I. A., Clinical Pharmacogenetics Implementation Consortium (CPIC) Guidelines for CYP3A5 Genotype and Tacrolimus Dosing. Clinical pharmacology and therapeutics 2015, 98 (1), 19-24.
[3]. Christians, U.; Kruse, C.; Kownatzki, R.; Schiebel, H. M.; Schwinzer, R.; Sattler, M.; Schottmann, R.; Linck, A.; Almeida, V. M.; Braun, F.; et al., Measurement of FK 506 by HPLC and isolation and characterization of its metabolites. Transplantation proceedings 1991, 23 (1 Pt 2), 940-1.
Related articles
Related Qustion
See also
Apigenin is a flavonoid of low toxicity and multiple beneficial bioactivities.....
Feb 26,2020
Natural Products
2,5-Diaminotoluene sulfate is the sulfate salt of toluene-2,5-diamine, which can be used as ingredients in the formulation of permanent hair dyes, colors, and tints, and as intermediates in the production of dyes.....
Feb 27,2020
Amides
2021-11-29
CAS:104987-11-3
Min. Order: 10g
Purity: 99.98%HPLC
Supply Ability: 5000tons/year
$0.00 / KG
2021-11-29
CAS:104987-11-3
Min. Order: 100g
Purity: 98%+
Supply Ability: 100kg
$0.00 / KG
2021-11-29
CAS:104987-11-3
Min. Order: 100g
Purity: 98%+
Supply Ability: 100kg