Synthesis of Alpha lipoic acid
Sep 23,2021
Alpha lipoic acid (ALA), chemical name: 1,2-dithiolan-3-pentanoic acid. It belongs to a class of compounds in the B vitamins. Lipoic acid contains a five-membered disulfide ring structure, which has significant electrophilicity and the ability to react with free radicals. Therefore, it has antioxidant properties and has extremely high health care functions and medical values. In addition, the sulfhydryl group of lipoic acid is easy to undergo redox reaction, so it can protect the sulfhydryl enzyme from the poison of heavy metal ions.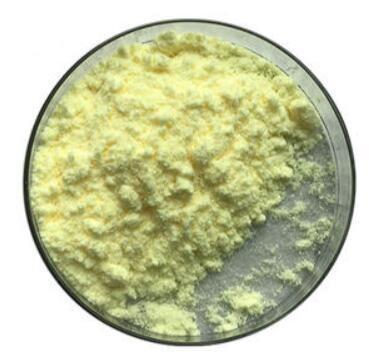 Clinically, it is mainly used to treat diabetes and its complications, ischemia reperfusion, degenerative neuropathy, radiation injury and other diseases. Because of its definite curative effect, it is in great demand in medical treatment, health care, and beauty.
Preparation
(1) Take sodium sulfide in a beaker, add distilled water to the beaker, heat and stir to dissolve it below 50°C, and prepare a 3mol/L sodium sulfide solution; add sulfur to the obtained sodium sulfide solution and stir to dissolve it. Make the sulfur concentration in the sodium sulfide solution 3.5 mol/L to obtain a mixed solution;
(2) Add 6,8-dichlorooctanoic acid ethyl ester and distilled water to the photoreactor successively to prepare a 3mol/L 6,8-dichlorooctanoic acid ethyl ester solution, then add phase transfer catalyst to the solution, stir and heat up to 82-84°C;
(3) Add dropwise the mixed solution obtained in step (1) to the reaction solution in step (2) in a volume ratio of 5:3.5 within 180 minutes, while using a 1000W xenon lamp, and using a 680nm cut-off filter to perform the reaction Photocatalysis, and stir the reaction liquid at a speed of 200r/min;
(4) Add sodium sulfite to the photoreactor after the cyclization reaction, so that the concentration of sodium sulfite in the reaction solution is 0.45 mol/L, and react under photocatalysis at 86-90°C for 60 minutes.
(5) After the reaction, the reaction solution is extracted at 80-90°C. The organic layer is diluted with toluene and the water layer is extracted with toluene. The toluene layer is combined, and the toluene layer is revolved to a constant weight to obtain ethyl lipoic acid. Ester; then the ethyl lipoic acid is hydrolyzed and acidified to obtain lipoic acid.
Related articles
Related Qustion
See also
Aniline is an organic compound with the formula C6H5NH2. Consisting of a phenyl group attached to an amino group, aniline is the simplest aromatic amine. It is an industrially significant commodity chemical, as well as a versatile starting....
Sep 22,2021
Organic Raw Material
Protocatechuic acid (PCA) is 3,4-dihydroxybenzoic acid. It is a simple phenolic acid, which is the precursor for the synthesis of other complex molecules, such as anthocyanin 3-O-β-D-glucoside and vanillin.....
Sep 24,2021
API
Latest Price from Lipoic acid manufacturers
US $110.00 / KG
2021-09-14
CAS:62-46-4
Min. Order: 1KG
Purity: 99%
Supply Ability: 10tons
US $145.00 / Kg/Bag
2021-09-14
CAS:62-46-4
Min. Order: 1Kg/Bag
Purity: 99%
Supply Ability: 10000kg
US $1.70 / g/Bag
2021-08-26
CAS:62-46-4
Min. Order: 10g
Purity: 99.9%
Supply Ability: 10000kg