The toxity of Diphenhydramine
Oct 14,2021
Diphenhydramine is a first-generation antihistamine that works at the H-1 receptors. It was first synthesized in 1943 by Dr George Rieveschl of the University of Cincinnati. Diphenhydramine was the first antihistamine agent approved by the Food and Drug Administration. In the 1960s, diphenhydramine was found to have inhibitory properties on the reuptake of neurotransmitters including serotonin. This prompted a search for additional agents that might be used to treat depression and other mood disorders.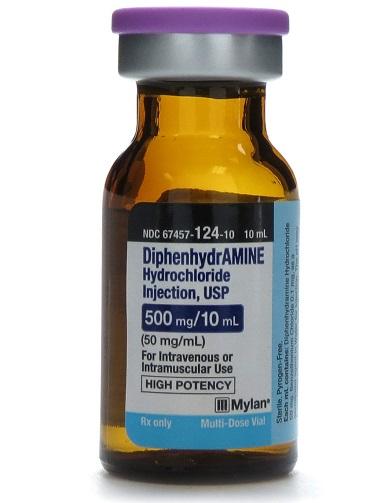 Mechanism of Toxicity
The toxicity of antihistamines is related to their anticholinergic (antimuscarinic), antihistamine, and serotonergic activation. The action of acetylcholine at the muscarinic receptors is blocked, resulting in signs and symptoms of anticholinergic poisoning. Diphenhydramine may produce direct toxicity unrelated to its anticholinergic properties including inhibition of cardiac fast sodium channels and at higher concentrations, the drug may inhibit potassium channels, which can result in QT prolongation. Diphenhydramine also blocks the reuptake of serotonin and has been reported to cause serotonin syndrome in some individuals during overdose. The action of diphenhydramine at H-1 receptors causes sedation.
Environmental Fate
Diphenhydramine is fairly stable in the environment although it does undergo photodegradation. Conjugates of diphenhydramine such as diphenhydramine-N-glucuronide may be converted back to the parent compound, diphenhydramine, through enzymatic cleavage during sewage treatment process. Diphenhydramine is removed poorly through wastewater treatment processes and is found in significant concentrations in aquatic organisms downstream from such plants.
Diphenhydramine has significant risk for bioaccumulation, particularly in water downstream from wastewater and sewage treatment facilities.
Uses
Diphenhydramine is an H-1 receptor antagonist, which is used to provide relief of allergic symptoms caused by histamine release. Other uses include as a nonprescription nighttime sleep aid secondary to its sedative effects and as an adjunctive agent with antipsychotics and othermedications to prevent and treat extrapyramidal symptoms. Diphenhydramine can be used emergently to treat dystonic reactions and it is also used as an antiemetic. The drug is used as an antitussive and due to its anitmuscarinic properties, used as prophylaxis and treatment for motion sickness. Topical application for relief of pruritus and pain associated with various skin conditions including minor burns, insect bites, and minor skin irritation.
Related articles
Related Qustion
See also
The appearance of acetone in scientific thinking may be traced back to 1798, when John Rollo, an English physician, described a material in human breath of an odor of decaying apples. Later this material was identified as acetone, and it wa....
Oct 13,2021
Organic reagents
Previously, 1,2-diphenylhydrazine was used for producing benzidine that was used in the synthesis of benzidine-based dyes. However, these dyes are no longer produced in the United States.....
Oct 14,2021
Organic Synthesis Intermediate
$85.00 / ASSAYS
2021-12-07
CAS:58-73-1
Min. Order: 1ASSAYS
Purity: 99%
Supply Ability: 20 tons
$50.00 / ASSAYS
2021-12-06
CAS:58-73-1
Min. Order: 1ASSAYS
Purity: 99%
Supply Ability: 100ton
$50.00 / ASSAYS
2021-12-06
CAS:58-73-1
Min. Order: 1ASSAYS
Purity: 99%
Supply Ability: 100ton