Uses and Side Effects of Salmeterol
Aug 25,2020
Uses
Salmeterol is used as a long-term (maintenance) treatment to prevent or decrease wheezing and trouble breathing caused by asthma or ongoing lung disease (chronic obstructive pulmonary disease-COPD, which includes chronic bronchitis and emphysema). It should only be used long-term if your asthma symptoms are not controlled by your other asthma medications (such as inhaled corticosteroids). Salmeterol must not be used alone to treat asthma. It is also used to prevent asthma brought on by exercise (bronchospasm). Salmeterol works by relaxing the muscles around the airways so that they open up and you can breathe more easily. Controlling symptoms of breathing problems can decrease time lost from work or school.
This medication does not work right away and should not be used for sudden attacks of breathing trouble. Your doctor must prescribe a quick-relief medicine/inhaler (e.g., albuterol) for sudden shortness of breath/asthma attacks while you are on this medication. You should always have a quick-relief inhaler with you. Consult your doctor or pharmacist for more details.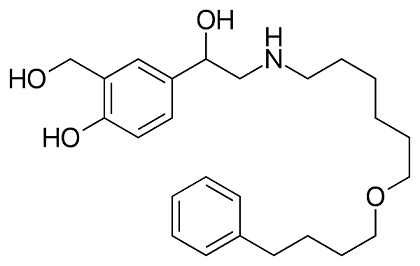 This medication should be used in combination with other medications such as long-acting inhaled corticosteroids. However, it should not be used with other long-acting inhaled beta.
Side Effects
Hoarseness, throat irritation, headache, rapid heartbeat, nervousness, cough, dry mouth/throat, or upset stomach may occur.
To relieve dry mouth, suck on (sugarless) hard candy or ice chips, chew (sugarless) gum, drink water, or use a saliva substitute.
If any of these effects persist or worsen, notify your doctor or pharmacist promptly.
Remember that your doctor has prescribed this medication because he or she has judged that the benefit to you is greater than the risk of side effects. Many people using this medication do not have serious side effects.
Seek immediate medical attention if any of these rare but very serious side effects occur: chest pain, fast/slow/irregular heartbeat, severe dizziness, fainting, seizures.
An allergic reaction to this drug is unlikely, but seek immediate medical attention if it occurs. Symptoms of an allergic reaction include: rash, itching/swelling (especially of the face/tongue/throat), severe dizziness, trouble breathing.
Rarely, this medication has caused severe (rarely fatal), sudden worsening of breathing problems/asthma (paradoxical bronchospasm). If you have trouble breathing or experience sudden wheezing, use your quick-relief inhaler and seek immediate medical attention.
Precautions
Before using this medication, tell your doctor or pharmacist if you are allergic to it; or if you have any other allergies. This product may contain inactive ingredients, which can cause allergic reactions or other problems. Talk to your pharmacist for more details.
Before using this drug, tell your doctor or pharmacist your medical history, especially of: heart problems (e.g., angina, irregular heartbeat), high blood pressure, diabetes, liver problems, seizures, thyroid problems (e.g., overactive thyroid).
Salmeterol may cause a condition that affects the heart rhythm (QT prolongation). QT prolongation can rarely cause serious (rarely fatal) fast/irregular heartbeat and other symptoms (such as severe dizziness, fainting) that need medical attention right away.
The risk of QT prolongation may be increased if you have certain medical conditions or are taking other drugs that may cause QT prolongation. Before using salmeterol, tell your doctor or pharmacist of all the drugs you take and if you have any of the following conditions: certain heart problems (heart failure, slow heartbeat, QT prolongation in the EKG), family history of certain heart problems (QT prolongation in the EKG, sudden cardiac death).
Low levels of potassium or magnesium in the blood may also increase your risk of QT prolongation. This risk may increase if you use certain drugs (such as diuretics/"water pills") or if you have conditions such as severe sweating, diarrhea, or vomiting. Talk to your doctor about using salmeterol safely.
Related articles
Related Qustion
See also
Lacosamide is a functionalized amino acid that has activity in the maximal electroshock seizure test, and is indicated for the adjunctive treatment of partial-onset seizures and diabetic neuropathic pain.....
Aug 24,2020
API
Ganciclovir is a nucleoside antiviral drug, which can competitively inhibit DNA polymerase and is incorporated into the DNA of viruses and host cells, thereby inhibiting DNA synthesis.....
Aug 26,2020
API
Latest Price from Salmeterol manufacturers
US $0.00 / KG
2021-07-23
CAS:89365-50-4
Min. Order: 100g
Purity: 98%+
Supply Ability: 100kg
US $15.00-10.00 / KG
2021-07-13
CAS:89365-50-4
Min. Order: 1KG
Purity: 99%+ HPLC
Supply Ability: Monthly supply of 1 ton
US $15.00-10.00 / KG
2021-07-09
CAS:89365-50-4
Min. Order: 1KG
Purity: 99%+ HPLC
Supply Ability: Monthly supply of 1 ton