Baclofen
CAS No.

Chemical Name:

Baclofen

Synonyms

Clofen;Spinax;baclon;Lioresa;ba34647;Atrofen;c34647ba;BACLOFEN;LIORESAL;Baclofen(R)

CBNumber:

CB8669450

Molecular Formula:

C10H12ClNO2

Formula Weight:

213.66

MOL File:
Baclofen Properties
Melting point:

208-210°C
Density

1.2069 (rough estimate)
refractive index

1.5500 (estimate)
storage temp.

2-8°C

solubility

1 M HCl: 50 mg/mL

form

solid

pka

pKa 3.87±0.1(H2O) (Uncertain)
color

white to very faintly yellow

Water Solubility

Soluble in dilute NaOH or dilute HCl. Soluble in water at approximately 4mg/ml at pH 7.6
Merck

14,937
CAS DataBase Reference
NIST Chemistry Reference
EPA Substance Registry System
SAFETY
Risk and Safety Statements
Hazard and Precautionary Statements (GHS)
| | | | |
| --- | --- | --- | --- |
| Hazard Codes | T,Xn | | |
| Risk Statements | 61-25-36/37/38-42/43-20/21/22 | | |
| Safety Statements | 53-22-36/37/39-45-52-36-26 | | |
| RIDADR | UN 2811 6.1/PG 3 | | |
| WGK Germany | 3 | | |
| RTECS | MW5084200 | | |
| HazardClass | 6.1(b) | | |
| PackingGroup | III | | |
| Toxicity | LD50 in male mice, rats (mg/kg): 45, 78 i.v.; 103, 115 s.c.; 200, 145 orally (Tadokoro) | | |
Symbol(GHS):
Signal word:
Danger
Hazard statements:

| Code | Hazard statements | Hazard class | Category | Signal word | Pictogram | P-Codes |
| --- | --- | --- | --- | --- | --- | --- |
| H301 | Toxic if swalloed | Acute toxicity,oral | Category 3 | Danger | | P264, P270, P301+P310, P321, P330,P405, P501 |
| H315 | Causes skin irritation | Skin corrosion/irritation | Category 2 | Warning | | P264, P280, P302+P352, P321,P332+P313, P362 |
| H317 | May cause an allergic skin reaction | Sensitisation, Skin | Category 1 | Warning | | P261, P272, P280, P302+P352,P333+P313, P321, P363, P501 |
| H319 | Causes serious eye irritation | Serious eye damage/eye irritation | Category 2A | Warning | | P264, P280, P305+P351+P338,P337+P313P |
| H334 | May cause allergy or asthma symptoms or breathing difficulties if inhaled | Sensitisation, respiratory | Category 1 | Danger | | P261, P285, P304+P341, P342+P311,P501 |
| H335 | May cause respiratory irritation | Specific target organ toxicity, single exposure;Respiratory tract irritation | Category 3 | Warning | | |
| H360 | May damage fertility or the unborn child | Reproductive toxicity | Category 1A, 1B | Danger | | |

Precautionary statements:

| | |
| --- | --- |
| P201 | Obtain special instructions before use. |
| P261 | Avoid breathing dust/fume/gas/mist/vapours/spray. |
| P264 | Wash hands thoroughly after handling. |
| P264 | Wash skin thouroughly after handling. |
| P270 | Do not eat, drink or smoke when using this product. |
| P272 | Contaminated work clothing should not be allowed out of the workplace. |
| P280 | Wear protective gloves/protective clothing/eye protection/face protection. |
| P284 | Wear respiratory protection. |
| P305+P351+P338 | IF IN EYES: Rinse cautiously with water for several minutes. Remove contact lenses, if present and easy to do. Continuerinsing. |
| P405 | Store locked up. |
| P501 | Dispose of contents/container to..… |
| Manufacturer | Product number | Product description | CAS number | Packaging | Price | Updated | Buy |
| --- | --- | --- | --- | --- | --- | --- | --- |
| Sigma-Aldrich | B5399 | (±)-Baclofen ≥98% (TLC), solid | 1134-47-0 | 5g | $293 | 2018-11-20 | Buy |
| Sigma-Aldrich | 1048200 | Baclofen United States Pharmacopeia (USP) Reference Standard | 1134-47-0 | 350mg | $348 | 2018-11-13 | Buy |
| TCI Chemical | B3343 | Baclofen >98.0%(T) | 1134-47-0 | 5g | $68 | 2018-11-22 | Buy |
| TCI Chemical | B3343 | Baclofen >98.0%(T) | 1134-47-0 | 25g | $234 | 2018-11-22 | Buy |
| Alfa Aesar | J62768 | (±)-Baclofen, 99+% | 1134-47-0 | 1g | $76.3 | 2018-11-13 | Buy |
Baclofen Chemical Properties,Uses,Production
Antispasmodic drugs
Baclofen is a γ-aminobutyric acid derivative. It is an antispasmodics class drugs acting on the central nervous system, the brain and spinal cord as a skeletal muscle relaxants and sedatives. It take antispasmodic effect by stimulating receptors to inhibit the release of excitatory amino acids such as glutamic acid, aspartic acid and thereby inhibiting the transfer of single and multi-synaptic reflex in central nervous system, brain and spinal cord. Clinically it has already been used as racemic agent for treating Muscle spasticity since mid-1960s. Recent studies have also found that this product can significantly reduce the symptoms of gastroesophageal reflux and alleviating related symptoms. It can also alleviate the dystonia of children and treat the urination dysfunction caused by central spinal cord injury. In addition, the intrathecal injection therapy of the product in clinical application can further improve the clinical efficacy, and make it possible to adjust drugs dosage which stabilizes the treatment effect. For the past 10 years, the clinical application of central muscle relaxant baclofen has made significant progress, particularly in accumulating a lot of experiences in the neurological rehabilitation treatment of reducing muscular tension and pain alleviation treatment.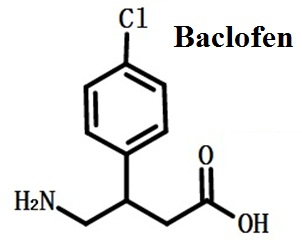 Figure 1 Structure of Baclofen
Mechanisms of action
The content of γ-aminobutyric acid (GABA) is very high in the human central nervous system, brain and spinal cord. Its level is 1000 times higher than monoamine such as catecholamines, to higher norepinephrine, and dopamine. It is presented at the highest inside the substantia nigra and globus pallidus. There are about 20% to 40% of the synapses using GABA as neurotransmitter inside the brain. GABA is the major inhibitory neurotransmitter of the central nervous system, brain and spinal cord. However, it is not able to penetrate the blood-brain barrier. GABA can be converted into baclofen by connecting carbon atom to the p-chlorophenyl. In this case, it changes from hydrophilic substance to lipophilic substances, which can then go through the blood-brain barrier. The main effect of this product are stimulating the GABA receptors, inhibiting the release of excitatory amino acids such as aspartic acid, glutamic acid, also cause the efflux of K +, Ca 2+ , which results in hyper-polarization, reducing the transfer single and multi-synaptic reflex, maintaining the normal function of middle-neuronal activity in order to reduce the activity of motor neurons, thereby alleviating skeletal muscle spasticity caused by damage to the pyramidal tract, reducing muscle tension, and promoting sports functional recovery.
The above information is edited by the Chemicalbook of Dai Xiongfeng.
Production process
Chlorobenzaldehyde and ethyl acetoacetate are condensed into chlorobenzene methylene-bis-ethyl acetoacetate. Heat and hydrolyze to obtain chlorophenyl glutaric acid. Use acetic anhydride for dehydration and cyclization to obtain chlorophenyl glutaric anhydride. And then perform amination reaction by concentrated aqueous ammonia to generate chlorophenyl glutaric acid imide. The open the ring, degrade to obtain the final product.
Pharmacokinetics
After oral administration, concentration in plasma reaches a peak in about 1.9h. There is large fluctuation in plasma concentration with the maximum concentration/minimum concentration × 100%: 188-439%. The total clearance rate is about 175mL.min-1, and the apparent renal clearance crisp is the same as that of muscle. The plasma protein binding rate is 35%. The excretion rate of kidney prototype drug is 65%, which is consistent with healthy results. Because renal excretion is the major route of elimination, patients with renal impairment should pay attention to adjust the dose.
Indications
This product is an antispasmodic drug. It inhibits the transmission in spinal cord of mono-synapse multiple synapse. The mechanism is inhibiting the release of excitatory amino acid glutamate and aspartate through stimulating GABA receptor. Thus reduce the increased limbs muscle tension caused by spinal cord lesions, multiple sclerosis, and spinal cord injury. It can be used for treatment of muscle spasms caused by brain and spinal cord diseases or injuries.
Precautions
1. Among the overdose behavior, the depression of central nervous system is the most prominent. Severe poisoning manifestations include seizures, coma, respiratory depression and muscle hypotonia associated with loss of reflexes of the limbs, and also hypotension and low blood pressure sometimes. Strategies for emergence treatment of acute poisoning include respiratory support, gastric lavage, and diuretic. However, there is no special antidote reported. There are some reports that seizures and myoclonic seizures appeared in some patients appear during the recovery period. Epileptic seizure can be treated by diazepam or clonazepam, although these drugs can cause extension of the duration of unconsciousness. Patients of cardiovascular disease should be carefully observed for 1 week to monitor delayed tachycardia and hypertension.
2. Patients who are allergic to the drug, suffering Parkinson's disease, spasms, and the women who are in the first three months of pregnancy are not allowed for using.
3. Patients of hypertension, peptic ulcer disease, cerebrovascular disease and respiratory, issue liver and kidney dysfunction, who have a history of seizures or convulsions, accompanied by mental disorders, schizophrenia or confusion, pregnant and lactating women, drivers or operator of machine should use with caution.
4. Epileptic patients should be controlled of the attack of epilepsy when applying this drug. Also they should do EEG monitoring.
5. Gradually reduce the dosage before the withdrawal, to prevent rebound phenomenon.
Side effects
The main side effects mainly happen at the beginning of treatment when the dose increases too fast, when overdose happens and for elderly patients. It is mainly mild transient symptoms, Patients with historical mental illness and elderly patients with cerebral vascular disease may suffer from an even more severe adverse reaction. During the beginning of treatment, there are often some side effects such as daytime sedation, drowsiness and nausea.
Dosage and usage
Oral: adult, Initial amount of 5mg per time, tid, then every increase taking this amount every 3d until it reaches the appropriate dose 30~75mg/d. Take this in 3 times. The dose should not exceed 80 mg/d except in special cases. Gradually reduce the dosage before withdrawal; For children, the initial amount should be 0.3mg/(kg.d), and the maintenance dose should be 0.75~2mg/(kg.d). For children under 10 years-old, the maximum dose should be 2.5mg /(kg.d). The recommended daily amount for maintenance therapy: 1 to 2 years-old, 10~20mg, 2~10 years-old: 30~60mg (maximum 70mg), take it with meal or with milk.
Chemical Properties
White powder. Melting point: 206-208 °C. Dissolve using hot water, the aqueous solution was neutral, almost insoluble in alcohol, ether, acetone and other organic solvents, easily soluble in acidic, alkaline aqueous solution. The melting point of Chlorobenzene aminobutyric acid hydrochloride: 179-181 °C.
Uses
1. The product is a relaxant and antispasmodic agent acting on the skeletal muscle of spinal cord. Suitable for treating multiple-sclerosis bones spasms, spinal infection, degenerated muscle spasms; spinal cord trauma, and neoplastic muscle spasms.
2. It is currently the most effective muscle relaxants with least side effects.
Production method
Chlorobenzaldehyde and ethyl acetoacetate is condensed into chlorobenzene methylene-bis-ethyl acetoacetate. Add heating water for hydrolysis to obtain chlorophenyl glutaric acid. Dehydrate and cyclize to obtain chlorophenyl glutaric anhydride using acetic anhydride. Then perform amination reaction with concentrated aqueous ammonia to generate chlorophenyl glutaric acid imide. The open the ring, degrade to obtain the final product. Detailed procedures as follow: Add 42.25g β-(p-chlorophenyl) glutaric acid imide with stir to 200 mL aqueous solution containing 8.32g of sodium hydroxide. The mixture was heated at 50 °C for 10min, cool to 10-15 °C. Titrate for 200 mL aqueous solution of 40.9g of sodium hydroxide. After 20min, add 38.8g bromine, stir at 20-25 °C for 8h. Use concentrated hydrochloric acid to adjust the pH of the reaction solution to 7, and then precipitate out the fine crystals of i.e. [beta] (p-chlorophenyl) amino-gamma-acid. Re-crystallize in water with m.p. 206-208 °C.
Category
toxic substances
Toxicity grading
highly toxic
Acute toxicity
Oral-rat LD50; 145 mg/kg; Oral-Mouse LD50: 200 mg/kg.
Chemical Properties
Off-White Solid
Uses
Specific GABA-B receptor agonist. Muscle relaxant (skeletal)
Definition
ChEBI: A monocarboxylic acid that is butanoic acid substituted by an amino group at position 4 and a 4-chlorophenyl group at position 3. It acts as a central nervous system depressant, GABA agonist and muscle relaxant.
brand name
Kemstro (Schwarz Pharma); Lioresal (Medtronic); Lioresal (Novartis).
Flammability and hazardous characteristics
Combustible, Burning yields toxic chloride fumes and nitrogen oxides; Patients takes with side effects: low blood pressure, pulse rate decreases, muscle weakness.
Storage Characteristics
ventilation, low-temperature and dry; and Separate from food raw materials for storage.
Extinguishing agent
Dry powder, foam, sand, carbon dioxide, water spray.
General Description
Odorless or practically odorless white to off-white crystalline powder.
Air & Water Reactions
Insoluble in water.
Reactivity Profile
Baclofen is an amine. Amines are chemical bases. They neutralize acids to form salts plus water. These acid-base reactions are exothermic. The amount of heat that is evolved per mole of amine in a neutralization is largely independent of the strength of the amine as a base. Amines may be incompatible with isocyanates, halogenated organics, peroxides, phenols (acidic), epoxides, anhydrides, and acid halides. Flammable gaseous hydrogen is generated by amines in combination with strong reducing agents, such as hydrides.
Health Hazard
SYMPTOMS: Symptoms of exposure to Baclofen via ingestion may include drowsiness, insomnia, dizziness, weakness, mental confusion, nausea, constipation, anorexia, urinary retention, impotence, nystagmus, diplopia and incoordination. Ingestion may lead to cholinergic effects and lassitude. It may also lead to ataxia. Other symptoms due to ingestion may include impaired renal function, fatigue, headache, hypotension, urinary frequency, rash, pruritis, ankle edema, excessive perspiration, weight gain, nasal congestion, and rarely, euphoria, excitement, depression, hallucinations, paresthesia, muscle pain, tinnitus, slurred speech, tremor, rigidity, dystonia, blurred vision, strabismus, miosis, mydriasis, dysarthia, epileptic seizure, dyspnea, palpitation, chest pain, syncope, dryness of the mouth, taste disorder, abdominal pain, vomiting, diarrhea, blood in the stools, enuresis, dysuria, inability to ejaculate, nocturia and hematuria. Overexposure through ingestion may result in seizures, and coma with respiratory depression. Aspiration pneumonia is a frequent complication of coma with respiratory depression. Other symptoms due to overdosage may include vomiting, muscular hypotonia, drowsiness, and accommodation disorders. Cyanosis has been reported. Chronic ingestion may result in drowsiness, depression, weakness, anxiety, ataxia, headaches, blurred vision, gastric upset and pruritic skin rashes characterized by urticaria or erythematous macular eruptions. Sudden withdrawal after chronic ingestion may cause auditory and visual hallucinations, anxiety and tachycardia. Seizures may also occur after sudden withdrawal. Abuse may lead to drug dependence.
Fire Hazard
Flash point data for Baclofen are not available. Baclofen is probably combustible.
Biological Activity
Selective GABA B receptor agonist. Skeletal muscle relaxant.
Baclofen Preparation Products And Raw materials
Raw materials
Preparation Products
---
Baclofen Suppliers
Global( 247)Suppliers
---
View Lastest Price from Baclofen manufacturers
Image
Release date
Product
Price
Min. Order
Purity
Supply Ability
Manufacturer
2018-11-06
Baclofen
1134-47-0
US $224.00-220.00 / KG
10G
99.7%+
600kg/month
Hebei Huanhao Biotechnology Co., Ltd.
2018-11-21
Baclofen CAS NO.1134-47-0
1134-47-0
US $1.00 / G
100G
99.9%
50000 tons
Hebei Ruishun Trade Co.,Ltd
1134-47-0(Baclofen)Related Search:
---
4-Amino-3-(p-chlorophenyl)butyric acid
Benzenepropanoic acid, β-(aminomethyl)-4-chloro-
CIBA Ba 34647
DL-4-Amino-3-p-chlorophenylbutanoic acid
DL-Baclofen
Hydrocinnamic acid, β-(aminomethyl)-p-chloro- (7CI, 8CI)
β-(4-Chlorophenyl)-γ-aminobutyric acid
β-p-Chlorophenyl-GABA
Baclofen(R)
Baclofen13C2
-(4-Chlorophenyl)-GABA
-(Aminomethyl)-4-chloro-benzenepropanoic Acid
(±)-β-(Aminomethyl)-4-chlorobenzenepropanoic acid, Lioresal
g-Amino-b-(p-chlorophenyl)butyric acid
β-(Aminomethyl)-4-chlorohydrocinnamic acid
(±)-Baclofen,(±)-β-(Aminomethyl)-4-chlorobenzenepropanoic acid, Lioresal
Baclofen (350 mg)
Baclofen (500 mg)
4-AMino-3-(4-chlorophenyl)butyric Acid, Baclofen
Baclofen beta-(Aminomethyl)-4-chlorobenzenepropanoic acid
beta-(aminomethyl)-p-chloro-hydrocinnamicaci
beta-(aminomethyl)-p-chlorohydrocinnamicacid
beta-(p-chlorophenyl)-gamma-aminobutyricacid
c34647ba
ciba34,647-ba
gamma-amino-beta-(p-chlorophenyl)butyricacid
Clofen
Lioresa
Benzenepropanoic acid, .beta.-(aminomethyl)-4-chloro-
BACLOFEN,USP
Hydrocinnamic acid, b-(aminomethyl)-p-chloro.
Spinax
Baclofen CAS NO.1134-47-0
-(Aminomethyl)-4-chlorobenzenpropanoicacid
-(p-Chlorophenyl)-aminobutyricacid
ba34647
baclon
beta-(4-chlorophenyl)gaba
beta-(aminomethyl)-4-chloro-benzenepropanoicaci
4-AMINO-3-[4-CHLOROPHENYL]BUTANOIC ACID
4-AMINO-3(4-CHLOROPHENYL)BUTYRIC ACID
(+/-)-BACLOFEN
BACLOFEN
AURORA KA-6748
(+/-)-BETA-(AMINOMETHYL)-4-CHLOROBENZENEPROPANOIC ACID
(+/-)-BETA-(AMINOETHYL)-4-CHLOROBENZENEPROPANOIC ACID
LIORESAL
(RS)-4-AMINO-3-(4-CHLOROPHENYL)BUTANOIC ACID
(RS)-BACLOFEN
(+/-)-beta(Aminomethyl)-4-chlorobenzenepropanoic acid, Lioresal
Atrofen
beta-(4-chlorophenyl)-gamma-aminobutyric acid
Beta-(4-Chlorophenyl)-Gaba,Usp
(3RS)-4-AMINO-3-(P-CHLOROPHENYL)BUTANOIC ACID
(+/-)-BACLOFEN, PHARMA
4-Amino-3-[Chlorophenyl] butanoic acid
β-[Aminomethyl]-p-chlorohydrocinnamic acid
(+/-)-Baclofen(USPgrade)