Garcinia cambogia extract
CAS No.

Chemical Name:

Garcinia cambogia extract

Synonyms

HCA;BRINDALL BERRY;GARCINIA INDICA;GARCINIA EXTRACT;GARCINIA CAMBOGIA;BRINDLEBERRY EXTRACT;Rattan fruit extract;Garcinia cambogia P.E.;Garcinia cambogia, ext.;garcinia cambogia fruit

CBNumber:

CB0487630

Molecular Formula:

Formula Weight:

0

MOL File:
Garcinia cambogia extract Properties
CAS DataBase Reference
EWG's Food Scores
Garcinia cambogia extract Chemical Properties,Uses,Production
Description
Garcinia Cambogia extract is also known as the Malabar Tamarind and has been used as a traditional remedy in Asian countries for many years to treat a number of conditions ranging from arthritis to infections.
Garcinia Cambogia extract is a revolutionary diet supplement that is storming the health marketplace. It is natural, easy to find, and it has a proven track record of effectively assisting with weight loss.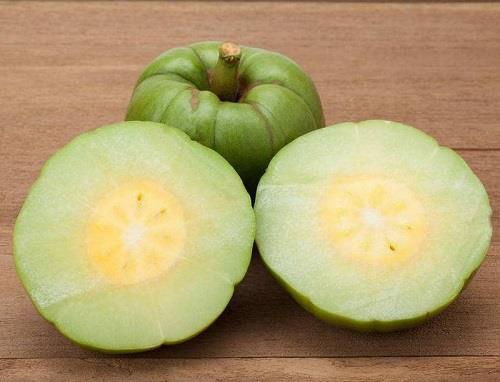 Hydroxycitric acid (HCA) is a key component of Garcinia Cambogia and is thought to be responsible for many of its proposed beneficial effects such as promotion of weight loss. The Garcinia Cambogia fruit contains up to 30% HCA. The Garcinia Cambogia Extract supplements are thought to contain up to 60% HCA (some reported as low as 20%) and are a combination of many active ingredients rather than Garcinia Cambogia alone. The quality control of the supplements is felt to be a significant concern. HCA can be taken from the fruit and isolated or it can be synthesized from citric acid or derived from other sources. In addition chemicals known as xanthones, benzophenones and organic and amino acids have been isolated from the Garcinia Cambogia plant.
Uses
Garcinia cambogia extract is used to block fat production and suppress appetite.
Garcinia cambogia is an extract obtained from the dried fruit of the Garcinia cambogia (GC) tree, a native plant species of South India and South Asia.The fruit looks like a small green pumpkin, and is used extensively in Asian-style cooking for its sour flavor.
Garcinia cambogia is most often used for weight loss. If you have trouble with portion control, an HCA supplement may help you manage calorie intake by curbing your appetite. In both rats and humans, garcinia cambogia supplement use results in reduced food consumption. Though the mechanism is unknown, the appetite-suppressing effect is believed to be due to an increase in serotonin levels. Beyond appetite suppression, the tropical fruit may even limit your body's ability to produce fat. HCA has been shown to lower the amount of fat in your blood and inhibit the creation of fatty acids, resulting in reduced stress on your body. Garcinia cambogia may also help to prevent fat build up in common problem areas, as one study of overweight individuals found that HCA supplements reduce belly fat accumulation.
Side effects
Cases of liver damage associated with the use of garcinia cambogia products have been reported. This problem appears to be uncommon, but some cases were severe. Most of the reported cases involved products labeled as containing a combination of ingredients, but some involved products labeled as containing only garcinia cambogia.
Other side effects associated with garcinia cambogia include headache and nausea, diarrhea, and other gastrointestinal symptoms.
Little is known about whether it's safe to use garcinia cambogia during pregnancy or while breastfeeding.
Mode of action
The skin, or rind of Garcinia cambogia fruit contains large amounts of hydroxycitric acid (HCA). HCA is a derivative of citric acid, and is marketed as a weight loss supplement, either alone or in combination with other supplements.
How HCA works to promote weight loss is not precisely known, but several theories exist. Some experts believe it works by inhibiting an enzyme called citrate lyase, interfering with the conversion of unused carbohydrates into fat. Although HCA does have this effect on carbohydrates in a laboratory petri dish, it is unproven whether it does this once inside the body.
Other experts suggest HCA affects other enzymes involved in carbohydrate metabolism, such as pancreatic alpha amylase and intestinal alpha glucosidase. A few postulate that it increases the release or availability of serotonin in the brain, promoting appetite suppression.Nobody knows for sure just how HCA works… or if it really does work.
Garcinia cambogia extract Preparation Products And Raw materials
Raw materials
Preparation Products
---
---
Related articles
Garcinia cambogia extract is an extract obtained from the dried fruit of the Garcinia cambogia (GC) tree, a native plant speci....

Dec 13,2021
---
View Lastest Price from Garcinia cambogia extract manufacturers
Image
Release date
Product
Price
Min. Order
Purity
Supply Ability
Manufacturer
2021-12-01
Garcinia cambogia extract
90045-23-1
US $11.00 / Kg/Bag
1g
99%
10000kg
Hebei Crovell Biotech Co Ltd
2021-10-12
Garcinia cambogia extract
90045-23-1
US $10.00 / KG
1KG
99%
5tons
Hebei Guanlang Biotechnology Co., Ltd.
2021-07-02
Garcinia cambogia extract
90045-23-1
US $15.00-10.00 / KG
1KG
99%+ HPLC
Monthly supply of 1 ton
Zhuozhou Wenxi import and Export Co., Ltd
90045-23-1(Garcinia cambogia extract)Related Search:
Ethyl isocyanoacetate
Aluminum acetylacetonate
DICHLORO(ETHYLENEDIAMINE)PLATINUM(II)
Ferric acetylacetonate
METHYL ISOCYANOACETATE
Tosylmethyl isocyanide
COBALT ETHYLENE DIAMINE CHLORIDE
Cupric acetylacetonate
N-BUTYLISOCYANIDE
TRIS(2,2,6,6-TETRAMETHYL-3,5-HEPTANEDIONATO)EUROPIUM(III)
2,4-PENTANEDIONE, SILVER DERIVATIVE
TRIS(2,2,6,6-TETRAMETHYL-3,5-HEPTANEDIONATO)DYSPROSIUM(III)
TERT-BUTYL ISOCYANIDE
Garcinia cambogia extract
GARCINIA
ISATIDS
Grape Seed Extract
Garcinia Cambogia Extract 50% HCA Calcium salts
---
Rattan yellow fruit extract
Garcinia cambogia extract (Weight Loss Garcinia Cambogia Extract with Hydroxycitric Acid)
Rattan fruit extract
HCA
GARCINIA CAMBOGIA
GARCINIA CAMBOGIA EXTRACT
GARCINIA EXTRACT
GARCINIA INDICA
BRINDALL BERRY
BRINDLEBERRY EXTRACT
GARCINIACAMBOGIAEXTRACT,POWDER
Garcinia cambogia, ext.
GARCINIA CAMBOGIA FRUIT EXTRACT
Garcinia cambogia P.E.
Powdered Garcinia Hydroxycitrate Extract (500 mg)
Garcinia Camnogia Extract (HCA)
Garcinia grossedentata extract
garcinia cambogia fruit
90045-23-1
90054-23-1
Plant extract
Reduce Weight