Cefoperazone
CAS No.

Chemical Name:

Cefoperazone

Synonyms

Cefob;l~rdum;Medocef;CEFOPERAZONE;cefoperazine;Cephaperazon;Cefoperazoner;Perocef:Tomabef;Cefobis:Cefogram;CEFOPERAZONE ACID

CBNumber:

CB4752040

Molecular Formula:

C25H27N9O8S2

Formula Weight:

645.67

MOL File:
Cefoperazone Properties
Melting point:

169-171 C
Density

1.77±0.1 g/cm3(Predicted)
storage temp.

Sealed in dry,2-8°C
pka

pKa 2.6 (Uncertain)
Merck

14,1930
CAS DataBase Reference
FDA UNII
SAFETY
Risk and Safety Statements
Cefoperazone Chemical Properties,Uses,Production
Description
Cefoperazone has a C-7 side chain reminiscent of piperacillin's and also possesses the C-3 side chain (MTT ) that often is associated with the bleeding and alcohol intolerance problems among patients taking cephalosporins. Its useful activity against pseudomonads partly compensates for this, although it is not potent enough to be used as a single agent against this difficult pathogen. The C-7 side chain does not convey sufficient resistance to many β-lactamases, although the addition of clavulanic acid or sulbactam would presumably help.
Chemical Properties
white crystals
Originator
Cefobid,Pfizer,W. Germany,1981
Uses
Antibacterial.
Uses
Cefoperazone also has a broad spectrum of antimicrobial action, including most clinically significant microorganisms: Gram-positive, Gram-negative, aerobic, and anaerobic. It is stable with respect to most beta-lactamases of Gram-positive and Gram-negative bacteria.
Cefoperazone is used for bacterial infections of the lower respiratory tract, urinary and sexual tracts, bones, joints, skin, soft tissues, abdominal, and gynecological infections. Synonyms of this drug are cefazon, cefobid, cefobis, and many others.
Definition
ChEBI: A semi-synthetic parenteral cephalosporin with a tetrazolyl moiety that confers beta-lactamase resistance.
Manufacturing Process
To a suspension of 3.0 g of 7-[D-(-)-α-amino-p-hydroxyphenylacetamido]-3- [5-(1-methyl-1,2,3,4-tetrazolyl)thiomethyl]-?3-cephem-4-carboxylic acid in 29 ml of water was added 0.95 g of anhydrous potassium carbonate. After the solution was formed, 15 ml of ethyl acetate was added to the solution, and 1.35 g of 4-ethyl-2,3-dioxo-1-piperazinocarbonyl chloride was added to the resulting solution at 0°C to 5°C over a period of 15 minutes, and then the mixture was reacted at 0°C to 5°C for 30 minutes. After the reaction, an aqueous layer was separated off, 40 ml of ethyl acetate and 10 ml of acetone were added to the aqueous layer, and then the resulting solution was adjusted to a pH of 2.0 by addition of dilute hydrochloric acid. Thereafter, an organic layer was separated off, the organic layer was washed two times with 10 ml of water, dried over anhydrous magnesium sulfate, and the solvent was removed by distillation under reduced pressure. The residue was dissolved in 10 ml of acetone, and 60 ml of 2-propanol was added to the solution to deposit crystals. The deposited crystals were collected by filtration, washed with 2- propanol, and then dried to obtain 3.27 g of 7-[D-(-)-α-(4-ethyl-2,3-dioxo)-1- piperazinocarbonylamino)-p-hydroxyphenylacetamido]-3-[5-(1-methyl- 1,2,3,4-tetrazolyl)thiomethyl]-?3-cephem-4-carboxylicacid, yield 80.7%. The product forms crystals, MP 188°C to 190°C (with decomposition).
brand name
Cefobid (Pfizer).
Therapeutic Function
Antibiotic
Antimicrobial activity
A semisynthetic parenteral cephalosporin. It is unstable, losing activity on storage even at –20°C. A formulation with sulbactam is available in some countries.
It exhibits moderate activity against carbenicillin-sensitive strains of Ps. aeruginosa. Activity against Burk. cepacia and Sten. maltophilia is unreliable. It is much less stable to enterobacterial β-lactamases than most other cephalosporins of groups 4–6 and consequently has unreliable activity against many species, including β-lactamase-producing strains of H. influenzae and N. gonorrhoeae. It is active against Achromobacter, Flavobacterium, Aeromonas and associated non-fermenters. Past. multocida is extremely susceptible (MIC <0.01–0.02 mg/L). It exhibits modest activity against most Gram-negative anaerobes, but not B. fragilis. Sulbactam increases activity against many, but not all, enterobacteria and non-fermenters, and almost all B. fragilis.
A 2 g intravenous infusion achieves a peak plasma concentration of 250 mg/L. The plasma half-life is 1.5–2 h. Over 85% is bound to plasma proteins. It achieves therapeutic concentrations in tissue and inflammatory exudates. Variable low levels are found in the sputum up to 1.5% of simultaneous serum levels. Penetration into CSF is unreliable even in the presence of meningeal inflammation.
The bile is a major route of excretion, accounting for almost 20% of the dose. About 20–30% is eliminated in urine, almost entirely by glomerular filtration. Clearance is effectively unchanged by renal failure or dialysis.
Side effects associated with the methylthiotetrazole side chain have been reported. Diarrhea has been notable in some studies. Marked suppression of fecal flora, with the appearance of C. difficile, has occasionally been found. There is a 5–10% incidence of mild transient increases in liver function tests. Its potential toxicity and the availability of compounds with better β-lactamase stability and more reliable antipseudomonal activity have undermined its popularity.
Chemical Synthesis
Cefoperazone, (6R,7R)-7-[(R)-2-(4-ethyl-2,3-dioxo-1-piperazincarboxamido)-2-(p-hydroxyphenyl)acetamido]-3-[[(1-methyl-1H-tetrazol-5-yl)thio]methyl]-8-oxo- 5-thia-1-azabicyclo[4.2.0]oct-2-en-2-carboxylic acid (32.1.2.84), is synthesized by acylating 7-amino-3-(1-methyl-1,2,3,4-tetrazol-5-yl)-thiomethyl-3-cefem-4-carboxylic acid (32.1.2.24) with a mixed anhydride synthesized from ethyl chloroformate and α-(4-ethylpiperazin-2, 3-dion-1-carbonylamino)-4-hydroxyphenylacetic acid (32.1.2.83), which in turn is synthesized from 4-ethylpiperazin-2,3-dion-1-carboxylic acid (32.1.1.29) and the sodium salt of 4-hydroxyphenylglycine.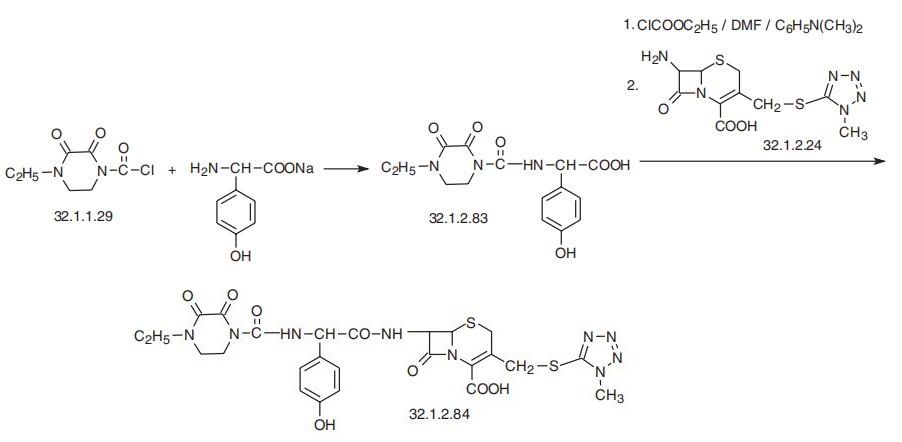 Cefoperazone Preparation Products And Raw materials
Raw materials
Preparation Products
---
---
View Lastest Price from Cefoperazone manufacturers
Image
Release date
Product
Price
Min. Order
Purity
Supply Ability
Manufacturer
2021-07-02
cefoperazone sulbactam
62893-19-0
US $15.00-10.00 / KG
1KG
99%+ HPLC
Monthly supply of 1 ton
Zhuozhou Wenxi import and Export Co., Ltd
2021-07-01
Cefoperazone USP/EP/BP
62893-19-0
US $1.10 / g
1g
99.9%
100 Tons Min
Dideu Industries Group Limited
2021-04-24
Cefoperazone
62893-19-0
US $10.00 / Kg/Bag
1KG
99%
100 mt
Hebei Guanlang Biotechnology Co., Ltd.
62893-19-0(Cefoperazone)Related Search:
---
(6R,7R)-7-{[(2S)-2-{[(4-ETHYL-2,3-DIOXO-1-PIPERAZINYL)CARBONYL]AMINO}-2-(4-HYDROXYPHENYL)ACETYL]AMINO}-3-{[(1-METHYL-1H-TETRAZOL-5-YL)SULFANYL]METHYL}-8-OXO-5-THIA-1-AZABICYCLO[4.2.0]OCT-2-ENE-2-CARBO XYLIC ACID
CEFOPERAZONE
CEFOPERAZONE ACID
5-Thia-1-azabicyclo[4.2.0]oct-2-ene-2-carboxylicacid,7-[[(2R)-2-[[(4-ethyl-2,3-dioxo-1-piperazinyl)carbonyl]aMino]-2-(4-hydroxyphenyl)acetyl]aMino]-3-[[(1-Methyl-1H-tetrazol-5-yl)thio]Methyl]-8-oxo-,(6R,7R)-
(6R,7R)-7-[[(2R)-2-[[(4-ethyl-2,3-dioxo-1-piperazinyl)carbonyl]amino]-2-(4-hydroxyphenyl)acetyl]amino]-3-[[(1-methyl-1H-tetrazol-5-yl)thio]methyl]-8-oxo-5-thia-1-azabicyclo[4.2.0]oct-2-ene-2-carboxylic acid
Cefoperazone (Cefobid)
(6r-(6-alpha,7-beta(r*)))--tetrazol-5-yl)thio)methyl)-8-oxo
-1-piperazinyl)carbonyl)amino)(4-hydroxyphenyl)acetyl)amino)-3-(((1-methyl-1h
cefoperazine
Cefobis:Cefogram
l~rdum
Perocef:Tomabef
Cefoperazone Dihydrate (200 mg)
5-Thia-1-azabicyclo[4.2.0]oct-2-ene-2-carboxylic acid, 7-[[(2R)-[[(4-ethyl-2,3-dioxo-1-piperazinyl)carbonyl]amino](4-hydroxyphenyl)acetyl]amino]-3-[[(1-methyl-1H-tetrazol-5-yl)thio]methyl]-8-oxo-, (6R,7R)-
5-Thia-1-azabicyclo[4.2.0]oct-2-ene-2-carboxylic acid, 7-[[[[(4-ethyl-2,3-dioxo-1-piperazinyl)carbonyl]amino](4-hydroxyphenyl)acetyl]amino]-3-[[(1-methyl-1H-tetrazol-5-yl)thio]methyl]-8-oxo-, [6R-[6α,7β(R*)]]-
Cefob
Cephaperazon
Medocef
Cefoperazone (base and/or unspecified salts)
Cefoperazone SodiuM IMp. B
Cefoperazone free acid
[6R-[6alpha,7beta(R*)]]-7-[[[[(4-Ethyl-2,3-dioxo-1- piperazinyl)carbonyl]amino](4-hydroxyphenyl)acetyl]amino]-3-[[(1-methyl-1H-tetrazol-5-yl)thio]methyl]-8-oxo-5-thia-1-azabicyclo[4.2.0]oct-2-ene-2-carboxylic acid
(6S,7S)-7-[[2-[[(4-ethyl-2,3-dioxo-1-piperazinyl)-oxomethyl]amino]-2-(4-hydroxyphenyl)-1-oxoethyl]amino]-3-[[(1-methyl-5-tetrazolyl)thio]methyl]-8-oxo-5-thia-1-azabicyclo[4.2.0]oct-2-ene-2-carboxylic
Cefoperazone dihydrate CRS
Cefoperazone fandachem
(6R,7R)-7-((R)-2-(4-ethyl-2,3-dioxopiperazine-1-carboxamido)-2-(4-hydroxyphenyl)acetamido)-3-(((1-methyl-1H-tetrazol-5-yl)thio)methyl)-8-oxo-5-thia-1-azabicyclo[4.2.0]oct-2-ene-2-carboxylic acid
Cefoperazone USP/EP/BP
Cefoperazoner
Cefoperazone acid, Pharma
62893-19-0
C25H27N9O8S2
Inhibitors
Pharmaceutical