Clarithromycin
CAS No.
Chemical Name:

Clarithromycin
Synonyms

Clarithromycin Powder;te-03;BIAXIN;Clarithro;Clarithromycin-13C-D3;Naxy;Kladd;Fascar;Claris;Veclam
CBNumber:

CB2225614
Molecular Formula:

C38H69NO13
Molecular Weight:

747.95
MDL Number:

MFCD00865140
MOL File:
Last updated:
2023-09-07 16:59:03
| | |
| --- | --- |
| Melting point | 217-220°C |
| Boiling point | 86℃ |
| alpha | D24 -90.4° (c = 1 in CHCl3) |
| Density | 1.1334 (rough estimate) |
| refractive index | -92 ° (C=1, CHCl3) |
| Flash point | >110°(230°F) |
| storage temp. | -20°C |
| solubility | Soluble in DMSO |
| pka | pKa 8.99(H2O t=25.0 I=0.167) (Uncertain) |
| form | powder |
| color | colorless to faint yellow |
| Water Solubility | 99.48mg/L(20 ºC) |
| Merck | 14,2339 |
| BCS Class | 4 |
| Stability | Store in Freezer |
| InChIKey | AGOYDEPGAOXOCK-KCBOHYOISA-N |
| EWG's Food Scores | 1 |
| NCI Dictionary of Cancer Terms | clarithromycin |
| FDA UNII | H1250JIK0A |
| NCI Drug Dictionary | Biaxin |
| ATC code | J01FA09 |
| Proposition 65 List | Clarithromycin |
| EPA Substance Registry System | Erythromycin, 6-O-methyl- (81103-11-9) |
SAFETY
Risk and Safety Statements
| | |
| --- | --- |
| Symbol(GHS) | GHS07 |
| Signal word | Warning |
| Hazard statements | H302 |
| Precautionary statements | P264-P270-P301+P312-P501 |
| Hazard Codes | Xn,Xi |
| Risk Statements | 22-36/37/38 |
| Safety Statements | 26-36-60 |
| WGK Germany | 3 |
| RTECS | KF4997000 |
| HS Code | 29419000 |
| Toxicity | LD50 in male, female mice, male, female rats (mg/kg): 2740, 2700, 3470, 2700 orally, 1030, 850, 669, 753 i.p., >5000 all s.c. (Abe) |
| NFPA 704 | |
| Manufacturer | Product number | Product description | CAS number | Packaging | Price | Updated | Buy |
| --- | --- | --- | --- | --- | --- | --- | --- |
| Sigma-Aldrich | 1134390 | Clarithromycin Identity United States Pharmacopeia (USP) Reference Standard | 81103-11-9 | 10mg | $1270 | 2022-05-15 | Buy |
| Sigma-Aldrich | 1134379 | Clarithromycin United States Pharmacopeia (USP) Reference Standard | 81103-11-9 | 100mg | $400 | 2022-05-15 | Buy |
| TCI Chemical | C2220 | Clarithromycin >98.0%(T) | 81103-11-9 | 1g | $82 | 2023-06-20 | Buy |
| TCI Chemical | C2220 | Clarithromycin >98.0%(T) | 81103-11-9 | 5g | $221 | 2023-06-20 | Buy |
| Alfa Aesar | J66005 | Clarithromycin, 960-1040 μg/mg | 81103-11-9 | 1g | $96.7 | 2023-06-20 | Buy |
Clarithromycin Chemical Properties,Uses,Production
Description
Clarithromycin is an acid stable macrolide antibiotic indicated for use in the treatment of skin, urinary and respiratory tract infections. Compared to erythromycin, clarithromycin exhibits the same in vitro activity against conventional pathogens, but is better tolerated by generating less gastrointestinal problems.
Description
Clarithromycin is a polyketide synthase-derived semisynthetic macrolide antibiotic. It is active against methicillin-susceptible, but not methicillin-resistant, S. aureus (MIC50s = 0.06 and >128 μg/ml), S. pyogenes, L. monocytogenes, and B. pertussis (MIC50 = 0.015, 0.25, and ≤0.008 μg/ml, respectively), among others. Clarithromycin (25 mg/kg) decreases the number of colony-forming units (CFUs) in the spleen in a mouse model of M. avium infection. Formulations containing clarithromycin have been used in the treatment of bacterial infections and, when used in combination with other antibiotics, in the treatment of H. pylori.
Chemical Properties
Colourless Crystalline Needles
Originator
Taisho (Japan)
Uses
A macrolide antibiotic and protein synthesis inhibitor
Uses
Macrolide antibacterial.
Uses
Labeled Clarithromycin, intended for use as an internal standard for the quantification of Clarithromycin by GC- or LC-mass spectrometry.
Uses
Clarithromycin is a semi-synthetic macrolide antibiotic. Clarithromycin is a derivative of Erythromycin (E650000).
Uses
A semi-synthetic macrolide antibiotic. A derivative of erythromycin
Uses
Clarithromycin (6-methoxyerythromycin) is a macrolide antibiotic active against a broad range of Gram positive bacteria. Clarithromycin was designed to enhance acid stability and improve oral bioavailability compared with erythromycin which is highly unstable to acidic conditions, undergoing a series of internal ketalisations between the 9-keto moiety and alcohols at C6 and C11. Omura and colleagues found that protection of the labile 6-OH group by methylation provided a simple but elegant solution.
Definition
ChEBI: The 6-O-methyl ether of erythromycin A, clarithromycin is a macrolide antibiotic used in the treatment of respiratory-tract, skin and soft-tissue infections. It is also used to eradicate Helicobacter pylori in the treatment f peptic ulcer disease. It prevents bacteria from growing by interfering with their protein synthesis.
Manufacturing Process
In a mixture of 50 ml of dry dimethylsulfoxide and 100 ml of dry tetrahydrofuran were dissolved 30 g of O,N-dibenzyloxycarbonyl-des-Nmethylerythromycin A and 18 ml of methyl iodide. The solution was stirred
under cooling at -12-10°C in a nitrogen stream and 2.4 g of 55-65% sodium hydride oily dispersion were added thereto in small portions. The mixture was stirred for a further one hour. After completion of the reaction, 50 ml of triethylamine were poured into the reaction mixture with stirring under icecooling, and the precipitates were filtered off. The obtained solid product was washed thoroughly with ethyl acetate, and the washings and the mother liquor were combined. The combined liquor was washed with a saturated aqueous sodium chloride solution and dried over anhydrous magnesium sulfate. The solvent was evaporated in vacuo and the crude product was applied onto a silica gel dry column (E. Merck Darmstadt; silica gel 60 for column chromatography, 70-230 mesh). The mixture was eluted with of ethyl acetate/n-hexane (1:1).
15 ml each of fraction was collected and analyzed by silica gel thin layer chromatography, developing in a mixture of ethyl acetate and n-hexane (1:1). The fractions having Rf value 0.16 were combined (c.f., Rf value of starting compound 0.07) and the solvent was evaporated in vacuo, affording 12.2 g of
a colorless froth. In a mixture of 1.32 g of sodium acetate, 0.8 ml of sodium acetate, 40 ml of water and 200 ml of ethanol were dissolved 10 g of the colorless froth obtained, and 1.0 g of palladium black was added to the above solution. Catalytic reduction was performed for 5 hours at room temperature under atmospheric pressure in a gentle hydrogen stream. 32 ml of 37% aqueous formaldehyde solution were poured into the reaction mixture and the catalytic reduction was continued for a further 7 hours. After completion of the reaction, the catalyst was filtered off and the filtrate was concentrated under reduced pressure approximately to a quarter volume. To the concentrate were added 100 ml of water, and the mixture was adjusted to about pH 10 with an aqueous sodium carbonate solution. The mixture was extracted thoroughly with chloroform and the extract was washed with water and dried. After evaporation of the solvent in vacuo, the residue was recrystallized from a mixture of chloroform and diethyl ether, giving 6 g of crystals. The crystals were stirred for 5 hours in 500 ml of diethyl ether and filtered off. The filtrate was concentrated to dryness and the residual substance was recrystallized from a mixture of chloroform and diethyl ether, giving 4.5 g of 6-O-methylerythromycin A (Clarithromycin) in the form of colorless needles; m.p. 217-220°C (with decomposition).
brand name
Biaxin (Abbott);Klacid.
Therapeutic Function
Antibiotic
Antimicrobial activity
Activity against susceptible common pathogens is two to four times greater than that of erythromycin A . Most respiratory pathogens, with the exception of H. influenzae, are inhibited at a concentration of ≤0.25 mg/L. It inhibits Mycoplasma pneumoniae at 0.004 mg/L and Mor. catarrhalis at 0.06 mg/L. It is eight times more active than erythromycin A against Legionella spp., C. trachomatis and Ch. pneumoniae. Against anaerobic species, activity is similar to that of erythromycin A. Against H. influenzae the 14-hydroxy metabolite is twice as active as the parent compound.
General Description
Some of the microbiological properties of clarithromycin appear to be superior to those of erythromycin. It exhibitsgreater potency against M. pneumoniae, Legionellaspp., Chlamydia pneumoniae, H. influenzae, and M. catarrhalisthan does erythromycin. Clarithromycin also hasactivity against unusual pathogens such as Borrelia burgdorferi(the cause of Lyme disease) and the Mycobacteriumavium complex (MAC). Clarithromycin is significantly moreactive than erythromycin against group A streptococci, S.pneumoniae, and the viridans group of streptococci in vivobecause of its superior oral bioavailability. Clarithromycin is,however, more expensive than erythromycin, which must beweighed against its potentially greater effectiveness.
Adverse reactions to clarithromycin are rare. The mostcommon complaints relate to GI symptoms, but these seldomrequire discontinuance of therapy. Clarithromycin,like erythromycin, inhibits cytochrome P450 oxidases and,thus, can potentiate the actions of drugs metabolized bythese enzymes.
Clarithromycin occurs as a white crystalline solid that ispractically insoluble in water, sparingly soluble in alcohol,and freely soluble in acetone. It is provided as 250- and 500-mg oral tablets and as granules for the preparation of aqueousoral suspensions containing 25 or 50 mg/mL.
Hazard
Moderately toxic by ingestion. Human sys-temic effects.
Pharmaceutical Applications
A semisynthetic erythromycin A derivative (6-O- methyl erythromycin A) formulated for oral and intravenous use.
Biochem/physiol Actions
Macrolides, such as clarithromycin, prevent protein synthesis in bacteria, by binding to 50S ribosomal subunit. It also binds to other ribosomal proteins, and prevents the translocation of pepti-dyl-tRNA. In patients with refractory asthma, it is capable of regulating the levels of interleukin-8 (IL-8), and neutrophil accumulation and activation in lungs. Thus, it might be used as an additional therapy in asthma to reduce noneosinophilic airway inflammation.
Pharmacokinetics
Oral absorption: 55%
Cmax 50 mg oral: 0.75 mg/L after 1.7 h
500 mg oral: 1.65 mg/L after 2 h
Terminal half-life: 2.7–3.5 h
Volume of distribution :250 L
Plasma protein binding 80%
absorption and distribution
It is more stable to gastric acid than erythromycin, but internal ketalization between the 9-keto group and the C-12 hydroxyl group has been described resulting in an inactive product: pseudo clarithromycin. It is rapidly absorbed orally and absorption is not affected by food. Concentrations in tonsil and lung tissues exceed the simultaneous plasma level by a factor of two and four, respectively.
Metabolism and excretion
The primary metabolic pathway is N-demethylation of the d-desosamine and stereospecific hydroxylation at the 14- position of the erythronolide A ring. Metabolism to the 14-hydroxy derivative is saturable above 800 mg. Around 20&ndash:40% of the administered dose is eliminated in urine. The apparent elimination half-life of the 14-hydroxy metabolite is around 7 h. The parent compound and its principal metabolite are retained in renal impairment, resulting in long apparent elimination half-lives, exceeding 30 and 45 h, respectively, in patients whose creatinine clearance is less than 30 mL/min.
Clinical Use
Antibacterial agent:
Also adjunct in treatment of duodenal ulcers by eradication of H pylori
Side effects
Clarithromycin is well tolerated, producing little gastrointestinal disturbance and only transient changes in some liver function tests.
Synthesis
Clarithromycin, (2R,3S,4S, 5R,6R,8R,10R,11R,12S,13R)-3-(2,6-dideoxy- 3-C-3-O-dimethyl-α-L-ribo-hexopyranosyloxy)-6-methoxy-9-oxo-11,12-dihydroxy- 2,4,6,8,10,12-hexamethyl-5-(3,4,6-trideoxy-3-dimethylamino-β-D-xylo-hexopyranosyloxy) cyclopentadecan-13-olide (32.2.2), is a semisynthetic analog of erythromycin A, in which the hydroxyl group at C6 is replaced with a methoxyl group.
Veterinary Drugs and Treatments
In small animal medicine, clarithromycin is primarily of interest in treating atypical mycobacterial infections or treatment of Helicobacter spp. infections in cats and ferrets. In equine medicine, clarithromycin may be useful in treating Rhodococcus equi infections in foals.
Drug interactions
Potentially hazardous interactions with other drugs
Anti-arrhythmics: possibly increased disopyramide concentration; increased risk of ventricular arrhythmias with dronedarone - avoid.
Antibacterials: increased rifabutin concentration - reduce rifabutin dose; concentration of bedaquiline possibly increased - avoid if for more than 14 days; possibly increased risk of ventricular arrhythmias with delamanid; avoid with fidaxomicin; clarithromycin concentration reduced by rifamycins.
Anticoagulants: avoid with apixaban; effect of coumarins enhanced; increased risk of bleeding with dabigatran.
Antidepressants: avoid with reboxetine;
concentration of trazodone possibly enhanced. Antiepileptics: increased carbamazepine, phenytoin and fosphenytoin concentration.
Antifungals: avoid combination with ketoconazole in severe renal impairment; concentration of itraconazole increased.
Antihistamines: metabolism of mizolastine inhibited - avoid.
Antimalarials: avoid concomitant administration with artemether/lumefantrine; increased risk of ventricular arrhythmias with piperaquine with artenimol - avoid.
Antimuscarinics: reduce dose of fesoterodine; avoid with tolterodine.
Antipsychotics: increased risk of ventricular arrhythmias with droperidol and pimozide - avoid; possibly increased lurasidone and quetiapine concentration - avoid.
Antivirals: concentration of both drugs increased with atazanavir and telaprevir; concentration of daclatasvir increased - reduce dose of daclatasvir; avoid with dasabuvir and paritaprevir; concentration of clarithromycin reduced by efavirenz and active metabolites of clarithromycin increased; concentration of etravirine increased and clarithromycin concentration reduced; concentration of maraviroc possibly increased - consider reducing maraviroc dose; concentration reduced by nevirapine but active metabolite increased also nevirapine concentration increased; concentration of rilpivirine possibly increased - avoid; increased risk of ventricular arrhythmias with saquinavir - avoid; avoid with simeprevir; oral clarithromycin reduces absorption of zidovudine; concentration increased by ritonavir and tipranavir, also concentration of tipranavir increased - reduce dose of clarithromycin in renal impairment.
Anxiolytics: metabolism of midazolam inhibited.
Avanafil: concentration of avanafil possibly increased - avoid.
Calcium-channel blockers: possibly inhibits metabolism of calcium channel blockers.
Ciclosporin: increased ciclosporin concentration (although may take ~ 5 days after starting clarithromycin before increase in ciclosporin levels is seen).
Cilostazol: concentration of cilostazol possibly increased, reduce cilostazol to 50 mg bd.
Colchicine: treatment with both agents has been shown in a study to increase the risk of fatal colchicine toxicity, especially in patients with renal impairment - avoid.1 Cytotoxics: concentration of axitinib increased - reduce axitinib dose; concentration of bosutinib possibly increased - avoid or reduce dose of bosutinib; concentration of cabozantinib, dasatinib, ibrutinib, pazopanib and ponatinib possibly increased - avoid with dasatinib, reduce dose of ibrutinib and pazopanib and initial dose of ponatinib; concentration of docetaxel possibly increased - avoid or reduce dose; possible increased risk of ventricular arrhythmias with ceritinib and panobinostat - avoid with panobinostat; concentration of crizotinib and everolimus possibly increased - avoid; avoid with cabazitaxel, nilotinib and pazopanib; possibly increases olaparib concentration - reduce olaparib dose or avoid; reduce dose of ruxolitinib; increased risk of neutropenia with vinorelbine.
Diuretics: increased eplerenone concentration - avoid.
Domperidone: increased risk of ventricular arrhythmias - avoid.
Ergot alkaloids: increase risk of ergotism - avoid.
Guanfacine: concentration of guanfacine possibly increased - halve guanfacine dose.
5 HT1 agonists: increased eletriptan concentration - avoid.
Ivabradine: increased ivabradine concentration - avoid.
Ivacaftor: concentration of ivacaftor possibly increased.
Lenalidomide: possibly increased lenalidomide concentration.
Lipid-lowering drugs: avoid with lomitapide; concentration of pravastatin increased; increased risk of myopathy with atorvastatin and simvastatin, avoid with simvastatin and max dose of atorvastatin 20 mg.2
Lumacaftor: concentration possibly reduced by lumacaftor - reduce dose of lumacaftor.
Naloxegol: possibly increases naloxegol concentration Ranolazine: concentration of ranolazine possibly increased - avoid.
Sildenafil: concentration of sildenafil increased - consider reducing initial dose for ED or reduce dose for PAH.
Sirolimus: possibly increased sirolimus concentration - avoid.
Tacrolimus: increased tacrolimus levels.
Theophylline and aminophylline: possibly increased theophylline and aminophylline concentration.
Ticagrelor: concentration of ticagrelor possibly increased - avoid.
Metabolism
The microbiologically active metabolite 14-hydroxyclarithromycin is formed by first pass metabolism. The pharmacokinetics of clarithromycin are non linear. At 250 mg bd, 15-20% of unchanged drug is excreted in the urine. With 500 mg bd dosing urinary excretion is approximately 36%. The 14-hydroxyclarithromycin is the major urinary metabolite and accounts for 10-15% of the dose. Most of the remainder of the dose is eliminated in the faeces, primarily via the bile. 5-10% of the parent drug is recovered from the faeces.
References
a population-based analysis of the risk of drug interaction between clarithromycin and statins for hospitalisation or death. lipids health dis. 2015 oct 24;14:131.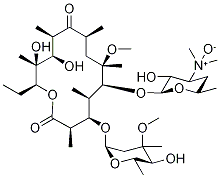 Synthesis of Clarithromycin from Clarithromycin Impurity Q (10 mg) (N-oxide clarithromycin)
Clarithromycin Preparation Products And Raw materials
Raw materials
Preparation Products
View Lastest Price from Clarithromycin manufacturers
Image
Update time
Product
Price
Min. Order
Purity
Supply Ability
Manufacturer
2023-11-01
Clarithromycin

81103-11-9

US $0.00-0.00 / kg
0.10000000149011612kg
99.0%min
200kg
Hangzhou ICH Biofarm Co., Ltd
2023-09-07
Clarithromycin

81103-11-9

US $0.00 / KG
1KG
99%
50000KG/month
Hebei Mojin Biotechnology Co., Ltd
2023-07-03
Clarithromycin Taste Masked

81103-11-9

US $0.00 / Kg/Bag
2Kg/Bag
99% up, High Density
20 tons
Sinoway Industrial co., ltd.
Clarithromycin

81103-11-9

US $0.00-0.00 / kg
99.0%min
Hangzhou ICH Biofarm Co., Ltd
Clarithromycin

81103-11-9

US $0.00 / KG
99%
Hebei Mojin Biotechnology Co., Ltd
81103-11-9(Clarithromycin)Related Search:
CRIXAN OD
Fascar
Klaribac
Klarithran MR
6-O-MethylerythroMycin A-d3
6-O-MethylerythroMycin-d3
A 56268-d3
Abbott 56268-d3
Antibiotic A 56268-d3
Antibiotic TE 31-d3
BIAXIN XL-d3
Biaxin-d3
ClaMicin-d3
Claric-d3
Claris-d3
Claritek-d3
Clarith-d3
Clarithro-d3
ClathroMycin-d3
CRIXAN OD-d3
Crixan-d3
Fascar-d3
FroMilid-d3
KelaMycin-d3
6-(4-DIMETHYLAMINO-3-HYDROXY-6-METHYLTETRAHYDROPYRAN-2-YL-OXY)-14-ETHYL-12,13-DIHYDROXY-4-(5-HYDROXY)
A-56268
6-O-Methylerythromycin, A-56268, TE-031, Biaxin
Erythromycin, 6-O-methyl-
chlarithromycin
CLARITHROMYCIN(SUBJECTTOPATENTFREE)
ERYTHROMYCIN,6-0-METHYL-6-0-METHYLERYTHROMYCIN /CLARITHROMYCIN
Abbott 56268
Antibiotic A 56268
Antibiotic TE 31
Clamicin
Claris
Fromilid
Kelamycin
Klaricid
Macladin
Naxy
Veclam
Zeclar
Kladd
Veclam:Zeclar
Klacid-d3
Klaribac-d3
Klaricid-d3
Klarithran MR-d3
Macladin-d3
Naxy-d3
TE 031-d3
VeclaM-d3
ClarithroMycin API
klacid
CLARITHROMYCIN
6-Methoxyerythromycin
Clarithromycin Identity (10 mg)