Trelagliptin succinate
CAS No.

Chemical Name:

Trelagliptin succinate

Synonyms

CS-924;SRY-472;SYR-472;SYR472 succinate;SYR-472 succinate;SYR 472 succinate;SYR 111472 succinate;Telagliptin Succinate;Trelagliptin succinat;Triglitastat succinate

CBNumber:

CB22645151

Molecular Formula:

C22H26FN5O6

Formula Weight:

475.48

MOL File:
Trelagliptin succinate Properties
storage temp.

-20°C
color

Off-white solid
FDA UNII
Trelagliptin succinate Chemical Properties,Uses,Production
Description
Similar to omarigliptin, trelagliptin succinate (XIX) is a highly selective, orally delivered inhibitor of DPP-4 developed by Takeda Pharmaceuticals and approved in Japan in March 2015 for the treatment of type 2 DM. Interestingly, trelagliptin is structurally similar to alogliptin, a DPP-4 inhibitor also marketed by Takeda and described in our 2010 review, differing only in the presence of a fluorine in the 5-position of the cyanobenzyl moiety. Both trelagliptin and alogliptin are potent inhibitors of DPP-4, with IC50s of 1.3 and 5.3 nM, respectively. Notably, while similar drugs are dosed once daily, trelagliptin is the first DPP-4 inhibitor approved for onceweekly dosing. Kinetic analysis has revealed that trelagliptin is a substrate-competitive, reversible, slow-binding inhibitor (t1/2 for dissociation = ca. 30 min) of DPP-4, although the dissociation time is insufficient to explain its long-acting effects. In a phase III trial, once-weekly trelagliptin (100 mg) showed similar efficacy and safety to once-daily alogliptin (25 mg) in patients with type 2 DM inadequately controlled by diet and exercise. The medicinal chemistry discovery of trelagliptin and alogliptin as well as reviews of this class of compounds have been published.
Uses
Trelagliptin succinate (SYR-472) is a selective, long acting dipeptidyl peptidase-4 (DPP-4) inhibitor. An antidiabetic agent.
Orally active DPP-4 inhibitor that produces clinically and statistically significant improvements in glycaemic control in patients with type 2 diabetes. SYR472 has a long duration of action and is well tolerated in clinical studies.
Clinical Use
Trelagliptin (SYR-472), a novel dipeptidyl peptidase-4 inhibitor used for the treatment of type 2 diabetes mellitus. Trelagliptin (as the salt Trelagliptin succinate) was approved for use in Japan in March 2015. Takeda, the company that developed Trelagliptin, chose to not get approval for the drug in the USA and EU.
Chemical Synthesis
The kilogram-scale synthesis of trelagliptin succinate has been reported in five steps from commercial starting material.102 Commercial 2-bromo-5- fluorotoluene (162) was reacted with copper cyanide in refluxing DMF to provide the corresponding nitrile in 60% yield. Benzylic bromination with AIBN and 1,3-dibromo-5,5- dimethylhydantoin (DBDMH) in DCE followed by treatment with diethyl phosphite and DIPEA gave crude benzyl bromide 163, which was substituted directly with 6-chloro-3-methyluracil (164) in the presence of DIPEA in NMP to provide chloride 165 in 86% yield. Reaction with commercial (R)-3- aminopiperidine dihydrochloride 166 in the presence of K2CO3 and i-PrOH furnished trelagliptin as the freebase. Conversion to the HCl salt and purification by crystallization from dichloromethane, followed by a freebasing via 50% NaOH, and treatment with succinic acid in THF/i-PrOH at 60 °C, and final recrystallization, generated trelagliptin succinate XIX.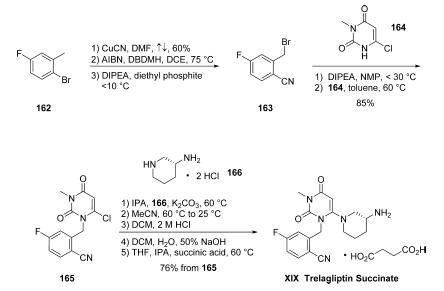 Research
Trelagliptin (Zafatek) is an orally active DPP-4 inhibitor developed by Takeda and approved in Japan for the treatment of type 2 diabetes mellitus (T2DM). Unlike other approved agents of its class, which are usually administered once daily, trelagliptin can be administered once weekly. Phase II development of trelagliptin was discontinued in the USA and EU, as Takeda considered that the costs associated with obtaining approval in these markets were prohibitive.
Trelagliptin succinate Preparation Products And Raw materials
Raw materials
Preparation Products
---
---
View Lastest Price from Trelagliptin succinate manufacturers
Image
Release date
Product
Price
Min. Order
Purity
Supply Ability
Manufacturer
2021-10-22
Trelagliptin Succinate
1029877-94-8
US $1.00 / KG
1KG
99%
50kg
Jinan Ande Pharmaceutical Co.,Ltd.
2021-10-18
Trelagliptin succinate
1029877-94-8
US $5.00 / Kg/Bag
1KG
99%
10Tons
Hebei Senko Biotechnology Co., Ltd.
2021-10-15
Trelagliptin succinate
1029877-94-8
US $0.00 / Kg/Bag
1Kg/Bag
99%
5000kg/month
Hebei Mojin Biotechnology Co., Ltd
1029877-94-8(Trelagliptin succinate)Related Search:
---
Trelagliptin Succinate (SYR-472)
SYR 111472 succinate
SYR-472 succinate
Trelagliptin succinat
SYR-472 Trelagliptin succinat
Trelagliptin succinate(SRY-472)
Trelagliptin succinate SYR 111472 succinate
Triglitastat succinate
(R)-2-[[6-(3-Amino-1-piperidyl)-3-methyl-2,4-dioxo-1,2,3,4-tetrahydro-1-pyrimidinyl]methyl]-4-fluorobenzonitrile Succinate
SRY-472
Telagliptin Succinate
Trelagliptin succinate, >=98%
2-[[6-[(3R)-3-Aminopiperidin-1-yl]-3-methyl-2,4-dioxopyrimidin-1-yl]methyl]-4-fluorobenzonitrile,butanedioicacid
Butanedioic acid, compd. with 2-[[6-[(3R)-3-amino-1-piperidinyl]-3,4-dihydro-3-methyl-2,4-dioxo-1(2H)-pyrimidinyl]methyl]-4-fluorobenzonitrile (1:1)
(R)-2-((6-(3-Aminopiperidin-1-yl)-3-methyl-2,4-dioxo-3,4-dihydropyrimidin-1(2H)-yl)methyl)-4-f
Trelagliptin Succinate API
SYR-472
Trelagliptin (succinate)
SYR 472 succinate
SYR472 succinate
Trelagliptin succinate high quality Cas number:1029877-94-8
CS-924
SYR-472 SUCCINATE; SYR472 SUCCINATE; SYR 472 SUCCINATE
Trelagliptin succinate - SYR 111472 succinate | SYR 472
TrelChemicalbookagliptinsuccinate
Trelagliptin Succinate fandachem
Trelagliptin Impurity 81
SYR-472 succinate. Trelagliptin
Trelagliptin succinate ISO 9001:2015 REACH
1029877-94-8
1029877-94-0
29877-94-8
C18H20FN5O2C4H6O4
C22H26FN5O6
Trelagliptin
Inhibitors
antidiabetic
Copyright 2017 © ChemicalBook. All rights reserved