Erlotinib hydrochloride
CAS No.

Chemical Name:

Erlotinib hydrochloride

Synonyms

ErL;CS-491;Tarceva;OSI 774;RG-1415;CP 358774;NSC718781;RO-0508231;CP-358774-01;Erlotinib-11

CBNumber:

CB2285915

Molecular Formula:

C22H24ClN3O4

Formula Weight:

429.9

MOL File:
Erlotinib hydrochloride Properties
Melting point:

223-225°C
storage temp.

Inert atmosphere,Store in freezer, under -20°C
pka

pKa (25°): 5.42
form

Yellow powder.
CAS DataBase Reference
FDA UNII
NCI Dictionary of Cancer Terms
NCI Drug Dictionary
SAFETY
Risk and Safety Statements
| | | | |
| --- | --- | --- | --- |
| Safety Statements | 24/25 | | |
| HS Code | 29335990 | | |
Erlotinib hydrochloride Chemical Properties,Uses,Production
Indications and Usage
Erlotinib hydrochlorate is a small molecule tyrosine kinase inhibitor which acts reversibly on epidermal growth factor receptors, a hydrochloride of erlotinib, a molecular-targeted drug. The US Food and Drug Administration (FDA) has approved erlotinib (Tarceva) combined with gemcitabine as a first-line treatment for locally advanced and metastatic pancreatic cancer.
It is mainly used as a second- or third-line treatment for locally advanced or metstatic non-small cell lung cancer (NSCLC) and as a treatment for pancreatic cancer. It is used as a tyrosine inhibitor for NSCLC treatment.
Mechanisms of Action
The small molecular compound erlotinib is a tyrosine kinase receptor inhibitor which inhibits the proliferation of tumor cells by inhibiting phosphorylation, binding to the intracellular catalytic domain of tyrosine kinase in competition with ATP, thus blocking downstream signal transduction and inhibiting activity of tumor cell ligand dependent HER-1/EGFR.
Clinical Research
Phase I clinical trials showed that the main toxicities and side effects of erlotinib were dose-dependent rashes and diarrhea. Other rare side effects included headaches, nausea, and vomiting. Phase II trials used erlotinib as a second-line anticancer drug, with efficacy matching second-line chemotherapy drug docetaxel. Phase III randomized control trials (BR21) mainly focused on NSCLC patients (locally advanced and distant metastasis) after the failure of first- or second-line chemotherapy. The treatment group, with 488 cases in total, took 150mg of erlotinib daily. The control group (243 cases) took a placebo. The study showed:
Median survival rate: 6.7 months for the treatment group, 4.7 months for the control (P<0.001, hazard ratio HR=0.73)
1 year survival rate: 31.2% for the treatment group, 21.5% for the control
Median time of no progression: 9.9 weeks for the treatment group, 7.9 weeks for the control
Meanwhile, symptomatic improvement in the treatment group was more pronounced.
Based on the results of the BR21 study, several further phase III clinical trials were conducted. The TRIBUTE trial combined erlotinib with chemotherapy. The treatment group used chemotherapy (carboplatin + paclitaxel) + erlotinib, while the control used the same chemotherapy alone, with a total of 1,059 late-stage NSCLC patients. The effectiveness of the treatment group was 21.5%, and the control group 19.3%; median survival times were 10.8 and 10.6 months, respectively, and the times of tumor progression (TTP) were 5.1 and 5.0 months. Meanwhile, TALENT trials, with 1,172 NSCLC patients, also investigated the effects of adding erlotinib to chemotherapy (gemcitabine + cisplatin), and also failed to show that erlotinib significantly increased its effects.
Description
Erlotinib, launched as once daily oral treatment for patients with non-small-cell lung cancer (NSCLC), is an inhibitor of the epidermal growth factor receptor (EGFR) tyrosine kinase, and it is the second small-molecule drug to be marketed with this mechanism of action. Both erlotinib and its predecessor, gefitinib, are members of the anilinoquinazoline class of tyrosine kinase inhibitors. They compete with the binding of ATP to the intracellular tyrosine kinase domain of EGFR, thereby inhibiting receptor autophosphorylation and blocking downstream signal transduction. Erlotinib is prepared by the condensation of 3-ethynylaniline with 4-chloro-6,7-bis(2-methoxyethoxy)quinazoline, which is a key intermediate obtained in five synthetic steps starting from ethyl 3,4- dihydroxybenzoate. In vitro, Erlotinib inhibits purified human EGFR tyrosine kinase with an IC
50
of 2 nM and blocks EGFR autophosphorylation in cellular assays with an IC
50
of 20nM. Treatment of human colon cancer cells with erlotinib was associated with growth inhibition, G1 cell cycle arrest, and apoptosis. Oral administration of erlotinib in athymic mice produced potent antitumor effects with an ED
50
of 9.2 mg/kg/day for HN5 head and neck xenografts and 14 mg/ kg/day for A431 epidermoid xenografts. The absorption of Erlotinib following oral dosing is approximately 60%. Food greatly enhances the absorption allowing for almost 100% bioavailability of the dose. The time to reach peak plasma levels of the drug is about 4 hours, and the half-life is approximately 36 hours. Steady-state drug levels are reached in 7 to 8 days. Erlotinib has high protein binding (93%) and has an apparent volume of distribution of 232 L. It is metabolized primarily by CYP3A4 and to a lesser extent by CYP1A2 and CYP1A1. The drug is mainly excreted in the feces with less than 9% of the dose found in the urine. Erlotinib is labeled for the treatment of patients with locally advanced or metastatic NSCLC who have failed one or more previous chemotherapy regimens. The recommended dosage is 150 mg daily until disease progression is detected. In a randomized, double blind, placebo-controlled trial involving 731 patients, 150 mg/day oral dose of erlotinib resulted in a median overall survival of 6.7 months compared with 4.7 months in the placebo group (p<0.001). Progression-free survival was 9.9 weeks and 7.9 weeks in the erlotinib and placebo groups, respectively (p<0.001). Survival at one year was 31.2% in the erlotinib group versus 21.5% in the placebo group. The use of erlotinib showed greater benefit in patients with EGFR positive tumors and in those who never smoked. The most common adverse events reported in clinical trials were rash (9%) and diarrhea (6%). Elevations in liver function tests were also seen; however, these effects were mainly transient or associated with liver metastases. As previously noted for gefitinib, erlotinib is also shown to lack any clinical benefit in concurrent administration with platinum-based chemotherapy.
Chemical Properties
Off-White Solid
Originator
Pfizer (US)
Uses
Selective epidermal growth factor receptor (EGFR)-tyrosine kinase inhibitor. Antineoplastic
Uses
Erlotinib HCl is an HER1/EGFR inhibitor with IC50 of 2 nM.
Uses
Erlotinib HCl (OSI-744) is an EGFR inhibitor with IC50 of 2 nM, >1000-fold more sensitive for EGFR than human c-Src or v-Abl. Phase 3.
Uses
Erlotinib hydrochloride (V), a quinazoline derived small molecule inhibitor of epidermal growth factor receptor (EDGFR) tyrosine kinase, was approved in November, 2004, for the treatment of advanced or metastatic non-smallcell lung cancer. It belongs to the same class as gefitinib,another quinazoline approved for treatment of advanced lung cancer, but with improved pharmacokinetic properties. The molecule was originated by Pfizer and development initiated in collaboration with OSI, which assumed full rights to the drug when Pfizer merged with Warner Lambert. Subsequently, Genentech/Roche went into licensing agreement with OSI to develop and market the drug in the US and Worldwide.
Definition
ChEBI: A quinazoline hydrochloride compound having a (3-ethynylphenyl)amino group at the 4-position and two 2-methoxyethoxy groups at the 6- and 7-positions.
brand name
Tarceva (OSI).
General Description
Erlotinib is available as 25-, 100-, and 150-mg tablets fororal administration and is used after failure of first-linetherapy in metastatic NSCLC and as first-line therapy incombination with gemcitabine in the treatment of metastaticpancreatic cancer, and in treating malignant gliomas.The structural similarity to gefitnib imparts similar pharmacokineticbehavior with bioavailability of 60% and proteinbinding of 93%. The agent is extensively metabolizedprimarily by CYP3A4. Three major metabolic pathwayshave been identified, involving oxidative-O-demethylationof the side chains followed by further oxidation to give thecarboxlic acids, oxidation of the acetylene functionalityto give a carboxylic acid, and aromatic hydroxylation ofthe phenyl ring para to the electron-donating nitrogen. Themetabolites are primarily eliminated in the feces, and theterminal half-life is 36 hours.The major toxicities seenwith the agent are dose-limiting skin rash and diarrhea.Other common adverse effects include shortness of breath,fatigue, and nausea.
Chemical Synthesis
The synthesis of this agent is based on the original patent and is shown in the Scheme. The 3,4-dihydroxy benzoate 31 was reacted with bromoethyl methyl ether in the presence of potassium carbonate and tetrabutyl ammonium iodide to give 32 in 93% yield. Nitration followed by hydrogenation provided 34 in 88% yield, which was then cyclized in formamide with ammonium formate to provide quinazolone 35. Subsequent reaction with oxalyl chloride gave quinazoline chloride 36, which was then reacted with 3-ethynyl aniline (37) in isopropanol in the presence of pyridine to give the desired product erlotinib, which was isolated as the HCl salt (V). An alternate synthesis, that used protected 3-trimethylsilyl ethynyl aniline to couple to the quinazoline chloride 36, has also been published.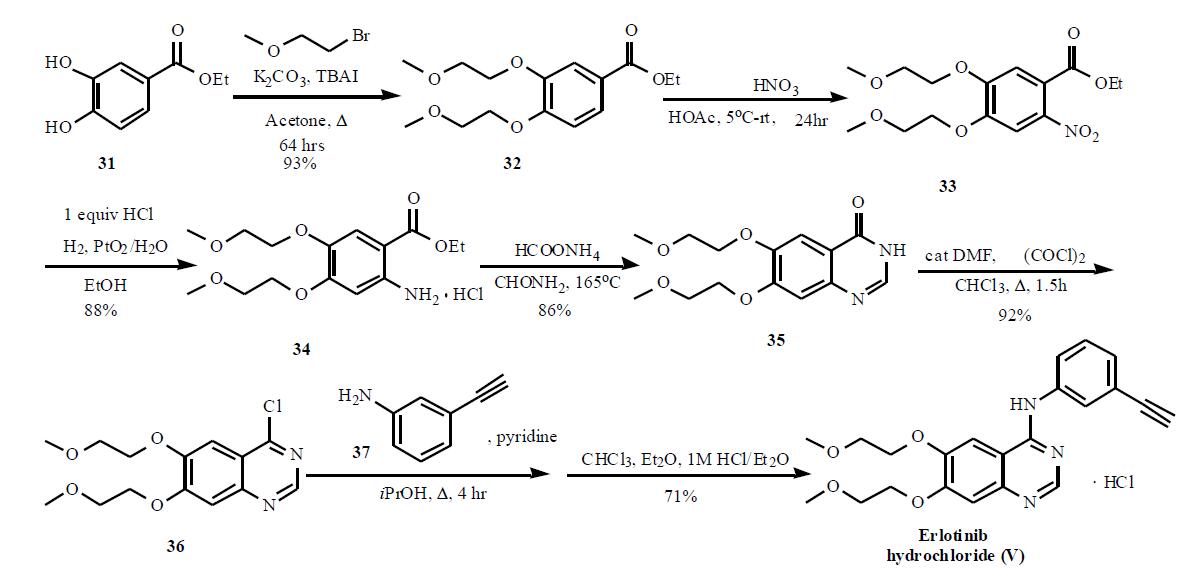 Erlotinib hydrochloride Preparation Products And Raw materials
Raw materials
Preparation Products
---
---
View Lastest Price from Erlotinib hydrochloride manufacturers
Image
Release date
Product
Price
Min. Order
Purity
Supply Ability
Manufacturer
2021-10-26
Erlotinib HCL
183319-69-9
US $1.00 / KG
1KG
99%
100
Jinan Ande Pharmaceutical Co.,Ltd.
2021-10-20
Erlotinib hydrochloride
183319-69-9
US $50.00-38.00 / KG
1KG
99%
9000kg/per week
Hebei Lingding Biological Technology Co., Ltd
2021-09-29
Erlotinib hydrochloride
183319-69-9
US $0.00 / Kg/Bag
1KG
99%min
100KGS
WUHAN FORTUNA CHEMICAL CO., LTD
183319-69-9(Erlotinib hydrochloride )Related Search:
---
ERLOTINIB HCL
ERLOTINIB HCL SALT
ERLOTINIB HCL SALT :TARCEVA
N-(3-Ethynylphenyl)-6,7-bis(2-methoxyethoxy)-4-quinazolinamine, Hydrochloride Salt, OSI 774, Tarceva
N-(3-Ethynylphenyl)-6,7-bis-(2-methoxyethoxy)-quinazolin-4-amine
[6,7-Bis-(2-methoxy-ethoxy)-quinazolin-4yl]-(3-ethynyl-phenyl)-amine
Tarceva HydrochlorideSee E625000
6,7-Bis(2-methoxyethoxy)-4-(3-ethynylanilino)quinazoline hydrochloride
Erlotinib hydrochloride
N-(3-Ethynylphenyl)[6,7-bis(2-methoxyethoxy)quinazolin-4-yl]amine hydrochloride
Erlotinib HCl(TINIBS)
Tarceva
erlotinib hydorchloride
6,7-BIS(2-METHOXYETHOXY)-4-(3-ETHYNYLANILINO)QUINAZOLINE HCL
Erlotonid HCl
6,7-Bis(2-methoxyethoxy)-4-(3-
21 Erlotinib hydrochloride and Intermediate
-(3-Ethynylphenyl)[6,7-bis(2-methoxyethoxy)quinazolin-4-yl]amine hydrochloride
Erlotinib, Hydrochloride (Tarceva Hydrochloride)
Tarceva Hydrochloride (Erlotinib Hydrochloride)
Erlotinib Hydrochloride (Tarceva)
Erlotinib, OS-774
4-(m-Ethynylanilino)-6,7-bis(2-methoxyethoxy)quinazoline monohydrochloride
Tarceva (Erlotinib Hydrochloride)
4-QuinazolinaMine, n-(3-ethynylphenyl)-6,7-bis(2-Methoxyethoxy)-, hydrochloride
Erlotinib HCL and InterMediate
4-QuinazolinaMine,N-(3-ethynylphenyl)-6,7-bis(2-Methoxyethoxy)-,hydrochloride(1:1)
[6,7-Bis(2-Methoxyethoxy)quinazolin-4-yl]-(3-ethynylphenyl)aMine Hydrochloride
CP 358774
N-(3-Ethynylphenyl)-6,7-bis(2-Methoxyethoxy)-4-quinazolinaMine Hydrochloride
OSI 774
NSC718781
OSI774;CP-358774;TARCEVA;NSC718781
[6,7-Bis-(2-Methoxy-ethoxy)-quinazolin-4-yl]-(3-ethynyl-phenyl)-aMine.HCl
N-(3-Ethynylphenyl)-6,7-bis(2-Methoxyethoxy)quinazolin-4-aMine hydrochloride
Erlotinib Hydrochlorid
Erlotinib-d6 HCl
Erlotinib hydrochloride (SynonyMs CP-358774, OSI-774, NSC 718781)
Erlotinib hydrochlroide
CP-358774-01
RG-1415
RO-0508231
Erlotinib impurity O
Erlotinib (OSI-744) HCl
Erlotinib Hcl(CP-358)
Erlotinib HCl (OSI-744)
Erlotinib hydrochloride, 98.5%
Tarceva, CP-358774
Erlotinib Hydrochloride WS
NSC 718781) HCl
Erlotinib hydrochloride N-(3-Ethynylphenyl)[6,7-bis(2-methoxyethoxy)quinazolin-4-yl]amine hydrochloride
Erlotinib HCl, >=99%
N-(3-ethynylphenyl)-6,7-bis(2-methoxyethoxy)quizolin-4-amine
CS-491
Erlotinib-11
Erlotinib Hydrochloride iMpurity 10
Erlotinib (OSI-744) hydrochloride
ErL