Flutamide
CAS No.

Chemical Name:

Flutamide

Synonyms

Eunex;Odyne;Euflex;Drognil;Eulexin;Fugerel;Drogenil;Eu.1exim;Flucinom;Niftolid

CBNumber:

CB2468110

Molecular Formula:

C11H11F3N2O3

Formula Weight:

276.21

MOL File:
Flutamide Properties
Melting point:

112 °C
Boiling point:

400.3±45.0 °C(Predicted)
Density

1.3649 (estimate)
storage temp.

2-8°C
solubility

Practically insoluble in water, freely soluble in acetone and in ethanol (96 per cent).
form

neat
pka

13.12±0.70(Predicted)
Merck

14,4208
CAS DataBase Reference
FDA UNII
NCI Dictionary of Cancer Terms
NCI Drug Dictionary
ATC code
Proposition 65 List
EPA Substance Registry System
SAFETY
Risk and Safety Statements
| Manufacturer | Product number | Product description | CAS number | Packaging | Price | Updated | Buy |
| --- | --- | --- | --- | --- | --- | --- | --- |
| Sigma-Aldrich | Y0001591 | Flutamide for system suitability European Pharmacopoeia (EP) Reference Standard | 13311-84-7 | | $190 | 2021-03-22 | Buy |
| Sigma-Aldrich | F0285600 | Flutamide European Pharmacopoeia (EP) Reference Standard | 13311-84-7 | | $190 | 2021-03-22 | Buy |
| Sigma-Aldrich | 94495 | Flutamide certified reference material, TraceCERT | 13311-84-7 | 50mg | $196 | 2021-03-22 | Buy |
| Sigma-Aldrich | 1285851 | Flutamide United States Pharmacopeia (USP) Reference Standard | 13311-84-7 | 200mg | $366 | 2021-03-22 | Buy |
| TCI Chemical | F0663 | Flutamide >98.0%(GC) | 13311-84-7 | 5g | $45 | 2021-03-22 | Buy |
Flutamide Chemical Properties,Uses,Production
Description
Flutamide is a kind of synthetic, non-steroidal antiandrogen which is mainly used for the treatment of prostate cancer. It is a kind of toluidine derivative and a nonsteroidal antiandrogen with a similar structure of bicalutamide and nilutamide. The mechanism of its anti-cancer property is through acting as a selective antagonist of the androgen receptor (AR), preventing androgens such as testosterone and its active metabolite dihydrotestosterone from binding to ARs in the prostate gland. This process inhibits androgen-dependent DNA and protein synthesis in the tumor cell. Therefore, it can prevent androgens from stimulating the growth of prostate cancer cells. Moreover, it can also be used for the treatment of hyperandrogenism in women. It is quite effective in alleviating symptoms such as acne, seborrhea, hirsutism and androgenetic alopecia. Finally, it is also useful as a component in the transgender hormone therapy.
References
https://en.wikipedia.org/wiki/Flutamide
https://pubchem.ncbi.nlm.nih.gov/compound/flutamide#section=Top
Description
Flutamide is an orally active, non-steroidal antiandrogen indicated for the treatment of prostatic cancer in both castrates and noncastrates.
Chemical Properties
Light Yellow Solid
Originator
scheting (USA)
History
Flutamide was first described as a member of a series of N-acyl anilides synthesized at Monsanto in the 1960s during a compound finding program aiming at bacteriostatic agents. Soon after, at Schering Corp., the compound was characterized pharmacologically and further developed as SCH-13521. It was found that flutamide inhibits agonist action at the AR by replacing the agonist at the ligand binding site, being the first nonsteroidal compound possessing anti-androgenic activity in animals. In contrast to steroidal anti-androgens, for instance, cyproterone acetate, which also displays significant progestational activity, flutamide has no other hormonal activity. There is also no reduction of serum testosterone levels seen with flutamide but rather a slight increase in luteinizing hormone (LH) and follicle-stimulating hormone (FSH) resulting in elevated serum testosterone levels. This accounts for the beneficial maintenance of libido and potency in sexually active patients. On the other hand, elevated serum estradiol levels resulting from peripheral testosterone aromatization leading to gynecomastia were observed in patients.
Uses
Antiandrogen; antineoplastic (hormonal).
Uses
neuroleptic
Uses
Flutamide is a nonsteroidal antiandrogen drug; antineoplastic (hormonal).
Uses
Besides prostate cancer, flutamide has also been tested and/or used off-label in other hyperandrogenism-related disorders like benign prostatic hyperplasia, acne vulgaris, and hirsutism syndrome. Due to its teratogenic potential, flutamide is restricted for premenopausal women and used only in combination with effective contraception.
Indications
Flutamide is a prodrug possessing only weak androgen antagonistic activity of its own. It is oxidized in vivo to the active principle hydroxyflutamide (6) as primary metabolite.The elimination half-life of hydroxyflutamide is relatively short, 4–6.6 h in patients after a single oral 250 mg dose of flutamide. Therefore, oral dosing of 250 mg flutamide three times daily was applied clinically. The first introduction into clinical studies was achieved in 1975 as single agent in the first-line treatment of advanced prostate carcinoma. In the United States, flutamide was finally approved by FDA in 1989 for the treatment of metastatic prostate cancer in combination with a luteinizing hormone-releasing hormone (LHRH, also referred to as gonadotropin-releasing hormone (GnRH)) agonist, for instance, leuprorelin acetate (Leuprolide(R), Lupron(R)) or goserelin acetate (Zoladex(R)).The combined androgen blockade by flutamide plus an LHRH agonist or surgical castration was introduced in order to maximize the effects of androgen ablation. Flutamide also inhibits the secretion of androgens from the adrenal gland, which is not impaired by chemical castration with LHRH agonists or by surgical castration. In addition, the AR antagonist avoids the unacceptable initial tumor flare that occurs when LHRH agonists are given alone.
Favorable response to flutamide was seen with advanced prostate carcinoma patients after single-agent treatment as well as after combination treatment. The progression of the disease was slowed and the lifetime of patients was extended. For instance, the National Cancer Institute (NCI) initiated a trial (INT-0036) and concluded that the combination of leuprolide with flutamide was more effective than leuprolide alone in patients with advanced prostate cancer. However, significant side effects were also reported.The most frequently observed adverse events are summarized in Table 1. Flutamide evidently amplifies some of the LHRH agonist-induced side effects.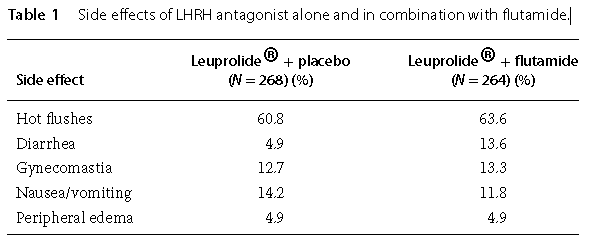 Table 1 Side effects of LHRH antagonist alone and in combination with flutamide.
Indications
Flutamide (Eulexin) is a nonsteroidal androgen receptor antagonist that inhibits androgen binding to its nuclear receptor. It is effective in inducing prostatic regression and is approved for the treatment of prostatic carcinoma. For maximum clinical effectiveness it has to be used in combination with a GnRH antagonist (e.g., leuprolide acetate) that inhibits androgen production. Flutamide may eventually be used for the treatment of hirsutism and male pattern baldness in women if a topical preparation is developed.
Indications
Flutamide (Eulexin) is a nonsteroidal antiandrogen compound that competes with testosterone for binding to androgen receptors. The drug is well absorbed on oral administration. It is an active agent in the hormonal therapy of cancer of the prostate and has been shown to complement the pharmacological castration produced by the gonadotropin-releasing hormone (GnRH) agonist leuprolide. Flutamide prevents the stimulation of tumor growth that may occur as a result of the transient increase in testosterone secretion after the initiation of leuprolide therapy. The most common side effects of flutamide are those expected with androgen blockade: hot flashes, loss of libido, and impotence. Mild nausea and diarrhea occur in about 10% of patients.
Manufacturing Process
To a stirred, cooled solution of 100 g of 4-nitro-3-trifluoromethylaniline in 400 ml of pyridine, slowly and in a dropwise fashion, add 54 g of isobutyrylchloride and then heat the reaction mixture on a steam bath for 1.5 hours. Cool and pour the resulting mixture into ice water, filter and waterwash the crude anilide and crystallize the product of this example from benzene to obtain analytically pure material, MP 111.5°C to 112.5°C.
brand name
Eulexin (Schering);DROGENIL.
Therapeutic Function
Antiandrogen
General Description
Flutamide, 2-methyl-N-[4-nitro-3-(trifluoromethyl)phenyl]propanamide, is dosed 3 times daily(250-mg dose; 750-mg total daily dose). A major metaboliteof flutamide, hydroxyflutamide, is a more potent AR antagonistthan the parent compound. This metabolite, which ispresent at a much higher steady-state concentration than isflutamide, contributes a significant amount of the antiandrogen action of this drug. A limiting factor in the useof flutamide is hepatotoxicity in from 1% to 5% of patients.Although the hepatotoxicity usually is reversible followingcessation of treatment, rare cases of death associated withhepatic failure have been reported to be associated with flutamidetherapy. Diarrhea is also a limiting side effect withflutamide therapy for some patients.
Contact allergens
Flutamide is an antiandrogenic hormonal antineoplas tic drug that can induce photosensitivity and porphy ria-like eruption.
Mechanism of action
Flutamide is a nonsteroid drug that possesses antiandrogenic action. It blocks androgens from binding with target tissues, thus preventing androgen action. The mechanism of action is possibly also linked with a halt in dihydrotestosterone transport. It facilitates a reduction in size and density of the prostate gland, and it reduces the amount of metastases in such cancer, for which it is used in palliative treatment of prostate gland cancer.
Clinical Use
Flutamide is a pure antagonist, whereas 2-hydroxyflutamide is a more potent AR antagonist but also can activate the androgenic receptor at higher concentrations. These findings raise the possibility that increased conversion of flutamide to 2-hydroxyflutamide or accumulation of 2-hydroxyflutamide in cells may contribute to the anomalous responses to flutamide that are observed in some advanced prostate cancers.
Chemical Synthesis
Flutamide, 4-nitro-3-trifluoromethylisobutyranilide (29.2.15), a nonsteroid antagonist of androgens, is made by acylating 4-nitro-3-trifluoromethylaniline with isobutyric acid chloride.
Flutamide Preparation Products And Raw materials
Raw materials
Preparation Products
---
---
View Lastest Price from Flutamide manufacturers
Image
Release date
Product
Price
Min. Order
Purity
Supply Ability
Manufacturer
2021-11-09
Flutamide
13311-84-7
US $0.00 / Kg/Bag
2Kg/Bag
USP
20 tons
Sinoway Industrial co., ltd.
2021-11-08
Flutamide
13311-84-7
US $10.00 / KG
1KG
99.9%
100MT/Month
Wuhan wingroup Pharmaceutical Co., Ltd
2021-10-20
Flutamide
13311-84-7
US $350.00 / KG
1KG
99%
9000kg/per week
Hebei Lingding Biological Technology Co., Ltd
---
---
13311-84-7(Flutamide)Related Search:
---
TIMTEC-BB SBB006930
N1-[4-NITRO-3-(TRIFLUOROMETHYL)PHENYL]-2-METHYLPROPANAMIDE
2-METHYL-N-(4'-NITRO-3'-(TRIFLUOROMETHYL)PHENYL)PROPANAMIDE
2-METHYL-N-(4-NITRO-3-[TRIFLUOROMETHYL]PHENYL)PROPANAMIDE
FLUTAMIDE
AURORA KA-860
2-Methyl-N-[4-nitro-3-(trifluoromethyl)-phenyl]-propionamide
Flutamide USP25
FlutamideUsp27
FLUTAMIDE (2-METHYL-N-(4''-NITRO-3''-(TRIFLUOROMETHYL)PHENYL)PROPANAMIDE)
Drognil
Euflex
Eulexin
N-(Isopropylcarbonyl)-4-nitro-3-trifluoromethylaniline
2-Methyl-N-[4-nitro-3-(trifluoronethyl)phenyl]propanamide
Drogenil
Eu.1exim
Eunex
Fiutamide
Flucinom
Fugerel
Niftolid
N-[4-Nitro-3-(trifluoromethyl)phenyl]isoButyramide
trihalonitramide
N-[3-(Trifluoromethyl)-4-nitrophenyl]-2-methylpropanamide
Flutamide (2-Methyl-N-(4'-nitro-3'-(trifluoromethyl)phenyl)propa
Flutamide (200 mg)
SCH 13521;FLUTAMIDE
NSC 147834
NSC 215876
Odyne
4'-Nitro-3'-(trifluoromethyl)isobutyranilide 2-Methyl-N-[4-nitro-3-(trifluoromethyl)phenyl]propionamide
FlutaMide(Sch 13521)
Flutamide for system suitability
Flutamide, 98%, an androgen receptor antagonist
Flutamide Usp30
2-methyl-4'-nitro-alpha,alpha,alpha-triflouro-m-propionotoluidid
2-methyl-n-(4-nitro-3-(trifluoromethyl)phenyl)-propanamid
4'-nitro-3'-trifluoromethylisobutyranilide
alpha,alpha,alpha-trifluoro-2-methyl-4'-nitro-m-propionotoluidide
niftholide
niftolide
sch13521
Flutamide RS
Flutamide for system suitability CRS
Flutamide&gt
Flutamide CRS
Propanamide, 2-methyl-N-[4-nitro-3-(trifluoromethyl)phenyl]-
Flutamide USP/EP/BP
13311-84-7
C11H11F3N2O3
BioChemical
Cell Signaling and Neuroscience
Cell Biology
Steroid Hormones
Hormones
Other Steroid Products
Cytokines, Growth Factors and Hormones