Saxagliptin
CAS No.

Chemical Name:

Saxagliptin

Synonyms

CS-199;Onglyza;xagliptin;BMS 477118;Saxagliptin;Saxagliptin API;Saxagliptin HCl;Saxagliptin 15ND2;Saxagliptin, >=98%;Salkeliptin impurity

CBNumber:

CB61856071

Molecular Formula:

C18H25N3O2

Formula Weight:

315.41

MOL File:
Saxagliptin Properties
Boiling point:

548.7±35.0 °C(Predicted)
Density

1.35
Flash point:

548.7℃
storage temp.

Sealed in dry,2-8°C
pka

15.12±0.40(Predicted)
ATC code
SAFETY
Risk and Safety Statements
Saxagliptin Chemical Properties,Uses,Production
Treatment Drugs of Type 2 Diabetes
Shacketine is a type 2 diabetes drug that can stimulate the pancreas to produce more insulin after the meal. It was reached by the cooperation of AstraZeneca and Bristol-Myers Squibb Company and belongs to DPP-IV inhibitor. It plays the role through inhibiting GLP-l degradation. GLP-I is the hormones naturally produced in the intestine after taking food. It can regulate the secretion of insulin and strengthen the utilization of glucose in the peripheral tissues. The single medication of Shacketine can improve blood glucose control and the combined medication of Shacketine with metformin, sulfonylurea and thiazolidinediones can enhance curative effect. It leads to low risk of hypoglycemia and its adverse reactions are similar to placebo, showing better tolerance.
On July 31, 2009, Shakleitine tablets (Onglyza), a new drug of type 2 diabetes, jointly researched and developed AstraZeneca and Bristol-Myers Squibb was approved by the US FDA. It can be taken once a day to treat type 2 diabetes combined with controlling Diet and exercise. The most common side effects are upper respiratory tract infections, urinary tract infections and headaches. And other side effects include allergic reactions, such as rash and urticaria.
Market and Risk
Saxagliptin (rINN), previously identified as BMS-477118, is an oral hypoglycemic (anti-diabetic drug) of the dipeptidyl peptidase-4 (DPP-4) inhibitor class of drugs. Early development was solely by Bristol-Myers Squibb; in 2007 AstraZeneca joined with Bristol-Myers Squibb to co-develop the final compound and collaborate on the marketing of the drug. In June 2008, it was announced that Onglyza would be the trade name under which saxagliptin will be marketed.
In April 2016, the U.S. FDA added a warning about increased risk of heart failure.This was based on data in an article that concluded "DPP-4 inhibition with saxagliptin did not increase or decrease the rate of ischemic events, though the rate of hospitalization for heart failure was increased. Although saxagliptin improves glycemic control, other approaches are necessary to reduce cardiovascular risk in patients with diabetes."
Saxagliptin is used as monotherapy or in combination with other drugs for the treatment of type 2 diabetes. There is no evidence to decrease the risk of heart attacks or strokes.It increases the risk of hospitalization for heart failure by about 27%. Like other DPP-4 inhibitors, it has relatively modest HbA1c lowering ability, is associated with a relatively modest risk of hypoglycemia, and does not cause weight gain.
Synthesis Method
First synthesize the precursor 109 from 1-adamantanecarboxylic acid and then synthesize the precursor 113 from Boc-L pyroglutamic acid ethyl ester. Finally synthesize Shakleitine from 109 and 113.
Figure 1 the chemical reaction of synthesizing Shakleitine.
Chemical Properties
White Solid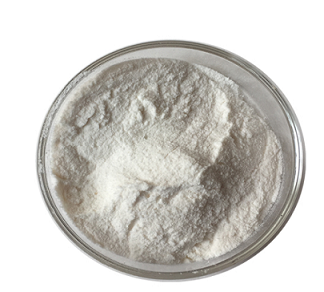 Uses
Saxagliptin is a potent and selective reversible inhibitor of dipeptidyl peptidase-4, which is being developed for the treatment of type 2 diabetes. It is absorbed rapidly after oral administration an d has a pharmacokinetic profile compatible with once daily dosing.
Definition
ChEBI: A monocarboxylic acid amide obtained by formal condensation of the carboxy group of (2S)-amino(3-hydroxyadamantan-1-yl)acetic acid with the amino group of (1S,3S,5S)-2-azabicyclo[3.1.0]hex ne-3-carbonitrile. Used in its monohydrate form for the treatment of Type II diabetes.
Clinical Use
Saxagliptin, previously identified as BMS-477118, is an oral hypoglycemic of the dipeptidyl peptidase-4 (DPP-4) inhibitor class developed by Bristol-Myers Squibb for the treatment of type 2 diabetes. DPP-IV is the primary enzyme responsible for degradation of incretins, such as glucagon-like peptide-1 (GLP-1), which is a hormone responsible for the glucose-dependent stimulation of insulin in humans. Inhibitors of DPP-IV serve as effective glucose regulators by increasing the endogenous concentration of GLP-1.
Chemical Synthesis
The initial discovery route to saxagliptin was a 15-step, convergent synthesis focused on the production and use of compounds 109 and 113 (Schemes a and b). While the strategy of early drug delivery involved rapid synthesis to support preclinical activities and Phase I clinical trials, as saxagliptin entered Phase II, a greater emphasis was placed on defining and demonstrating a commercially viable synthetic process. Scheme a describes a more expedient route to the preparation of adamantylamino acid 109. Commercially available 1-adamantoic acid (106) was first converted to the corresponding acid halide through the use of thionyl chloride prior to a Grignard addition reaction utilizing iodomethane and magnesium metal to furnish ketone 107. This ketone was then subjected to oxidizing conditions involving potassium permanganate to provide the hydroxylated ketoacid 108. The amino acid 109 was furnished through the use of phenylalanine dehydrogenase in near-quantitative yield in 99% enantioselectivity.
The synthesis of 113 began with commercially available ethyl N-tert-butoxycarbonylpyroglutamate (110) (Scheme b). Selective reduction of the amide carbonyl within 110 through the use of lithium triethylborohydride followed by acylation and baseinduced elimination of the resulting aminal and careful hydrolysis gave rise to dihydropyrrole 111 with full retention of stereochemical configuration in 95% yield. Amidation followed by Simmons– Smith cyclopropanation employing methylene iodide converted 111 to the cyclopropanated product 112, which was then converted to the key coupling partner 113.
The core of saxagliptin was formed by the amide coupling of amino acid 109 and methanoprolinamide 113 to give amide 114 in 95% yield (Scheme c). Subsequent dehydration of the primary amide 114 using trifluoroacetic acid anhydride and ethyl nicotinate gave nitrile 115 in 98% yield. Removal of both the alcohol and amine protecting groups with HCl afforded saxagliptin (XVIII) in 88% yield.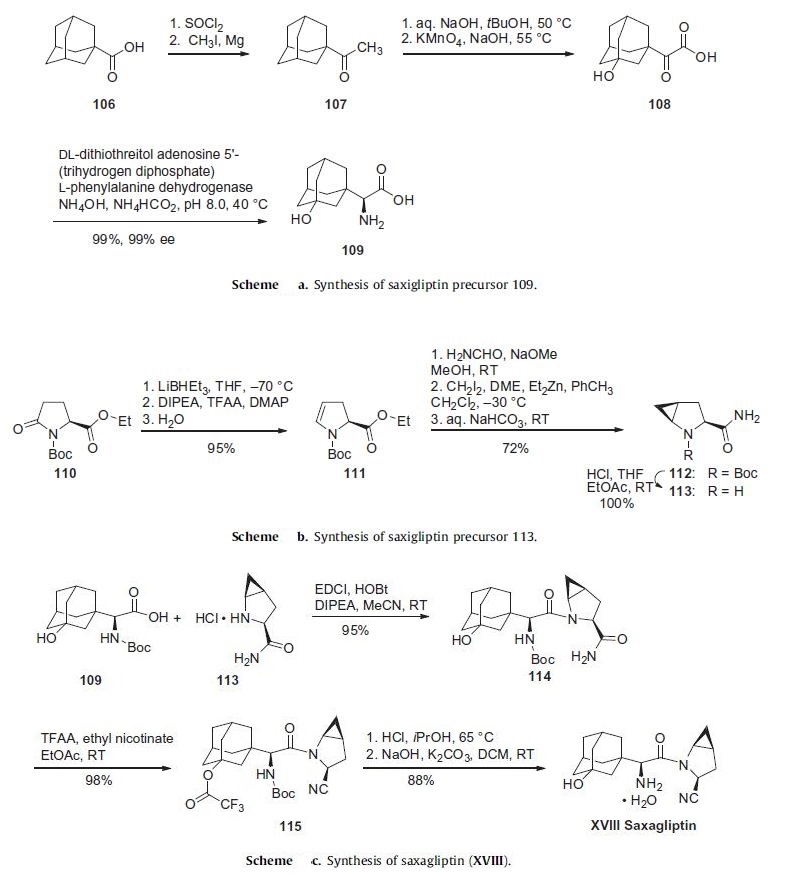 Saxagliptin Preparation Products And Raw materials
Raw materials
Preparation Products
---
---
View Lastest Price from Saxagliptin manufacturers
Image
Release date
Product
Price
Min. Order
Purity
Supply Ability
Manufacturer
2021-11-30
Saxagliptin
361442-04-8
US $110.00 / g/Bag
1g
99%
1kg
Baoji Guokang Bio-Technology Co., Ltd.
2021-11-27
Saxagliptin
361442-04-8
US $2.00 / g
100g
99.99%
5ton/Month
Hebei Yirun Sega Biological Technology Co. Ltd
2021-11-15
Saxagliptin
361442-04-8
US $0.00 / KG
1KG
99%
200000pcs
Hebei Yirun Sega Biological Technology Co. Ltd
361442-04-8(Saxagliptin)Related Search:
---
(1S,3S,5S)-2-[(2S)-2-amino-2-(3-hydroxy-tricyclo[3.3.13,7]dec-1-yl)-1-oxoethyl]-2-azabicyclo-[3.1.0]hexane-3-carbonitrile
BMS 477118
Onglyza
Saxagliptin
(1S,3S,5S)-2-[(2S)-2-Amino-2-(3-hydroxytricyclo[3.3.1.13,7]dec-1-yl)acetyl]-2-azabicyclo[3.1.0]hexane-3-carbonitrile
Saxagliptin(BMS 477118)
Saxagliptin 15ND2
BMS477118;SAXAGLIPTIN
(1S,3S,5S)-2-[(2S)-2-aMino-2-(3-hydroxyadaMantan-1-yl)acetyl]-2-azabicyclo[3.1.0]hexane-3-carbonitrile
Saxagliptin HCl
Saxagliptin API
2-Azabicyclo[3.1.0]hexane-3-carbonitrile, 2-[(2S)-2-amino-2-(3-hydroxytricyclo[3.3.1.13,7]dec-1-yl)acetyl]-, (1S,3S,5S)-
Saxagliptin (1S,3S,5S)-2-[(2S)-2-Amino-2-(3-hydroxytricyclo[3.3.1.1(3,7)]dec-1-yl)acetyl]-2-azabicyclo[3.1.0]hexane-3-carbonitrile
Saxagliptin Onglyza BMS 477118
Saxagliptin, 97%, selective and reversible DPP4 inhibitor
Saxagliptin, >=98%
CS-199
Saxagliptin-13C-d2 HCl
Saxagliptin ? BMS 477118 ?Onglyza
Saxagliptin , SAXAGLIPTIN
[13C2,15N]-Saxagliptin
xagliptin
Saxagliptin USP/EP/BP
Salkeliptin impurity
361442-04-8
61442-04-8
Amines
Chiral Reagents
Heterocycles
Intermediates & Fine Chemicals
Inhibitors
organic pharmaceutical
Pharmaceuticals