Olmesartan Medoxomil
CAS No.

Chemical Name:

Olmesartan Medoxomil

Synonyms

OMST;CS-866;Benicar;Olmetec;Oimesartan;Olmesartan Medoxomi;Olmesartan MedoxomiI;OlmesartanC29H30N6O6;Olmesartan medoxomil;OLMESARTAN MEDOXIMIL

CBNumber:

CB8254825

Molecular Formula:

C29H30N6O6

Formula Weight:

558.59

MOL File:
Olmesartan Medoxomil Properties
Melting point:

180°C
Boiling point:

804.2±75.0 °C(Predicted)
Density

1.38±0.1 g/cm3(Predicted)
Flash point:

180°C
storage temp.

2-8°C
solubility

DMSO: soluble20mg/mL, clear
pka

4.15±0.10(Predicted)
form

powder
color

white to beige
Decomposition

180 ºC
InChIKey

UQGKUQLKSCSZGY-UHFFFAOYSA-N
CAS DataBase Reference
FDA UNII
| Manufacturer | Product number | Product description | CAS number | Packaging | Price | Updated | Buy |
| --- | --- | --- | --- | --- | --- | --- | --- |
| Sigma-Aldrich | Y0001424 | Olmesartan medoxomil for system suitability European Pharmacopoeia (EP) Reference Standard | 144689-63-4 | | $190 | 2021-03-22 | Buy |
| Sigma-Aldrich | Y0001405 | Olmesartan medoxomil European Pharmacopoeia (EP) Reference Standard | 144689-63-4 | | $190 | 2021-03-22 | Buy |
| Sigma-Aldrich | PHR1851 | Olmesartan medoxomil Pharmaceutical Secondary Standard; Certified Reference Material | 144689-63-4 | 200mg | $192 | 2021-03-22 | Buy |
| Sigma-Aldrich | 1478367 | Olmesartan medoxomil United States Pharmacopeia (USP) Reference Standard | 144689-63-4 | 100mg | $769 | 2021-03-22 | Buy |
| TCI Chemical | O0510 | Olmesartan Medoxomil >98.0%(HPLC)(T) | 144689-63-4 | 5g | $233 | 2021-03-22 | Buy |
Olmesartan Medoxomil Chemical Properties,Uses,Production
synthesize
Olmesartan Medoxomil can be synthesized in 8 steps from diaminomaleonitrile by successive reactions with trialkylorthopropanoate to access 2-propyl-imidazole-45dicarbonitrile, conversion of the two nitrile functions to the corresponding ethyl esters, followed by methylmagnesium bromide addition to give the corresponding 4-(1-hydroxyalkyl)imidazole derivative.
metabolism
Olmesartan medoxomil is rapidly and completely bioactivated by ester hydrolysis to its active metabolite, olmesartan, during absorption from the gastrointestinal tract. Olmesartan has an absolute bioavailability of approximatively 26%, a mean elimination half-life of 14 h in patients with hypertension and is not further metabolized. Olmesartan medoxomil is well tolerated, has a side-effect profile similar to that of placebo and unlike ACE inhibitors, the incidence of dry cough is rare.
Side effects
Dizziness or lightheadedness may occur as your body adjusts to the medication. If any of these effects persist or worsen, tell your doctor or pharmacist promptly. To reduce the risk of dizziness and lightheadedness, get up slowly when rising from a sitting or lying position.
Description
Olmesartan medoxomil was launched in the US as benicar@, an orally administered treatment for hypertension. Olmesartan, is a new selective and competitive nonpeptide angiotensin II type 1 receptor antagonist and potently inhibits the Ang.ll-induced pressor responses. The drug competitively inhibited binding of [125I1]-All to AT1 receptors in bovine adrenal cortical membranes, but had no effect on binding to AT2 receptors in bovine cerebellar membranes. In comparative clinical studies in patients with essential hypertension, olmesartan reduced sitting cuff diastolic blood pressure significantly more than losartan, valdesartan and ibesartan, while reductions in systolic blood pressure were similar for all treatments. Olmesartan medoxomil was also shown to reduce blood pressure significantly more effectively than losartan and the ACE inhibitor captopril and as effectively as the pbloker atenolol.
Chemical Properties
White to off-white crystalline powder
Originator
Sanky (Japan)
Uses
An angiotensin II receptor antagonist. Used as an anti-hypertensive
Uses
Olmesartan medoxomil is an angiotensin II receptor antagonist used to treat high blood pressure. Olmesartan works by blocking the binding of angiotensin II to the AT1 receptors in vascular muscle. By blocking the binding rather than the synthesis of angiotensin II, olmesartan inhibits the negative regulatory feedback on renin secretion.
Olmesartan medoxomil is a pro-drug that is de-esterified to the active metabolite, olmesartan. Olmesartan has a dual method of elimination, with about 60% eliminated by the liver and the remainder by the kidney. In situations of impaired renal or hepatic function, the alternative excretion pathway can compensate for the compromised one. Olmesartan is not metabolized by the cytochrome P450 enzyme system and therefore has a low potential for metabolic drug interactions, a feature that may be of importance when treating patients on multiple drug regimens, such as the elderly. Olmesartan is well tolerated and has an excellent safety profile that is comparable to that of placebo. In addition, olmesartan provides 24-h blood pressure control with a once-daily dosing. In head-to-head studies, olmesartan delivered superior blood pressure reduction when compared with other angiotensin-II receptor antagonists at their recommended doses.
brand name
Benicar
Chemical Synthesis
The imidazole ring of olmesartan (18) was constructed with diaminomaleonitrile 155 and trimethylorthobutyrate (156) in CH3CN then xylene to give 157 in 96% yield. Acid hydrolysis of 157 in 6N HCl gave the dicarboxylic acid intermediate. After esterification of the diacid in ethanol in the presence of HCl, diester 158 was treated with MeMgCl to give 4-(1-hydroxyalkyl) imidazole 159 in 95% yield. Alkylation of 159 with biphenyl bromide 160 in the presence of potassium tbutoxide afforded 161 in 80% yield. Ester 161 was then hydrolyzed to free carboxylic acid 162 under basic conditions, and 162 was treated with chloride 163 in the presence of K2CO3 to give ester 164 in 88% yield from 161.Lastly, the trityl group was removed with 25% aqueous acetic acid to give olmesartan (18) in 81% yield.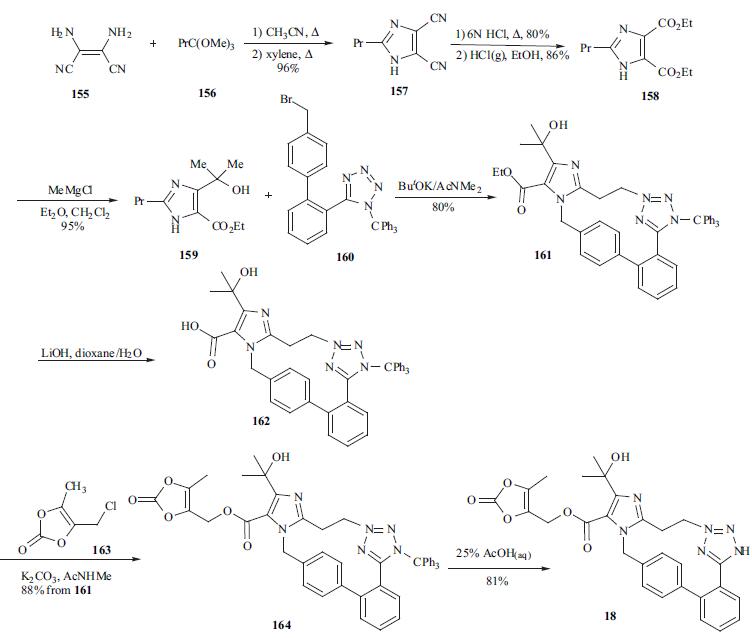 Olmesartan Medoxomil Preparation Products And Raw materials
Raw materials
Preparation Products
---
---
Related articles
Olmesartan medoxomil is a white to light yellowish-white powder or crystalline powder with a molecular weight of 558.59. It is....

Sep 18,2020
---
View Lastest Price from Olmesartan Medoxomil manufacturers
Image
Release date
Product
Price
Min. Order
Purity
Supply Ability
Manufacturer
2021-09-29
Olmesartan Medoxomil
144689-63-4
US $0.00 / KG
1KG
99.0%,USP/EP
500KG/month
WUHAN FORTUNA CHEMICAL CO., LTD
2021-08-12
Olmesartan Medoxomil
144689-63-4
US $0.00 / Kg/Bag
2Kg/Bag
99% up, High Density
20 tons
Sinoway Industrial co., ltd.
2021-08-10
Olmesartan Medoxomil USP/EP/BP
144689-63-4
US $1.10 / g
1g
99.9%
100 Tons min
Dideu Industries Group Limited
144689-63-4(Olmesartan Medoxomil)Related Search:
---
(5-Methyl-2-oxo-1,3-dioxol-4-yl)methyl 1-((2'-(1H-tetrazol-5-yl)-[1,1'-biphenyl] 4-yl)methyl)-4-(
OlMesartan MedoxoMil SynoyM:4-(1-Hydroxy-1-Methylethyl)-2-propyl-1-[[2'-(1H-tetazol-5-yl)[1,1'-biphenyl]-4-yl]Methyl]-1H-iMidazole-5-carboxylic acid (5-Methyl-2-oxo-1,3-dioxol-4-yl)Methyl ester
OLMESARTAN MEDOXOMIL USP ORGANIC CHEMICA
OMST
1H-Imidazole-5-carboxylic acid, 4-(1-hydroxy-1-methylethyl)-2-propyl-1-[[2'-(2H-tetrazol-5-yl)[1,1'-biphenyl]-4-yl]methyl]-, (5-methyl-2-oxo-1,3-dioxol-4-yl)methyl ester
Olmesartan medoxomil for system suitability
Olmesartan MedoxomiI
Olmesartan Medoxomi
(5-Methyl-2-oxo-1,3-dioxol-4-yl)methyl 1-((2'-(2H-tetrazol-5-yl)biphenyl-4-yl)methyl)-4-(2-hyd
5-(2-hydroxypropan-2-yl)-2-propyl-3-[[4-[2-(2H-tetrazol-5-yl)phenyl]phenyl]methyl]-4-imidazolecarboxylic acid (5-methyl-2-oxo-1,3-dioxol-4-yl)methyl ester
4-(1-hydroxy-1-methylethyl)-2-propyl-1-((2'-(1H-tetrazol-5-yl)(1,1'-biphenyl)-4-yl)methyl-1H-Imidazole-5-carboxylic acid, (5-methyl -2-oxo-1,3-dioxol-4-yl) methyl ester
Benicar
OlmesartanC29H30N6O6
CS-866, 4-(1-Hydroxy-1-methylethyl)-2-propyl-1-[[2(1H-tetazol-5-yl)[1,1biphenyl]-4-yl]methyl]-1H-imidazole-5-carboxylic Acid (5-Methyl-2-oxo-1,3-dioxol-4-yl)methyl Ester
Oimesartan
4-(1-Hydroxy-1-methylethyl)-2-propyl-1-[[2'-(1H-tetazol-5-yl)[1,1'-biphenyl]-4-yl]methyl]-1H-imidazole-5-carboxylicacid(5-Methyl-2-oxo-1,3-dioxol-4-yl)methylester
CS-866
Olmesartan medoxomil
Olmetec
5-(1-HYDROXY-1-METHYLETHYL)-2-PROPYL-3-[2''-(1H-TETRAZOL-5-YL)-BIPHENYL-4-YLMETHYL]-3H-IMIDAZOLE-4-CARBOXYLIC ACID 5-METHYL-2-OXO-[1,3]DIOXOL-4-YLMETHYL ESTER
5-(1-Hydroxy-1-methylethyl)-2-propyl-3-[2'-(1H-tet
OLMESARTAN MEDOXIMIL
Sanguisorba officinalis L.
Olmesartan Medoxomil (100 mg)
(5-Methyl-2-oxo-2H-1,3-dioxol-4-yl)Methyl 4-(2-hydroxypropan-2-yl)-2-propyl-1-({4-[2-(2H-1,2,3,4-tetrazol-5-yl)phenyl]phenyl}Methyl)-1H-iMidazole-5-carboxylate
OlMesartan MedoxoMil (Benicar)
(5-Methyl-2-oxo-1,3-dioxol-4-yl)Methyl 1-((2'-(1H-tetrazol-5-yl)-[1,1'-biphenyl]-4-yl)Methyl)-4-(2-hydroxypropan-2-yl)-2-propyl-1H-iMidazole-5-carboxylate
Olmesartan medoxomil CRS
Olmesartan medoxomil for system suitability CRS
Olmesartan Medoxomil RS
olmesartan medoxomil olmetec 4-(1-hydroxy-1-methylethyl)-2-propyl-1-[[2'-(1h-tetazol-5-yl)[1,1'-biphenyl]-4-yl]methyl]-1h-imidazole-5-carboxylic acid (5-methyl-2-oxo-1,3-dioxol-4-yl)methyl esterEuEE
Olmesartan Medoxomil fandachem
Olmesartan Medoxomi fandachem
Olmesartan Medoxomil USP/EP/BP
144689-63-4
144689-63-5
C29H30N6O
C29H30N6O6
Cardiovascular APIs
OMNICEF
API
Inhibitor
Aromatics
Bases & Related Reagents
Heterocycles
Intermediates & Fine Chemicals
Nucleotides
Pharmaceuticals
Olmesartan
Active Pharmaceutical Ingredients