Acesulfame potassium
CAS No.
Chemical Name:

Acesulfame potassium
Synonyms

ACESULFAME K;acesulfame;ACESULPHAMEPOTASSIUM;RARECHEM AM UC 0205;SWEET ONE;ACESULPHAME-K;ASPARTAMEACESULPHAMESALT;Acesulfame potassium CRS;ACESULFAME POTASSIUM SALT;Ansai
CBNumber:

CB3224119
Molecular Formula:

C4H4KNO4S
Molecular Weight:

201.24
MDL Number:

MFCD00043833
MOL File:
MSDS File:
Modify Date:
2022-12-21 16:56:50
| | |
| --- | --- |
| Melting point | 229-232°C (dec.) |
| Boiling point | 210℃[at 101 325 Pa] |
| Density | (solid) 1.81 g/cm3; d (bulk) 1.1-1.3 kg/dm3 |
| vapor pressure | 0.291Pa at 25℃ |
| storage temp. | Inert atmosphere,Room Temperature |
| solubility | Soluble in water, very slightly soluble in acetone and in ethanol (96 per cent). |
| form | neat |
| color | White crystalline solid |
| Odor | odorless with sweet taste |
| Water Solubility | almost transparency |
| Merck | 14,37 |
| BRN | 3637857 |
| LogP | -2.35 at 23℃ |
| Substances Added to Food (formerly EAFUS) | ACESULFAME POTASSIUM |
| CAS DataBase Reference | 55589-62-3(CAS DataBase Reference) |
| EWG's Food Scores | 1 |
| FDA UNII | 23OV73Q5G9 |
| EPA Substance Registry System | Acesulfame-potassium (55589-62-3) |
SAFETY
Risk and Safety Statements
| Manufacturer | Product number | Product description | CAS number | Packaging | Price | Updated | Buy |
| --- | --- | --- | --- | --- | --- | --- | --- |
| Sigma-Aldrich | 04054 | Acesulfame K for food analysis, ≥99.0% | 55589-62-3 | 25g | $82.7 | 2022-05-15 | Buy |
| Sigma-Aldrich | 04054 | Acesulfame K for food analysis, ≥99.0% | 55589-62-3 | 100g | $230 | 2022-05-15 | Buy |
| TCI Chemical | A1490 | Acesulfame K >98.0%(T) | 55589-62-3 | 25g | $45 | 2023-01-07 | Buy |
| TCI Chemical | A1490 | Acesulfame K >98.0%(T) | 55589-62-3 | 100g | $132 | 2023-01-07 | Buy |
| Sigma-Aldrich | A0070000 | Acesulfame potassium European Pharmacopoeia (EP) Reference Standard | 55589-62-3 | a0070000 | $218 | 2023-01-07 | Buy |
Acesulfame potassium Chemical Properties,Uses,Production
Chemical Properties
White to Off-White Solid
Chemical Properties
Acesulfame potassium occurs as a colorless to white-colored, odorless, crystalline powder with an intensely sweet taste.
Originator
Acesulfame Potassium ,Hoechst
History
Acesulfame-K, the potassium salt of acesulfame, is a sweetener that resembles saccharin in structure and taste profile. 5,6-Dimethyl-1,2,3-oxathiazine-4(3H)-one 2,2-dioxide, the first of many sweet compounds belonging to the dihydrooxathiazinone dioxide class, was discovered accidentally in 1967. From these many sweet compounds, acesulfame was chosen for commercialization. To improve water solubility, the potassium salt was made. Acesulfame-K (Sunett) was approved for dry product use in the United States in 1988 and in Canada in October, 1994. In 2003, acesulfame-K was approved as a general purposes sweetener by the FDA.
Uses
Acesulfame-K is the potassium salt of 6-methyl-l,2,3-oxathiazin-4(3H)- one-2,2-dioxide. This sweetener was discovered in Germany and was first approved by the FDA in 1988 for use as a nonnutritive sweetener. The complex chemical name of this substance led to the creation of the trademark common name, acesulfame-K, which is based on its following relationships to acetocetic acid and sulfanic acid, and to its potassium salt nature.
Acesulfame-K is 200 times as sweet as sugar and is not metabolized and is thus noncaloric. It is exceptionally stable at elevated temperatures encountered in baking, and it is also stable in acidic products, such as carbonated soft drinks. It has a synergistic effect when mixed with other low-calorie sweetners, such as aspartame. Common applications of acesulfame-K are table uses, chewing gums, beverages, foods, bakery products, confectionary, oral hygiene products, and pharmaceuticals.
Uses
Potassium salt as sweetener for foods, cosmetics.
Uses
'New generation', heat-stable sweetener that has not been suspected to cause cancer nor be genotoxic. Allelic variation of the Tas1r3 gene affects behavioral taste responses to this molecule, suggesting that it is a T1R3 receptor ligand.
Production Methods
The principal commercial process for acesulfame-K is depicted below: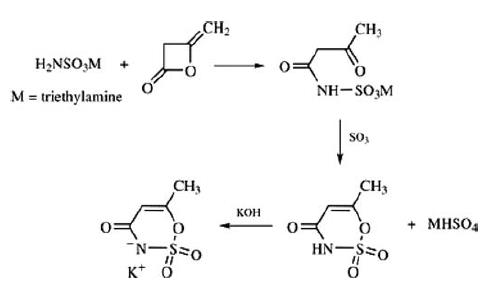 Production Methods
Acesulfame potassium is synthesized from acetoacetic acid tertbutyl ester and fluorosulfonyl isocyanate. The resulting compound is transformed to fluorosulfonyl acetoacetic acid amide, which is then cyclized in the presence of potassium hydroxide to form the oxathiazinone dioxide ring system. Because of the strong acidity of this compound, the potassium salt is produced directly.
An alternative synthesis route for acesulfame potassium starts with the reaction between diketene and amidosulfonic acid. In the presence of dehydrating agents, and after neutralization with potassium hydroxide, acesulfame potassium is formed.
Manufacturing Process
80 g (1.096 mol) of dimethylethylamine were added drop-wise, with cooling, to 80 g (0.825 mol) of sulfamic acid suspended in 500 ml of glacial acetic acid. When dissolution was complete, 80 ml (1.038 mol) of diketene were added, while cooling at 25°-35°C. After 16 hours, the mixture was evaporated and the residue was stirred with acetone, whereupon crystallization of dimethylethylammonium acetoacetamide-N-sulfonate took place. Yield: 110 g (43%), melting point 73°-75°C.
12.7 g (50 mmol) of dimethylethylammonium acetoacetamide-N-sulfonate in 110 ml of methylene chloride were added drop-wise to 8 ml (200 mmol) of liquid SO3 in 100 ml of CH2Cl2 at -30°C, stirring vigorously, within 60 minutes. 30 minutes later, 50 ml of ethyl acetate and 50 g of ice were added to the solution. The organic phase was separated off, and the aqueous phase was extracted twice more with ethyl acetate. The combined organic phases were dried over sodium sulfate, evaporated and the residue was dissolved in methanol. On neutralization of the solution with methanolic KOH, the potassium salt of 6-methyl-3,4-dihydro-1,2,3-oxathiazin-4-one 2,2-dioxide precipitated out. Yield: 7.3 g (73%). The product was detected by thinlayer chromatography; the structure of it was confirmed with IR spectrum.
Therapeutic Function
Pharmaceutic aid
Pharmaceutical Applications
Acesulfame potassium is used as an intense sweetening agent in cosmetics, foods, beverage products, table-top sweeteners, vitamin and pharmaceutical preparations, including powder mixes, tablets, and liquid products. It is widely used as a sugar substitute in compounded formulations,and as a toothpaste sweetener.
The approximate sweetening power is 180–200 times that of sucrose, similar to aspartame, about one-third as sweet as sucralose, one-half as sweet as sodium saccharin, and about 4-5 times sweeter than sodium cyclamate.It enhances flavor systems and can be used to mask some unpleasant taste characteristics.
Safety Profile
When heated to decompositionemits toxic fumes of SOx.
Safety
Acesulfame potassium is widely used in beverages, cosmetics, foods, and pharmaceutical formulations, and is generally regarded as a relatively nontoxic and nonirritant material. Pharmacokinetic studies have shown that acesulfame potassium is not metabolized and is rapidly excreted unchanged in the urine. Long-term feeding studies in rats and dogs showed no evidence to suggest acesulfame potassium is mutagenic or carcinogenic.
The WHO has set an acceptable daily intake for acesulfame potassium of up to 15 mg/kg body-weight.The Scientific Committee for Foods of the European Union has set a daily intake value of up to 9 mg/kg of body-weight.
LD50 (rat, IP): 2.2 g/kg
LD50 (rat, oral): 6.9–8.0 g/kg
storage
Acesulfame potassium possesses good stability. In the bulk form it shows no sign of decomposition at ambient temperature over many years. In aqueous solutions (pH 3.0–3.5 at 208℃) no reduction in sweetness was observed over a period of approximately 2 years. Stability at elevated temperatures is good, although some decomposition was noted following storage at 408℃ for several months. Sterilization and pasteurization do not affect the taste of acesulfame potassium.
The bulk material should be stored in a well-closed container in a cool, dry place and protected from light.
Regulatory Status
Included in the FDA Inactive Ingredients Database for oral and sublingual preparations. Included in the Canadian List of Acceptable Non-medicinal Ingredients. Accepted for use in Europe as a food additive. It is also accepted for use in certain food products in the USA and several countries in Central and South America, the Middle East, Africa, Asia, and Australia.
Acesulfame potassium Preparation Products And Raw materials
View Lastest Price from Acesulfame potassium manufacturers
Image
Update time
Product
Price
Min. Order
Purity
Supply Ability
Manufacturer
2023-02-08
Acesulfame potassium

55589-62-3

US $18.50 / KG
10KG
99%
1000kg
Hebei Yime New Material Technology Co., Ltd.
2023-01-31
Acesulfame potassium

55589-62-3

US $0.00 / KG
1KG
99%
50000KG/month
Hebei Mojin Biotechnology Co., Ltd
2023-01-30
Acesulfame potassium

55589-62-3

US $1.90 / KG
1KG
99%
10 ton
Hebei Crovell Biotech Co Ltd
55589-62-3(Acesulfame potassium)Related Search:
6-Methyl-1,2,3-oxathiazin-4(3H)-one 2,2-Dioxide Potassium Salt Potassium 6-Methyl-1,2,3-oxathiazin-4(3H)-one 2,2-Dioxide
Acesulfame Potassium (200 mg)
ACESULFAME POTASSIUM
1,2,3-oxathiazin-4(3h)-one,6-methyl-,2,2-dioxide,potassiumsalt
6-methyl-3,4-dihydro-1,2,3-oxathiazin-4-one2,2-dioxidepotassiumsalt
Acesulfamum Kalicum
potassiumacesulfame
Potassiumsaltof6-methyl-1,2,3-oxathiazin-4(3H)-one-2,2-dioxide
sunett
ACESULFAME-K FCC 99-101%
ACESULFAME-K(P)
AcesulfaMe PotassiuM,NF
PotassiuM 6-Methyl-4-oxo-4H-1,2,3-oxathiazin-3-ide 2,2-dioxide
1,2,3-Oxathiazin-4(3H)-one, 6-methyl-, 2,2-dioxide, potassium salt (1:1)
SUNETTE
POTASSIUM 6-METHYL-1,2,3-OXATHIAZIN-4(3H)-ONE 2,2-DIOXIDE
6-METHYL-1,2,3-OXATHIAZIN-4(3H)-ONE 2,2-DIOXIDE POTASSIUM SALT
ACESULFAME POTASSIUM(AK)
POTASSIUMACESULFAMEK
6-Methyl-3,4-dihydro-1,2,3-oxathiazin-4-on-2,2-dioxid, Kaliumsalz
Blended sweetener of acesulfame-kwith aspartame
Acesulfaml-K
3,4-Dihydro-6-methyl-3-potassio-4-oxo-1,2,3-oxathiazine 2,2-dioxide
3,4-Dihydro-6-methyl-4-oxo-3-potassio-1,2,3-oxathiazine 2,2-dioxide
Ccris 1032
Einecs 259-715-3
Acesulfame K,6-Methyl-1,2,3-oxathiazin-4(3H)-one 2,2-dioxide potassium salt
potassium 6-methyl-2,2-dioxo-4-oxathiazinolate
AcesuL
fame potassium [NF]
Acesulfame potassium Joyce
Ak Candy
Acessulfame-K
Ansai
Acesulfame K Standard
Acesulfame potassium impurity B CRS
Acesulfame K &gt
Acesulfame potassium Solution in Water, 100μg/mL
High Quality Acesulfame Potassium/Acesulfame K
Acesulfame Potassium/Acesulfame K
Acesulfame potassium USP/EP/BP
Acemi / AK sugar
High Quality Food Grade Acesulfame Potassium?55589-62-3
Acesulfame potassium (A0070000)
Acesulfame PotassiumQ: What is Acesulfame Potassium Q: What is the CAS Number of Acesulfame Potassium Q: What is the storage condition of Acesulfame Potassium
Acesulfame-K (E950)
Acesulfame Potassium (1002505)
acesulfame
SWEET ONE
RARECHEM AM UC 0205
ACESULFAME K
ACESULFAME POTASSIUM SALT
ASPARTAMEACESULPHAMESALT
ACESULPHAMEPOTASSIUM
Acesulfame potassium CRS
ACESULPHAME-K
Rutile 1317-80-2
55589-62-3